CBD oil laws in the United Kingdom are far from straightforward. On the one hand, high street retailers such as Holland and Barrett openly sell it. On the other hand, many peoples' interpretation of British CBD law is incorrect.
This article outlines whether CBD oil is legal in the United Kingdom. The quick answer is 'yes,' but there are caveats.
The UK Now Allows Cannabis Oil in Certain Circumstances
After years of campaigning, cannabis advocates earned a victory of sorts in 2018. The Home Secretary, Sajid Javid, announced that specialist doctors in the UK could prescribe cannabis oil.
The government rescheduled marijuana from schedule 1 to schedule 2 as per the Misuse of Drugs Act 1971. The cases of Alfie Dingley and Billy Caldwell changed public opinion. Both young boys have epilepsy, and their parents found that cannabis oil helped reduce seizures. However, they could not bring it into the UK from abroad until the new ruling.
Javid said the following after making the decision: "Recent cases involving sick children made it clear that our position on cannabis-related medicinal products was not satisfactory. [Thus] I have taken the decision to reschedule cannabis-derived medicinal products — meaning they will be available on prescription."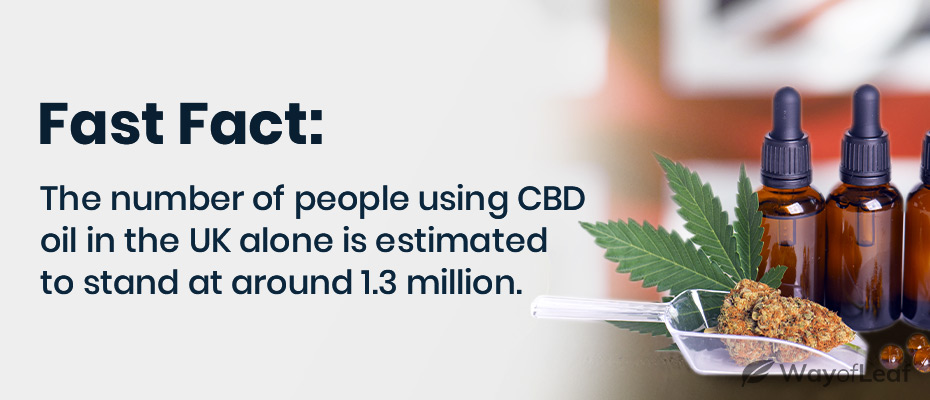 In November 2020, the new Cancard was released. It is a medical cannabis card that protects people who grow MMJ from arrest. According to recent estimates, Cancard has saved at least 1,400 people from prosecution.
According to the official Cancard website, the community consists of 45,000 people. However, according to Police Commissioner Martyn Underhill, over a million patients in the UK qualify for a private cannabis prescription.
Cancard applicants must provide a Summary Care Record from a GP that outlines their health condition. There is an extremely strict validation process. Also, the cost of prescription marijuana in the UK remains prohibitive as the substance is hard to access.
How Does This Affect CBD UK Laws?
The above is theoretically great news for cannabidiol users concerned about CBD oil UK laws. Logically, if the UK is becoming more lenient on cannabis, it will become easier to get CBD. However, the slight increase in marijuana availability has done little for the CBD industry in the UK. The rules have remained the same since the changes to cannabis legality.
You can technically import CBD oil into the UK but prepare to answer plenty of questions at the airport. You must clearly label your CBD and produce third-party lab reports proving it doesn't contain illegal amounts of controlled substances.
As things stand, it is easier to legally purchase CBD oil online or through specialty or high street stores. It is also essential to note that hemp flowers and leaves remain illegal. Therefore, the use of CBD flowers is prohibited in Britain. Furthermore, CBD products must come from hemp cultivated outside the United Kingdom.
While most cannabinoids remain controlled substances under the Misuse of Drugs Act, CBD is not. Sativex, a 50/50 mix of CBD and THC, is a pharmaceutical drug and an exception to this rule.
Also, sellers are not allowed to make any medical claims. Instead, CBD oil in the UK is sold as a 'nutritional supplement.' This is unless you have a license from the MHRA to sell cannabidiol as a medicine.
There is one interesting facet of UK CBD law that many people aren't aware of. The assumption is that a product is legal if it has a maximum of 0.2% THC. Indeed, the hemp used in such products must not contain more than 0.2% THC. However, finished CBD products must have a maximum of 1mg of THC or CBN per product or container.
Other Important Points
Here are a few other things you need to know about CBD laws in the UK:
It is only possible to harvest the seeds and stalks from hemp plants in the United Kingdom. The leaves and flowers (the most valuable parts of the plant) must be destroyed as soon as they're separated from the plant.
It remains against the law for UK residents to grow high-CBD hemp without a license issued by the Home Office.
Sellers must label products according to Food Supplement Regulations 2003.
Cosmetics containing CBD must come with a Cosmetic Product Safety Report.
All CBD vape products need to be in line with non-nicotine e-liquid restrictions.
New CBD food or drink products require a Novel Food Application. All of these items need premarket authorization. Examples of CBD novel foods include CBD gummies, oils, capsules, sprays, mints, sweets, and drinks such as tea, coffee, and beer.
A Difference in Quality
The quality of the CBD oil sold in UK high street stores tends to lag behind what you'll find in the United States or Holland.
Tannine Montgomery is a CBD oil advocate and the mother of an epileptic girl. She knows the difference in quality between CBD "hemp oil supplements" and cannabis CBD oils available in dispensaries.
The CBD oil sold by places like Holland and Barrett is popular but not necessarily the best you'll get for your money.
Tannine's young daughter Indie suffers from a rare form of paediatric epilepsy called Dravet syndrome. Indie has experienced incredible results using cannabis-derived CBD oil as a treatment. However, she experienced less-than-convincing effects using "supplements" from the high street. Here's what Tannine had to say:
"Previously, we'd tried the high-street cannabis oil that is legal here [in Suffolk], which helped some of the time, but not all — because it is not medicinal cannabis."
Therefore, the CBD oil sold by places like Holland and Barrett is popular but not necessarily the best you'll get for your money.
Looking to Buy? CBD Oil UK Laws Mean You Need to Perform Research
Hemp-derived CBD oils with a maximum of 1mg of THC and CBN per product are now legal in the UK. However, not every available product in the niche is of the quality you want.
Some UK sellers stand accused of providing hemp seed oil – or even infused olive oil – and selling it on the high street as "CBD oil." Such products contain virtually none of the active compounds.
A few reliable companies (such as CiiTECH's Provacan label) are fully compliant with the MHRA and organizations like the UK Cannabis Trade Association. However, CBD oil from such brands is typically only available online. There remains a fear of their products being seized if left in UK warehouses.
The good news for UK citizens is that companies like Provacan – and several others – can ship nationwide. They also deliver to other countries within the EU. It is arguably more convenient than purchasing from a retail store on the high street. After all, you can have these products shipped to your door without leaving the house.
Final Thoughts on CBD Oil Laws in the UK
If you want to benefit from prescription cannabis oil, you need to undergo a long process. It remains challenging to find a physician willing (and able) to write a prescription. The new Cancard will help MMJ patients grow cannabis at home (to a reasonable degree) without fear of legal repercussions.
However, buying CBD oil in the UK is a straightforward process. You can purchase it from hundreds of specialty CBD stores, not to mention high street chains. It is even easier to order it from a reputable brand like Provacan as it gets its cannabidiol from hemp grown outside the United Kingdom.
CBD oil UK law mandates that products must contain a maximum of 1mg of THC or CBN. Unless they have a license from the MHRA, sellers must sell CBD products as nutritional supplements and not make any medical claims.