Overview
The joy of cannabis pizza is all in the oil. Learn how to make a pizza from scratch and top it with a delicious chili-infused canna-oil for the ultimate in weed edibles.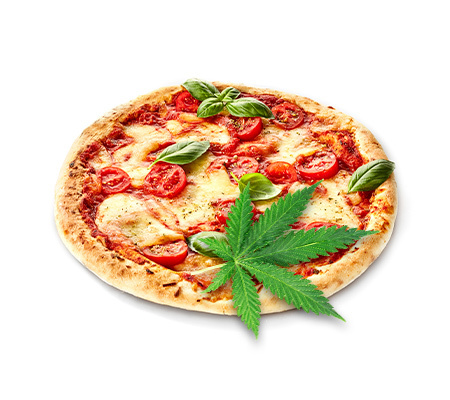 Best strains
OG Kush, UK Cheese, Pineapple Express
Pizza is world-renowned as one of the ultimate foods for weed lovers. It's greasy, salty, cheesy, and downright delicious. Plus, you can get take-out delivered right to your door, which is perfect for when the couch-lock sets in and the munchies hit hard.
Pizza is world-renowned as one of the ultimate foods for weed lovers.
But what if you reversed the usual order of events? Make a pizza to get high. Alternately, medicinal users might enjoy this tasty recipe as just one way to consume medical marijuana.
This pizza recipe is surprisingly low effort. It uses a cannabis-infused chili oil for drizzling on the top, transporting you right to Italy with the flavor but knocking your socks off with the cannabis hidden inside. It's much cheaper than a take-out, and you can top it with absolutely anything you like.
Cannabis Pizza: It's All in the Oil
One way to make a cannabis pizza is to sprinkle ground cannabis right into the cheese. However, this will add a strange taste and texture. Furthermore, you would likely be disappointed to find that the effects are minimal because the weed has not adequately been decarboxylated. In other words, the cannabinoids are inactive. It's great if you want to consume THCA but futile if you're seeking THC and CBD.
Technically, you could infuse the pizza dough with cannabis by substituting the olive oil for canna-oil. That's an easy substitution to make in this recipe. However, we have opted for a cannabis-infused chili oil for drizzling on top, and here's why:
It's authentically Italian to have a bottle of chili oil on the table that you can pour over the top of your pizza. It just adds another layer of culinary skill that will impress your guests.
Dosage control is much easier. Since the THC is in the oil and not the pizza, any friends you have over can make the decision whether or not to consume Mary Jane without you having to make a whole separate pizza.
It's extra tasty.
Below, we cover how to make cannabis-infused chili oil. And later on, we cover some of the best strains to use depending on your pizza toppings of choice.
How to Make a Cannabis-Infused Chilli Oil
Making this recipe is really easy, but it does take a bit of time. If you choose to make canna-oil and infuse it into the pizza base, then feel free to skip the step with the chilies. We recommend using olive oil for the best possible flavor.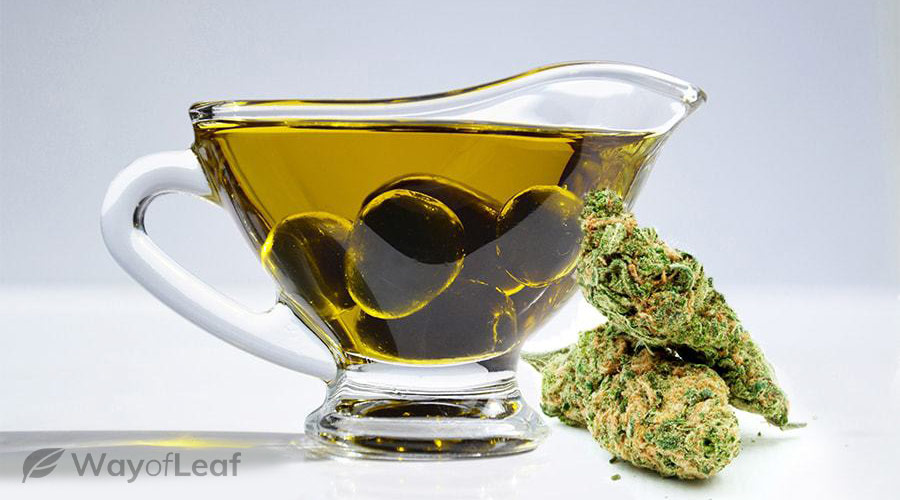 First, grab your favorite cannabis strain. With an average strength of about 22% THC, you will only need 1g of cannabis to infuse each slice of pizza with 5mg. Feel free to adjust the dose as necessary, but make sure you calculate the desired potency before you get cooking. Start by decarboxylating the cannabis by baking it for 30-45 minutes.
This recipe makes 1 cup of canna-oil. You won't need it all, but it keeps well in a sealed bottle.
Add 1 cup of olive oil to a saucepan or double boiler. Pour in the decarboxylated cannabis, ground coarsely.
Cook the mixture over the lowest heat setting for about 3 hours. Stir it occasionally and ensure that it never boils or scorches.
Strain the canna-oil through a cheesecloth to remove the used plant matter. The easiest thing to do is strain it directly into another saucepan.
Add two dried red chilies and 20g dried chili flakes to the oil. Warm the oil through for 3-4 minutes, then turn off the heat.
When the oil has cooled slightly, funnel it into a sealable bottle. Refrigerate until ready for use.
Marijuana-Infused Pizza Recipe
Once you have the oil ready, it's time to make a pizza. It's not too difficult, so don't worry if you're not a cooking aficionado. Grab the toppings of your choice, and let's begin.
For the Pizza Base
5 cups all-purpose flour, plus extra for dusting
1 tsp salt
1 sachet (0.25oz) active dry yeast
1 tsp white sugar
1 cup warm water
2 tbsp olive oil (or canna-oil if you prefer)
For the Sauce
1 cup tomato passata
1 garlic clove, crushed
1 tsp oregano or mixed Italian herbs
For the Topping
1 ball mozzarella cheese
Toppings of your choice
Instructions
In a large mixing bowl, mix together the all-purpose flour and salt. Make a well in the center using a wooden spoon, then set it aside.
In a jug, combine the warm water, yeast, and sugar. Mix well until the sugar and yeast dissolves, then allow to stand for 10 minutes. When it becomes creamy, the yeast is ready for use.
Add the olive oil to the jug of yeast mixture, then pour the liquid into the 'well' in the flour.
Using either a wooden spoon or your (clean) hands, bring the mixture together to form a sticky dough.
On a dusted work surface, knead the dough until it becomes clean and elastic. Cover with a clean, slightly damp cloth and leave to rise for 5-10 minutes.
Meanwhile, combine all of the tomato sauce ingredients in a saucepan, then simmer until it thickens to the desired consistency. Remove from the heat.
Preheat the oven to 450˚F (230˚C).
Knead the dough again, then divide into two and roll out into rounds on separate baking sheets or pizza plates.
Top the pizza bases with the passata sauce, mozzarella torn into smaller bits, and your toppings.
Bake both pizzas for 10-15 minutes until the edges are golden brown.
The Best Cannabis Strains for All Pizza Toppings
You can use a variety of different strains to benefit you in different ways. Opt for a high-CBD strain if you have no interest in getting high, or try out one of the strains below to match your favorite toppings.
Quattro Formaggi + UK Cheese
With the cheesiness of a four-cheese pizza, why not try a strain that has the perfect flavor profile to match? UK Cheese is a savory strain that delights lovers of such tastes. It's relatively low in THC, too, with just 18% on average. It's an indica-leaning hybrid, creating a sense of relaxation without too much couch lock. This is ideal for a relaxed night in with a super cheesy pizza.
Hawaiian + Pineapple Express
Given worldwide fame thanks to the movie of the same name, Pineapple Express is the go-to tropical strain. Pineapple on pizza is a controversial debate, but for those who are daring enough to add some fruity notes to their cheesy pizza, Pineapple Express is a perfect choice. It's sativa-leaning, adding some awesome uplifting effects that will make any consumer the life of the party.
Pepperoni + OG Kush
OG Kush is a classic strain that leans just onto the sativa side. It has an average THC content of 23.5%, packing a pretty hefty punch that most moderate users enjoy. OG Kush is appreciated for its spicy, kush flavors, along with slight hints of citrus. This strain blends well with the savory and tomato flavors of pizza, along with the saltiness that comes with pepperoni. It's the ideal strain of choice for general edible consumption, marrying exceptionally well with a pepperoni pizza.
BBQ Chicken + Laughing Buddha
For a pizza party that lasts all night long, combine the Laughing Buddha strain with a BBQ chicken plate. Swap out the tomato marinara sauce for a BBQ sauce to make this recipe truly delicious. Laughing Buddha has an earthy flavor that goes great with BBQ sauce, while the fruity notes bring out the sweet undertones. It's a moderate strain with 20% THC, making it great for all to enjoy.
Final Thoughts: Go Easy on the Slices!
A greasy pizza combined with cannabis-infused chili oil is the idea of heaven here at WayofLeaf HQ. You can top this recipe with any ingredients you like to make this the ultimate pizza.
A word of caution: be careful how much cannabis chili oil you use. It's all well and good pouring half a bottle on your pizza, but if you eat the whole thing, then you'll be just as baked as this pizza base!
What's your favorite pizza topping and weed strain combo? Drop them in the comments below.