Overview
Oregon has a well-established program that provides extremely high possession and growing limits. While the state also permits recreational marijuana, it is still worth applying for an Oregon Medical Marijuana card
if you're a regular user of the substance.
State Program
Approved on
November 3, 1998
CONSULTATION FEE RANGE
MMJ PURCHASING LIMITS
24 OUNCES OF USABLE CANNABIS
HOME CULTIVATION?
MINIMUM AGE LIMIT
Oregon is the place to go if you feel the need for weed because the state has far too much of it! The state is producing way more than it needs to the point where prices are at rock bottom. At least one dispensary in the state sells cannabis at $40 an ounce. No, that is not a misprint!
A few years ago, Oregon surpassed the 1-million-pound mark in terms of unsold weed. That figure has increased since. The state always had a love affair with marijuana, even when the substance was illegal there.
From 1999 to 2005, Oregon residents used 45% more weed than the general American population.
An attempt to recriminalize marijuana in 1997 was voted down. A bigger surprise was that two measures to legalize cannabis failed; in 1986 and 2012.
These days, buying cannabis in the state is so easy that there don't seem to be many reasons to seek an Oregon medical card. However, MMJ cardholders benefit from higher possession and cultivation limits.
If you're hoping that medical marijuana can provide therapeutic benefits and want legal access to relatively large amounts, here's how to get your MMJ card in Oregon.
Oregon Medical Marijuana Laws
In Oregon, adults aged 21+ are permitted to possess up to two ounces of marijuana. However, unless you have an MMJ card, you could spend up to six months in prison if caught with more than this amount, as it is considered a misdemeanor. The possession of over four ounces is a more serious misdemeanor with a potential jail term of one year if you don't have a medical marijuana card.
Recreational users can cultivate up to four plants out of public sight on their property. They can also possess up to eight ounces of usable weed in their homes.
The illegal manufacture of marijuana is a felony in Oregon, with a maximum prison term of five years as the punishment. The max sentence increases to 20 years if you manufacture weed within 1,000 feet of school grounds.
How to Get a Oregon Medical Marijuana Card
Now that adults can walk into a dispensary and purchase weed without an MMJ card, what is the point of having one? Sales of medical marijuana fell by over 40% within three years of adult-use legalization. However, there are still valid reasons for getting the card. First of all, it is straightforward to do so.
Then there is the small matter of tax breaks. Oregon imposes no sales tax on medical cannabis, while recreational users must pay 20%. MMJ cardholders can also possess significantly more marijuana in private or public than recreational users.
Recreational users can grow a maximum of four plants at once. This is regardless of whether they are in the vegetative or flowering stage. Oregon medical marijuana card holders can cultivate far more marijuana. We discuss the buying and growing limits a little later on.
If you have a qualifying medical condition (see the list below) and want a medical marijuana card in Oregon, here is what you must do.
Step 1 – Get in Touch with an OR Healthcare Provider
Aside from having a qualifying medical condition, only residents of Oregon with proof of residency can apply. You can use a passport or driver's license. If you don't have an Oregon state I.D., you need an out-of-state one. You also require proof of residency within Oregon, such as a utility bill or bank statement.
Therefore, please ensure you meet the criteria before seeking a healthcare provider. In OR, it is extremely easy to find a cannabis-friendly physician.
Step 2 – Schedule a Consultation
If you have a qualifying condition, you must visit a doctor and receive an Attending Physician's Statement (APS). This document indicates the condition that you need medical marijuana to help with.
The physician in question must be either a Doctor of Osteopathy or a Medical Doctor licensed in Oregon. The evaluation may last 10-15 minutes. During that time, the physician will ask about your condition and determine whether you are a candidate for MMJ.
You also need to have an established doctor-patient relationship. For the record, many card providers only accept those who have visited their primary care physician at least three times. The doctor will review your medical records and perform an evaluation. They will sign the Physician's Statement if they are satisfied that you meet the criteria.
You can get a personalized consultation for as little as $59. This is good news since the Oregon MMJ card is among the most expensive in the country.
Step 3 – Sign up for an OR State Government Account
After certification, the next step is to visit the OMMP website and learn the steps you need to take as a patient. From there, you can complete an application form to register as a medical marijuana patient in Oregon.
Patients must also submit a valid and legal copy of a United States Federal or State issued photographic I.D. card. It must include your date of birth and full name. You must apply to the Patient Registry to earn guaranteed protection under the state's marijuana laws. Please note that you must upload all documentation within 90 days of your application date. Otherwise, you have to restart the entire process.
Step 4 – Register with the Official OR Medical Marijuana Program
State law requires the OMMP to process your application within 30 days. It could take a little longer in some cases. In reality, however, the program has far fewer applications than before, so there shouldn't be a backlog.
Ideally, you will wait until you receive your card in the mail before trying to purchase marijuana from a medical dispensary. However, you can proceed without the card if you have copies of all materials submitted to the state. You also require proof of the date you submitted your application.
Step 5 – Visit a Dispensary
Once you get your card in the mail, it is time to sample some of the best marijuana in the world. Best of all, the sheer volume of dispensaries in Oregon means you're unlikely to live far from one.
Who Can Apply for a Medical Marijuana Card in OR?
To apply for a medical marijuana card in OR, you must have one of the qualifying medical conditions. It is also necessary to be aged 18+ and a resident of Oregon.
Cost of MMJ Card in OR
The medical marijuana card cost in OR is among the highest in the nation. However, the high possession and cultivation limits, easy access to weed, and low price make it excellent value for money if you're a regular user.
It costs $200 to apply for an MMJ card in Oregon. If you are on Food Stamps, the cost drops to $60, and it is $50 if you receive the Oregon Health Plan.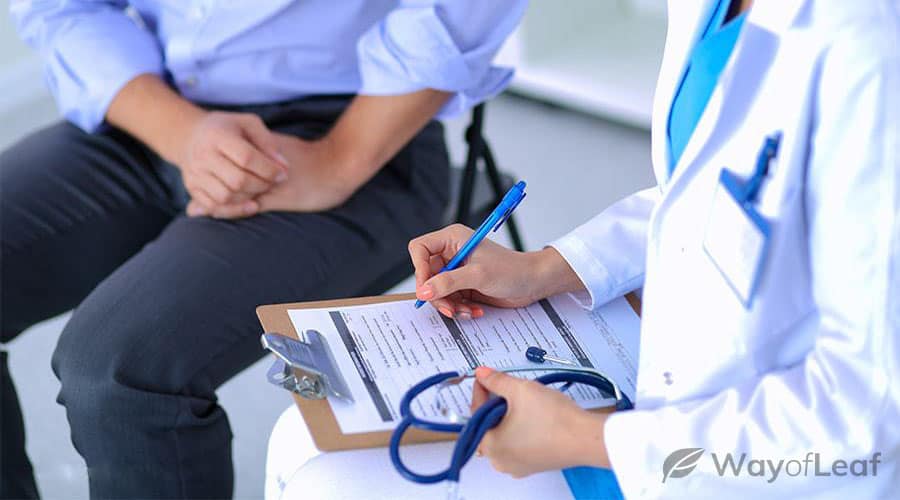 There is also a grow site registration fee of $200 if you cultivate for another person. The price also applies if you:
Grow somewhere other than your home
Grow more than 12 plants
If you are transferring surplus weed to a dispensary or processor
OR MMJ Card Qualifying Conditions
The list of OR medical marijuana card qualifying conditions is fairly long. You could be eligible for an MMJ card in Oregon if you have one of the following conditions:
PTSD
Agitation due to Alzheimer's disease
Cancer
Glaucoma
HIV/AIDS
OR any medical condition that results in one of the following:
Seizure disorders
Muscle spasms
Severe pain
Severe nausea
Cachexia
It is also possible to receive an MMJ card if you have one of the following:
GERD
Fibromyalgia
Arthritis
Carpal tunnel syndrome
Spondylitis
IBS
Degenerative disk disease
How Long Does It Take to Get a Medical Marijuana Card in OR?
If the Oregon Medical Marijuana Program (OMMP) deems your application complete, it will send you a receipt letter. Legally, it is akin to having a registry ID card for 30 days after the date printed on your letter.
You will receive the card in the mail once the application is processed. The OMMP asks applicants not to check their status for at least 30 days after the day it receives their applications.
If your application is deemed "incomplete," the OMMP will send you a letter outlining the information you must provide. You have 14 days to provide this information, or your application could be rejected.
How to Renew My Oregon Medical Card?
Your MMJ card is valid for one year. It costs $200 to renew, and you also have to pay for another doctor's consultation. You can begin the renewal process 90 days before your existing registration expires.
To renew online, create a new account or sign into your old one to complete the requisite steps. You can also renew by mail; send the application to this address:
Oregon Medical Marijuana Program (OMMP)
P.O. Box 14450,
Portland,
OR 97293-0450
Other Information on the OR Medical Marijuana License Process
Let's examine some of the most frequently asked questions about getting an MMJ card in Oregon.
What Types of Cannabis Can I Purchase in OR?
In Oregon, you can purchase practically any type of marijuana product one can think of! Most dispensaries stock dry flower, edibles, concentrates, and cartridges. You can also find a wide array of paraphernalia.
How to Get a Medical Marijuana Card in OR Online
Several companies now offer the full MMJ experience. They help you get a cannabis consultation, recommendation, and digital certification. With Veriheal, for example, you can schedule a doctor's appointment for a time that suits you. Once approved, you are free to complete the application.
Veriheal offers a one-on-one consultation with a cannabis expert who will look at your ailment(s) and help you get the best out of MMJ. This service is included in your overall fee.
Can I Register My Child for Medical Marijuana in OR?
Only those aged 18+ can apply in the typical manner. For younger patients, a parent or guardian must complete a Minor Declaration Form.
Where Can I Purchase MMJ in Oregon?
There are specialized MMJ dispensaries that can only sell to patients and caregivers registered with the OMMP. Unfortunately, there are relatively few dedicated medical marijuana dispensaries in the state since adult-use legalization.
On the plus side, finding a general cannabis dispensary is very easy, as there are over 750 options! Furthermore, over 1,000 pending retailer applications are under active consideration by the Oregon Liquor and Cannabis Commission (OLCC).
How Much Cannabis Can I Buy & Possess?
MMJ patients can buy, carry, and grow more weed than recreational users in Oregon. Patients or caregivers are allowed to possess the following amounts:
24 ounces of usable cannabis
16 ounces of a cannabinoid concentrate, whether sold in an inhalant delivery system or alone
72 fl. oz of medical cannabinoids in liquid form
5 grams of extracts
16 ounces of medicinal cannabinoids in solid form
Can You Grow Marijuana in Oregon with a Medical Marijuana Card?
You can grow six mature plants and 12 immature plants taller than 24 inches. You can also cultivate a maximum of 36 immature plants shorter than 24 inches. There are increased limits for "grandfathered" grow sites., which are sites registered before 2015. OMMP cardholders can also possess up to 50 seeds.
Where Can I Use My Oregon Medical Marijuana Card?
Like other states, it is illegal to smoke cannabis in public places in Oregon. This means no parks, bars, or public outdoor smoking areas. You can only safely use marijuana at home or on private property.
Can I Take My MMJ to a Different State?
No. Bringing marijuana across state lines is a federal offense. Also, Oregon does not recognize out-of-state cards.
However, you can get an Oregon MMJ card if you have moved from another state. You must have sufficient medical records that don't necessarily need to come from a doctor within Oregon. However, there is now a minimum residency requirement of two years. This means you need an Oregon I.D. and proof of residency, such as tax returns or a utility bill.
Of course, Oregon allows recreational marijuana, so you can buy up to two ounces without an MMJ card if you are 21+. 
What Are the Caregiver Rules?
To add a caregiver, you must designate a specific individual on your application. You also need to provide a copy of their state-issued I.D. or driver's license and their mailing address. Your caregiver can pick up your medical marijuana from a dispensary and deliver it to you.
In Oregon, a caregiver must be at least 21 years of age and submit to a background check. Your caregiver can grow MMJ for you, but if they have a felony conviction after January 1, 2006, they are not allowed grow weed for any MMJ patients for at least two years after their conviction. Any individual with a second felony conviction is permanently banned from growing marijuana.
What if I Lose My Medical Card in Oregon?
If you lose your MMJ card, it costs $100 to replace it. You must complete a Replacement Card Request form outlining why you are requesting a replacement and send it to the OMMP.
When Did Medical Marijuana in Oregon Become Legal?
Oregon has one of the oldest MMJ programs in the nation. Medical marijuana became authorized after the approval of Measure 67 in 1998. This led to a significant increase in weed users in a state where the substance was already popular. It seemed that recreational marijuana was inevitable, but Oregon residents had to wait a long time for it to happen.
Finally, Measure 91 was approved in 2014, and recreational marijuana became legal in Oregon. The following year, the state's governor signed an emergency bill to allow the legal sale of cannabis to recreational users from October 2015. By 2017, only dispensaries with an Oregon Liquor Control Commission (OLCC) license were allowed to sell weed to recreational users.
How to Get a Medical Marijuana Card in Portland
It is easy to apply for an MMJ card in Portland; once you have it, there are over 100 dispensaries to choose from! Considering that the city's population is only about 650,000, it is a remarkable statistic. Indeed, if you live near the city center, it will probably seem as if there is a marijuana dispensary on every street!
MMJ Card for Veterans in OR
If you are a veteran with proof that you served in the U.S. Armed Forces or if you receive Supplemental Security Income, the cost is just $20. Veterans who submit proof of a total disability rating of 50% or more due to an illness or injury related to their service don't have to pay a fee. The free application does not apply to anyone discharged dishonorably.
In certain cases, veterans are exempt from submitting the Attending Provider's Statement (APS) when it is time to renew their application.
Final Thoughts on Getting an Oregon Medical Marijuana Card
Even though recreational marijuana has been legal in Oregon for a long time, it is still worth applying for an MMJ card. As a medical marijuana patient, you benefit from huge possession and cultivation limits. Moreover, the state sells some of the cheapest legal weed on Earth, so if you're a marijuana lover, there aren't many better places to be than Oregon!