Overview
Residents of Oklahoma may qualify for access to medical cannabis. However, the process involves specific criteria and requirements. To find out if you are potentially eligible, take a peek at our online guide.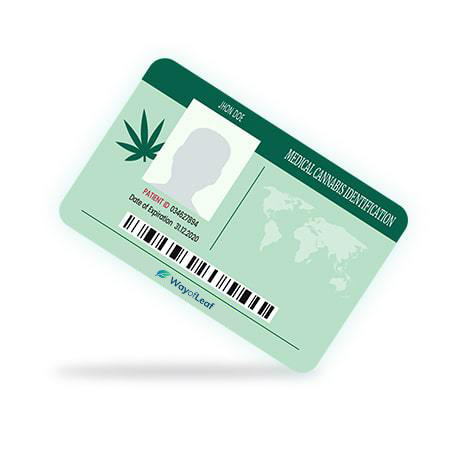 State Program
Approved on
June 19, 2018
On Tuesday, June 26, 2018, Oklahoma residents voted to approve a bill called SQ 788. It allowed for the physician-recommended use of medical marijuana. A significant majority of American states now have an MMJ program.
Historically, it took states around two years to go from newly-passed legislation to having a fully operational MMJ program up and running. With Oklahoma, the process took less than six months. The state passed SQ 788 in June 2018. By November that year, qualified patients were already growing 100% legal cannabis plants in the comfort of their own homes.
The speed at which the Oklahoma medical marijuana program has progressed is almost unprecedented in the United States. By mid-2021, the state had almost 370,000 patients and over 2,200 caregivers. OK has the highest number of MMJ patients per capita in America!
This is, of course, great news for the thousands of individuals in the state suffering from a qualifying condition (such as pain, anxiety, PTSD, etc.). Now, quick and easy access to high-quality medicinal cannabis is a genuine possibility.
This article explains everything you need to know about how to get medical marijuana in Oklahoma. It includes information on the application process, the doctor recommendation forms, and the required fees. First, however, let's check out the general cannabis laws in OK.
Medical Marijuana Laws in Oklahoma
If you want to use cannabis legally, you must apply for an MMJ card through the Oklahoma Medical Marijuana Authority (OMMA) website. Otherwise, you're risking prison time for using the plant as recreational cannabis remains illegal. Also, at present, the state of Oklahoma has NOT decriminalized marijuana, although there is some confusion surrounding the issue.
Being caught in possession of any amount of the substance is a misdemeanor, punishable by a maximum fine of up to $1,000 and 12 months in prison. The unlicensed sale of any amount of marijuana is a felony and carries a possible jail term of two years to life plus a $20,000 fine. The sale of the drug to a minor or within 2,000 feet of public housing, public parks, or schools carries a double amount of prison time and double the fine.
Growing cannabis without an MMJ card is a felony. You could receive a jail term of between 20 years and life.
Also, growing cannabis without an MMJ card is a felony. You could receive a jail term of between 20 years and life. Remember, unless you successfully petition the court to have your record sealed or expunged, misdemeanor offenses remain part of your criminal record for life. Misdemeanors can impact your search for a job or ability to rent property in the future.
It is important to note that the Sooner State has a law that decriminalizes the possession of low-level drugs. However, it doesn't appear to relate specifically to marijuana. Therefore, some police officers rely on old laws to arrest people without MMJ licenses when in possession of marijuana. It is effectively a situation where you may face prison time in one location but only get a fine in another.
In September 2018, Oklahoma City decriminalized cannabis. Residents of the city now face a $400 fine for marijuana possession but no jail time.
How to Get a Medical Marijuana Card in Oklahoma
The program is a pretty simple one to apply for. Nonetheless, check out the steps if you are an Oklahoma resident aged 18+ and think MMJ is a viable option.

Step 1 – Find a Doctor and Schedule an Appointment
Not all Oklahoma doctors are required to participate in the medical marijuana program. Family physicians, in particular, are often reluctant to get involved in the process. Fortunately, you can find a list of physicians that are cannabis-friendly on the Oklahoma Medical Marijuana Authority (OMMA) website.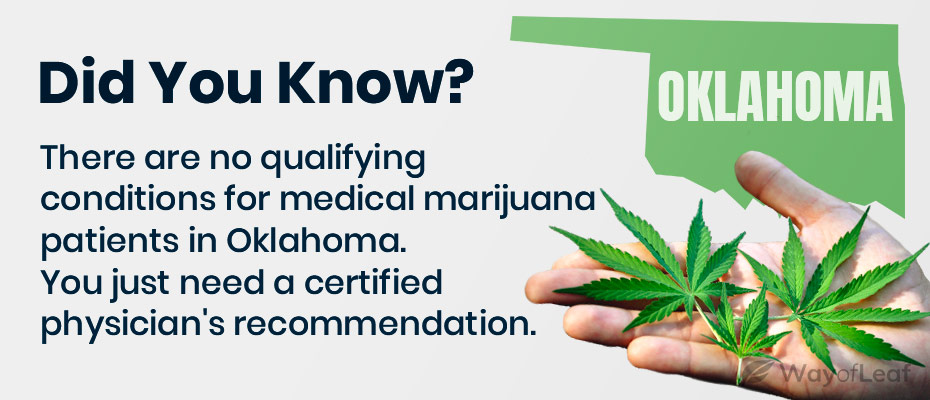 There is no need for a doctor to register with the OMMA before signing a Physician Recommendation Form. However, the process is faster when you use a registered doctor. Bring a blank copy of the Recommendation Form when you visit the doctor's office. You will need to outline why you believe you need an MMJ card.
Step 2 – Start the Online Oklahoma Medical Marijuana Application
Visit the state's official MMJ platform to begin your online application. You will need to fill out various online forms and provide the following information:
Your full legal name and date of birth
Your permanent mailing address
Proof of Oklahoma residency
A clean, color, full-face digital photo
A telephone number and email address
Your current physician information
Adult Patient Physician Recommendation Form dated within 30 days of the submission of the application. OMMA will reject your application if you don't fully complete the 'Certifying Board' section
Here is a table highlighting what types of documents are accepted to fulfill each of the above requirements:
APPLICATION REQUIREMENT

TYPES OF DOCUMENTS ACCEPTED (Only ONE Needed)

Proof of Residency

An Oklahoma driver's license (scanned front and back)
An Oklahoma identification card (scanned front and back)
An Oklahoma voter I.D. card
An Oklahoma utility bill (for the calendar month preceding the date of application. Cell phone and internet bills are NOT accepted)
A residential property deed showing ownership of Oklahoma property
A valid rental agreement for a residential Oklahoma property

Proof of Identity

An Oklahoma driver's license (scanned front and back)
An Oklahoma identification card (scanned front and back)
A U.S. passport (or another photo I.D. issued by the U.S government)
A tribal I.D. card approved for identification purposes by the Oklahoma Department of Public Safety

Full-Face Digital Photograph

See here for detailed instructions for how to submit a digital photograph for your Oklahoma medical marijuana application
Step 3 – Wait for Your Card & Visit a Dispensary
OMMA reviews your application once you have sent it and paid the fees. If approved, you will receive an approval letter in the mail within 14 days of the application submission. You also get your valid MMJ card that allows you to buy medical marijuana in Oklahoma dispensaries.
If the application is missing required documents, you are notified via email. Your card is valid for two years unless the OMMA revokes it. If the application is denied because of unmet requirements, you receive a letter of denial in the mail within 14 days of submission of the application.
For more information, feel free to call the Oklahoma Medical Marijuana Authority at 405-271-2266 for additional assistance.
What Are the Oklahoma Medical Marijuana Costs?
Application fees are as follows:
Standard application fees are $100
Reduced-fee applications are available for $20 for those who qualify (and can provide proof of enrollment in) Medicaid (SoonerCare) or Medicare
*[You MUST pay all application fees with a Visa, MasterCard, or Discover credit or debit card. If you do not have a credit or debit card, find a retail store that offers prepaid Visa or MasterCards and purchase one there]
In general, you can expect to pay an additional $200 for the MMJ evaluation. However, there are now services offered by companies such as NuggMD and Dr. Weedy. In both cases, you can have a consultation online. It only takes around 15 minutes. Once you receive your MMJ card, you can legally visit one of the enormous arrays of Oklahoma marijuana dispensaries.
What Conditions Qualify for a Medical Marijuana Card in Oklahoma?
Unlike practically every other MMJ state program, there is no defined list of qualifying conditions in OK. You only need the recommendation of a licensed physician. Common reasons for approval include:
Muscle pain
Nausea
Inflammation
Migraines
Depression
Anxiety
Body aches
Loss of appetite
HIV/AIDS
Neuropathic pain disorders
Cachexia and wasting syndrome
Glaucoma
Epilepsy and other seizure disorders
Cancer
However, it is at the discretion of the physician in question. This is why you should put in extra time to find a marijuana-friendly one!
It's worth mentioning that the lack of qualifying conditions was met with outrage in some quarters. Dr. Kevin Taubman, for instance, former president of the Oklahoma State Medical Association, said: "This is a bad public health policy that does not resemble a legitimate medical treatment program."
How to Renew an Oklahoma Medical Marijuana Card
First of all, you should try to renew your medical marijuana patient card within 30 days of expiration. The Oklahoma medical marijuana program website has a helpful video outlining how to renew your MMJ card. Here is what to do in a nutshell.
Apart from applying 30 days or less before your card expires, please make sure you have access to your original OMMA account's email. Get in touch with the program's call center if you don't have access.
On the OMMA homepage, look for the 'Returning Applicants' button. Sign in to your existing account by entering the requisite information. Check the 'License Dashboard' to view your card's status. Click on the 'Actions' button to renew your card. Click on 'Patient Renewal,' and your license number will appear on the screen, select it and hit 'Save.'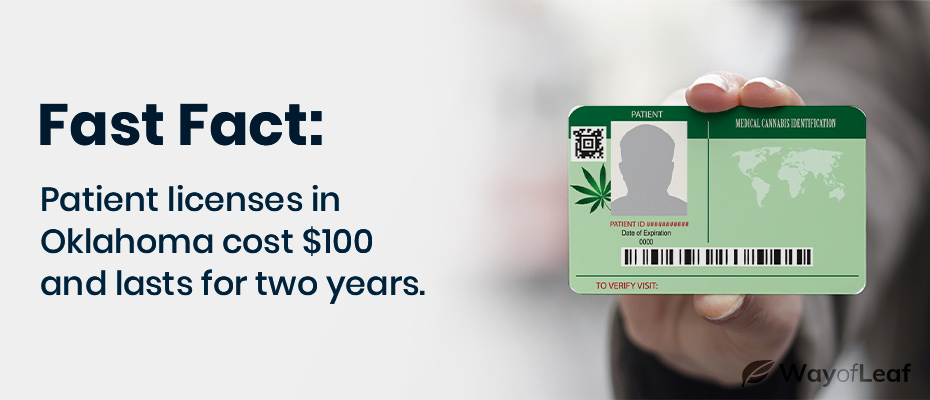 The next step involves hitting 'Save and Next,' where you will be greeted with a General Information screen. Make sure all the data is correct, press 'Save and Next,' and you'll go to the Contact Information section. Note that OMMA does not accept P.O Box addresses. Verify the address information and proceed.
Now, make sure the data on the Physician/Condition is accurate. Then you need to answer some questions before including your full signature and the date of the application. In the 'Documents' section, upload the necessary documents, including your digital photo and physician recommendation.
In the 'Payment' section, you have a final chance to review the information you added. It costs $100 plus a $4.30 service fee to renew your MMJ card. The fee is $20 if you're a Medicaid, Medicare, or 100% disabled veteran patient. You will receive a payment receipt and application I.D. number. It may sound like a complicated process, but it is relatively straightforward.
Oklahoma Medical Card for a Caregiver
When applying for a marijuana card in Oklahoma, patients can also request a caregiver. You will need to provide valid/documented information on why you need a caregiver.
You must submit the caregiver designation application form, and the caregiver needs to obtain an MMJ caregiver license from the OMMA. Once approved, a caregiver can grow cannabis in their home on your behalf or purchase it for you.
The caregiver's license is valid to the expiration date of the associated patient's license. This means a maximum duration of two years. Fortunately, there is no application fee associated with a caregiver's license application in Oklahoma at present.
Governor Stitt signed SB 1033 into law in May 2021. The new legislation allows caregivers to grow up to five cannabis plants for Oklahoma MMJ patients. Incidentally, the law also offers extra protection to doctors who recommend medical marijuana and allows businesses to transfer licenses if ownership changes.
Other Information on the Oklahoma Medical Marijuana License Process
The Oklahoma marijuana bill, in its current form, is pretty "generous," to say the very least. It permits large purchasing and possession limits, and the two-year validity is twice the length of most other states. In any case, here are a few answers to FAQs about the Oklahoma Medical Marijuana Program.
How Much Cannabis Can I Buy & Possess in Oklahoma?
Residents with a state medical marijuana card can:
Possess up to 3 ounces of cannabis in public
Store up to 8 ounces of cannabis at home
Possess up to one ounce of cannabis concentrates (including THC oils, waxes, extracts, etc.)
Possess up to 72 ounces of "marijuana-infused edibles"
Where Can I Consume Cannabis in Oklahoma?
MMJ cardholders should use their marijuana in a private residence. Also, smoked or vaped cannabis is subject to the same laws as smoked tobacco. Therefore, you can technically smoke marijuana anywhere that tobacco smoking is permitted. However, most MMJ patients play it safe and only use their cannabis at home.
Can Minors Get an MMJ Card in Oklahoma?
Yes. However, you need to obtain two physician signatures on a separate form. A parent or legal guardian must also provide additional information about the patient.
Where Can I Purchase MMJ in Oklahoma?
The MMJ program in the state has taken off at warp speed. By February 2020, the state already had more than 2,200 dispensaries, the most in the entire country! Overall, Oklahoma has more than 11,000 MMJ businesses, including growers, processors, and dispensaries.
Am I Allowed to Grow Marijuana at Home?
Yes! You can grow up to six mature plants in a private residence (in addition to six seedlings). However, possession of more than eight ounces is illegal. Therefore, when you harvest your crop, you need to process it or dispose of it. Unless you have a special license, it is unlawful to sell it, and you are not permitted to donate cannabis.
Is the Program Open to MMJ Cardholders from Other States?
Yes. Residents of other states outside Oklahoma that hold a valid MMJ license in their home state may apply for a temporary permit. This enables them to "buy, use, and grow" medical marijuana from an Oklahoma dispensary. The license is valid for 30 days and cannot exceed the expiration of the out-of-state MMJ card. Temporary Oklahoma MMJ licenses are renewable.
How Do I Get a License to Open a Medical Marijuana Dispensary in Oklahoma? Or to Become a Grower, Processor, or Transporter in Oklahoma?
To qualify as growers, transporters, processors, and dispensary operators, applicants must be:
At least 25 years old
A resident of Oklahoma
Already registered to conduct business in the state
Have no more than 25% non-Oklahoma ownership (i.e., no more than 25% of your dispensary partners can be non-Oklahoma residents)
The application fee for growers, processors, and dispensary operators is $2,500.
*The Oklahoma State Department of Health updates the status of the medical marijuana program as new information becomes available. You can either check omma.ok.gov or call 405-271-2266 to learn more.
Final Thoughts on Oklahoma Medical Marijuana
Although the Oklahoma MMJ program isn't perfect, it has enjoyed a relatively quick start compared to most states.
According to some industry experts, Oklahoma's medical marijuana market is the nation's most liberal. It has the largest number of MMJ dispensaries in the country and the highest per capita level of cardholders.
Medical marijuana in the state is relatively inexpensive compared to most states.
With a growing number of cannabis-friendly doctors and no defined list of qualifying conditions, it is getting easier to gain approval for an MMJ card. The $2,500 application fee for a business license also explains why Oklahoma has so many cannabis businesses. All of the above means medical marijuana in the state is relatively inexpensive compared to most states.
Follow the guidelines outlined above to apply for an Oklahoma medical marijuana card if you believe you're eligible.