Overview
Residents living in North Dakota may be eligible for MMJ cards. MMJ cards may provide a variety of benefits. Those seeking to use marijuana to control a chronic condition must meet certain requirements. To find out more, check out our comprehensive guide.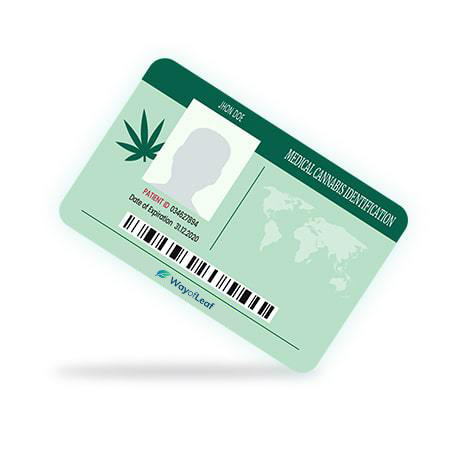 State Program
Approved on
November 8, 2016
North Dakota is associated with a lot of things: Ice, snow, prairie dogs, the movie Fargo. However, cannabis usually isn't one of them. Still, thousands of ND residents interested in getting MMJ have an avenue to do so.
Few people outside North Dakota realize that Governor Doug Burgum signed a medical cannabis bill (Measure 5) into law in 2016. Since then, however, the progression of the state's MMJ program has been painfully slow. The North Dakota Department of Health formally established the program in April 2017. Nonetheless, there were no official manufacturing facilities chosen until May 2018.
Sales were supposed to begin by the Spring of 2018. Alas, the language of Measure 5 meant that getting the program off the ground was a tough task. In April 2019, Governor Burgum signed a series of bills into law. These included increasing the number of qualifying conditions. These new laws also made it easier for doctors to certify patients and permitted a physician assistant in certifying MMJ patients.
In this continuously-updated article, we outline the necessary steps on how to apply for a medical marijuana card in North Dakota.
How to Get a Medical Marijuana Card in North Dakota
Compared to other states, applying for a medical marijuana card in North Dakota is pretty simple. All you need is access to a computer, a solid internet connection, add a few routine identification documents. Here is the easy step-by-step process for getting a medical cannabis identification in ND.
Please note that only North Dakota residents aged 19+ can apply through this process. Minors must complete a different application. You must also have one of the qualifying conditions that we outline in a specific section below.
Step 1 – Speak with a Physician
The first step is to find a doctor that is willing to write a recommendation for your use of MMJ. North Dakota doctors are not required to participate in the state's medical cannabis program. If he or she refuses to issue you a written recommendation, they are entirely within their rights to do so.
In ND, you need to use a doctor with whom you have a 'bona fide' doctor-patient relationship. Furthermore, the state of North Dakota does not provide a list of doctors who write medical cannabis recommendations. Therefore, if your provider does not agree to one, you need to find a 'marijuana-friendly' physician. During the consultation, the doctor will ask you about your health and decide if using MMJ will help you. They will need to ensure you have a qualifying condition before agreeing to recommend you.
Step 2 – Go Online and Create an Account
Once you receive the recommendation letter, the next step involves going online and creating an account with the ND BioTrackTHC system. This is the online program used to complete and submit North Dakota medical marijuana card applications. (Click here to create your account).
You must provide certain documents to complete your application. This includes a legal form of identification, North Dakota residency verification, and up-to-date photographs. (You can find a complete list of all required documents here).
Furthermore, you need to provide the name and email address of the doctor/healthcare provider issuing your recommendation. We suggest finding a doctor before starting the online application process for this reason.
The North Dakota Department of Health (NDDOH) will contact the healthcare provider on your behalf once you provide your doctor's information. You may not submit your own application. All recommendations are written and submitted directly from the office of the healthcare provider.
Step 3 – Pay the Fee and Submit Your Application
Once the doctor is ready to submit your application, you have to pay the non-refundable fee. You can only pay via check or cashier's check at the time of writing. Send payment to the following address:
NDDoH, Division of Medical Marijuana
600 East Blvd Ave, Dept 301
Bismarck, ND 58505
If you get approval for a medical marijuana card in North Dakota, you receive an email. (Check here for a video tutorial offering complete instructions on the application process and all required documents). Incidentally, you can log into your BioTrackTHC account at any time and complete one of the following actions:
View or edit certain account information
View or edit an incomplete application.
View your submitted application and track where it is in the review and approval process.
Check your maximum purchase limit balance.
The state recently implemented electronic ID cards for patients, designated caregivers, and agents. They work the same as a printed card, and you can access them on a smartphone. You can only receive an electronic card when your application is approved, and its status is 'issued.' You can access it by logging into the registration system.
The card is valid for a year. The renewal process involves seeing a licensed physician again.
What Are the North Dakota Medical Marijuana Costs?
The application fee is $50. However, you will probably pay anywhere between $150 and $200 for a consultation. It costs $25 to replace a lost card and $5 to replace it for any other reason, including a name change. A new card could take up to 20 calendar days to arrive after approval. It will also have a new 10-digit code.
At the time of writing, MMJ patients believe that the cost of cannabis in North Dakota is prohibitive. You can expect to pay around $400 an ounce if you use the dispensary in Fargo, for example.
What Conditions Qualify for a Medical Marijuana Card in North Dakota?
Only patients with one of the following conditions are potentially eligible for an MMJ card in North Dakota:
Alzheimer's disease agitation or related dementia
ALS
Anorexia
Anxiety disorder
Autism
Brain injury
Bulimia
Cancer
Chronic back pain
Crohn's disease
Decompensated cirrhosis caused by hepatitis C
Ehlers-Danlos syndrome
Endometriosis
Epilepsy
Fibromyalgia
Glaucoma
HIV/AIDS
Interstitial cystitis
Migraine
Neuropathy
PTSD
Rheumatoid arthritis
Spinal stenosis
Terminal illness
Tourette syndrome
The program also covers any chronic or debilitating disease, or its treatment, that produces cachexia, intractable nausea, seizures, severe debilitating pain that doesn't respond to conventional therapy or surgery for over three months. Patients with severe and persistent muscle spasms, including MS, may also apply.
Other Information on the North Dakota Medical Marijuana License Process
The program is still in its relative infancy, so many North Dakota MMJ patients remain in the dark. We try to answer a few of the most frequently answered questions below.
How Much Can I Purchase & Possess with an MMJ Card?
Certified patients and caregivers can purchase up to 2.5 ounces in 30 days. Those with cancer can buy up to six ounces in 30 days and up to four grams of THC in a combustible delivery form if authorized by their doctor. Minors who qualify are not allowed to buy or consume dried leaves and flowers.
Also, patients aged 19+ can purchase the following types of cannabis:
Dried leaves and flowers.
Concentrates or extracts.
Transdermal patches with a max of 50mg THC per dose.
Topicals with up to 6% THC.
Can I Grow MMJ at Home?
A legislative change meant you could grow cannabis at home if you live more than 40 miles from a dispensary. However, the introduction of SB 2344 removed this provision, according to NORML. Therefore, at present, you are not permitted to grow cannabis as an MMJ patient in ND.
Where Can I Purchase Cannabis in North Dakota?
You can purchase MMJ from one of eight dispensaries in ND. Here are the names and locations of each one:
Harvest of Bismarck – Bismarck
Herbology – Devil's Lake
Herbology – Dickinson
The Botanist – Fargo (Closed at the time of writing until further notice)
Strive Life – Grand Forks
Herbology – Jamestown
Herbology – Minot
Harvest of Williston – Williston
Does North Dakota Have Reciprocity Laws?
No. There are no such agreements between ND and other states.
Where Can I Use MMJ in ND?
You can only use it at home or in a private residence. It is illegal to use MMJ in the workplace or a public area. Also, you are not allowed to unwrap packaged cannabis dried leaves & flowers, or any other MMJ product inside a dispensary.
Can I Use a Caregiver?
Yes. You can choose a 'designated caregiver' if they are a North Dakota resident and aged 21+. They must complete the same registration and application steps and complete a criminal background check every two years. They are not allowed to act as a caregiver if they have a felony conviction, or a misdemeanor drug conviction within the last five years. The caregiver can act on behalf of up to five MMJ patients.
Can Minors Use MMJ?
Yes. Those aged 18 or younger can get MMJ in North Dakota. However, they need a parent or legal guardian to complete the application.
If you have any further questions, contact the North Dakota Division of Medical Marijuana at medmarijuana@nd.gov or by phone at 701-328-1311.
If you found this article helpful, please share it with someone looking to learn about applying for an MMJ card in North Dakota.
Published on:
4 Feb, 2019