Overview
Wondering how to get a medical marijuana card in New Mexico? Read on to find out! Our comprehensive guide details some program criteria and basic requirements. It is a long-running program that earns the state a significant amount of tax revenue.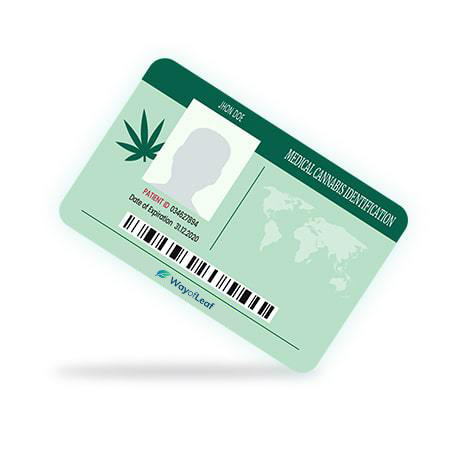 State Program
Approved on
APRIL 1, 2007
CONSULTATION FEE RANGE
MMJ PURCHASING LIMITS
425 UNITS (EQUIVALENT TO 15 OUNCES OF DRY FLOWER) ACROSS A 90-DAY ROLLING PERIOD
HOME CULTIVATION?
MINIMUM AGE LIMIT
Several MMJ programs across the country are experiencing problems regarding supply, licensing, and online registry platforms. However, medical marijuana in New Mexico continues to thrive, as does the weed industry as a whole.
Sales from the state's MMJ program totaled $129 million in 2019, just under $11 million per month on average. The New Mexico Cannabis Control Division (CCD) stated that monthly MMJ sales were over $17 million three years later. The fledging adult-use market is already booming, recording even greater revenue than medical marijuana!
New Mexico's MMJ program is extremely well-established, but, despite major public support for full legalization, it didn't come to pass until April 2021. The first legal sales of recreational cannabis in NM occurred on April 1, 2022.
While it may impact the medical marijuana program, one suspects that a high percentage of cardholders will continue using MMJ, not least because of the large amount of weed they can purchase.
If you're interested in an NM medical card, read this guide to find out everything you need to know. First, however, let's analyze the current cannabis laws in the state.
New Mexico Medical Marijuana Laws
The state decriminalized possession of up to half an ounce of marijuana in March 2019. Full legalization of the substance meant that from June 29, 2021, it was legal to possess up to two ounces. However, legal sales of recreational cannabis didn't begin for another nine months.
If found in public in possession of over two ounces with no MMJ card, the offense is classified as a misdemeanor, with guilty parties sentenced to up to a year in prison. Anyone found possessing 8+ ounces will face a felony charge with a potential 18 months imprisonment as the punishment. This is the same penalty for anyone caught illegally distributing any amount of the substance.
Growing more than six mature plants is a serious felony; you could spend up to nine years in jail if caught!
Therefore, you should apply for a New Mexico MMJ card if you intend to possess more than two ounces outside your home.
How to Get a Medical Marijuana Card in New Mexico
The NM medical marijuana application process is clearly defined and relatively straightforward. Here is how to get your MMJ card.
Step 1 – Get in Touch with an NM Healthcare Provider
The first step to getting a medical marijuana card in New Mexico is obtaining your medical records. From there, you must locate a cannabis-friendly physician in the state. You should have no problems doing so!
Step 2 – Schedule a Consultation
Schedule an appointment with a doctor licensed to practice in New Mexico to get a signed statement. You need the physician's approval as part of the MMJ application process. The appointment is usually a straightforward process. The doctor will ask you a few questions about your condition to see if medical marijuana is a viable option.
What if your physician does not approve of MMJ as a medicine? In that case, you can book an appointment at one of many clinics and doctor's offices throughout the state. These facilities specialize in medical marijuana consultations.
Step 3 – Sign Up for a New Mexico State Government Account
After the consultation, you will obtain an official document stating you are a valid patient.  (See below for the full list of qualifying conditions). Next, register online with the Medical Cannabis Program (MCP). Submit your application to receive your registry identification card. Please note that you must apply within 90 days of receiving your doctor's certification.
In most instances, the doctor's office that schedules your initial consultation will take care of the entire registration/application process. It usually happens on the same day as your visit. However, they charge a consultation fee. If your physician doesn't sort it out, the onus is on you to do so. Incidentally, the New Mexico MMJ program no longer accepts paper applications.
Step 4 – Visit a Dispensary
Once you receive your MMJ card, it is time to visit one of the state's MANY dispensaries!
Who Can Apply for a Medical Marijuana Card in NM?
To apply for a medical marijuana card in NM, you must be 18+ and have one of the qualifying conditions.
Up until recently, only state residents could get a card. At that point, you had to provide proof of residency. For example, a New Mexico ID, passport, or another photo ID that declared residency (bank statement or utility bill).
However, in September 2019, New Mexico began to issue cards to non-residents. An Arizona resident named Duke Rodriguez became the first non-NM resident to receive a card in the state. Two petitioners from Texas also succeeded in their quest. All three were able to prove that they needed access to medical marijuana.
Cost of MMJ Card in NM
The medical marijuana card cost in NM is lower than in most states. This is because the New Mexico Patient Registry doesn't charge MMJ patients for applying. You can access and complete the application by downloading the following form. A doctor's appointment costs anywhere from $50 to $150.
NM MMJ Card Qualifying Conditions
To qualify, a physician must diagnose a patient as having one of the following debilitating medical conditions: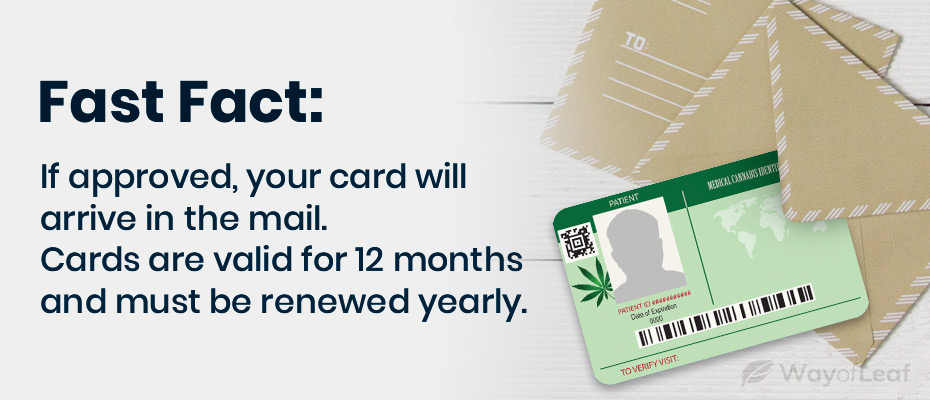 Severe chronic pain
Painful peripheral neuropathy
Intractable nausea/vomiting
Severe anorexia/cachexia
Hepatitis C infection currently receiving antiviral treatment
Crohn's disease
Post-traumatic stress disorder (PTSD)
Amyotrophic lateral sclerosis (Lou Gehrig's disease)
Huntington's disease
Cancer
Glaucoma
HIV/AIDS
Multiple sclerosis
Epilepsy/seizure disorder
The above is not an exhaustive list. There were 29 NM medical marijuana card qualifying conditions at the last count.
How Long Does It Take to Get a Medical Marijuana Card in NM?
The Medical Cannabis Program (MCP) processes applications in the order received. The MCP could take up to 30 days to approve or deny an application. Once approved, you should receive your MMJ card in the post in five business days.
How to Renew My New Mexico Medical Card?
The process for renewing a medical marijuana card in New Mexico is the same as when you apply for the first time. To restore your card, apply 45-60 days before the expiration of your old card. Once again, all cards are processed in the order applications are received by the state. While the card is valid for three years, you must get a fresh doctor's certification each year.
Other Information on the NM Medical Marijuana License Process
Although the NM medical marijuana program is relatively old by state standards, prospective patients are often confused by the contradictory information they read. We aim to clear up a few things in this section.
What Types of Cannabis Can I Purchase in NM?
New Mexico residents have access to an enviable array of MMJ products. These include dry flower, edibles, capsules, concentrates, vapes, and tinctures.
How to Get a Medical Marijuana Card in NM Online
In New Mexico, booking an online consultation with a physician is possible. Various organizations now offer this service for under $100. After a 15-minute meeting with a licensed doctor, you'll either receive approval or get rejected. Many providers of online consultations offer a money-back guarantee in the latter scenario.
Can I Register My Child for Medical Marijuana in NM?
Yes. Minors can apply with the permission of a parent or guardian.
Where Can I Purchase MMJ in New Mexico?
Patients must purchase from a Licensed Non-Profit Producer. At the time of writing, there are almost 500 marijuana dispensaries in New Mexico. The rate of over 22 dispensaries per 100,000 residents is among the highest in the country.
How Much Cannabis Can I Buy & Possess?
MMJ patients in New Mexico can possess "an adequate supply" of marijuana. This is defined as a maximum quantity of 425 units (approximately 15 ounces of dry flower) over a rolling 90-day period. A unit is 200mg of THC when calculating the quantity of topicals, edibles, and tinctures you can purchase.
There is a specific page on the MCP website that enables you to see your sales history from the last 90 days.
Can You Grow Marijuana in New Mexico with a Medical Marijuana Card?
Yes. Before recreational legalization, growing weed in New Mexico required having an MMJ card and obtaining a Personal Production License (PPL). This license allowed the holder to grow 12 Cannabis sativa seedlings. It also allowed the cultivation of up to four mature marijuana plants.
However, the adult-use law permits adults aged 21+ to grow up to six plants at home, or 12 per household if there are 2+ adults living in the residence.
Where Can I Use My MMJ?
New Mexico does not permit the public use of medical marijuana. An enrollee's participation in the medical cannabis program does not shield them from criminal prosecution for certain activities, including:
Using any form of cannabis on a school bus, school grounds, or property.
Marijuana use in the workplace.
Using cannabis at a public park, recreation center, youth center, or another public place.
The illegal transfer or distribution of any cannabis product.
Transporting any marijuana outside New Mexico or attempting to move a cannabis product outside state lines.
Possessing amounts of medical marijuana that exceed the allotted amount.
Also, your car is a public place which means the use of marijuana in your vehicle is prohibited.
Can I Take My MMJ to a Different State?
No. Medical marijuana patients may face federal and local charges for transporting weed if they cross state lines with the drug. This is true even if traveling in "legal states." If leaving New Mexico, check the marijuana laws of the state you plan to visit to see if you can purchase the substance legally. At present, New Mexico recognizes valid out-of-state MMJ cards.
What Are the Caregiver Rules?
You can assign an individual aged 21+ who is a resident of New Mexico. This caregiver can only provide care for one patient at a time. They must submit their application along with that of their designated patient. Minors must select at least one adult parent or legal guardian as a caregiver. An MMJ patient can assign up to two caregivers.
What If I Lose My Medical Card in New Mexico?
If you need a replacement card, complete the "Information Change/Replacement Card Form" and mail it to the MCP at its Santa Fe address (see above).
When Did Medical Marijuana in New Mexico Become Legal?
New Mexico technically allowed MMJ in 1978 via the Controlled Substances Therapeutic Research Act. However, it was an incredibly restrictive program, and only 250 cancer patients received marijuana between 1978 and 1986.
In 1999, the Governor of New Mexico, Gary Johnson, endorsed cannabis legalization. His comments sparked intense debate, but he didn't get his wish for another eight years.
Finally, the New Mexico medical marijuana program officially passed on April 1, 2007. On that day, Governor Bill Richardson signed Senate Bill 523, aka "The Lynn and Erin Compassionate Use Act," into law.
How to Get a Medical Marijuana Card in Albuquerque
Residents of the state's largest city have no shortage of clinics willing to approve MMJ applicants with qualifying conditions. Once you have your MMJ card, there are dozens of dispensaries to choose from. Incidentally, in April 2018, the Albuquerque City Council voted to decriminalize the possession of up to an ounce of marijuana, 15 months before a statewide decriminalization policy came into effect.
MMJ Card for Veterans in NM
Veterans living in New Mexico must go through the standard application process. Certain clinics may offer a discount for veterans. It is worth looking into the services offered by the New Mexico Veterans Cannabis Alliance. This organization occasionally offers free cannabis and aims to connect veterans to investors and mentors to help them open small marijuana businesses.
Final Thoughts on Getting a New Mexico Medical Marijuana Card
The New Mexico medical marijuana program has been a huge success, with almost 5% of the entire population enrolled in it! From April 2022, it became legal to buy recreational marijuana. However, it is still well worth applying for an NM medical marijuana card. Cardholders benefit from significantly higher purchase and possession limits and don't have to pay the 12% excise tax imposed on adult-use weed.