Overview
New Hampshire residents may qualify for an MMJ card. MMJ card holders may obtain certain benefits. To find out what these benefits may entail and if you are qualified, take a look at our guide. Be aware that certain terms and conditions will apply.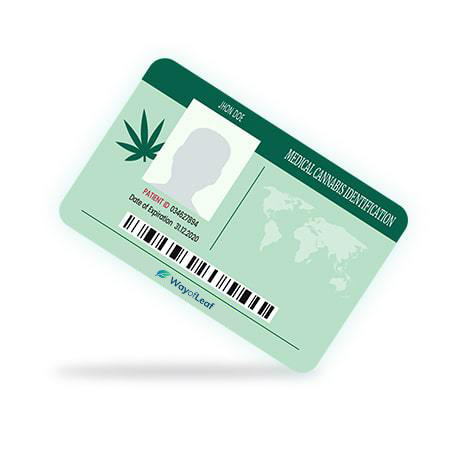 State Program
Approved on
July 23, 2013
The state of New Hampshire took a significant step forward in July 2013. It was at this time that Governor Maggie Hassan signed a medical marijuana bill into law. Although it was a start, it was widely regarded as one of the country's strictest MMJ card laws. Patients couldn't grow their own weed. Also, they could only use it if they had a debilitating medical condition and tried all other available treatment methods.
Attempts to legalize cannabis recreationally in New Hampshire have failed. However, in September 2017, the state effectively decriminalized the herb.
Non-medical card holders were no longer subject to criminal penalties for possession of up to 0.75 ounces.  There was also an expansion in the number of dispensaries in the state recently. Plus, the Program allows more qualifying conditions than before. However, attaining an MMJ card in New Hampshire is far from a seamless process. You can find out more by reading on.
How to Get a Medical Marijuana Card in New Hampshire
First and foremost, only residents of New Hampshire aged 18+ may apply. You can only qualify if a doctor has diagnosed you with one of the qualifying conditions we outline below. Only a licensed physician within the state can provide a recommendation.
When applying for the card, you need to show proof of residency. You can use a New Hampshire I.D., passport, bank statement, utility bill, out of state I.D., or another photo I.D.
Step 1 – Visit a Physician for Approval
You can contact any physician or advanced practice registered nurse (APRN) who is licensed in New Hampshire, Vermont, Massachusetts, or Maine. Only these individuals can provide you with a valid Written Certification for the therapeutic use of marijuana.
At the time of writing, the state's medical weed law does not require medical professionals to get involved in the Program. Also, they are not legally required to provide you with Written Certification.
The Program does not keep a list of marijuana-friendly physicians, nor does it recommend or refer patients to any physician. As a result, you may have to try out a few doctors before having success.
Where New Hampshire differs from so many other MMJ programs is that you need a 'provider-patient' relationship for at least three months. During this period, the doctor must perform a full assessment of your medical history and medical condition. This process includes a physical exam.
It is unlikely that a physician will recommend you for medical marijuana unless you have one of the qualifying conditions. You also need proof that you tried several other treatment options first.
The three-month relationship rule is waived if the qualifying condition happened within the last three months. It is also waived if the certifying doctor is mainly responsible for care related to the qualifying medical condition.
Step 2 – Complete the Application
You can only complete the application when you have a physician's approval. Your doctor will register you with the state's MMJ Program as a qualifying patient. Next, your physician will return the Written Certification form when they have completed it.
You are not supposed to let your provider send the Certification form to the DHHS. For minors, two different providers must complete two forms. One of these providers must be a pediatrician. Patients must send in the form within 60 days of the date of the Certification, or else the application is deemed incomplete.
Step 3 – Take a Digital Photograph of Your Face
You need this photo for the Registry Identification Card. Ideally, you will use a passport photo, but you can take a chance and use your own digital camera. Make sure the digital picture is in .jpg format and supplied on a compact disc labeled with your name and date of birth.
Step 4 – Send Your Application & Make the Payment
Enclose a money order or check for $50 to the Treasurer, State of New Hampshire. All payments are non-refundable. Mail or hand-deliver your application to the Therapeutic Cannabis Program at the state's DHHS location in Concord.
NH Department of Health and Human Services
Therapeutic Cannabis Program
29 Hazen Drive
Concord, NH 03301
Once the application is received, the Program approves or denies a complete application within 15 days of receipt. If approved, your MMJ card should arrive in the mail within five days of approval.
Overall, the application process takes approximately 20 days from the date you complete and send the application to when you receive your card. As well as containing your name, address, date of birth, and photo, the MMJ card will consist of a random 10-digit registration number.
The Program notifies you in writing within 10 business days if you send an incomplete application. You have 30 days from the notice date to submit the missing information. Failure to do so within six months means your request is completely closed and becomes void. Reapplication at this stage means sending everything again.
What Are the New Hampshire Medical Cannabis Card Costs?
Aside from the non-refundable $50 application fee, you must pay a $25 fee for lost valid cards and $50 for renewal. Failure to tell the Program about a name or address change could result in a fine of $150.
Physician's fees vary, but you can expect to pay up to $150 for an initial consultation.
This is followed by $75 per follow-up visit, which usually happens at 3-6-month intervals. However, it is at the physician's discretion. In keeping with the old-school nature of the Program, you can't pay via debit or credit card. Instead, you must send a check or money order to the Treasurer address we listed earlier.
What Conditions Qualify for a Medical Marijuana Card in New Hampshire?
In New Hampshire, you only receive approval if you have a debilitating, severe, or life-threatening condition. According to House Bill 573, you need to have one of the following medical conditions to qualify for a medical marijuana card:
HIV/AIDS
Alzheimer's disease
Parkinson's disease
Multiple sclerosis
Crohn's disease
Cancer
Glaucoma
PTSD
Intractable pain
Ehlers-Danlos syndrome
Traumatic brain injury
Spinal cord injury or disease
Muscular dystrophy
Chronic pancreatitis
ALS
Hepatitis C
The above is not an exhaustive list. You can find out more on page six of the New Hampshire MMJ Application Form.
Other Information on the New Hampshire Medical Marijuana License Process
Below you can find the answers to some frequently asked questions about the New Hampshire MMJ program: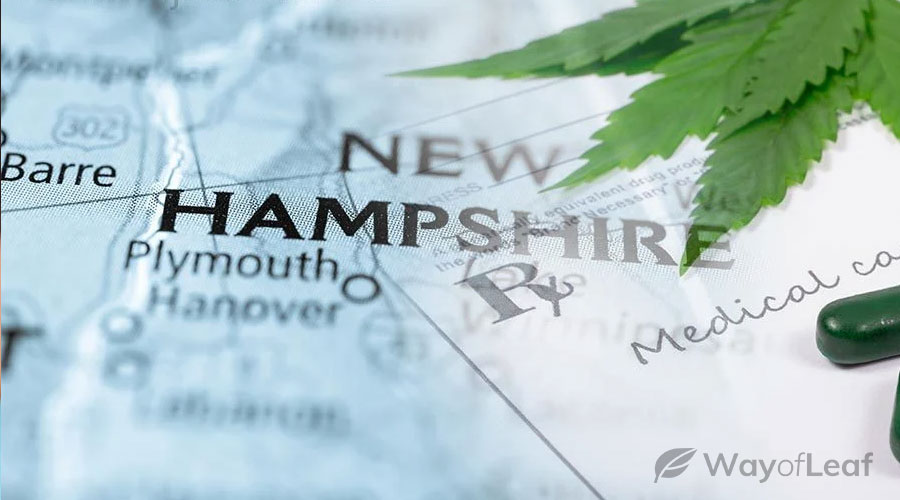 For How Long Is the Card Valid?
The MMJ card lasts for a year. You must renew it in advance by filling in the requisite forms.
Can I Grow Marijuana at Home?
At present, home cultivation is not allowed. However, back in February 2020 the NH Senate passed SB 420. This enables MMJ patients or their caregivers to grow cannabis in a private residence. The bill will permit a maximum of three mature plants, three immature plants, and 12 seedlings. SB 420 must get through the House before becoming law.
How Much Cannabis Can I Purchase & Possess?
A qualified patient can purchase a maximum of two ounces during a 10-day period. You are not allowed to have more than two ounces in your possession at any one time. There is a $100 fine if caught in possession of weed in a public place with no MMJ card.
I Have My MMJ Card; Where Can I Purchase Cannabis?
During your initial application, you must select an Alternative Treatment Center (ATC). You can only purchase marijuana from the ATC you choose. There are no delivery services at present. If you wish to change your ATC, you need to complete a 'Change of Information/Lost Card' form and submit it to the Program.
At the time of writing, there are only five dispensaries in the state. At present, you have the following options:
Prime Alternative Treatment Centers of NH in Merrimack
Sanctuary ATC in Plymouth AND Conway
Temescal Wellness in Dover and Lebanon
Am I Allowed to Designate a Caregiver?
Yes, MMJ patients in New Hampshire can designate a caregiver. They must submit a particular form for approval by the Program. This individual must be at least 21 years of age. They will receive a Registry Identification Card, which allows them to assist you with your medical use of marijuana.
Your caregiver must not have a felony on their criminal record. They can receive compensation for actual costs but not labor or time.
What Should I Do If I Lose My MMJ Card?
You must tell the Program in writing within ten days of discovering that your card is lost. Submit a 'Change of Information/Lost Card' form along with a money order or check for $25. The Program will provide you with a new card, which also includes a unique 10-digit I.D. number.
Where Am I Allowed to Consume Cannabis?
You are not permitted to use marijuana in any public place. It is also illegal to possess it on school grounds or in school buildings. This restriction also applies to places of employment without the employer's express written permission.
If you found this article informative, please share it! Especially with New Hampshire residents interested in getting an MMJ card.