Overview
Although Michigan residents aged 21+ can access recreational marijuana, there are still a few reasons to apply for a medical marijuana card. Read the following guide to find out how to get your MMJ card in MI.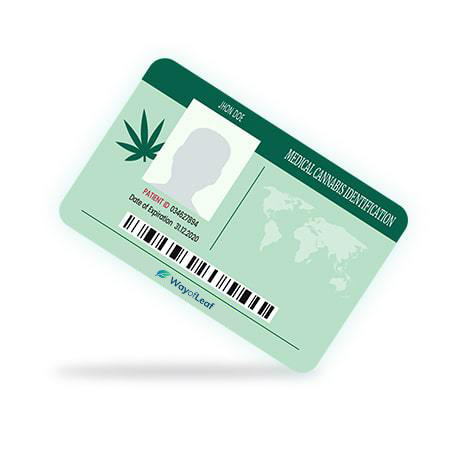 State Program
Approved on
NOVEMBER 4, 2008
CONSULTATION FEE RANGE
MMJ PURCHASING LIMITS
UP TO 2.5 OUNCES OF USABLE MARIJUANA
HOME CULTIVATION?
MINIMUM AGE LIMIT
Michigan has had an interesting history with cannabis. In the early 1970s, Ann Arbor enacted some of the most lenient laws in the country regarding cannabis use and possession. However, it wasn't until 2008 that Michigan officially adopted a functional MMJ program. It legally allowed the use of medical marijuana for the very first time.
Fast-forward to the present day, and the state is now one of the most liberal in the USA regarding cannabis legislation. Proposal 1 was passed in late 2018, which allows Michigan residents 21 and older to possess up to 2.5 ounces of marijuana at a time. Recreational sales began in December 2019.
With this in mind, you may ask yourself, "why get a Michigan MMJ card if I can buy 2.5 ounces without it?" Reasons to consider getting medical marijuana include lower costs, higher potency products, fewer age restrictions, and the potential to purchase cannabis in states that have a reciprocity agreement with your own.
If the above sounds good, and you want to apply for an MI medical card, continue reading our step-by-step guide below.
Michigan Medical Marijuana Laws
These days, adults aged 21+ can legally possess up to 2.5 ounces of marijuana in Michigan. Moreover, they can also have up to 10 ounces in the home. Even the possession of between 2.51 and 5 ounces is only a civil infraction, which results in a $500 fine. You must be caught with over five ounces for marijuana possession to become a misdemeanor in MI.
Adults can also distribute up to 2.5 ounces without remuneration. However, the sale of any amount of marijuana without the requisite license is a felony. The penalty is a potential four-year prison term. Michigan residents can also grow up to 12 plants legally.
Yet, despite the generous possession and growing limits in Michigan, having an MMJ card gives you even more freedom!
How to Get a Medical Marijuana Card in Michigan
While many adults will be pleased with the 2.5-ounce possession limit, MMJ cardholders retain a few advantages. For instance, they can apply without a legal guardian when aged 18, whereas recreational weed is only available to individuals aged 21+.
Step 1- Sign up for a Michigan State Government Account
To get a Michigan MMJ card, individuals must first go to the official Cannabis Regulatory Authority (CRA) website and create an online account. After opening the link, click on the button that says "New Users: Register for an Account."
You'll need to create a username and password and fill out basic personal information (name, address, DOB, etc.).
Step 2 – Get in Touch with an MI Healthcare Provider
After you've created your online user account, you'll need to proceed with the following steps.
To get certified for an MMJ card in Michigan, individuals must have one of the state's approved qualifying conditions. We outline the list of conditions a little later on.
Next, you must find a Michigan marijuana doctor and set up a consultation. Patients cannot get approved for a Michigan MMJ card without a doctor's approval. The state does not provide a list of cannabis doctors, so you'll need to go online and search for "Michigan Marijuana Doctor near me." There are hundreds of MMJ evaluation clinics across the state.
The exact protocol for the Michigan MMJ card application process varies from clinic to clinic. Now, it's time to see the physician and submit your application.
Step 3 – Attend the Consultation
A Michigan medical marijuana evaluation is just like any other doctor's visit. Once you are in the room for your consultation, the doctor will perform a standard exam. They will look at your medical records and discuss the practicality of medical marijuana as an option for your condition.
If you're completely new to medical marijuana, this would be a good time to ask questions about how cannabis works and what strains may suit your needs. If you are deemed eligible, the doctor or a staff member will explain the state's medical marijuana rules. Then, the office will complete the requisite paperwork and submit the remaining portion of your application.
Beware that for the MMJ evaluation center to complete your application packet, you will need to show proof of Michigan residency in one of the following ways:
A valid Michigan driver's license
A personal ID card from the state of MI
A signed MI voter registration card
Please note that a copy of a voter registration card without a signature is not valid. Lastly, suppose you need an official caregiver to apply for medical cannabis on your behalf. You must refer to the state's Frequently Asked Question page on the caregiver registry in that case.
Also, the doctor's certification you use must be signed and dated within six months of your application.
Step 4 – Visit a Dispensary
You will receive a confirmatory email if you're approved for medical cannabis. Then you can visit a Michigan dispensary!
Who Can Apply for a Medical Marijuana Card in MI?
To apply for a medical marijuana card in MI, you must be a state resident aged 18+ with a qualifying medical condition. A doctor will not provide written certification if they don't believe your situation will improve using MMJ.
Cost of MMJ Card in MI
The medical marijuana card cost in MI includes a $40 application fee. However, most clinics will have a consultation fee, typically between $150 and $250.
MI MMJ Card Qualifying Conditions
Patients diagnosed with one of the following MI medical marijuana card qualifying conditions can apply for a Michigan MMJ card:
Cancer
Glaucoma
HIV/AIDS
Hepatitis C
Amyotrophic lateral sclerosis
Crohn's disease
Agitation of Alzheimer's disease
Nail patella
Cachexia or wasting syndrome
Severe and chronic pain
Severe nausea
Seizures, including characteristics of epilepsy
Severe and persistent muscle spasms, including characteristics of multiple sclerosis
PTSD
Rheumatoid arthritis
Colitis
OCD
Arthritis
Inflammatory bowel disease
Parkinson's disease
Tourette's syndrome
Chronic pain
Cerebral palsy
Autism
Ulcerative colitis
Spinal cord injury
How Long Does It Take to Get a Medical Marijuana Card in MI?
In the past, approval for a Michigan medical marijuana card could take up to six weeks. Now, many patients are approved on the same day that their application is submitted through the MMJ doctor's clinic. And the best news for MI patients is that they do not need to wait for their official Michigan MMJ card to arrive in the mail.
You can still mail a paper application if you wish, though you will still need to set up an online account with the Department of Licensing and Regulatory Affairs (LARA). In this case, you must print off all required paperwork and submit everything to the following address:
Michigan Medical Marihuana Program
PO Box 30083
Lansing, MI 48909
If your application was submitted correctly, the state should notify you within 15 business days whether it was accepted or rejected.
How to Renew My Michigan Medical Card?
You must renew via the CRA. This means completing the requisite sections of the application form and getting a fresh doctor's certification. The good news is that the MMJ card in Michigan is valid for two years. You can submit a renewal application up to 90 days before your card expires.
Other Information on the MI Medical Marijuana License Process
Even though it is relatively straightforward to get a Michigan MMJ card, applicants often have many questions. We tackle some of the most frequently asked below.
What Types of Cannabis Can I Purchase in MI?
You can choose from various products, including oils, marijuana flower, concentrates, topicals, and edibles.
How to Get a Medical Marijuana Card in MI Online
Numerous providers, such as Leafwell and Veriheal, offer the chance to complete the doctor's consultation online. You'll often have access to a physician within minutes. The provider will email you a certificate immediately after the consultation if you're approved. The PDF version is all you need to complete the application form.
Can I Register My Child for Medical Marijuana in MI?
Yes, as long as a parent, legal guardian, or someone with Medical Durable Power of Attorney (MDPOA) submits a copy of proof of MDPOA or legal guardianship with signatory authority as part of the application. The legal guardian or MDPOA must also include a copy of their proof of Michigan residency.
Also, minors need two physician certification forms from two different doctors.
Where Can I Purchase MMJ in Michigan?
There are over 500 operating medical marijuana dispensaries throughout Michigan and nearly 500 recreational dispensaries. You will find numerous options in every major city in the state.
How Much Cannabis Can I Buy & Possess?
Certified Michigan MMJ patients can buy and possess up to 2.5 ounces of usable marijuana. According to the medical marijuana legislation, the following is considered the equivalent of an ounce of usable marijuana:
16 ounces of "marijuana-infused product in a solid form. *"
7 grams of "marijuana-infused product in a gaseous form."
36 fluid ounces of "marijuana-infused product in a liquid form."
*Please note that this doesn't mean you can have 16 ounces of weed in your brownies! It seems to suggest that a batch of marijuana brownies (as an example) should not exceed 16 ounces in weight. For instance, a 16-ounce batch would be classified as one ounce of usable marijuana.
Can You Grow Marijuana in Michigan with a Medical Marijuana Card?
Yes. MMJ patients and primary caregivers can also grow and possess up to 12 marijuana plants. This is as long as the plants are locked in an enclosed space. Also, if you intend to cultivate and grow your own medicine, you must declare it on your Michigan medical marijuana application form.
Where Can I Use My MMJ?
Even with a valid medical marijuana card, you can't legally smoke marijuana in public or while operating a vehicle. The only place you can use it is in a private residence.
Does Michigan Have MMJ Reciprocity Laws?
Yes. Michigan accepts out-of-state MMJ cards, but only if your home state allows for reciprocity. However, you can purchase cannabis recreationally in Michigan if you are 21+. Please note that it is illegal to travel across state lines in possession of marijuana, even if you have an MMJ card.
What Are the Caregiver Rules?
Only adults aged 21+ can become medical marijuana caregivers in Michigan. They must not have a conviction for a drug-related or violent felony. Also, a primary caregiver must not have committed any felony within the last ten years. A caregiver is allowed up to five patients at a time and can grow cannabis on their behalf.
What If I Lose My Medical Card in Michigan?
You will need to request a replacement card by mail or online. The process involves registering for an online account and linking your account using your Print Audit Number. If you do it by mail, you must complete the Request Replacement Card(s) form.
When Did Medical Marijuana in Michigan Become Legal?
The Michigan Compassionate Care Initiative legalized MMJ in the state in November 2008. It was the end of a long journey toward weed acceptance that began in Ann Arbor in the 1970s. The college town enacted some of the country's most lenient marijuana possession laws at that time.
It took another decade for recreational marijuana to be legalized, but that too came to pass via the Michigan Regulation and Taxation of Marihuana Act in 2018. The first dispensaries to sell adult-use marijuana opened in December 2019.
How to Get a Medical Marijuana Card in Detroit
While Ann Arbor led the way in decriminalizing marijuana in Michigan, other jurisdictions waited 40 years to follow suit. Detroit was one of the next batches of cities to enact marijuana reforms, which it did in 2012. Now, residents can buy marijuana from one of the many dispensaries in the area.
Finding a physician to certify you in Detroit is easy, as is locating a dispensary that sells the marijuana products you desire.
MMJ Card for Veterans in MI
Veterans in Michigan have easy access to MMJ and recreational weed. Also, in July 2022, the CRA announced its Veteran Marijuana Research (VMR) Grant Program Award Recommendations to the University of Michigan and Wayne State University. Wayne State received over $12.5 million, while the University of Michigan was awarded over $7.4 million.
The money will be used to fund FDA-approved clinical trials researching the efficacy of marijuana in helping treat the conditions of military veterans. The trials also want to see how effective the substance is in preventing suicide among veterans.
Final Thoughts on Getting a Michigan Medical Marijuana Card
While recreational cannabis is now widely available in Michigan, applying for a medical marijuana card might be advantageous. You benefit from higher purchasing limits, can buy cannabis when aged 18+, and have a greater variety of products to choose from. If you're interested in applying for a Michigan MMJ card, let us help you begin today!