Overview
If you get a Michigan marijuana card, you may have access to benefits that recreational (adult users) do not. Check out our complete step-by-step guide to find out more.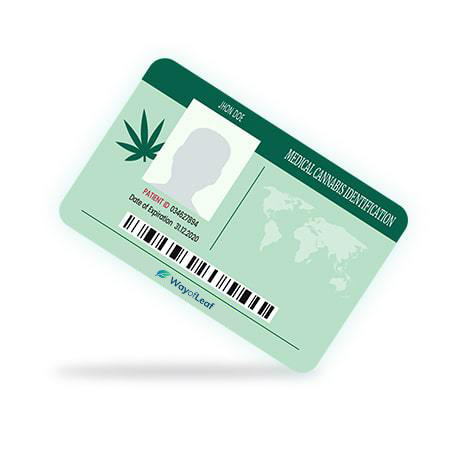 State Program
Approved on
November 6, 2018
Michigan has had an interesting history with cannabis. In the early 1970s, Ann Arbor enacted some of the most lenient laws in the country regarding cannabis use and possession. It wasn't until 2008, however, that the state of Michigan officially adopted a functional MMJ program (called the Michigan Compassionate Care Initiative). This program legally allowed for the use of medical marijuana for the very first time.
Fast-forward to the present day, and the state is now one of the most liberal in the USA in terms of cannabis legislation. Proposal 1 was passed in late 2018, which allows Michigan residents 21 and older to possess up to 2.5 ounces of marijuana at a time. With this in mind, you may be asking yourself, "why get an MMJ card in Michigan if I can buy 2.5 ounces without it?"
In most parts of the state, weed is still unavailable for purchase due to a lack of dispensaries.
The simple answer is that in most parts of the state, weed is still unavailable for purchase due to a lack of dispensaries. In some cities, like Ann Arbor, dispensaries are fully operational and adults 21 and older can indeed purchase cannabis without the need for a medical marijuana card. In other cities, the only realistic option for obtaining cannabis is to apply for an MMJ card.
In this article, we show you exactly how to do just that. If you want to apply for a medical marijuana card in Michigan, continue reading our step-by-step guide below.
How to Get a Medical Marijuana Card in Michigan? It's Actually Pretty Simple…
To get an MMJ card in Michigan, individuals must first go to the official MRA website and create an online account. After opening the link, click on the button that says 'New Users: Register for an Account.'
You'll need to create a username and password and fill out some basic personal information (name, address, DOB, etc). Steer clear of third-party vendors that claim they can get a Michigan Medical Marijuana Card for you – the only legal way to do it is by creating an account and applying through the state's official government website.
After you've gone to the link above and created your online user account, you'll need to proceed with the following steps.
Step 1 – See Whether You Qualify for Medical Marijuana in MI
In order to get approved for an MMJ card in Michigan, individuals must have one of the state's approved qualifying conditions. Unfortunately, doctors will not be able to approve a patient's MI Medical Marijuana application if their medical history does not show diagnosis of one of the following conditions.
What Conditions Are Eligible to Receive a Medical Marijuana Card?
Patients suffering from the following conditions can apply for an MMJ card in Michigan. If approved, they can buy cannabis products from operational dispensaries in the state. (Please note that eligibility depends on diagnosis of at least one of the following condition):
HIV/AIDS
Hepatitis C
Amyotrophic Lateral Sclerosis
Crohn's disease
Agitation of Alzheimer's disease
Nail patella
Cachexia or wasting syndrome
Severe and chronic pain
Seizures, including characteristics of epilepsy
Severe and persistent muscle spasms, including characteristics of multiple sclerosis
PTSD
Rheumatoid arthritis
Colitis
OCD
Arthritis
Inflammatory Bowel Disease
Tourette's Syndrome
Chronic pain
Cerebral palsy
Autism
Ulcerative colitis
Spinal cord injury
Step 2 – Find a Michigan MMJ Doctor Near You and Set Up an Appointment
After you've determined you are eligible for medical cannabis in Michigan via one of the above qualifying conditions, the next step is to find a Michigan marijuana doctor and set up an in-person evaluation. Patients cannot get approved for a Michigan MMJ card without a doctor's approval.
While some Michigan general practitioners (GP) may agree to do an evaluation for medical cannabis, you're likely better off finding a dedicated Michigan marijuana doctor near you. The state does not provide a list of cannabis doctors, so you'll need to go online and search for 'Michigan Marijuana Doctor near me.' There are hundreds of MMJ evaluation clinics across the state.
There are hundreds of MMJ evaluation clinics across the state.
Once you've found a clinic, you'll need to give them a call and set up a date and time for an in-person visit. The exact protocol for the MI MMJ application process varies from clinic to clinic: some offices will require you to obtain your own personal medical records and bring them in with you to your appointment, while others will be able to do virtually everything for you.
If your Michigan marijuana doctor does require you to obtain your own medical records, you'll need to get in touch with your general practitioner, or the last doctor you saw. Michigan residents are legally allowed to obtain their own medical records without having to provide a reason. Just tell the office that you need copies for personal reasons.
After you've found a Michigan Marijuana Doctor, gathered all required paperwork, and scheduled your appointment, it's then time to see the physician and submit your application.
Step 3 – Go to Your Appointment and Gain the Physician's Approval
This step is the most uncomfortable for many patients, but rest assured that a Michigan medical marijuana evaluation is just like any other doctor's visit; once you are in the room for your consultation, the doctor will perform a standard exam. They will look at your medical records, and discuss the practicality of medical marijuana as a treatment for you and your condition. If you're completely new to the world of medical marijuana, this would be a good time to ask questions about how cannabis works, and what strains may be best suited to your needs.
If you are deemed eligible for the use of medical marijuana in Michigan, the doctor or a member of the staff will explain the state's medical marijuana rules. Then, the office will complete the requisite paperwork and submit the remaining portion of your application.
Step 4 – Complete and Submit the MI Application for an MMJ Card
Beware that in order for the MMJ evaluation center to complete your application packet, you will need to show proof of Michigan residency in one of the following ways:
A valid Michigan driver's license
A personal ID card from the state of MI
A signed MI voter registration card
Also, beware that a copy of a voter registration card without a signature is not valid. If you have any questions at all about acceptable documentation to show proof of MI residency for an MMJ card, feel free to get in touch with state officials by calling 517-284-6400 or sending an e-mail to BHP-MMMPINFO@michigan.gov.
In addition to proof of residency, all completed MI MMJ Card applications must include the state-required application fee, which is currently $40. *Also, please be aware that the process of how to apply for medical marijuana in Michigan is different for minors. To apply for medical marijuana in Michigan as a minor, please refer to this form.*
Lastly, if you need an official caregiver to apply for medical cannabis on your behalf, you will need to refer to the state's Frequently Asked Question page on the caregiver registry.
Step 5 – Get Approved and Visit a Michigan Medical Marijuana Dispensary!
In the past, approval for a Michigan Medical Marijuana card could take up to six weeks. Now, many patients are approved on the same day that their application is submitted through the MMJ doctor's clinic. And the best news for MI patients is that they do not need to wait for their official MI MMJ Card to arrive in the mail. If you're approved for medical cannabis, you will receive a confirmatory email which will be sufficient to use at most any Michigan Medical Marijuana Dispensary to begin purchasing cannabis as an MMJ patient.
Also, while we highly recommend visiting a Michigan MMJ Doctor's Office and submitting your application online, be advised that you can still mail. ina paper application if you wish (though you will still need to set up an online account with LARA). If you plan to send your application in by mail, you'll need to print off all required paperwork (including the completed physician's form that confirms your diagnosis of a qualifying condition) and submit everything to the following address:
Michigan Medical Marihuana Program
PO Box 30083
Lansing, MI 48909
If your application was submitted correctly and contained all required paperwork and fees, the state should notify you within 15 business days whether it was accepted or rejected. If you submitted an application through the mail and did not hear anything after 15 days, be sure to call 517-284-6400 or send an email to BHP-MMMPINFO@michigan.gov.
Once you receive your MMJ card (and/or your confirmation email as an approved MI MMJ patient), you are allowed to visit a Michigan dispensary. You can choose from a wide array of weed-related products, including oils, marijuana flower, concentrates, topicals, and edibles. (We will provide you with a list of the state's purchasing laws a little later on).
What Are the MI Medical Marijuana Costs Involved?
The application fee for a Michigan MMJ card is $40. However, the majority of clinics will have a consultation fee, which is typically around $200. Michigan MMJ card renewals take place every three years, and cost $150.
What Are Approved Medical Marijuana Patients Entitled To?
Certified MI MMJ patients at present are allowed to possess up to 16 ounces of 'marijuana-infused product in a solid form.' They also get up to 7 grams of 'marijuana-infused product in a gaseous form,' and 36 fluid ounces of 'marijuana-infused product in a liquid form.' Patients and primary caregivers can also grow and possess up to 12 marijuana plants at a time. This is as long as the plants are locked in an enclosed space.
Also, if you decide you want to cultivate and grow your own medicine, you will need to declare as such on your MI Medical Marijuana application form. Beware, however, that there is a distinction between personal cultivation and commercial cultivation. Personal cultivation allows for 12 plants, while there are three classes of commercial permits:
A – Permits you to grow a maximum of 500 plants
B – Permits you to grow a maximum of 1000 plants
C – Permits you to grow a maximum of 1500 plants
How to Renew Your Medical Marijuana Card in Michigan?
The process for renewing a medical marijuana card in Michigan is similar to those applying for the first time. To restore your card, you will need to submit a new application 90 days before the expiration of your card. The state processes all cards in the order they are received. In general, though, you will typically receive your renewal in 2-3 weeks.
Can I Use Medical Marijuana Anywhere in Michigan?
No. Even with a valid medical marijuana card, you can't legally smoke marijuana in public or while operating a vehicle. If smoking in public, there is potentially an assumption of using it recreationally, which is illegal on a federal level. Consume your medicine responsibly, which means in the safety of your own home or a private residence.
Also, it's worth pointing out that Medical Marijuana Laws in Michigan prohibit travel across state lines with cannabis in any form, even if you have a valid Michigan MMJ ID card.
What Else Should You Know About Current Michigan Medical Marijuana Laws?
Prior to the passing of Proposal 1, which allows for the adult use of cannabis, Michigan marijuana laws were quite harsh – at least for those that did not possess a valid MMJ card. For instance, those caught with illegal weed of any amount could receive a misdemeanor criminal charge, possible jail time of up to one year, and a fine of $2,000. If caught using or possessing weed in a public park, the charge could be upgraded to a felony with a maximum jail sentence of two years.
Penalties for the illegal sale and distribution of marijuana in Michigan were severe.
Penalties for the illegal sale and distribution of marijuana in Michigan were even more severe. The distribution of any amount of weed in Michigan without remuneration was a minimum misdemeanor charge, and a potential one-year jail sentence. The sale of any amount of cannabis up to 5 kg was a felony charge with a potential jail sentence of four years and a maximum fine of $20,000. For amounts over 5 kilograms, possible incarceration time was 15 years with a maximum fine of $10,000,000.
Now, however, with the passing of Proposal 1 in November 2018, possession and use of up to 2.5 ounces of marijuana is now legal for Michigan residents over the age of 21.
Is Medical Marijuana Available Everywhere in Michigan?
Not exactly. Local municipalities still have the option to ban or restrict the use and sale of cannabis. For this reason, legal cannabis may not be available in the area of Michigan that you live in. If you're suffering from a medical condition and want to treat it with marijuana in Michigan, check out the link below for more information:
Other Important FAQ on the Use of Medical Marijuana in Michigan
Can I Consume Medical Cannabis in My Car?
No. Your car is considered a public place, so using cannabis there is prohibited.
Where Can I Buy Medical Marijuana in Michigan?
There are dozens of operating medical marijuana dispensaries throughout Michigan. These state-licensed facilities serve the nearly 300,000 approved MMJ patients in the state. At the time of writing, there are well over 100 MMJ dispensaries in Michigan; Detroit has the most with 33, while Ann Arbor has 11. Bay City has 10, while Flint has 9. Of course, these numbers will be set to increase in the coming years.
Can I Take My Meds from Michigan to a Different State?

No. Medical marijuana patients may face federal and local charges of transporting marijuana if they cross state lines with their medication. This is true even if the states between which they are traveling allow for the use and possession of medical marijuana.
What Are the Rules About MI MMJ Caregivers?
Only adults aged 21+ can become a medical marijuana caregiver in Michigan. However, they must not have a conviction for a drug-related or violent felony. Also, a primary MI MMJ caregiver must not have committed any felony within the last 10 years. A caregiver is allowed up to five patients at a time and is permitted to grow cannabis on their behalf.
I am a Medical Marijuana Patient in Michigan: How Much Cannabis Should I Consume?
Please note that we are not physicians. Always consult with your cannabis doctor before using medical marijuana.
Found this post informative? Share it on Facebook and help us get the highest-quality info in front of the Michigan residents who need it most!
Published on:
15 Jul, 2019