Overview
It's now possible to get a medical card for cannabis in Illinois. Take a look at our guide and find out what conditions should be met. Some of them may include a qualifying condition, doctor's approval, and other documentation. If you're an Illinois resident and have a medical issue, it may prove worthwhile to try and obtain an Illinois MMJ card.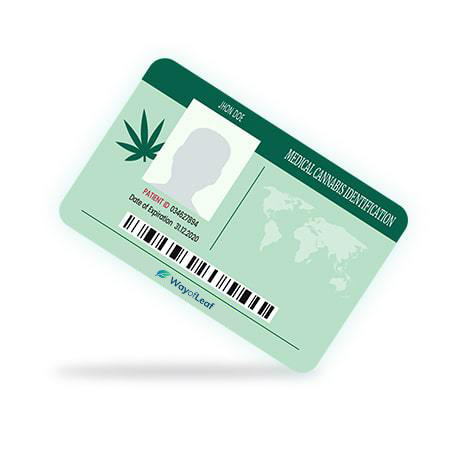 State Program
Approved on
The compassionate use of medical cannabis pilot program in Illinois was approved on August 1, 2013.
The state of Illinois legalized MMJ in August 2013. It followed through and permitted recreational marijuana in May 2019. Even though it is an established medical marijuana program, in theory, in reality, patients have had issues for a long time. Applications for state-registered growers and sellers didn't begin until late 2014. Bear in mind that it usually takes up to three years for everything to reach a full-scale pace.
As late as 2019, we read about Illinois patients having to call the Illinois DPH 300+ times to get through to the MMJ program! Fortunately, things have improved recently. Now, more medically eligible patients than ever are wondering how to get a medical marijuana card in Illinois.
In this short guide, we're going to tell you everything you need to know. However, first, let's look into Illinois's cannabis laws.
[Article update: The sale and use of recreational marijuana in Illinois became legal as of January 1, 2020, for adults 21 years of age and older. However, it remains beneficial for eligible patients to apply for and obtain a medical marijuana card in the state. Keep reading to find out why.
Illinois Medical Marijuana Card Rules and Laws
The state of Illinois decriminalized cannabis in July 2016. This situation came a few years after Governor Quinn signed the state's MMJ program into law in August 2013. The MMJ program officially began in January 2014. On May 31, 2019, Illinois legalized recreational cannabis, with sales beginning on January 1, 2020. An estimated 77,000 people spent over $3 million on the first day of adult-use sales!
Even so, you can still get into trouble for marijuana offenses. While adult Illinois residents can buy up to 30 grams of cannabis, non-residents can purchase a maximum of 15 grams. Possession of more than these amounts but less than or equal to 100 grams is a misdemeanor on the first offense with a possible jail term of 12 months. A second offense is a felony and could result in three years in prison and a fine of $25,000.
Growing six or more plants, regardless of whether you're an MMJ patient, is a felony.
The sale of 2.5 grams or less without a license is a misdemeanor, while selling 10+ grams is a felony. Recreational users cannot grow cannabis and receive a $200 fine for cultivating five plants or less for personal use. Growing six or more plants, regardless of whether you're an MMJ patient, is a felony with a maximum incarceration period of three years.
How to Get a Medical Marijuana Card in Illinois
Although you can buy adult-use cannabis in Illinois, qualified medical patients receive several benefits and financial incentives.
Therefore, it remains worthwhile to apply for an MMJ card in IL if you are qualified. Here's how to do it.
Step 1 – Find a Physician to Approve You
Meet with a physician to discuss using cannabis under one of the state's qualifying medical conditions. We provide a list of these conditions below. There is no point in proceeding if you are not an Illinois resident with proof of residency.
During the consultation, the doctor will ask questions about your medical history. If they consider you eligible, they will complete a Physician Written Certification Form on your behalf. Then, they can mail it from their office to the Department's Division of Medical Cannabis:
Illinois Department of Public Health
Division of Medical Cannabis
535 W. Jefferson Street
Springfield, IL 62761
*[In-person applications are not accepted at the above address]
Alternatively, the doctor can include the form with your online application. The form must state that you were diagnosed with one of the qualifying medical conditions. The physician must also offer proof of an in-person office visit within 90 days of the application date. As is the case in most states, you must have a bona fide physician-patient relationship with the doctor.
The state of Illinois doesn't provide a list of 'cannabis-friendly' physicians. The onus is on you to find one.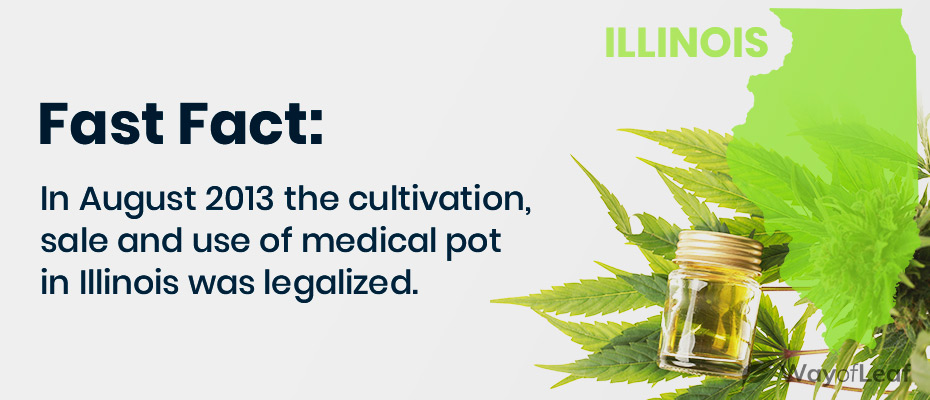 Step 2 – Complete the Application Form
You can only complete a Marijuana Card Application Form once you possess the Physician Written Certification Form.
The Illinois Department of Public Health website also offers helpful registration tips. It tells MMJ applicants to register with the Illinois Cannabis Tracking System (ICTS) by choosing the 'MCPP Patient Registration' button.
From there, you need to add the requested personal information to register with the ICTS. Only then can you begin an MCPP application.
On the application, you must pick an MMJ dispensary where you intend to purchase cannabis products.
Applicants must also submit the following documents:
Non-refundable application fee, payable by check or Money Order and made out to the Illinois Department of Public Health.
2" x 2" photograph taken in the last 30 days.
A completed copy of the Fingerprint Consent Form. You need 'fresh' fingerprints taken within 30 days of applying with the following supporting documents attached:

Proof of age and identity. A color photocopy of either an Illinois Driver's License, Illinois State ID, or the photo page of a U.S. passport.
Proof of Illinois residency.
Fingerprint receipt. Here is a list of fingerprinting vendors. Contact them beforehand to make sure they do Medical Cannabis fingerprinting. Also, remember to bring the Fingerprint Consent Form to your appointment. You will need to add the Transaction Control Number (TCN) to the form.
Benefit Verification Letter from the Social Security Administration or DD-214. This is for applicants who are applying with reduced application fees.
You can mail all documents in an envelope along with the completed application form to the Illinois Department of Public Health. However, it is faster and easier to complete the application online.
Step 3 – Wait Patiently for Your MMJ Card!
If you opt for the mail option, it is a long wait! We have heard it can take up to 90 days to get your MMJ card in this fashion! When you send a paper application, you also don't receive a temporary registry card. You receive it if you decide to apply online. Indeed, you may get this particular card within 24 hours of a successful application.
The temporary card enables you to use a licensed dispensary, and you can use it until your permanent card arrives.
All applications are reviewed based on the date received. If additional documents are needed, you'll receive a letter from the program asking for more information. You also get instructions on how to submit it.
Organizations such as Veriheal claim to make the application process easy. You can consult with an MMJ doctor online and receive your recommendation in just 15 minutes. However, you still have to go through the full process of applying to the state program online.
Updated Information on Getting Your Medical Marijuana Card in IL
Until recently, MMJ patients had to choose a single licensed dispensary. The rules of the program stated that it was only possible to purchase cannabis from that location. However, Governor Pritzker changed this rule when he signed HB 1443 into law on July 15, 2021. This piece of legislation removed the requirement to choose one dispensary only.
The online application process still requires MMJ patients to select a dispensary. However, they are no longer restricted to their chosen store and can buy from ANY licensed dispensary in Illinois. Also, it is no longer necessary to change dispensaries via the online system.
This news came after the Illinois Department of Public Health announced it was switching the MMJ Registry to a new system called Entellitrak. This new system was made available on June 22, 2021. It is hoped that Entellitrak will improve the Illinois MMJ program.
It allows patients to check their online accounts at any time and make payments via a credit card. MMJ patients can also print paper registry cards when approved. This eliminates the need to wait for a card to get mailed to them.
What Are the Illinois Medical Marijuana Costs?
You can apply for either a one, two, or three-year registry ID card. The state program has halved the original fees in recent times.
$50 for a 1-year ID card
$100 for a $2-year ID card
$125 for a $3-year ID card
Applicants who receive Social Security Disability Income (SSDI) or Supplemental Security Income (SSI) may qualify for a reduced fee application. In this case, the fees are:
$25 for a 1-year ID card
$50 for a 2-year ID card
$75 for a 3-year ID card
*[If you are enrolled in SSDI or SSI, you will need to submit a "Benefit Verification Letter" from the Social Security Administration. You add it to your application, and it shows your name and address and the type of benefits you receive.]
For caregivers, the application fees are as follows:
$25 for a 1-year ID card
$50 for a 2-year ID card
$75 for a 3-year ID card
$75 for a caregiver applying separately for a patient who has already been registered. The expiration date for the caregiver and the patient card is the same.
MMJ patients must pay extra for applying with caregivers. Here is a quick table of fees:
| Type of Application | 1-Year | 2-Years | 3-Years |
| --- | --- | --- | --- |
| Patient with 1 Caregiver | $75 | $150 | $200 |
| Patient with 2 Caregivers | $100 | $200 | $275 |
| Patient with 3 Caregivers | $125 | $250 | $350 |
| Patient with 1 Caregiver (Reduced Fee) | $50 | $100 | $150 |
| Patient with 2 Caregivers (Reduced Fees) | $75 | $150 | $225 |
| Patient with 3 Caregivers (Reduced Fee) | $100 | $200 | $300 |
*[Persons diagnosed with a terminal illness with a life expectancy of six months or less may apply for a medical cannabis registry identification card. There is no application fee.]
What About Veterans?
Veterans who receive health services at a Veteran's Administration (VA) facility are NOT required to obtain a physician's written certification. Instead, they must submit 12 months of VA records to the Department of Public Health (Division of Medical Cannabis) with their application.
*The process of applying for medical marijuana in Illinois as a minor (under the age of 18) is also different. Please check the official site for guidelines.
What Conditions Qualify for a Medical Marijuana Card in Illinois?
Here is a look at some of the qualifying conditions. There are dozens of options, so this is not an exhaustive list. You can see the full list on the IDPH website.
Autism
Agitation of Alzheimer's disease
HIV/AIDS
Amyotrophic lateral sclerosis (ALS)
Anorexia
Cancer
Chronic inflammatory demyelinating polyneuropathy
Crohn's disease
CRPS (complex regional pain syndrome Type II)
Dystonia
Fibrous dysplasia
Glaucoma
Hepatitis C
Lupus
Multiple sclerosis
Nail-patella syndrome
Neurofibromatosis
Parkinson's disease
Post-concussion syndrome
Post-traumatic stress disorder (PTSD)
Rheumatoid arthritis
Seizures (including those characteristic of epilepsy)
Severe fibromyalgia
Sjogren's syndrome
Spinal cord disease (including but not limited to arachnoiditis)
Syringomyelia
Tourette syndrome
Traumatic brain injury
Cachexia/wasting syndrome
You can submit a Petition to Add Debilitating Condition form if you don't have a qualifying condition.
How to Renew Your Illinois Medical Marijuana Card
You have to renew your MMJ card or extend it before it expires if you want to remain with the Illinois medical marijuana program. You should receive an email from the IDPH 45 days before the expiration date on your card to remind you to extend it. It also sends an email about full certification renewal (three-year cards) five months before the expiry date.
In both cases, you have to sign into the ICTS and select the application in the Tracking inbox that says 'Pending Renewal.'
An extension renewal is an annual incremental renewal for individuals who didn't get the three-year card at the beginning of the program and want to continue using MMJ. These patients don't require new certification from a physician.
The full certification renewal is for patients who have had their MMJ card for three years, or else it has expired. In this instance, you'll need to book another consultation with a physician to receive fresh certification.
Renewal
When renewing your card, you must select the 1-year, 2-year, or 3-year timeframe. You'll also be asked if you want to add/renew caregivers, and you have the option to cancel your existing caregiver. Complete the required fields in the Patient Information section and upload new documents.
Continue through the application, completing all fields marked with an asterisk. At the end, electronically sign the application and go to the MCPP Patient Caregiver Tab. There, you can cancel or retain your existing caregiver(s) or add new ones. You have to add your new doctor's certification at this point. Finally, make your payment, and you'll receive an email notification.
Extension
Once you're in your ICTS account, you have the option to change information. You can only select a 1-year or 2-year extension if you only had your MCPP card for a year. Answer questions on 'reduced fees,' and save. Go to the caregiver section if you need to make changes.
You'll need to upload your original doctor's certification, or else you can add a new one. Make your payment, and you'll receive an email notification.
Other Information on the Illinois Medical Marijuana License Process
Here are some of the most frequently asked questions regarding MMJ in Illinois:
Can I Get My Illinois Medical Marijuana Card Online?
Yes, and it is by far the best option. The snail mail option can take up to 90 days! In contrast, submitting your application online could result in you receiving provisional access to MMJ just 24 hours after completing the application process. You should receive the physical version of the card in 4-6 weeks. Please note that you DON'T receive a temporary card if you apply via the mail.
I'm From Out of State; How Do I Buy Medical Marijuana?
Out of state medical marijuana patients can't purchase cannabis in Illinois dispensaries. This is the case even if they have a current/valid registration card from their home state. Only medical patients with a valid Illinois MMJ ID card can purchase weed from a state-licensed dispensary.
However, states like Arizona, Hawaii, and Maine may recognize an Illinois MMJ card as valid. If you're aged 21+, you can buy up to 15 grams of recreational cannabis in IL if you're not a resident.
Are There Any Restrictions on Getting an MMJ Card in Illinois?
Yes! Applicants must not:
Have a conviction for an 'excluded' offense, which includes a felony.
Be under the age of 18. There is a different application form for minors.
Hold a school bus permit or Commercial Driver's License.
Be an active-duty law enforcement officer, correctional officer, correctional probation officer, or firefighter.
How Much Medical Marijuana Can I Purchase?
You can buy and possess an 'adequate' amount of cannabis. The standard measurement in Illinois is 2.5 ounces every 14 days. You can get a doctor to sign a written statement that permits you to buy and possess a higher amount.
Can I Take My Meds to a Different State?
No. Medical marijuana patients may face federal and local charges of transporting marijuana if they cross state lines with the drug. This is true even if the states between which they are traveling allow medical marijuana.
Can I Use Medical Marijuana Anywhere?
It is important to remember marijuana consumption is illegal on a federal level. As a result, you are not allowed to use cannabis in any public place. It is also forbidden in any motor vehicle. There is an exception in place for MMJ patients regarding usage on school grounds. Employers, universities, landlords, and private clubs can also ban cannabis too.
Can I Grow Cannabis at Home?
In a recent development, MMJ patients in Illinois can grow up to five plants at their private residence. This limit remains in place no matter how many MMJ patients live in a household.
Who Can I Choose as a Caregiver?
You can choose someone who is a resident of Illinois and at least 21 years of age. They must not have any felony convictions and will undergo a criminal background check. A registered caregiver can only have one patient at a time. However, MMJ patients can have up to three caregivers.
Where Can I Purchase Cannabis in Illinois?
Illinois has dozens of MMJ dispensaries. They specialize in supplying cannabis and information to medical marijuana patients only. You also have the option of using a recreational dispensary, though it may not have the same level of choice.
State law requires thorough testing for pesticides, toxins, and residual solvents. Therefore, you should get high-quality marijuana.
The good news is that state law requires thorough testing for pesticides, toxins, and residual solvents. Therefore, you should get high-quality marijuana as long as you use a licensed dispensary.
Final Thoughts on Getting an Illinois MMJ Card
You might think it isn't worth getting an Illinois medical marijuana card now that the state allows recreational cannabis. However, MMJ patients are allowed to purchase up to 2.5 ounces of marijuana in 14 days. In comparison, adult-use customers can buy and possess a maximum of one ounce.
Also, MMJ patients pay lower taxes, so they get less expensive cannabis. They still have a better range of options and can cultivate up to five plants at home. Recreational users are not allowed to grow marijuana. Ultimately, if you live in Illinois and believe cannabis can help with a medical condition, it is worth applying for an Illinois MMJ card.
Found this post informative? Please help us get it in front of people who need the information by SHARING the post.