Overview
Georgia residents with serious medical conditions may qualify for the medical marijuana program. Approval for an MMJ card in this state requires meeting certain criteria. To see if you qualify, look at our guide and contact your health department. Please note that cardholders can only access low-THC oil. Georgia's program is not considered a true MMJ program like those of other states.
State Program
Approved on
April 17, 2019
CONSULTATION FEE RANGE
MMJ PURCHASING LIMITS
20 FLUID OUNCES OF CANNABIS OIL WITH A MAXIMUM THC CONTENT OF 5%
HOME CULTIVATION?
MINIMUM AGE LIMIT
Georgia is not one of the first states that comes to mind when considering accessibility for medical marijuana patients. The state's laws are pretty stringent when it comes to anything cannabis-related.
In mid-2019, however, the Peach State passed legislation that expanded the MMJ program. It is officially known as the Low-THC Oil Registry. This was great news for Georgia residents interested in self-treating with medical marijuana. At least, in theory. Unfortunately, it is so strict that it doesn't qualify as an MMJ program.
Even so, we explain everything you need to know about how to get a GA medical card.
Georgia Medical Marijuana Laws
Georgia has among the most restrictive marijuana laws in the United States. Possession of any amount is a misdemeanor and could lead to 12 months in prison. If caught with more than an ounce, you will be charged with a felony. The mandatory minimum prison sentence is a year, but it could rise to ten.
The sale/cultivation of any amount of marijuana is also a felony, with a possible jail term ranging from one to ten years. In simple terms, using weed in Georgia is a bad idea. However, if you have a qualifying medical condition, you could have access to low-THC oil. Here's how to complete the process.
How to Get a Medical Marijuana Card in Georgia
The theoretical process of applying for MMJ in Georgia is relatively simple. That is, if you can ignore the relative lack of dispensaries and the unwillingness of doctors to help you.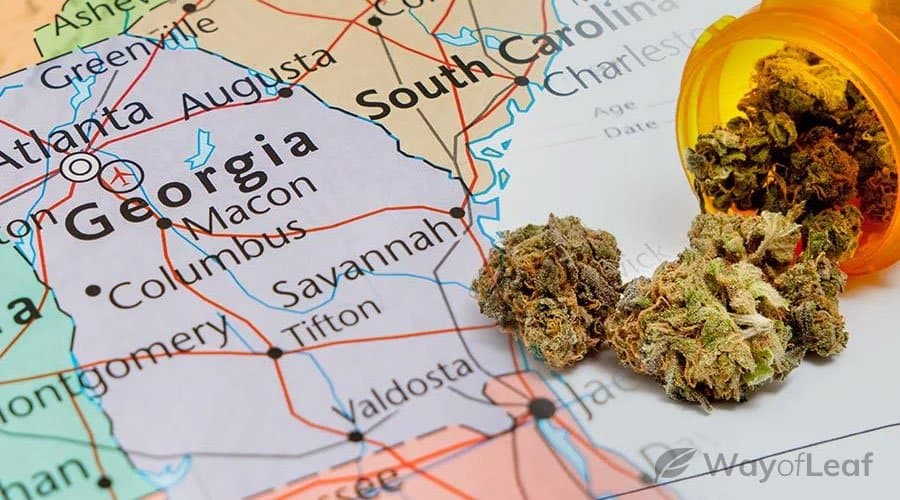 Step 1 – Get in Touch with a GA Healthcare Provider
The first step is to contact your physician and ask if they could help add you to the Low-THC Oil Registry. Unfortunately, few doctors in Georgia are familiar with cannabis-based medication. Therefore, you may run into an issue trying to find a cannabis-friendly doctor, especially if you live outside Atlanta.
Step 2 – Schedule a Consultation
If you can find a willing medical professional, the consultation process involves the physician assessing you to determine if you will benefit from low-THC oil.
If they approve, you must complete two forms. One is a waiver that is signed by you and the doctor. The other is a physician certification form. Your doctor will keep both forms in your medical records. You are allowed to request a copy.
Step 3 – Register with the Official GA Medical Marijuana Program
Your physician will electronically submit the information to the Georgia Department of Public Health (DPH). This organization reviews your application. If you are approved, it creates a special Low-THC Oil Registry Card.
Step 4 – Visit a Dispensary
This is the final step in your journey and should involve buying your medicine from a licensed dispensary. Once the state approved the cultivation and sale of cannabis, it took some time for the first dispensary to open. Sales are now underway, though patients only have a small number of stores to choose from.
Who Can Apply for a Medical Marijuana Card in GA?
Only the following groups are eligible to apply for a medical marijuana card in GA:
An adult with at least one of the specific qualifying conditions (we outline them below)
Legal guardians of an eligible adult
Parents or legal guardians of children with at least one qualifying condition
Cost of MMJ Card in GA
The medical marijuana card cost in GA includes $25 for the card and a doctor's consultation fee. You pay when you pick up the card from one of the 20 Public Health Offices that distribute it. The DPH's Office of Vital Records will get in touch to notify you when and where the card is available.
GA MMJ Card Qualifying Conditions
GA medical marijuana card qualifying conditions include: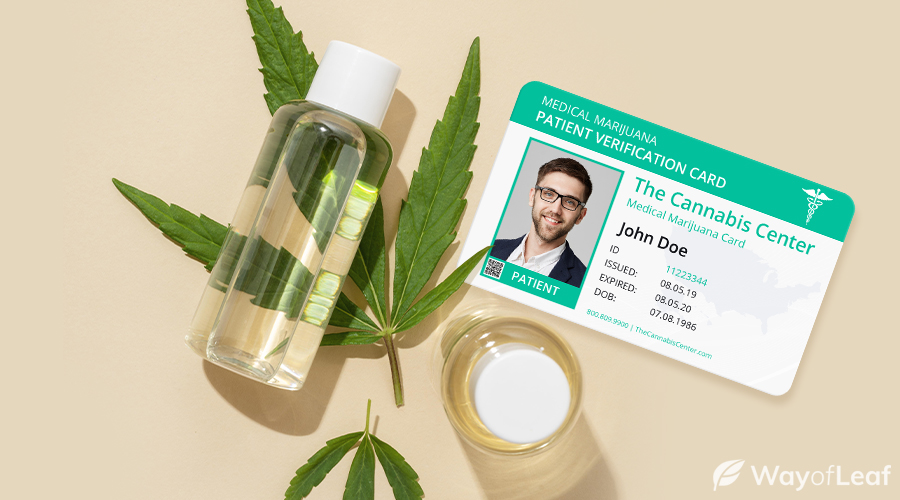 Cancer (end-stage and/or if your treatment produces wasting disease, recalcitrant nausea, or vomiting)
Severe or end-stage ALS
Epilepsy/Seizure disorders (including trauma-related head injuries)
Severe or end-stage multiple sclerosis
Crohn's disease
Mitochondrial disease
Severe or end-stage Parkinson's disease
Severe or end-stage sickle cell disease
Autism spectrum disorder
Severe Tourette's syndrome
Epidermolysis bullosa
Severe or end-stage Alzheimer's disease
Severe or end-stage peripheral neuropathy
Patients in a hospice program
Severe or end-stage AIDS
Intractable pain
PTSD from direct exposure or witnessing of trauma if aged 18+
How Long Does It Take to Get a Medical Marijuana Card in GA?
The Georgia DPH says you should allow 15 business days for it to process your information, print your card, and have it ready for collection.
How to Renew My Georgia Medical Card?
Your Low THC Oil Registry card is valid for two years if approved. You can see the expiration date printed on the front of your card. When it is time to renew, you must consult with your doctor again. Ask them to update and confirm your information on the Registry. Allow at least 15 business days to process the data.
Other Information on the GA Medical Marijuana License Process
If you suffer from one of the qualifying conditions, here is some vital information. Remember, finding a cannabis doctor in Georgia willing to get involved is a challenge.
What Types of Cannabis Can I Purchase in GA?
Approved patients can only buy low-THC cannabis oil with a maximum THC content of 5%.
How to Get a Medical Marijuana Card in GA Online
A handful of providers offer online consultations, which may prove convenient for individuals struggling to find a cannabis-friendly doctor. Moreover, these companies tend to provide a money-back guarantee in case you're not approved.
Can I Register My Child for Medical Marijuana in GA?
Yes. Applicants under 18 may be approved, but they need a parent or legal guardian to apply on their behalf.
Where Can I Purchase MMJ in Georgia?
HB 324 created an entity to oversee the growing, manufacturing, and dispensing of the oil in Georgia. The Georgia Access to Medical Cannabis Commission began accepting Class 1 and Class 2 production license applications in November 2020.
It took a long time and lots of legal wrangling for any company to receive approval to grow and produce medical cannabis.
Eventually, in April 2023, Trulieve Medical Marijuana Dispensary in Atlanta opened its doors, becoming Georgia's first legal seller of low-THC oil. It came soon after the state approved licenses for five dispensaries. By the end of June 2023, MMJ patients in the state had access to three medical cannabis dispensaries, with more set to follow.
How Much Cannabis Can I Buy & Possess?
Qualifying MMJ patients can possess up to 20 fluid ounces of low-THC oil.
Can You Grow Marijuana in Georgia with a Medical Marijuana Card?
No. It is illegal to do so regardless of whether you are on the Registry or not.
Where Can I Use My MMJ?
MMJ patients in Georgia can only use their low-THC oil in a private residence.
Can I Take My MMJ to a Different State?
No. It is illegal to bring marijuana across state lines as it is a federally prohibited drug.
What Are the Caregiver Rules?
MMJ patients in Georgia can use a caregiver to buy marijuana on their behalf. Caregivers must apply for a registry card, which costs $25. They are allowed to serve more than one patient but must apply for registry cards for each individual.
What If I Lose My Medical Card in Georgia?
Contact the State Office of Vital Records by phoning 404-679-4702, option 4. If your card isn't expired, the DPH will contact your doctor to ensure you are still under their care. Then, they will provide a replacement card. The DPH will take up to 15 business days to ready the new card, which costs $25.
When Did Medical Marijuana in Georgia Become Legal?
The wonderful state of Georgia is not historically liberal in terms of allowing patients access to medical marijuana products. In 2015, Governor Nathan Deal signed HB1, a law called the Haleigh's Hope Act. It permitted access to cannabis oil with up to 5% THC.
However, very few patients qualified for the program, as only eight qualifying conditions existed. Also, hardly any doctors were willing to get on board with the official recommendation process. Furthermore, HB1 didn't make any provisions for the cultivation or distribution of cannabis oil in Georgia.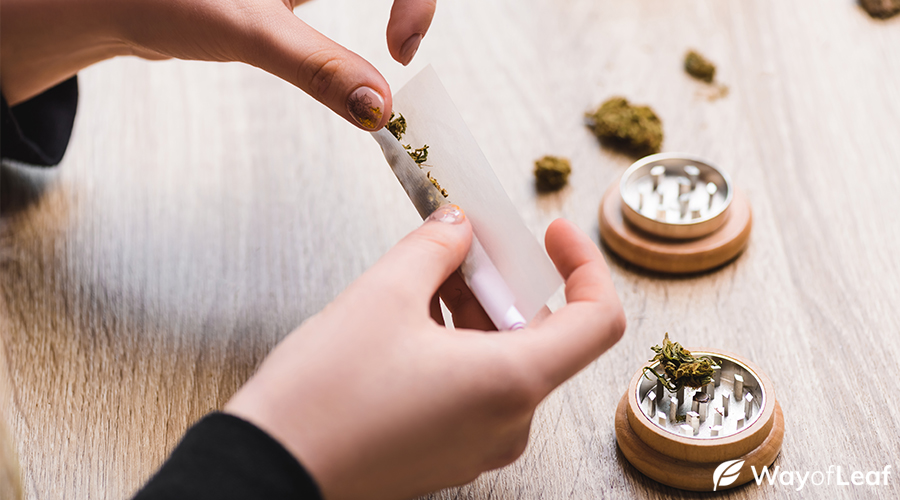 In May 2017, an expansion under Senate Bill 16 added another six medical conditions. HB65 added PTSD and intractable pain in 2018.
Fortunately, Georgia lawmakers saw sense and made things a little easier for MMJ patients. In April 2019, House Bill 324 (Hope Act) permitted the in-state growth of marijuana and low-THC oil sales. Lawmakers also further expanded the program to include more qualifying conditions.
The Hope Act allows six producers to create MMJ preparations in Georgia and two universities. Pharmacies can sell the preparations according to the law. However, the only item you can buy in the Low-THC Oil Registry is CBD oil that contains 5% or less THC.
Furthermore, Georgia residents can potentially purchase CBD hemp oil with a maximum THC content of 0.3% without entering the Low THC Oil Registry.
How to Get a Medical Marijuana Card in Atlanta
Atlanta is one of the few locations in Georgia that is somewhat liberal regarding marijuana. In October 2017, the Atlanta City Council voted to reduce the penalty for possessing up to an ounce of marijuana to a $150 fine. Other places in Georgia that have implemented decriminalization policies include Clarkston, South Fulton, Statesboro, and Athens-Clarke County.
MMJ Card for Veterans in GA
Until Georgia creates a real MMJ program, veterans living in the state have no choice but to apply for a medical card to get their low-THC oil. However, lawmakers have broached the topic of allowing the use of psychedelics for issues such as PTSD.
Final Thoughts on Getting a Georgia Medical Marijuana Card
Presently, saying Georgia has a medical marijuana program is not technically accurate. They have a Low THC Oil Registry, which legally protects qualified patients who possess low-THC oil with a maximum THC content of 5%. Legal sales began in April 2023, with more dispensaries likely to open shortly.
It seems unlikely that Georgia will create a proper MMJ program in the near future. Attempts to legalize the substance stalled, with nothing productive happening during the 2022 legislative session. Therefore, Georgia remains one of the ever-decreasing number of states with no medical marijuana program.