Overview
Georgia residents suffering from serious conditions may qualify for the medical marijuana program. Approval for an MMJ card in this state requires meeting certain conditions. To see if you qualify, take a look at our guide and contact your health department. Please note that cardholders can only access low-THC oil. Georgia's program is not considered a true MMJ program like those of other states.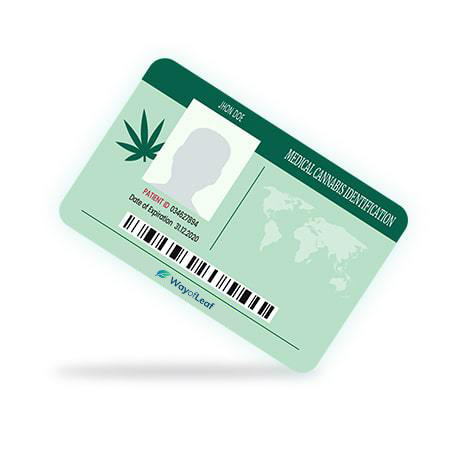 State Program
Approved on
April 17, 2019
Georgia is not one of the first states that comes to mind when thinking about "accessibility" for medical marijuana patients. The state's laws are pretty stringent when it comes to anything cannabis-related.
In mid-2019, however, the Peach State passed legislation that expanded the MMJ program. It is officially known as the Low-THC Oil Registry. This was great news for Georgia residents interested in self-treating with medical marijuana. At least, in theory. Unfortunately, it is so strict that it doesn't really qualify as an MMJ program.
Even so, we explain everything you need to know about how to get a medical marijuana card in Georgia.
A Summary of Medical Marijuana in Georgia
The wonderful state of Georgia is not historically liberal in terms of allowing patients access to medical marijuana products. In 2015, Governor Nathan Deal signed HB1; a law called the Haleigh's Hope Act. It permitted access to cannabis oil with up to 5% THC.
However, very few patients qualified for the program, as there were only eight qualifying conditions. Also, hardly any doctors were willing to get on board with the official recommendation process. Furthermore, HB1 didn't make any provisions for the cultivation or distribution of cannabis oil in Georgia. In May 2017, an expansion under Senate Bill 16 added another six medical conditions. HB65 added PTSD and intractable pain in 2018.
In May 2017, an expansion under Senate Bill 16 added another six medical conditions. HB65 added PTSD and intractable pain in 2018.
A later Bill allowed select universities to research cannabis oil to see if it worked as a potential epilepsy treatment. However, once again, this did not broaden access to medical marijuana products for average Georgia residents. Those who qualified for the limited program had nowhere to purchase their low-THC oil legally.
As a result, many ordered CBD hemp oil online. This is even though they didn't need a medical recommendation for it! Another alternative was to break the law. Desperate patients got their cannabis oil from a "legal" state and transported it back to Georgia.
A New Hope
Fortunately, Georgia lawmakers saw sense. In April 2019, House Bill 324 (Hope Act) permitted the in-state growth of marijuana and low-THC oil sales. They also further expanded the program to include more qualifying conditions.
The Hope Act allows six producers to grow MMJ preparations in Georgia, along with two universities. Pharmacies can sell the preparations according to the law. By January 2020, approximately 20,000 patients had already signed up.
How to Get a Medical Marijuana Card in Georgia
The Georgia medical marijuana program isn't much of a "medical marijuana program" at all. It isn't included in the list of 35 states that have approved medical cannabis laws! This fact tells you everything you need to know. Available products for qualified patients are minimal. The only item you can buy in the Low-THC Oil Registry is CBD oil that contains 5% or less THC.
Furthermore, Georgia residents can potentially purchase CBD oil without entering the Low THC Oil Registry! There is a suggestion that CBD products with less than 0.3% are widely available in the state. However, the cannabinoids must come from hemp rather than marijuana. The laws surrounding CBD are unclear, though, in most states, residents can find products without many issues.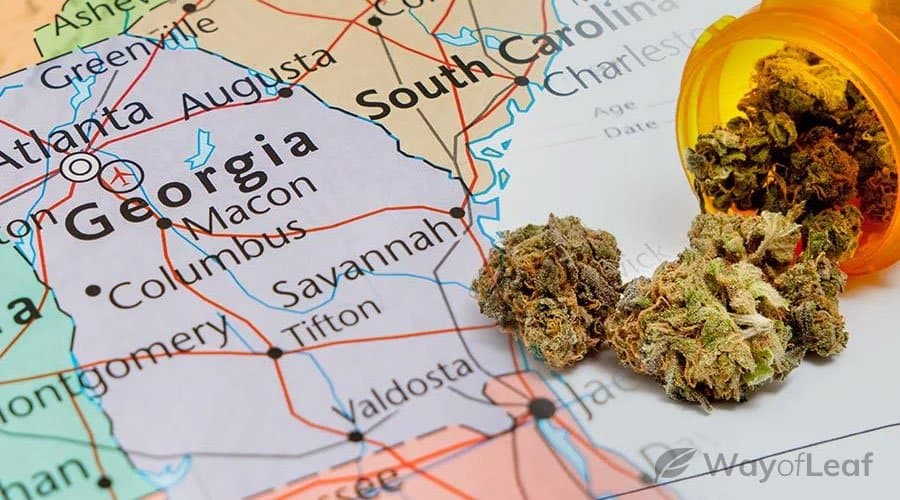 In theory, then, you don't even need to register for the low-THC oil. However, there is evidence that products with a little more THC are useful. Research indicates that 5-10% THC is potentially a sweet spot. The 'entourage effect' suggests that you'll fare better with numerous cannabinoids working together.
Just remember, addition to the state's Low-THC Oil Registry is not a ticket to get stoned. The 5% THC limit means you can't possess or buy marijuana products that get you particularly high. Also, at the time of writing, legal sales still haven't begun.
How to Apply for Medical Marijuana in Georgia
The theoretical process of applying for MMJ in Georgia is relatively simple. That is if you can ignore the lack of dispensaries and the unwillingness of doctors to help you!
Only the following groups are eligible:
An adult with at least one of the specific qualifying conditions (we outline them below)
Legal guardians of an eligible adult
Parents or legal guardians of children with at least one qualifying condition
The first step is to contact your physician and ask if they could help add you to the Low-THC Oil Registry. Unfortunately, few doctors in Georgia are familiar with cannabis-based medication. Therefore, you may run into an issue trying to find a cannabis-friendly doctor, especially if you live outside Atlanta. If you can find a willing medical professional, here is the process:
Your physician will assess you to determine if you will benefit from low-THC oil.
If they approve, you must complete two forms. One is a waiver that is signed by you and the doctor. The other is a physician certification form.
Your doctor will keep both forms in your medical records. You are allowed to request a copy.
The physician electronically submits the information to the Georgia Department of Public Health.
This organization reviews your application. If you are approved, it creates a special Low-THC Oil Registry Card.
What Are the Georgia Medical Marijuana Costs?
You will pay $25 for the card, on top of a doctor's consultation fee. You pay when you pick up the card from one of the 20 Public Health Offices that distribute it. The DPH's Office of Vital Records will get in touch to notify you when and where the card is available.
What Conditions Qualify for a Medical Marijuana Card in Georgia?
Qualifying conditions include:
Cancer (end-stage and/or if your treatment produces wasting disease, recalcitrant nausea, or vomiting)
Severe or end-stage ALS
Epilepsy / Seizure disorders (including trauma-related head injuries)
Severe or end-stage multiple sclerosis
Crohn's disease
Mitochondrial disease
Severe or end-stage Parkinson's disease
Severe or end-stage sickle cell disease
Autism spectrum disorder
Severe Tourette's syndrome
Epidermolysis bullosa
Severe or end-stage Alzheimer's disease
Severe or end-stage peripheral neuropathy
Patients in a hospice program
Severe or end-stage AIDS
Intractable pain
PTSD from direct exposure or witnessing of trauma if aged 18+
Other Information on the Georgia Medical Marijuana License Process
If you suffer from one of the qualifying conditions, here is some vital information. Remember, it is a challenge to find a cannabis doctor in Georgia willing to get involved.
How Much Low-THC Oil Can I Buy?
Approved patients may possess up to 20 fluid ounces of low-THC cannabis oil. It must contain a maximum of 5% THC.
How Long Is the Card Valid for?
If approved, your Low THC Oil Registry card is valid for two years. You can see the expiration date printed on the front of your card. When it is time to renew, you must consult with your doctor again. Ask them to update and confirm your information on the Registry. Allow at least 15 business days to process the data.
What Do I Do if I Lose My Card?
Contact the State Office of Vital Records by phoning 404-679-4702. If your card isn't expired, the DPH will contact your doctor to ensure you are still under their care. Then, they will provide a replacement card. It will take up to 15 business days for the DPH to get the new card ready. It will cost $25.
Can I Grow Cannabis in Georgia?
No! It is illegal to do so regardless of whether you are on the Registry or not.
Where Can I Buy Low-THC Oil in Georgia?
HB 324 will oversee the growing, manufacturing, and dispensing of the oil in Georgia. At the time of writing, registered patients are still waiting for licensed dispensaries to open. The Georgia Access to Medical Cannabis Commission began accepting Class 1 and Class 2 production license applications in November 2020.
At present, saying Georgia has a "medical marijuana" program is not technically accurate. They have a Low THC Oil Registry, which protects qualified patients who possess low-THC oil. However, patients face an undetermined wait for dispensaries to open.