Overview
Getting medical marijuana in Connecticut is possible with an MMJ card. MMJ cards provide many benefits for those with chronic pain or other conditions. To see if you may qualify, take a look at our MMJ guide. Patients must meet specific requirements.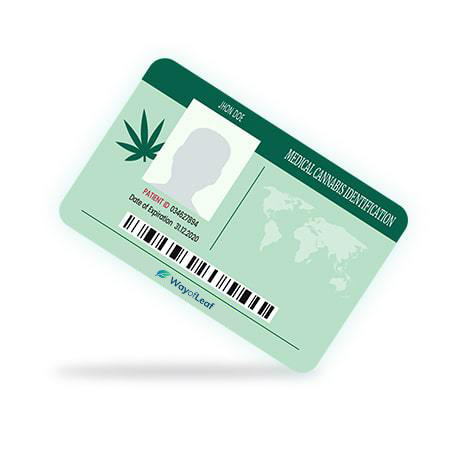 State Program
Approved on
June 2012
Connecticut is one of 35 U.S. states (plus Washington, D.C.) that allows marijuana for medicinal or recreational use. The state made the landmark decision to legalize weed for medicinal purposes back in June 2012. At that time, Governor Dannel Molloy signed Senate Bill 1014 into law.
Connecticut established the MMJ program after the state took steps towards the decriminalization of marijuana. In June 2011, a new law stated that being caught in possession of less than half an ounce of weed was only punishable by a $150 fine, rather than a misdemeanor charge.
Nevertheless, those interested in using marijuana in Connecticut still have to tread carefully. There are still severe punishments for the illegal possession, cultivation, and distribution of cannabis, as you can see in this table below.
As such, you must get approved by a doctor to receive a valid MMJ card in the Constitution State. In this article, we explain everything you need to know if you're wondering how to get a medical marijuana card in Connecticut.
How to Get a Medical Marijuana Card in Connecticut
Make an appointment with a physician to talk about your potential qualifying condition. If you are not diagnosed with one of the conditions we list a little later, you are ineligible for an MMJ card in Connecticut.
You can make an appointment with an in-office physician (or simply speak with your PCP). Alternatively, you can try and get in touch with a Connecticut-based doctor through our online MMJ platform.
When your physician deems you eligible for a qualifying condition, they will register you (and your e-mail) with the state's Medical Marijuana Program Department of Consumer Protection (DOCP).
Once you are in the system, you can then login and complete the MMJ application online. If you try to apply before approval, you get the following message: "You have not been identified as a patient. Please see your physician and verify your email address."
Without further ado, here are the three necessary steps for how to get a medical marijuana card in Connecticut.
Step 1 – Make an Appointment with Your Doctor
The first step involves receiving certification from a licensed CT doctor. You can only use someone who is an active practicing physician in the state. Patients must also register with the Department of Consumer Protection.
If approved with a legitimate medical condition, your doctor will certify and register you in the state's online application system. To receive the physician recommendation/certification, you must provide the following information:
A valid email address: This is the main form of communication between you and the Connecticut DOCP. Make sure it is a private address that no one else can access. For example, it is a bad idea to use a work email.
A primary telephone number: The most obvious choice is your cell phone number.
At present, your doctor must initiate the registration process. They do so by logging into a secure online system to certify you. You only gain access once your physician electronically submits a valid certification. It is the same situation for a primary caregiver should you nominate one.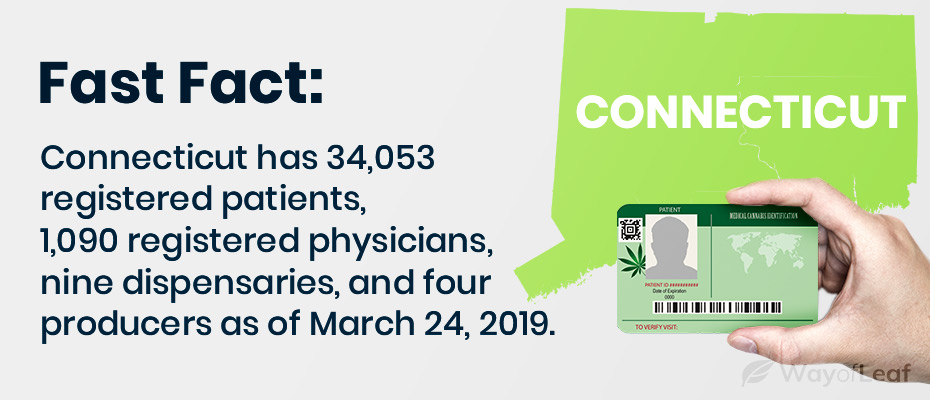 Step 2 – Create an Account with the Connecticut Online Medical Marijuana Portal
This step is essential. It enables you to access the online registration system based on the email address you provided to your doctor. You need to verify that the details entered by your physician are accurate. You must also answer a variety of verification questions.
Then, you can proceed with filling out the MMJ online application.
Step 3 – Finalize I.D. Verification & Payment
After you've completed the online application, you must provide proof of identity and residency before you make your payment. Here is a list of the documentation you'll need:
Proof of Identity: Examples include driver's license, U.S. Passport, or Certificate of Naturalization.
Proof of State Residence: You can prove you are a Connecticut resident by showing a document with your name and residence dated within the last 90 days. Accepted materials include a computer-generated bill from a utility company, a bank statement, or a Medicare/Medicaid benefits statement.
Passport Size Photograph: Only photos taken less than 30 days before applying are accepted.
Once you complete the entire online process, the Connecticut medical marijuana card application may take up to 30 days to process. However, it is usually far quicker than this.
If you're approved, the DOCP will send you a temporary certificate via email. At this point, you can buy medical marijuana in Connecticut from an official state-licensed dispensary. Check here for a list of verified dispensaries in the state.
What Are the Connecticut Medical Marijuana Costs?
Once you have logged all of the required documentation for the application, you pay a $100 registration fee. You can pay by credit card, check, or money order. Make out all money orders/checks to "Treasurer, State of CT." Caregivers pay a $25 registration fee. The average consultation cost is between $175 and $200.
What Conditions Qualify for a Medical Marijuana Card in Connecticut?
The medical marijuana bill in Connecticut saw thousands of new patients, and nearly two dozen dispensaries approved. However, the MMJ program is regarded as relatively strict compared to other states. Bear in mind that some of these states have an "approval" system that is a joke. As of the time of writing, there are currently dozens of qualifying conditions. You can receive a physician's recommendation for the use of medical marijuana if you have any of the following:
Cancer
Glaucoma
HIV/AIDS
Nervous tissue damage
Cachexia/wasting syndrome
Sickle cell disease
Post laminectomy syndrome
Amyotrophic lateral sclerosis (ALS/Lou Gehrig's Disease)
Ulcerative colitis
Cerebral palsy
Cystic fibrosis
Irreversible spinal cord injury
Terminal illness requiring end-of-life care
Uncontrolled intractable seizure disorder
Spasticity (or neuropathic pain associated with fibromyalgia)
Postherpetic neuralgia
Hydrocephalus (w/ intractable headache)
Neuropathic facial pain
Osteogenesis imperfecta
Chronic neuropathic pain (related to degenerative spinal disorders)
The program recently added further conditions, including Tourette syndrome and interstitial cystitis.
*You are only eligible to apply for medical marijuana in Connecticut if you are a resident of the state. You are ineligible if you are an "inmate confined in a correctional institution or a facility under the supervision of the Connecticut Department of Corrections."
Looking for more information about qualifying conditions or want to learn about the differences in qualifying conditions between adults and minors (qualifying patients under the age of 18)? Please visit the state's Medical Marijuana Program Portal through the Department of Consumer Protection.
Other Information on the Connecticut Medical Marijuana License Process
Interested in scheduling an appointment with a physician to apply for medical marijuana in Connecticut? If so, there are still a few things to remember. Here are some answers to FAQs.
How Do I Renew My Connecticut Medical Marijuana Card?
Medical Marijuana Cards in Connecticut last for one year from the date of certification. This is an important distinction because the clock starts ticking from that moment. This is the case even if you don't use the card for a few weeks.
When the expiration date begins to approach, you and your physician will use the same DOCP portal to start the renewal process. We recommend starting weeks in advance, so you don't let the MMJ card expire. If you allow this to happen, you have to start over from square one.
Your physician must:
Confirm that you are still under his/her care
Provide the date of examination for recertification
Confirm there is still a bona fide doctor/patient relationship in place
Complete the trio of certifications at the end of the form
You must:
Show proof you still live in the state of Connecticut
Complete certification/verification steps at the end of the form
Provide an updated photo
Pay another $100 registration fee
Your primary caregiver must also provide an updated picture. Also, they must complete the same certification/verification steps at the end of the application and pay another $25 registration fee.
How Do Primary Caregivers Apply?
If you or your physician's office outlines the need for a primary caregiver, you will need to register them on the DOCP application. Otherwise, they will not give you a registration certificate. You must identify the person in question as your primary caregiver on the application form, and verify some medical information.
Next, the primary caregiver must provide a valid email address and a primary telephone number. Then they must create an account with the Connecticut Online MMJ portal (the same way that you did). They will answer a series of questions and submit I.D and a passport size photo, in addition to paying a $25 registration fee.
For patients and primary caregivers, please use the following address when mailing supplemental documents:
Connecticut Department of Consumer Protection,
Medical Marijuana Program,
165 Capitol Ave,
MS# 88MMP
Hartford, CT
06106-1630
How Much Cannabis Can I Buy and Possess with My MMJ Card?
The maximum amount of marijuana you can buy or otherwise possess with a valid MMJ card is 2.5 ounces. This is the maximum 1-month supply as deemed by the state. Some physicians may indicate that you should use a smaller amount.
Can I Grow Marijuana at Home in Connecticut?
Even with a valid MMJ card, you cannot grow or otherwise cultivate cannabis at home.
Where Can I Use MMJ?
You are not allowed to use marijuana in any moving vehicle (including a public bus). It is forbidden in the workplace, on (or within 1,000 ft of) any school grounds or any university/college property (including dormitories). You are also not allowed to use it in the presence of anyone under the age of 18.
Does Connecticut Have Reciprocity?
No. At present, Connecticut does not accept out-of-state MMJ cards.
Also, you can't use marijuana for palliative (preventative) care if it endangers the health of anyone other than the patient or primary caregiver.
Do you have additional questions about applying for medical cannabis in Connecticut? Do you need a Medical Marijuana Card and are ready to begin the online process right now?
[Found this post informative? Help us get it in front of other people who need the information by SHARING it!]
Published on:
6 Jan, 2019