A majority of Americans now live in states where medical marijuana, at the very least, is legal. In fact, we went past the 50% stage at least two years ago. Data from PolitiFact in 2018 found that 64% of U.S. residents lived in a state where MMJ was legal. Since then, even more states have legalized medical cannabis. Our northern neighbors have fully legalized weed, and Mexico is set to follow suit within a year or two.
It seems remarkable that certain states continue to hold out and make life difficult for their residents. Lawmakers in these locations claim that we don't know enough about cannabis to allow it. There is truth to such statements, but only because federal prohibition makes research difficult! Even so, there are thousands of studies into marijuana, and many of them paint the plant in a positive light.
It seems remarkable that certain states continue to hold out and make life difficult for their residents.
Meanwhile, we know a lot about opioids. We understand how they result in the deaths of tens of thousands of people every single year. We are aware that they are incredibly addictive and straightforward to access. MMJ is a potentially viable, and possibly safer alternative, yet it remains against the law to use it.
CBD is used in many more states, but its legal status is significantly more complex than weed. Indeed, practically every state is clear on its cannabis stance. More often than not, however, they are hazy on details surrounding cannabidiol. We have created a series of guides to give you a complete picture in different states. Today, we turn our attention to Idaho.
Is Marijuana Legal in Idaho?
Unfortunately, the answer is a firm 'no,' despite several attempts to initiate an MMJ program. Idaho lawmakers continue to treat the herb as if it was a plague of locusts. It is a galling situation for state residents in favor of marijuana. This is mainly because they are surrounded by legal cannabis! For example, adult-use weed is allowed in Oregon, which borders Idaho.
The state also borders Washington and Nevada, which also allow recreational cannabis, and Utah, which recently created an MMJ program. Idaho is a 'conservative' state, but so is Utah, and even Oklahoma, which also recently permitted medical marijuana!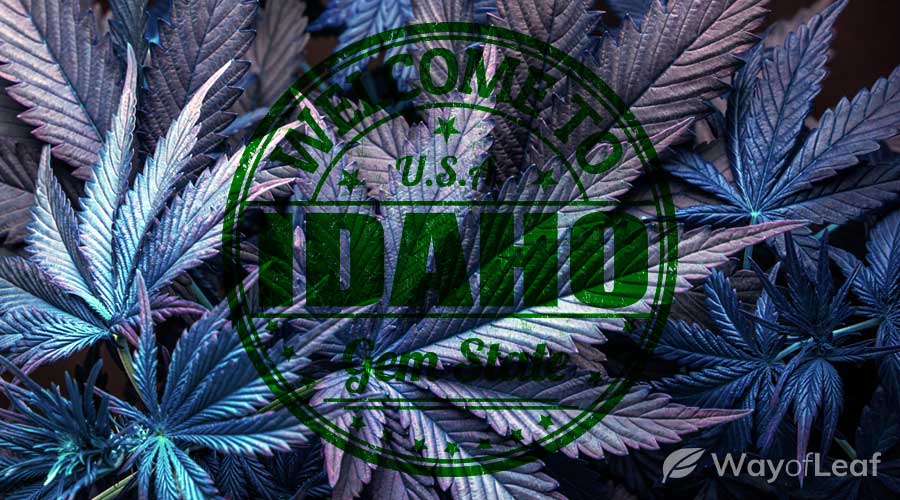 However, Idaho is standing firm but is in danger of plowing a lone furrow. In 2013, Senate Concurrent Resolution 112 passed. At that time, lawmakers in the state said they would remain opposed to all forms of cannabis legalization. The Resolution states that the "drug legalization laws in neighboring states have already adversely impacted Idaho through cultural acceptance of drug use." It also claims that allowing legal marijuana would increase drug use and reduce the perception of harm among kids.
It is a stance based on fear and outdated notions of cannabis. It is highly likely that many Idaho lawmakers still believe in the wholly debunked 'Gateway Theory.' Some may even have Reefer Madness on VHS at home! A lot has changed since 2013. Various states have changed their stances once they saw how much tax revenue legal cannabis states generate. Its geography may also play a role. Aside from bordering several legal states, Idaho also has Canada as a neighbor to the north!
Will Idaho Legalize MMJ in the Near Future?
It is unlikely, but it isn't for want of trying. One of the first attempts at getting MMJ on the Idaho ballot occurred in 2012. It failed, along with another initiative two years later, due to a lack of signatures. A further attempt in 2016 was withdrawn before any names were counted. A 2018 effort petered out because the organizer's son, unfortunately, became very ill, and she had to care for him.
Like Wyoming, Idaho has extremely stringent signature requirements. Therefore, getting any pro-cannabis measure on the ballot is difficult. Advocates are very confident that any MMJ measure will pass once there is a vote. It seemed possible for a 2020 proposal to make it to the ballot. However, the global pandemic quickly put paid to any hopes of Idaho residents voting on medical marijuana in 2020.
The most likely scenario is that a measure to legalize MMJ could prove fruitful in 2022. More states may permit weed by then, which will only pile further pressure on Idaho legislators. Already, a considerable number of people travel to nearby states to purchase cannabis. Idaho is missing out on tens of millions of tax dollars, and it is financially prudent, if nothing else, to allow legal marijuana.
What Are the Penalties for Using and Selling Marijuana in Idaho?
If you live in Idaho, it is wise to steer clear of anything to do with cannabis! The possession of up to three ounces of weed is a misdemeanor. You could receive a prison sentence of a year and a $1,000 fine. If you have more than three ounces but less than a pound, it is a felony. You could spend five years in prison and pay a $10,000 fine.
Possession of over a pound, or 25-49 plants, is a more severe felony. It carries a potential $50,000 fine and a year in jail. It is also considered drug trafficking. The sale of any amount is a felony with a possible penalty of a year's imprisonment, plus a fine of up to $50,000.
What Is the Situation with CBD in Idaho?
We would love to tell you that it is a straightforward situation! However, it most certainly isn't. Going back to 2015, Senate Bill 1146a passed the Idaho Legislature after overcoming serious opposition. It would have legalized CBD oil for individuals with severe epilepsy. However, Governor Butch Otter vetoed the bill in April 2015. In the same year, the state's Attorney General clarified that CBD with 0% THC was legal. It must come from one of the five identified parts (non-flower) of the plant.
At the time of writing, the Idaho Office of Drug Policy states that the above remains the law in the state. To avoid classification as 'marijuana,' any CBD product (with zero THC) must be derived or produced from one of the following forms of hemp:
The plant's mature stalks.
Fiber produced by the stalks.
Cake or oil made from the plant's achene or seeds.
Any salt, derivative, compound, mixture, manufacture, or preparation of the mature stalks.
The sterilized seed of such a plant that is unable to germinate.
There were many reasons why Otter vetoed SB 1146a. Various legal and law enforcement agencies were concerned about product purity, dosing, and lab testing. Governor Otter issued an Executive Order called the Expanded Access Program (EAP). It allows children with intractable epilepsy to access pharmaceutical-grade CBD. In other words, they can use Epidiolex, as it is FDA-approved.
Otherwise, your options are limited. There are several CBD stores in Idaho that offer products like edibles, oils, and topicals. However, you need access to third-party lab reports to determine if they contain no THC, and come from one of the 'accepted' forms of the hemp plant.
Does Idaho Have an Industrial Hemp Program?
Unfortunately, the answer is again 'no.' The 2018 Farm Bill allowed the growth of industrial hemp throughout the United States. However, each state must submit a plan to the Department of Agriculture (DOA) and are not obligated to do so. All but a handful of states have complied, but Idaho is once more an outlier.
There was hope on the horizon in February 2020. The Idaho Senate voted 27-5 in favor of legalizing industrial hemp. Senate Bill 1345 would allow farmers in the state to cultivate and sell hemp products containing less than 0.3% THC. It would also invite the Idaho State DOA to begin a program to allow testing and transportation. SB 1345 would differentiate hemp from cannabis, but would not remove the plant from the state's list of controlled substances.
Senate Bill 1345 would allow farmers in the state to cultivate and sell hemp products containing less than 0.3% THC.
The bill was also not going to legalize CBD oil. It was supposed to become an agriculture bill, but there were many issues to navigate. Unfortunately, SB 1345 did not make it past the House. In March 2020, the bill lost by a vote of 8-7. House State of Affairs Committee members also voted to hold SB 1345 in committee. It effectively killed the bill stone dead and ended the final chance of hemp cultivation becoming legal in 2020.
Those advocating for hemp in Idaho are used to disappointment. Two other hemp-related bills also fell in 2019. Even if SB 1345 had passed, farmers wouldn't be able to grow the crop until 2021.
A Costly Decision
The House's decision was a terrible one for farmers and agriculture in the state as a whole. There is no question that farmers in Idaho have lost a terrific opportunity to make money, help their families, and stimulate the economy. It is now one of only three states that don't allow hemp growth.
The entire situation is a complete mess. Those who transport hemp across the country must avoid journeying into Idaho. Otherwise, they face potential arrest. Already, farmers are moving across to Oregon to grow hemp. It is ridiculous that Idaho lawmakers continue to prohibit something that is not federally legal! Again, the state loses out on millions of tax dollars, and the agriculture sector also suffers.
Final Thoughts on CBD and Cannabis Laws in Idaho
We wish it weren't the case, but Idaho is one of the worst places to live if you like marijuana or hemp! It is one of 17 states that doesn't have recreational or medicinal cannabis. Although activists have tried to change things, they are unable to even get an MMJ initiative on the ballot. Idaho residents must wait until 2022, at least before realizing any dreams of legal cannabis.
The state's stance on CBD is puzzling. You can buy products with 0% THC, but only if they come from one of five specific parts of the hemp plant. What's even more remarkable is the lack of an industrial hemp program. Almost every other state has submitted a plan to the DOA, but Idaho lawmakers refuse to budge. Their actions are damaging the state's agriculture sector. Meanwhile, most states that surround Idaho permit access to cannabis, or CBD at the very least.
Published on:
12 Jun, 2020