As people become increasingly more conscious of the medicinal benefits of cannabis, they are discovering different was to consume it. While smoking medical marijuana is what most people think of when they hear about medicinal cannabis, this as a method is fast fading into the background. Smoking marijuana can lead to the ingestion of toxic chemicals; however, there are other ways to consume it that are much healthier.
An extremely popular option is CBD oil. This refers to a daily supplement made from the CBD extract from hemp or cannabis, which allows you to get your fix of health-promoting CBD without the psychoactive effects of THC.
However, users of CBD oil often complain about the taste. In order to gain the benefits from CBD, you need to keep the drops beneath your tongue 60-90 seconds before swallowing, allowing the compound to be absorbed into your bloodstream. But many find the taste unpleasant, describing it as 'earthy.' In fact, some people find the taste almost unbearable.
Luckily, there are a few things you can do to mask the taste. Read on to find out our top 10 ways for masking the taste of CBD oil.
1. Have a snack handy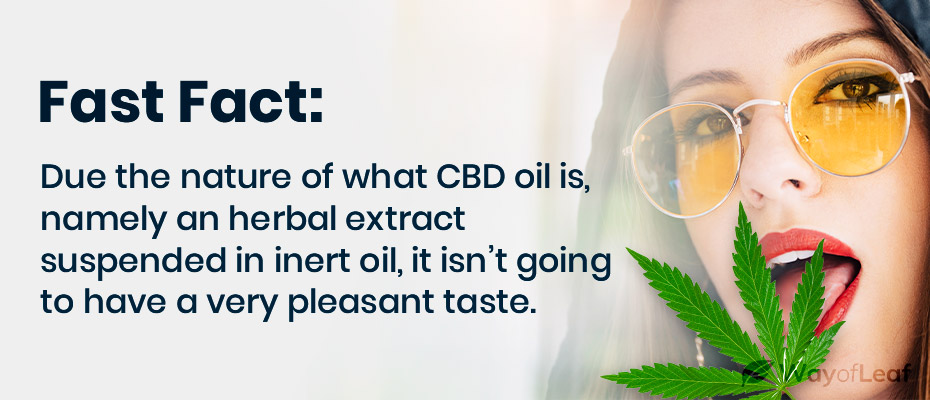 One of the most popular ways to get rid of the taste of CBD oil is by using food. Grab a snack that you find tasty and keep it close by. Once your minute and a half is up, you can eat the food to replace the taste with something better.
A very common choice is to use chocolate. You can even pop a square of chocolate under your tongue, either after or while using the oil.
2. Use mints
Similar to the above point, all you need to do is use a mint, Tic Tac, or chewing gum after you take the tincture; you can also tuck the mint under your tongue while you take the oil. This should leave your breath feeling minty fresh and leave a more refreshing taste on your palette.
3. Brush your teeth right before use
If you take your CBD oil in the morning or at night, try brushing your teeth beforehand. You can minimize the taste by doing this, since your tongue will allow you to taste more minty flavors instead of the earthy taste of the oil.
4. Breathe through your nose
After administering the oil beneath your tongue, close your mouth tightly and breathe through your nose. This is, admittedly, not the best way to mask the taste but it might allow you to mask it by not drawing air over your tongue. You could even hold your nose, since many studies have shown that this can stop you tasting altogether. Ever wondered why food doesn't taste so good when you have a cold? A blocked nose can block your taste receptors, which is why this method might also work for taking CBD oil.
WAYOFLEAF'S CHOICE – FabCBD
When it comes to selecting the best and most effective CBD, it really comes down to trial and error and testing out as many products as you can. And that's exactly what we did. Our review team tried and tested dozens of CBD brands, and we rated FabCBD as #1 overall for potency, value for money, quality & reputation. Try them today and you won't be disappointed. You can also view the reviews of the best CBD brands here.
5. Keep a drink nearby
This is probably an obvious idea, but you can keep a drink to wash away the taste as soon as you're done taking the oil. Even water will get rid of the taste, but it may take a few swigs to dispel the flavor that disperses the taste across your palette. Many CBD oil users say that coffee is a great option to get rid of the pine flavor, since it is strong in itself, but make sure it has cooled down before you drink it! If coffee isn't your thing, try fruit juice or lemon water – both very refreshing, delicious options.
6. Drop some honey under your tongue
Honey is an incredible natural sweetener, and it can work wonders in terms of getting rid of other tastes. The sweet liquid can be dropped under your tongue along with the CBD oil, allowing your tongue to pick up the nicer notes instead of the unpleasant taste of the oil. It only takes just a few drops, and hopefully, it will make the experience a little easier.
7. Try CBD isolate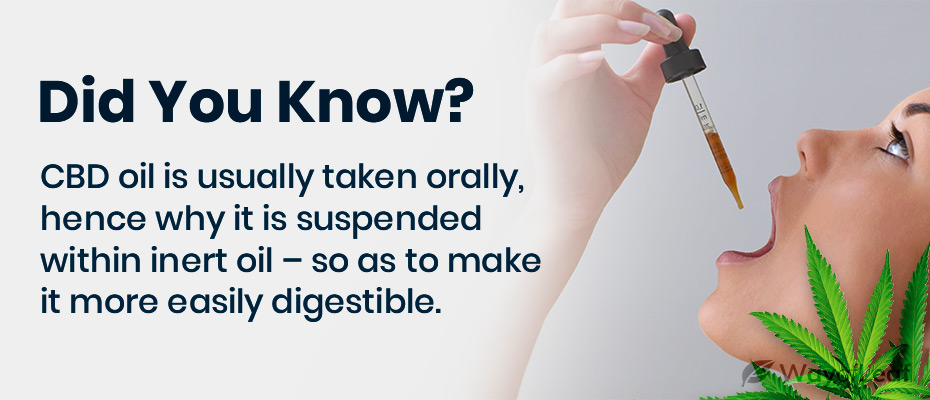 The earthy taste we have mentioned above refers to that of most CBD products due to their origin in pure hemp. That said, if you use a CBD isolate product, you may be able to get rid of the taste altogether.
While full spectrum CBD products utilize the whole plant (meaning they contain other compounds such as CBG, CBDa, and the infamous psychoactive compound THC), CBD Isolate contains only the compound itself, extracted alone from the plant. This means that CBD isolate lacks the distinct, earthy flavor that whole-plant products possess.
Note, however, that there are additional medicinal benefits in the other compounds, so you may not get all of the advantages of full-spectrum CBD oil. If you really can't bear the taste though, it might be worth switching to an isolate.
8. Mix in the oil with edibles
While administering the oil sublingually (below the tongue) is the best absorption method, if you really can't stand the taste of CBD oil, you could try adding your oil into food. This, of course, has a lot slower absorption rate, but it certainly does taste better! Try adding a few drops of the oil into a smoothie or a drink, or you could even try mixing it with food.
Absorption time through this method can be upwards of an hour, so you need to be aware of this. Don't up your dosage in hopes that the effects will kick in quicker – it could just send you over your regular dosage and you might build up a tolerance!
9. Swallow the oil with yogurt
If you don't find the oil too bad when you're simply holding it beneath your tongue, then try swallowing it down with something that masks the taste. For example, some sweet vanilla yogurt will definitely get rid of the nasty taste if you eat a spoonful at the same time you swallow the oil.
10. Purchase some Vcaps®
Vcaps are an excellent way to administer CBD oil if you hate the taste. Basically, these are empty capsules in which you can place a few drops of CBD oil to take it just like a regular pill. Once again, this method means that you will be absorbing the CBD via ingestion, so it might take significantly longer for the effects to kick in. And if you're health-conscious or care a lot about the environment, Vcaps are the perfect option because they are completely vegetarian.
Whether you make your own CBD oil or purchase it from the store, if you're willing to wait longer for the CBD oil to take effect, then this could be a great option.
So… What's the Conclusion?
CBD oil is a wonderful solution for those looking to get all the benefits of cannabis without the psychoactive effects of THC. It also provides a safe, healthier alternative to methods of consumption like smoking.
But, while CBD oil is a very popular choice for users of medical cannabis, the taste can be rather off-putting. That said, you might be able to make the experience a bit more pleasant by following our above tips. Alternatively, if you are looking for a quick solution, feel free to view our top CBD brands below. Some of their oils are delicious!