SFV OG Strain Overview
SFV OG is an indica-dominant hybrid whose mysterious acronym actually stands for San Fernando Valley OG. It is a very lemony and bright strain that is also sweet and earthy. Many smoke SFV OG when in need of a good time, as it can induce a bout of euphoria and laughter. As a result, it's perfect for those suffering from any type of mood or panic disorder.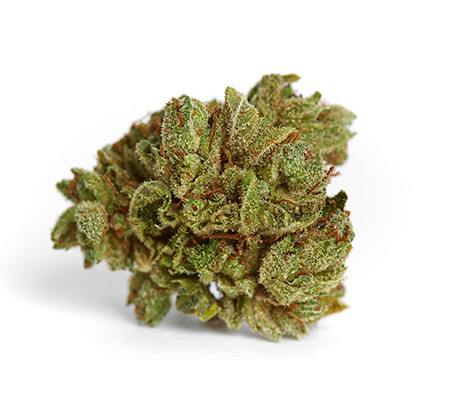 Common usage
Anxiety
Inflammation
Lack of appetite
Effects
Euphoria
Laughing
Sleep/Sedation
Growing info
Flowering period is approximately 8-10 weeks, can be grown both indoors and outdoors BUY SEEDS FOR THIS STRAIN AT OUR #1 RATED
ONLINE SEED STORE: HOMEGROWN
As there are thousands of marijuana strains available, sometimes an exceptional one is almost forgotten. It is also a fact that a number of hybrids that come from legendary parents fail to live up to expectations. The SFV OG strain, better known as San Fernando Valley OG, is weed that has given birth to any number of hybrids with mixed results. However, the strain itself is still top-shelf quality due to its OG Kush origins.
Try Legal THCA Flower
Want to experience the qualities of THC-A flower? The amazing brand Premium Jane just launched their new line, including strains like OG Kush, Purple Cream, and Blue Dream Pie. Averaging 23% THC-A, there's so much to love with these flowers. Try them today to get 20% off using WayofLeaf's exclusive coupon code: THCAWOL
What is the SFV OG Strain?
SFV OG, not to be confused with SFV OG Kush, is an indica-dominant (70%) hybrid that comes from the West Coast. As you might have guessed, it is named after the San Fernando Valley, where it was bred by Cali Connection Farms. It is an OG Kush phenotype and has helped create a variety of well-known strains including Tahoe OG and Ghost Train Haze.
Pink House is a dispensary in Denver that provided a cut of SFV OG that won the High Times Cannabis Cup in the city in 2012. Although it is not quite as popular as some of its 'kids,' SFV OG is an excellent marijuana strain in its own right.
Aroma
As is usually the case with OG strains, the SFV OG marijuana strain offers tart, piney notes followed by a strong scent of citrus at the finish. While it isn't quite as earthy as other OG strains, it also isn't as sour as the Jet Fuel strain. You may be surprised at the overall aroma which manages to be pungent yet sweet simultaneously.
Flavor
This strain's taste is almost as potent as its scent. The lemon flavor is very strong and may even feel a little harsh if you are smoking this weed in a joint. You will also get a lemongrass taste, and the overall flavor remains on your tongue for some time after exhalation. SFV OG is a strain that works extremely well with a vaporizer.
Appearance
SFV OG has a typical OG structure. The nugs are round and relatively dense with minimal pistils and a wintergreen hue.
SFV OG Strain Grow Info
When you purchase SFV OG strain seeds, you will be relieved to know that novices can grow it. All you really need are basic gardening skills, such as ensuring your plants receive adequate water and nutrients. If you decide to grow it outdoors, it will yield around 13 ounces per plant and should be ready for harvest by the beginning of October. Please note that the climate needs to be mild and dry like that of the San Fernando Valley.
If you elect to grow SFV OG indoors, its flowering time is anywhere from 8 to 10 weeks, and you should earn a yield of 12 ounces per square meter. The precise moment when you harvest depends on whether you want a euphoric or sedative high. Allow most of the pistils to change color if you are seeking the latter. According to growers, this is a hungry and thirsty strain that needs lots of water and nutrients. A common mistake, however, is to overfeed SFV OG and cause nutrient burn.
In reality, this particular strain takes several weeks for the buds to begin swelling, so stay patient! You also need to 'top' it regularly. One expert tip is only to allow this strain to vegetate for three weeks. You should be able to find the seeds from the Cali Connection and make sure you don't purchase SFV OG Kush by mistake!
THC Content – Highest Test
The THC content of SFV OG varies and can be as low as 17%. However, we have seen tests where its THC level reaches 22%.
CBD Content – Highest Test
SFV OG has more CBD than most strains and can have up to 1%. This equates to a THC to CBD content of around 20:1 to 25:1.
What Can I Expect When I Use SFV OG?
This strain is not a good option if you have a lot of work to do! We have heard differing reports of what happens when you use SFV OG ranging from slightly indica to primarily sativa effects. Typically, you can expect to feel sedated and couch locked; similar to how you may feel after a session of OG Kush.
Users report feeling euphoric and happy; you may even have fits of giggles. It is an excellent marijuana strain for occasions when you want to relax and live a day in your life filled with joy and free from pressure. It may inspire you to become creative on occasion so your inner poet or musician may come out.
Medical Benefits of SFV OG Marijuana
As it is a relatively potent strain, you can use SFV OG to combat chronic pain and reduce inflammation. It is known for producing a rapid anti-anxiety effect which is useful if you suffer from Generalized Anxiety Disorder (GAD) or depression. If you have a panic disorder which involves a sudden and unpredictable attack of fear, this strain could be the right option.
You may be surprised to learn that panic disorder is associated with inflammation in the nerves and brain. The body's adrenaline levels rise rapidly, and energy is generated out of fat cells. Suddenly, your body and mind are in 'panic' mode. However, SFV OG can prevent this situation from occurring and keep you calm.
This strain is also associated with a boost in appetite. Therefore, if you are a cancer patient struggling to eat after chemotherapy or else you have a condition such as anorexia nervosa, you can use SFV OG to spike your desire for food.
Possible Side Effects of SFV OG Weed
As San Fernando Valley OG is a fairly potent strain, it can leave you with dry and itchy eyes, a dry mouth, and cause you to feel dehydrated. In rare instances, it is possible that this strain exacerbates your level of paranoia, especially if you have a pre-existing anxiety disorder.
Final Thoughts on SFV OG Cannabis
San Fernando Valley OG may not be as popular as several of its children, but it is a mouthwatering and effective marijuana strain in its own right. It is strong enough to tackle pain and medical conditions such as depression and social anxiety disorder.
It is also one of the easiest marijuana strains to grow, especially indoors. It has a strong resistance to pests and diseases, but make sure you provide it with plenty of nutrients and light. Also, make sure your grow tent is well ventilated or else you risk the growth of mold.
Try Legal THCA Flower
Want to experience the qualities of THC-A flower? The amazing brand Premium Jane just launched their new line, including strains like OG Kush, Purple Cream, and Blue Dream Pie. Averaging 23% THC-A, there's so much to love with these flowers. Try them today to get 20% off using WayofLeaf's exclusive coupon code: THCAWOL