Romulan Strain Overview
The Romulan strain is an indica-dominant bud that is capable of producing very sedating and narcotic-like effects. It has a refreshing flavor profile and boasts notes of pine, earth, and citrus. Romulan also has a wide array of medicinal uses, and makes an especially great choice of a bud for those suffering from PTSD or paranoia.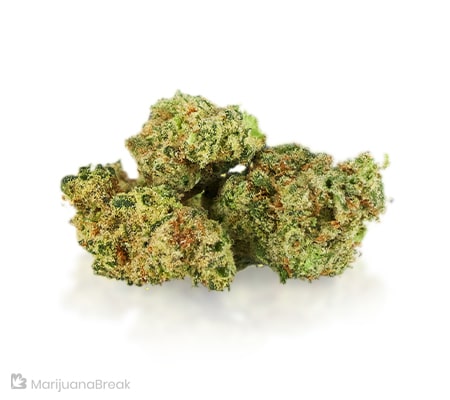 Flavors
Candy
Citrus
Earthy
Piney
Spicy
Common usage
Anxiety
Sleep
Stress
Effects
Appetite
Euphoria
Sleep/Sedation
Growing info
This strain can be grown both indoors and outdoors, average flowering time indoors is approximately 8-9 weeks, or mid-October if growing outdoors. BUY SEEDS FOR THIS STRAIN AT OUR #1 RATED
ONLINE SEED STORE: HOMEGROWN
Mind-bending and deeply tranquil, Romulan will fly you into outer space…
The Star Trek Enterprise has just landed, and Romulan is ready to now enter your wavelength. Named appropriately after the Romulan alien-humanoid race from the Star Trek series, this marijuana strain has left an impact – mostly due to its immensely therapeutic qualities.
The effects of Romulan weed have been defined as mind-bending and serenity-bringing, which is no surprise considering the namesake of the strain.
Sometimes described as producing a narcotic-like sensation, Romulan fully sets its consumer into a deep state of euphoria, which opens it up to a wide variety of individuals who could benefit from this relaxation and sleep aid.
Aside from these few characteristics, there are many fascinating details about the Romulan marijuana strain, which we will explain in greater depth throughout this article.
Keep reading to discover more about the Romulan marijuana strain in this complete review…
Try Legal THCA Flower
Want to experience the qualities of THC-A flower? The amazing brand Premium Jane just launched their new line, including strains like OG Kush, Purple Cream, and Blue Dream Pie. Averaging 23% THC-A, there's so much to love with these flowers. Try them today to get 20% off using WayofLeaf's exclusive coupon code: THCAWOL
What Is Romulan Cannabis Strain?
What began first as a joke that the cannabis strain Romulan would "dent your head" forming ridges (just like one of the key characteristics of the Romulans in Star Trek), soon grew to become a legendary strain. It has transformed into a household name, featured in such revered publications as Cannabis Culture, High Times, and even Skunk.
Officially classified as an indica strain, Romulan weed can produce extremely stoney and even narcotic-like effects, completely melting and sinking the consumer into deep tranquility with the cherry-on-top of fascinating and introspective cerebral effects.
The creeping in of cerebral qualities is said by many marijuana cultivators to be the occurrence of a slight sativa twist in the genetic lineage of this plant, although that information has been widely debated and is not yet confirmed.
The genetic lineage of Romulan, likewise, remains somewhat of a mystery. It is known that the White Rhino indica is one of this marijuana's parent strains, but the second parent is described as a North American indica cannabis strain, but the specific type is not understood.
The THC content of Romulan does rank in at hefty levels, with lab results confirming numbers around 20% on average. There is still a lot to learn about this powerful marijuana, but one thing that is for certain, cannabis consumers love Romulan as their go-to evening/night strain.
Romulan Strain Review: Aroma, Flavor, and Appearance
The immediate impression your senses get after some of Romulan has been lit up, is pure pungence. Overflowing the space it is located in with the scent of earth and pine, this marijuana knows how to leave a real, lasting impact, yet its aromatic profile is not all that unique or different. Romulan smells pleasant and appealing, becoming extraordinary for its simplicity- less is more after all.
Romulan weed is indeed a bit more complex and diverse than your 'typical' indica phenotype, with vibrant pistils amidst sage green sugar leaves.
Romulan weed is indeed a bit more complex and diverse than your 'typical' indica phenotype.
In addition to the original notes of pine and earth, spicy, citrus, and woodsy hints can also be noticed, and when this bud hits your tongue, it is sweet like a candy.
Appearance-wise, the buds are dense and well-packed, offering heavy amounts of usable product even just within one nugget. They range in shades of muted to bright green, with copper, brassy-orange pistils curling in between the frosty sugar leaves. The pistils are those tiny hairs that you usually see on marijuana flowers.
Although not really recognized as a top-shelf marijuana strain, Romulan does feature rather frosty sugar leaves, which is further backed by its impressive THC content. Even if this cannabis has not reached star status, it still has proven to be beneficial and admirable throughout the medical marijuana community.
Romulan Cannabis Strain Grow Info
Relatively easy to cultivate, the growth process for Romulan is straightforward, and therefore can even be attempted by complete beginners or novices that have little to no experience with marijuana. Unlike many indica plants, this one needs a little more upwards space to grow and branch out, because it is slightly taller than your typical, short-growing indica crop.
It has a naturally high resistance to common diseases, decreasing the amount of maintenance required, (but every cannabis strain does need quite a bit of attention nevertheless). This marijuana can thrive successfully in either an indoors or outdoors environment, so long as the climate conditions are met.
Romulan prefers a warm, dry climate, so this needs to be recreated if you are attempting indoor cultivation. The typical flowering time is around 8-9 weeks, and outdoor harvests fall around the middle of October when moderate yields can be expected.
Successful indoors harvests will yield on average 9 ounces of fresh bud per meter squared, while outdoors ranks in at 9 ounces per plant. In the end, Romulan crops conveniently and quickly produce a tasty and delicious bud that is a quintessential selection for an indica lover.
Romulan Cannabis Strain: Mind + Body Effects
Commonly producing couch-lock and a serious case of the munchies, Romulan generates some of the typical effects that could be expected of an indica strain, but amplified to a whole new dimension. This marijuana strain has a tendency to get you so relaxed, you might experience the high as somewhat similar to that of a narcotic- it shoots you straight into a dreamy-like, euphoric state where your troubles melt away and your body sinks deep, deep into the surface below you.
The Romulan strain will shoot you off into outer space.
The Romulan strain will shoot you off into outer space, but instead of fighting evil alien races, you'll be fighting off your urge to enter deep, natural sleep.
With the added twist of introspective and intriguing cerebral effects, the high from Romulan is further sometimes described as a "floating" sensation, allowing your mind to feel light and airy. The mood becomes boosted, additionally, with happiness and emotional joy radiating from your heart and soul, filling your body and being up with love and contentment.
All in all, few negative aspects have been reported about this cannabis type, making it an especially quintessential strain for someone that longs for a strong, but enjoyable indica.
Medical Benefits of Romulan Weed
Romulan is understood by the marijuana world as being one of the most reliable sleep reliefs on the market, so first and foremost we must disclaim that this cannabis should NOT be consumed during the daytime unless you want to find yourself dozing off by 10 o'clock in the morning. Most suited to assist with mental conditions and disorders, those struggling with some or all of the difficulties from:
Depression
Anxiety
Chronic stress
Bipolar disorder
Paranoia
Eating disorders
Insomnia
For medical situations pertaining to the mind, a smaller dose of this potent strain may be wise to consume at first and then built up from there once it is understood how exactly this strain affects you.
Those who suffer from mental conditions and disorders are especially susceptible to THC induced increased anxiety, paranoia and worrying, so this is the primary reason why it is important to take it slow, no matter what cannabis strain is being consumed. For more physical related conditions and ailments, Romulan can also play a role in the healing process.
Particularly for those who experience chronic pain, headaches/migraines, muscle spasms, lack of appetite and most other forms of body pain, this "named-after-aliens" strain can help. For physical ailments, higher doses of Romulan may be in order, for the full extent of relief to be experienced.
Romulan weed is also frequently made into edibles, which can be purchased at most top-shelf dispensaries across the U.S.
Possible Side Effects of Romulan Marijuana
Although typically quite risk-free for consumption, in very high quantities Romulan can be "overdone", producing adverse effects such as paranoia, dizziness, and headaches in rare circumstances. This information certainly should not be cause for concern, because most people just get a case of dry mouth (cottonmouth) or dry eyes.
All in all, Romulan is met with relatively few possible adverse effects.
For cottonmouth, making sure to drinking plenty of hydrating fluids before, during, and after your high can not only keep the mouth from drying up, it also helps to prevent dehydration, and therefore headaches or any grogginess you might experience the next day. In order to keep the discomforts from dry eyes at bay, purchase a bottle of moisturizing eye drops from your local drug store or pharmacy before your cannabis consumption.
Keep this bottle on hand for moments where you really desire some relief from this commonly occurring side effect of Romulan weed. All in all, Romulan is met with relatively few possible adverse effects, the most frequent ones being of minuscule seriousness.
Final Thoughts of the Romulan Marijuana Strain
If you are an individual searching for an herbal and all-natural alternative to conventional medical practices and are desiring a marijuana strain that is full-strength and heavily leaning in the indica direction, then the Romulan cannabis strain may be a suitable option to begin your search with.
It is important to remember that the consumption of marijuana is the sole responsibility of the user, and discretion should always be taken. We hope you not only found this article to be entertaining but also educational and informative. None of what is written above has been reviewed by a doctor or medical practitioner, and therefore it should not be interpreted as medical advice.
Try Legal THCA Flower
Want to experience the qualities of THC-A flower? The amazing brand Premium Jane just launched their new line, including strains like OG Kush, Purple Cream, and Blue Dream Pie. Averaging 23% THC-A, there's so much to love with these flowers. Try them today to get 20% off using WayofLeaf's exclusive coupon code: THCAWOL