Purple Princess Strain Overview
The Purple Princess strain is an indica-dominant hybrid with somewhat debatable origins. While it's past might be a mystery, what isn't is this strain's awesome effects. It brings about an intense euphoric and happy high that can also help with all sorts of physical pains as well. In terms of flavor, Purple Princess tastes like grapes, spices, and chocolate. Brace yourself for the royal treatment with this one!
Flavors
Chocolate
Fruity
Grape
Spicy
Common usage
Cramping
Inflammation
Lack of appetite
Nausea
Effects
Euphoria
Happy
Laughing
Relaxation
Growing info
This strain can be grown both indoors and outdoors, average flowering time is approximately 5-7 weeks. BUY SEEDS FOR THIS STRAIN AT OUR #1 RATED
ONLINE SEED STORE: HOMEGROWN
A descendant from cannabis royalty, there's a reason why Purple Princess lives up to the hype.
A real life, living fairytale that makes you feel as if you have been transferred into some other blissful dimension, Purple Princess not only looks stunningly gorgeous, but its pleasant and relaxing taste is the stuff of legends as well. Although it is not one of the most potent strains on the marijuana market (or one of the most popular), this unique and somewhat still low-key cannabis type is enjoyed and appreciated by the select few who get a chance to try it. It shows up most often in certain regions, primarily California, Oregon and Washington State, where this violet god-send has a tendency to be displayed in medical marijuana dispensaries and recreational cannabis shops front and center.
Keep reading to discover even more incredible information about the Purple Princess marijuana strain in this complete review…
Try Legal THCA Flower
Want to experience the qualities of THC-A flower? The amazing brand Premium Jane just launched their new line, including strains like OG Kush, Purple Cream, and Blue Dream Pie. Averaging 23% THC-A, there's so much to love with these flowers. Try them today to get 20% off using WayofLeaf's exclusive coupon code: THCAWOL
What Is Purple Princess?:
The legend of Purple Princess is a relatively complicated one. No one 100% knows where this delight derives from, but she is said to be the descendant of cannabis royalty Ice Princess and either the Cinderella 99 hybrid or Twilight. Regardless of the lack of understanding about origin, what is sure regarding this strain is its ability to help medical cannabis patients, as well as satisfy recreational users.
Classified as an indica dominant hybrid by some and as a plain indica by others, the true indica/sativa ratio of this cannabis is not completely clear, but its high does typically result in falling asleep, which makes it likely indica dominant. Also, the purple girl's THC content is not one of the highest on the marijuana market (at just 14-19% on average), but she is packed full of other more redeeming qualities including a beautiful appearance, tasty flavor/aroma profile, a speedy grow time, and tremendous yields.
Purple Princess Aroma, Flavor and Appearance: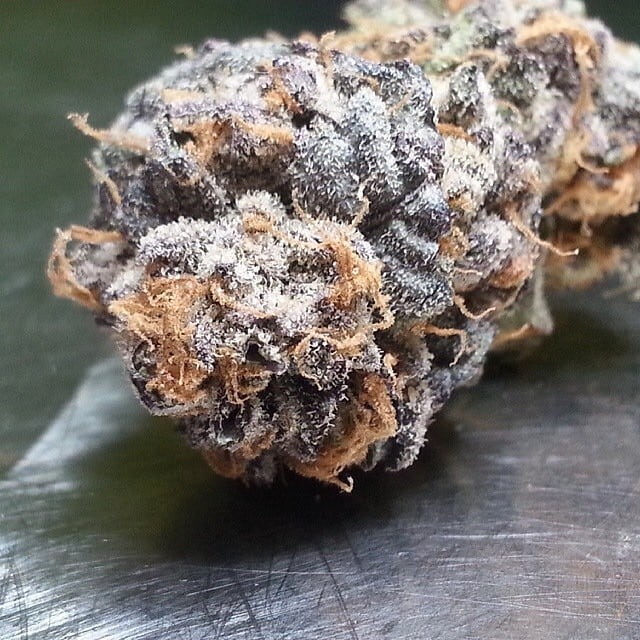 Pungent is certainly a fair way to describe the aroma of the Purple Princess marijuana strain. The scent from this gorgeous violet lady is exceptionally strong, as it lingers long past its removal from a location and reeks of skunk and fruity berries, and sometimes hints at elements of grape and blueberry.
The flavor is quite grape-like as well, with a generally fruity taste, but once it is time to exhale, the taste buds are immediately impacted with a transformation; suddenly, Purple Princess is spicy and earthy with prominent notes of chocolate and cinnamon.
The incredible appearance of this cannabis is probably one of its most captivating features. Depending upon the phenotype of the strain, the buds typically range in color from a faded purple to a vibrant dark violet, juxtaposed by the blending of orange pistils – those tiny hairs that curl and bend amongst the sugar leaves.
For all the leaves that aren't purple, the accentuating shades of green radiate a hearty earth conglomeration, making for a beautiful combination. The buds themselves are quite small, but they make up for it in being dense and tightly packed – especially considering their diminutive size. Also, they are not coated with much frost (this is likely due to an average trichome count) but this is no big deal because Purple Princess's mind-blowing color is plenty enough for the eyes to focus on.
Purple Princess Grow Info:
Considered a grower's dream by those who attempt its cultivation, Purple Princess is a relatively easy and convenient cannabis type to produce a successful harvest from. These crops grow to a medium height, meaning they cannot be planted in very small rooms, but could do well in an average sized space (and of course outdoors). The most important factor for maintaining healthy Purple Princess crops is to keep them well hydrated.
Additionally, the environment in which the strain is planted does not so much matter, as it can thrive in both dry and humid climates, as well as cold and hot. Purple Princess can even be planted at higher altitudes because of one phenomenal attribute, which is this bud's exceptionally short flowering period (at just 5-7 weeks). This factor also allows cultivators of this strain to generate a successful harvest, even if planting took place quite late in the outdoor season. Additionally, the short 5-7 week period helps indoor growers plant multiple rotations in one year, which helps to develop more profit in the end.
In terms of crop yield, Purple Princess is said to yield quite well, although there seems to be little information pertaining to the exact quantity of possible production. What is known, though, is the cannabis strain doesn't require massive amounts of effort and maintenance, for it is naturally rather resistant to diseases, pests, molds and mildews (this also makes it a superb option for those who desire quick turnarounds of higher yields with less work throughout the process).
All in all, if you are alright with a lower THC indica dominant hybrid strain, then Purple Princess is one of the simplest options to try growing, because even those who are novices with very little experience are likely to accomplish thriving results.
Purple Princess Effects:
Considered a "creeping" strain by those who have tried it, this indica dominant hybrid typically begins its high effects in the head, and slowly moves down toward the body where it rests for the remainder of the time. You can expect to feel quite medicated, but not dysfunctional and locked to the couch – effects that are attributed to Purple Princess's lower THC content.
Overall, the effects from Purple Princess are categorized as being euphoric and tranquil, as well as producing a flair of happiness, joy and giggles. Towards the middle or end of the high, though, sleepiness often begins to set in, which is why this cannabis is best left for evening, nighttime, or for the lazy day off. With help from Purple Princess, you can certainly rest easy and fall into a sound slumber with a smile on your face, and bliss in your heart.
Medical Benefits of Purple Princess:
Because of its sedative-like properties and uplifting mental/mood effects, Purple Princess is especially suited for helping those who are dealing with the challenges of depression, anxiety, insomnia, stress and overall restlessness. By quieting the mind and melting the body, this marijuana strain acts as an immense therapeutic relief.
Also, it serves as a great muscle relaxant and general pain reliever, which is what makes it so desirable for medical patients trying to manage their chronic pain, cramps (menstrual or otherwise), migraines/headaches, lack of appetite, nausea, muscle tension and inflammation. Also, for physical conditions, a higher dose of Purple Princess will be in order, because its THC content is quite low and may not generate the strongest results in normal doses.
However, alternative forms of consumption to traditional smoking can act as a brilliant way to intake this strain at a greater potency. For example, if it is possible to find edibles, tinctures, extracts, candies, gummies, or concentrates, these can all produce a much more potent dose than smoking straight buds. And moreover, THC-induced paranoia is not so common with Purple Princess – unless of course an absurd amount is consumed in one sitting, in which case some negative side effects could occur, especially for those that are overly-sensitive to tetrahydrocannabinol. In this circumstance, it is important to self monitor and intake only what you are comfortable with, and build from there if it feels safe and beneficial to do so.
Possible Side Effects of Purple Princess:
As with most marijuana strains, Purple Princess is met with some adverse effects, which are in general quite moderate and minimal. Most frequently, dry eyes and dry mouth (cottonmouth) will occur, which are both easily manageable with just a little extra preparation and planning. By drinking plenty of hydrating fluids before, during and after your high, you can not only keep cottonmouth at bay, but also you can lessen your chances of having a headache, dehydration, or any grogginess the next morning.
Also, by purchasing moisturizing eye drops in advance from a local pharmacy or drug store and keeping them readily available for when needed, dry eyes can disappear and they will no longer be a discomfort or a bother while smoking. In some rare occasions dizziness, paranoia and increased anxiety have been reported from Purple Princess, but these circumstances should not be a cause for concern, for they are so seldom and unlikely to affect the majority of individuals that consume this particular strain. All in all, Purple Princess is a royal marijuana strain that contains few side effects – a truly unique, enjoyable, and outstanding variety.
Final Thoughts:
If you are an individual searching for an herbal alternative to conventional treatments for depression, anxiety, stress, chronic pain, insomnia, restlessness, nausea, lack of appetite, cramps (including menstrual), inflammation, muscle tension, migraines/headaches and other forms of aches, then Purple Princess marijuana could be a valuable strain to begin with.
Of course, though, it is important to remember that the consumption of cannabis is the sole responsibility of the user, and discretion should always be taken. We hope you found this article to not only be entertaining, but also educational and informative.
(None of the information written in this article has been reviewed by a doctor or medical professional, and therefore it should not be interpreted as medical advice).
Try Legal THCA Flower
Want to experience the qualities of THC-A flower? The amazing brand Premium Jane just launched their new line, including strains like OG Kush, Purple Cream, and Blue Dream Pie. Averaging 23% THC-A, there's so much to love with these flowers. Try them today to get 20% off using WayofLeaf's exclusive coupon code: THCAWOL