Purple Elephant Strain Overview
Purple Elephant is a juicy strain tasting primarily of sweet and sour grapes infused with earthy and woody undertones. It provides an uplifting high, followed by relaxation and sleepiness due to its indica-dominant genetics.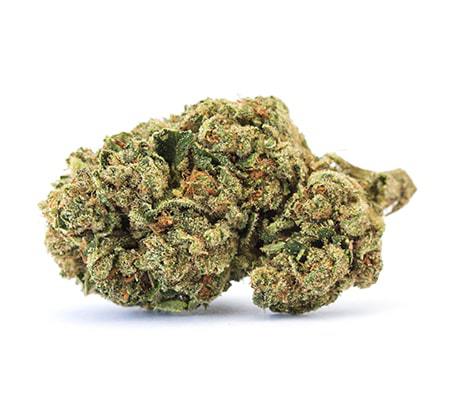 Common usage
Chronic pain
Inflammation
Lack of appetite
Effects
Creativity
Focus
Sleep/Sedation
Growing info
Purple Elephant is a clone only strain with an indoor flowering period between 8-9 weeks. It can also be grown outdoors. BUY SEEDS FOR THIS STRAIN AT OUR #1 RATED
ONLINE SEED STORE: HOMEGROWN
The Purple Elephant strain, a.k.a. Elephant Purple, is an indica-dominant hybrid by the late, legendary cannabis breeder JojoRizo (RIP). Apart from being a quality hybrid in its own right, it is famous for being a parent of the popular Grape Stomper strain.
Keep reading to discover even more about the incredible Purple Elephant marijuana strain and all it has to offer…
Try Legal THCA Flower
Want to experience the qualities of THC-A flower? The amazing brand Premium Jane just launched their new line, including strains like OG Kush, Purple Cream, and Blue Dream Pie. Averaging 23% THC-A, there's so much to love with these flowers. Try them today to get 20% off using WayofLeaf's exclusive coupon code: THCAWOL
What Is the Purple Elephant Cannabis Strain?
Purple Elephant is a cross of Purple Urkle and an unknown strain by Sensi Seeds. While some believe it is a perfectly-balanced hybrid, the consensus is that it's indica-dominant (65:35). As Purple Elephant's effects lean heavily towards the indica side of the spectrum, the latter is most likely.
After consuming the Purple Elephant strain, users experience an initial uplifting and euphoric high, followed by gentle relaxation. Based on reviews, as many as one-third of Purple Elephant consumers say that this strain makes them feel sleepy. This soporific quality provides further evidence that Purple Elephant is, in fact, indica-dominant. Given the nature of Purple Elephant's effects, most choose to consume it in the evening.
Given the nature of Purple Elephant's effects, most choose to consume it in the evening.
One thing to be aware of is that the Purple Elephant strain has an average THC content of 20.5%. Therefore, Purple Elephant's potency makes it unsuitable for a novice cannabis consumer or people who experience adverse reactions to high-THC strains.
Aroma
Purple Elephant's pungent aroma is quite a divisive aspect among fans of this strain. Some find its intense mix of sweet and sour grapes a little off-putting, whereas others consider it a cannasseur's delight. Breaking open the buds reveals an earthy odor with subtle hints of pine.
Flavor
The good news is that most find Purple Elephant's flavor more pleasant than its fragrance. The sweet grape-like taste complemented by earthy, piney flavors makes up for its pungent aroma. Unfortunately, the smoke is pretty harsh on the throat and lungs, so you'll likely end up coughing your way through the experience.
Appearance
In between the sea of green and purple, the bright orange pistils provide a striking contrast. The plant has a generous coating of resinous trichomes that give it an almost frosted appearance.
Purple Elephant Cannabis Strain Grow Info
One notable feature of the Purple Elephant strain is that it's a clone-only variety. Therefore, to grow this plant, you will need to get your hands on clippings from a mature female Purple Elephant plant. One upside to this is that you don't have to go through the germination process when growing this plant.
Purple Elephant's indoor flowering period is typically between 8-9 weeks and produces yields of 10 ounces per meter squared. It is crucial to monitor your grow room conditions, focusing on air ventilation and air temperature.
If growing Purple Elephant outdoors, please note that it does best in a Mediterranean type climate. Outdoors, these plants will be ready for harvesting around late September or early October. They typically produce about 12 ounces per plant.
THC Content: Highest Test
As mentioned, Purple Elephant is a pretty THC-packed strain with an average level of approximately 20.5%. Lab reports show that Purple Elephant samples can contain up to a whopping 25% THC.
CBD Content: Highest Test
Purple Elephant is not a particularly CBD-fueled strain, as lab tests reveal. Reportedly, the highest CBD content contained in a Purple Elephant sample was just 0.6%.
Thankfully, there are several low THC/high CBD strains out there. Some of these include Pennywise, Charlotte's Web, Canna-Tsu, and Harlequin. If you can't find a high CBD strain anywhere, you could always opt for CBD oil as an alternative.
Medical Benefits of the Purple Elephant Strain
While Purple Elephant contains only trace amounts of CBD, this does not mean it has no medicinal value. Some consumers say that they find the Purple Elephant strain useful for addressing a whole host of conditions.
As Purple Elephant has an uplifting, mood-enhancing effect on its consumers, it may offer short-term relief to cannabis users with depression.
Given Purple Elephant's relaxing effects, many find it useful for stress relief, reducing anxiety levels, and unwinding. Some believe that this strain has analgesic properties and rate it as moderately effective at alleviating pain.
As mentioned, a considerable percentage of consumers say that the Purple Elephant strain has soporific effects. Therefore, some users with insomnia may find it useful for inducing sleep.
Finally, some say that they experience an increase in appetite, commonly known as "the munchies," after consuming Purple Elephant. Therefore, it may benefit those experiencing a loss of appetite.
Possible Side Effects of the Purple Elephant Strain
Being a high THC strain, Purple Elephant does, unfortunately, have some adverse effects. The most common side effects are dry eyes and cottonmouth. Some users have also experienced heightened paranoia and anxiety as well as dizziness.
Final Thoughts on the Purple Elephant Strain
The Purple Elephant strain has many notable features that make it stand out from other indica-dominant hybrids. Firstly, it has a distinctive, pungent sweet and sour aroma. However, this isn't to everyone's liking.
It also boasts a very high average THC level of 20.5%. On the plus side, the high is euphoric and uplifting. However, Purple Elphants's potency means that it is unsuitable for novices or people prone to adverse reactions to THC.
Purple Elphants's potency means that it is unsuitable for novices or people prone to adverse reactions to THC.
Some other downsides are that the smoke is quite harsh and cough-inducing and that it is a clone-only strain. Overall, though, Purple Elephant's effects more than make up for these negatives.
Let us know what you think about the Purple Elephant strain in the comments below.
Try Legal THCA Flower
Want to experience the qualities of THC-A flower? The amazing brand Premium Jane just launched their new line, including strains like OG Kush, Purple Cream, and Blue Dream Pie. Averaging 23% THC-A, there's so much to love with these flowers. Try them today to get 20% off using WayofLeaf's exclusive coupon code: THCAWOL