OG Kush Strain Overview
OG Kush is an all-time favorite amongst cannabis newbies and long-time users. Not a lot is known about its genetics or lineage. However, we know it is popular with MMJ patients and has a comforting and earthy flavor profile. So, if you're seeking a strain that is both easy on the palate and potentially useful for helping alleviate pain, OG Kush is worth a shot.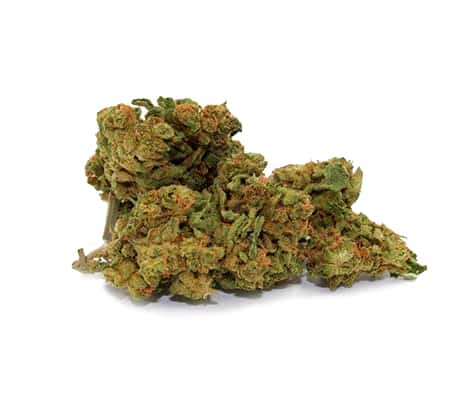 Flavors
Citrus
Lemon
Lime
Spicy
Common usage
Chronic pain
Inflammation
Sleep
Effects
Calming
Euphoria
Spacy/cerebral
Uplifting
Growing info
THIS STRAIN CAN BE GROWN BOTH INDOORS AND OUTDOORS. ITS AVERAGE FLOWERING TIME IS APPROXIMATELY 8-9 WEEKS. BUY SEEDS FOR THIS STRAIN AT OUR #1 RATED
ONLINE SEED STORE: HOMEGROWN
OG Kush is one of the most popular types of bud available on the legal market in recent years. However, although it possesses a name nearly as popular as Pineapple Express or White Widow, the origins of this intriguing cannabis strain still largely remain a mystery.
With little known about the genetics or ancestral lineage of OG Kush weed, this beloved phenotype's mystical appeal has only been heightened.
Try Legal THCA Flower
Want to experience the qualities of THC-A flower? The amazing brand Premium Jane just launched their new line, including strains like OG Kush, Purple Cream, and Blue Dream Pie. Averaging 23% THC-A, there's so much to love with these flowers. Try them today to get 20% off using WayofLeaf's exclusive coupon code: THCAWOL
What Is the OG Kush Strain?
Though no one is completely sure, OG Kush is possibly a cross of Chemdawg and Hindu Kush or Old World Paki Kush. It is an indica-dominant hybrid known for its high THC content and remains especially popular throughout California, Colorado, and the Pacific Northwest.
After consuming OG Kush, expect strong euphoria and intense cerebral effects to settle in, often followed by mild to strong couch-lock. Remember, OG Kush is considered one of the most uplifting strains available. It provides consumers with a wonderful amalgamation of body-melting euphoria and a calm, tranquil state of mind.
Aroma
If you've ever had the pleasure of smelling top-shelf OG Kush, you'll know that the nuggets have one of the freshest scents that nature can produce. Some users suggest the aroma is reminiscent of being lost within a dank, old-growth forest. The strain's scent is woodsy, piney, and earthy, immediately hitting your senses.
Flavor
OG Kush's flavor can surprise even the most jaded of self-proclaimed marijuana lovers. It offers none-too-subtle undertones of lime, lemon, spice, and faint hints of citrus.
Appearance
OG Kush features the classic yellow-green sugar leaf color with orange pistils and green, sometimes sage-shaded water leaves.
The buds are densely coated with crystalline trichomes. This makes perfect sense when considering the OG Kush strain's heavy THC content.
OG Kush Grow Info
Cannabis cultivators typically find that growing OG Kush is a financially beneficial ploy. It is considered a top-shelf strain in dispensaries. As a result, you can expect to pay a substantial sum for an ounce. However, cultivating it indoors produces up to 18 ounces per square meter, whereas outdoor-grown OG Kush provides approximately 16-18 ounces per plant.
That said, OG Kush can be an especially challenging crop to cultivate. Therefore, it is vital to closely monitor and watch the plant's growing environment and climate. The strain is susceptible to a few issues, including powdery mildew, bugs, mites, mold, and other diseases. However, you can keep your OG Kush crop healthy with regular care and monitoring.
If you intend to cultivate OG Kush outdoors, you'll require a climate similar to Southern California. If you go down this route, please note that your plants should be ready for harvest by the beginning of October. If you grow OG Kush strain indoors, bear in mind that it has an 8–9-week flowering period.
For the record, OG Kush responds well to hydroponic growing, although you'll need some weed cultivation experience to get the best out of this strain. Therefore, it is worth starting with an easier-to-grow alternative such as Blue Dream or Girl Scout Cookies if you're a novice.
THC Content – Highest Test
OG Kush has a broad range when it comes to its THC content. You can find versions of it with anywhere between 19% and 26% THC, although 23% seems to be average.
CBD Content – Highest Test
Like most high-THC strains, OG Kush has minimal CBD, usually less than 0.5%.
Medical Benefits of the OG Kush Strain
MMJ patients sometimes turn to OG Kush to help with chronic pain. This strain may also prove beneficial if you have depression, stress, or insomnia.
Regarding its propensity to help with chronic pain, OG Kush could aid in the reduction of inflammation and provide overall relief. Moreover, anecdotal reports suggest that the effects of this strain are felt quickly.
It is best to consume OG Kush late in the evening or at night when you no longer have any important tasks to complete. This is because you're likely to feel so relaxed that you have no intention of moving! Perhaps this is why OG Kush is so popular amongst individuals with insomnia.
Possible Side Effects of the OG Kush Strain
OG Kush users frequently report dry mouth and dry eyes as common side effects. Also, people with low THC tolerances may experience mild paranoia or anxiety. If this happens to you, remember that the experience will pass. Maintain slow, deep, and steady breaths and try to remain calm.
Excessive consumption of OG Kush could result in a highly unpleasant experience that prevents you from wanting to try marijuana again. If you find this strain too potent, choose a lower THC option or a strain like Harlequin, which combines THC and CBD and offers a much milder effect.
Final Thoughts on the OG Kush Strain
OG Kush is certainly a heavy hitter and is best consumed by individuals with a high THC tolerance. Novices are better served looking for a strain with significantly lower potency. While it is especially popular on the west coast, you can find it in various dispensaries across the United States, although it usually isn't cheap!
OG Kush is also tricky to cultivate. We would recommend growing a more novice-friendly strain at first before working your way up. Nonetheless, even inexperienced growers can enjoy a successful OG Kush harvest if they're willing to put in the time and effort.
Try Legal THCA Flower
Want to experience the qualities of THC-A flower? The amazing brand Premium Jane just launched their new line, including strains like OG Kush, Purple Cream, and Blue Dream Pie. Averaging 23% THC-A, there's so much to love with these flowers. Try them today to get 20% off using WayofLeaf's exclusive coupon code: THCAWOL