Overview
This one is a real treat. Emanating many of the same characteristics of the beloved ice cream with which it shares its name, it tastes incredibly chocolately, minty, and utterly delicious. Mint Chocolate Chip also is great as a medicinal strain and can help with a wide variety of conditions from anorexia all the way to migraines.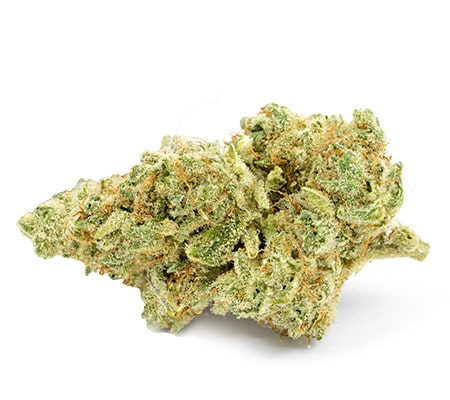 Flavors
Chocolate
Citrus
Mint
Sweet
Common usage
Chronic pain
Depression
Lack of appetite
Sleep
Effects
Appetite
Creativity
Focus
Happy
Growing info
This strain can be grown both indoors and outdoors, average flowering time indoors is approximately 56-63 days, or mid-October if growing outdoors. BUY SEEDS FOR THIS STRAIN AT OUR #1 RATED
ONLINE SEED STORE: HOMEGROWN
Now and then we review a strain so rare that finding good quality information on the web can be a challenge in itself! Today, we are bringing to you one such strain that is difficult to come by and shrouded in mystery, making it one of must-try bud, Mint Chocolate Chip!
If you've never heard of Mint Chocolate Chip, we're not surprised! This is not a very common flower to come across, but it is indeed worth hunting down as it offers a pretty rad high and the flavor is seriously something else!
Stick around to find out more about this complex little number, as we give you the low-down on one of the most delicious buds we've tried for years!
Try Legal THCA Flower
Want to experience the qualities of THC-A flower? The amazing brand Premium Jane just launched their new line, including strains like OG Kush, Purple Cream, and Blue Dream Pie. Averaging 23% THC-A, there's so much to love with these flowers. Try them today to get 20% off using WayofLeaf's exclusive coupon code: THCAWOL
What is the Mint Chocolate Chip Cannabis Strain?
As we said before, Mint Choc Chip is a slippery customer! Cannabis experts the world over have had this moreish hybrid on their hit list for years and have yet to come across it, but luckily we are here to shed some light on the mysterious flower!
Created by Exotic Genetix, Mint Chocolate Chip is a 50/50 hybrid offering a unique high that if experienced will see you desperate for more! Think spacey head high and grounded physical effects that allow you to fall into a state of deep relaxation, without sapping your mental energy!
Legend has it that Mint Choc Chip is a cross between Sinmint Cookies and Green Ribbon BX, but we have it on good authority that it is, in fact, a Girl Scout Cookie phenotype crossed with Green Ribbon BX, which accounts for that delicious cookie aroma when the buds are broken up! So uncertain is the background of this bud that many people also believe there to be a third strain in the mix, who knows!
Boasting THC levels at a moderate 18%, Mint Chocolate Chip can be applied to not just recreational use, but also for many health conditions. The bud offers intense relaxation as well as a subtle sedative effect and a low-key head high that sends your creativity soaring.
Mint Chocolate Chip Flavor, Appearance, Aroma
Fans of a super dense bud will love Mint Choc Chip for its pebble-like nugs of resin that are a dark green hue coated in furry orange hairs. This plant boasts a minty green aesthetic that takes over 80% of the plant, with small flowers and a generous coating of frosty white trichomes to finish the look off.
The plant itself gives off a fragrant sweet and slightly herbal aroma, with of course that all-important undercurrent of minty freshness. However, once broken up the nugs radiate a chocolaty aroma that is mouth-watering, and undoubtedly intriguing as the notes combine to create a sweet yet earthy smell.
The big selling point and the reason people go mad for Mint Choc Chip is its intriguing flavor, which is up there as one of the best we've ever tried! Complex doesn't do this bud enough justice, with a range of notes combined, it will take even the most experienced cannabis users a while to figure out all the different tastes. Think hints of sweet chocolate, nuts, and citrus, all of which will take you on a journey of sweet discovery, before being sharply awoken by a hit of cool mint and an unusual spice that is undoubtedly a bit of a game changer!
Mint Choc Chip makes a perfect after-dinner treat, or when you're really craving something sweet and dessert-like, but ultimately any cannabis lover will adore this. Exotic Genetix indeed went above and beyond your standard bud when they created this, and it is all in the taste!
Mint Chocolate Chip Grow Info
If you are lucky enough to find yourself in possession of some original Mint Choc Chip seeds, then you'll be pleased to know that growing this baby is pretty straightforward! As chilled out in nature as you will be from smoking it, Mint Chocolate Chip can be cultivated indoors or out and needs minimal effort to get a good yield.
Outdoor cultivators can expect to harvest this delightful bud around mid-October and can expect a multi-topped robust bush that grows medium to tall. Flowering time is between 56-63 days approximately, and she offers a medium to heavy yield, which is excellent news all round!
Due to the rarity of this bud, there aren't masses of user reports on the growing methods used for Mint Choc Chip, but the overall consensus is that she is pretty low maintenance making it an ideal choice for beginners.
Mint Chocolate Chip Medicinal Benefits
If you're only here for the high, then listen up because you won't be disappointed with what this baby can do! Although some users report a mild sedative effect, this hybrid is generally pretty upbeat and active smoke and can boost concentration, creativity, and motivation with ease if taken in the right doses.
Those struggling with chronic fatigue will benefit from its physically relaxing high that will make you want to snuggle down into the sofa but will keep your mind ticking over, so pop on a movie marathon! Users suffering from chronic pain, headaches, appetite loss, and depression have praised the bud for its ability to get them out of their head by inspiring creative trains of thought and alertness that can get waylaid when unwell.
We would recommend that those struggling with eating disorders, insomnia, or anxiety try small amounts of this bud and allow the powerful relaxing properties remove worry and replace it with a feeling of uplift and happiness.
If taken in larger quantities, Mint Chocolate Chip can become somewhat distracting and leave you a little lazy and unmotivated, which would be ideal for those who are in need of a long sleep. However, overall this is a functional strain and shouldn't stop you from getting things done, particularly if they are of the creative persuasion.
Potential Side Effects Of Mint Chocolate Chip
If you are new to cannabis, the underlying sedative effects of this bud may be too much and leave you nodding off before you've even turned the TV on! We would recommend newbies particularly go in easy with this bud, and allow the effects to settle in before opting for more.
There aren't many reports of the typical paranoia or dizziness associated with some strains, so our overall advice would be to expect dry eyes and dry mouth, as is the case with most buds, and use a little at a time as the high with this one is fast acting!
Final Thoughts: Mint Chocolate Chip, Is It One For You To Try?
What cannabis lover doesn't enjoy a challenge? Mint Choc Chip certainly proves a challenge to source but is a delicious palette explosion and well worth the hunt. So, what we want to know is will you be making this your mission next time you hit up your favorite dispensary?
Let us know in the comments below if you have ever managed to get your hands on the infamous Mint Chocolate chip, and if so – WHAT DID YOU THINK??
Try Legal THCA Flower
Want to experience the qualities of THC-A flower? The amazing brand Premium Jane just launched their new line, including strains like OG Kush, Purple Cream, and Blue Dream Pie. Averaging 23% THC-A, there's so much to love with these flowers. Try them today to get 20% off using WayofLeaf's exclusive coupon code: THCAWOL