Ice Cream Strain Overview
If you've got a sweet tooth, this strain may be the one for you. It has notes of sweet vanilla, decadent ice cream and smooth candied fruit flavor. With a THC content of up to 22%, you can get potent relaxation and a cool, body high.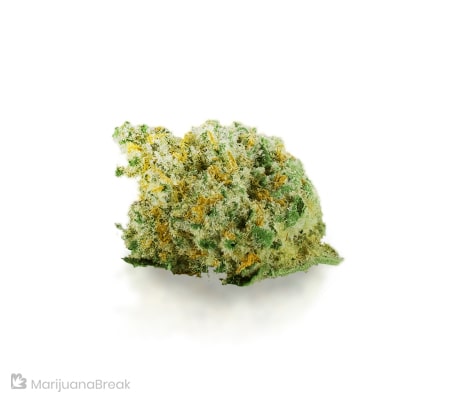 Flavors
Candy
Fruity
Ice cream
Sweet
Vanilla
Common usage
Anxiety
Chronic pain
Depression
Muscle spasms
Stress
Effects
Calming
Euphoria
Happy
Relaxation
Growing info
This strain grows both indoors and outdoors. Harvesting is 8-9 weeks. BUY SEEDS FOR THIS STRAIN AT OUR #1 RATED
ONLINE SEED STORE: HOMEGROWN
It's always a great time for ice cream! Nothing says delectable more than the sweet taste of this creamy, cool dessert. If you're a fan of this treat, there's even better news. You may not be able to put this strain on a cone, and it won't melt on a hot, sunny day, but the Ice Cream strain is just as tasty. This indica-dominant hybrid is one for the books.
Its award-winning accolades include placement in the Highlife Cup Hemp Fair Awards and in 2008 a second-place win in the Hydro category. In 2009, the Ice Cream strain won third place in the Bio category. Needless to say, this strain's got quite the – ahem – buzz going. Its composition is about 60% indica and 40% sativa.
Anyone in the know can appreciate the smooth, velvety feel of relaxation that most indicas provide along with a touch of the heady, cerebral rush that sativas are known for. You won't have to wait for summer to indulge in this sweet, cool strain! We've done the work of rounding up some of the most important highlights and details about Ice Cream.
Try Legal THCA Flower
Want to experience the qualities of THC-A flower? The amazing brand Premium Jane just launched their new line, including strains like OG Kush, Purple Cream, and Blue Dream Pie. Averaging 23% THC-A, there's so much to love with these flowers. Try them today to get 20% off using WayofLeaf's exclusive coupon code: THCAWOL
What is the Ice Cream Strain?
Ice Cream strain was pioneered by Paradise Seeds and is a strain that boasts a heavy-indica background. It's popular amongst both growers and users and boasts about a 60% indica and 40% sativa split. It's a potent strain and its parentage is a mystery, though some speculate that it's a mix between LA Kush and Chemdog – but this is unlikely.
Aroma
Ice Cream marijuana has an aroma that is part dessert with creamy vanilla notes, swirled with refreshing pine and a sweet, deep, candy smell. Upon the exhale there is a slightly tangy, skunky undertone.
Appearance
The Ice Cream weed is well known for its frosty, white and copious trichomes, which is reminiscent of freshly fallen snow. Its densely packed buds are also laced with reddish, orange and yellow hairs and it boasts lateral stems with large, deeply verdant fan-like leaves.
Flavor
The Ice Cream strain has a smooth, creamy, delicious vanilla taste on the inhale. Upon the exhale, there are hints of deep, earthy pine and wealth of candied, sugary notes. Ice cream also possesses a slightly tangy, skunky taste, but overall many find its flavor to be sweet, full-bodied and pleasant.
Ice Cream Grow Info
Ice Cream strain seeds are often rated as grade A+ amongst cultivators and users alike. This strain grows very well indoors, and many growers using the SOG method attest to their high yields. Ice Cream is known as the "Ferrari" of strains due to its fast-growing properties. Ice Cream weed has a growing period of about 55 to 60 days (8-9 weeks) and cannabis lovers state that they've seen yields of more than 500g/m2.
Getting the most out of this strain requires cultivators to pay close attention to the overall heat and humidity levels. This strain thrives best in warm, dry environments and won't grow as well in cooler climates. This strain can be a great option for those who may be growing indoors and are tight on space. This strain has leaves that aren't overly tall. Its branches tend to be flexible and allows growers to use tying down or other bending techniques.
Aside from its temperature preferences, the Ice Cream strain is moderately easy to grow and even responds well to high-stress techniques such as topping. A sign that this strain has fully matured includes the appearance of its characteristic frosty white trichomes.
THC Content-Highest Test
Ice Cream cannabis has been found to have as much as 22% THC.
CBD Content-Highest Test
Ice Cream cannabis typically has CBD at 0%.
Medical Benefits of the Ice Cream Strain
Those who partake in Ice Cream often report a reduction in stress levels. The strain is said to be an option for those who seek relief from anxiety and depression, as well as disorders such as PTSD. It is also reportedly an alternative to traditional analgesics. Users state that it mitigates many types of bodily aches and pains, including migraines and muscle aches.
Ice cream induces feelings of euphoria and happiness, as well as relaxation. Users indicate that ice cream gives them a feeling of a smooth, let down after a heady, cerebral rush. Ice cream tokers often state that they can feel 'couch-lock' after a session as well as an increase in appetite. Others credit Ice Cream strain with a feeling of intense creativity and focus.
Possible Side Effects of the Ice Cream Strain
Ice cream is a very potent strain and for newbies, this could be a bit overwhelming. With such a high THC content, some users have reported adverse reactions, including dry mouth, paranoia, dry eyes, and dizziness. Users can mitigate some of these effects by proper hydration and dosing in small quantities before increasing.
Final Thoughts on the Ice Cream Strain
Ice Cream is an indica-dominant strain that stands up to its given name. With hints of sweet, creamy vanilla, this strain is popular among many growers and users. Its parentage is an enigma, and this quite possibly only adds to its unique and distinctive mystique and allure.
It boasts a 60% indica and 40% sativa composition, stats that give it an indica dominance while also lending some of sativa's greatest assets. Tokers enjoy its cerebral boosting properties and its ability to induce a state of relaxation. It is also credited with reducing pain in muscles, helping to alleviate anxiety and stress.
Branded as the "Ferrari" of strains, this moniker is a nod to its quick growing time. With a flowering period of eight to nine weeks (roughly 55-60 days), this is a great strain for those looking for a fast turnaround. Its growing time can be complicated by its temperature needs. Those looking to grow outdoors in a cool climate won't have much success with this strain. It grows best in warm, dry environments. Once these conditions are met, however, this strain tends to be fairly easy to grow and open to a variety of manipulations including topping and fimming.
Ice Cream is colorful in appearance with eye-catching streaks of red, orange and yellow. It features dense buds, along with copious amounts of trichomes. Its flavor is extremely pleasant, with notes of creamy vanilla, pine, and candy with a tang of skunky undertone. Its aroma is also considered agreeable with vanilla, mixed with hints of pine with only a touch of skunk.
It is a great strain for anyone that is tolerant of THC. Those with sensitivities to this compound should only take this in small doses as this strain can have THC contents of up to 22%.  As it may cause intense feelings of muscle relaxation and euphoria, it can be a good strain for spending the night in with friends or a quiet evening at home.
Try Legal THCA Flower
Want to experience the qualities of THC-A flower? The amazing brand Premium Jane just launched their new line, including strains like OG Kush, Purple Cream, and Blue Dream Pie. Averaging 23% THC-A, there's so much to love with these flowers. Try them today to get 20% off using WayofLeaf's exclusive coupon code: THCAWOL