Green Crack Strain Overview
Although it's called Green Crack, there is nothing manmade about this natural and green bud. It will, however, leave you wanting more and more once you get a glimpse of the energetic and upbeat high it has to offer. This strain won't send you crashing, and has a nice comedown too. That being said, Green Crack is perfect for morning or daytime use when you need a little boost to get you through the day.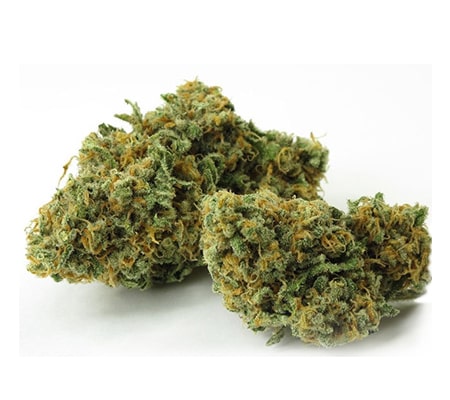 Common usage
Anxiety
Depression
Fatigue
Stress
Effects
Creativity
Energy
Spacy/cerebral
Uplifting
Growing info
This strain can be grown both indoors and outdoors, average flowering time indoors is approximately 7-9 weeks, or late September to early October if growing outdoors.
With its explicit name said to have been dubbed by rapper Snoop Dogg himself, Green Crack has no association with other narcotics, just all-natural reefer.
Even though Green Crack weed is stimulating and exhilarating, it never leaves you feeling jittery or overly energized. An especially amazing daytime strain for those who need a little extra to get them through their long day, or an after-work pick-me-up. Here's all you need to know.
What Is Green Crack?
There are two main varieties of Green Crack that seem to be circulating in the medical marijuana and recreational cannabis markets. The most commonly consumed version is the sativa form of Green Crack, which is the option notoriously known for energizing and giving a battery-like power up to whoever tries it. The second version of the strain, which seems to be less popular, is a 75% indica variety of Green Crack. It typically has a tighter bud structure, which can assist your ability to separate it from the other selection.
Don't be too concerned about getting your hands on the wrong variation, all dispensaries should know exactly where their reefer is originating from and the strain and variety that is dominant. Plus, the majority of dispensaries and recreational pot shops are serving the sativa variation of Green Crack, because this is the option substantially more in demand.
The majority of dispensaries and recreational pot shops are serving the sativa variation of Green Crack.
The strain variety we will be covering in this Green Crack review is classified as a sativa with the parental lineage believed to have originated from an inbreeding of the hybrid strain Skunk No. 1. It contains a THC level of around 15-20%, which is considered slightly above average when compared with most cannabis strains, but it isn't anything out of the ordinary either.
Thankfully, Green Crack doesn't need a massive THC content to get you going and to leave an impact. Rather, its effects will last you just long enough, but won't impact you so strongly that you become utterly dysfunctional. Instead, expect to go on through the day just as you normally would, with all the added energy and possible introspection of course.
Green Crack Aroma, Flavor, Appearance
Green Crack immediately hits you with an aroma that is citrusy and fruity, yet blended together with a flawless nuance of earthy, woodsy, and hearty. Its flavor is sweet, with some phenotypes expressing a stronger fruit or citrus taste than others, transporting you directly into the moment of biting straight into a juicy, ripe mango. Expect to feel a tang left on your tongue long after that first smoke is gone, leaving your palate satisfied, but wanting more.
Appearance-wise, Green Crack weed has greenish, yellow buds, with crops grown in colder conditions expressing hints of purple throughout. The pistils are a rusty red or orange color, reaching out from in between the ultra-sticky and glistening buds that remind its consumer of diamond rings in a display window, (yes, they really do sparkle this much). Overall, the Green Crack strain is absolutely delectable in aroma and flavor, in addition to mesmerizing all who witness its beautiful, dazzling crystals.
Green Crack Grow Info
This strain is a suitable grow for a diverse variety of experience levels, even being appropriate for novice cultivators who are longing for a one plant experiment in their closet or backyard space. It is fairly easy to grow, but other strains may be more worth it if you are craving something with an even bigger THC content that'll hit you harder.
Green Crack is suitable for growing either indoors or outdoors. If grown outdoors, this strain thrives best in a Mediterranean climate, with balmy and extremely sunny conditions, although with humidity in the lower levels. Growing indoors, it is important to keep humidity levels to a minimum as well. This strain is actually quite susceptible to powdery mildew, which could easily ruin an entire crop in the blink of an eye.
The 70-80 degree (Fahrenheit) range is ideal for cultivating this crop, and it seems to thrive well in a variety of growing methods, including hydroponics and soil. You can expect for the crops to reach about 3-4 feet in height, with outdoor grown plants yielding around 20 ounces per plant, and indoor-grown plants yielding around 18 ounces per square meter.
The flowering period is around 7-9 weeks, with crops grown outdoors becoming ready for harvest in late September to early October.
THC Content – Highest Test
The average Green Crack THC content is 17%, although it could reach 20% in some samples.
CBD Content – Highest Test
Green Crack has little to no CBD, usually under 1%
Medical Benefits of Green Crack
Green Crack isn't suitable for the treatment of extremely serious medical conditions, but it can assist those who are fatigued, depressed, anxious, stressed, or exhausted due to a medical condition or just in general.
Its strong sativa effects are great for keeping you up and getting you going, no matter what your day is looking like.
For those experiencing severe fatigue, consuming a higher dose of Green Crack weed is ideal, specifically in the form of an edible, concentrate, live resin, or candy. These all have greater-than-average doses with less of an effort needing to be placed into consumption.
Those who are planning on utilizing the Green Crack strain to aid mental conditions, such as depression, anxiety, stress, and more, should only consume a dose of this marijuana that they are comfortable with and that they know is within their limits.
Over consuming any strain of marijuana when handling a mental condition, can cause worse effects, such as an increase in paranoia, stress, or anxiety. Know your limits with cannabis and always consume responsibly.
Possible Side Effects of Green Crack
Overall, the most commonly reported side effect from Green Crack weed is dry mouth. This is easily manageable by making sure to drink plenty of hydrating fluids before, after, and during the consumption of this marijuana strain. Sometimes, consumers report experiencing dry eyes, paranoia, and occasional dizziness, although these circumstances are much rarer and can also be lessened simply by keeping hydrated.
Due to its heavy sativa effects, late-night tasting could cause insomnia and restlessness.
If you are feeling negative mental thoughts while undergoing the high of Green Crack, make sure to sit back, close your eyes, take a deep breath, and remember that everything you are experiencing will pass. This should help to ease your mind and slow down your breathing. It is best to not consume Green Crack late at night. Due to its heavy sativa effects, late-night tasting could cause insomnia and restlessness, making it difficult for you to fall asleep in a timely manner, which can become especially frustrating.
Final Thoughts About Green Crack
We hope you have enjoyed reading this Green Crack review and that you not only found this article to be entertaining but also educational and informative. It is vital to remember that the consumption of marijuana is the sole responsibility of the user and discretion should always be taken.