Godfather OG Strain Overview
Sometimes nicknamed the 'Don of all OGs,' the Godfather OG strain has become a modern classic. It won the 'Best Indica' award at the 2013 High Times Cannabis Cup. It offers a pleasant mental buzz that helps you get creative and a body high to help you relax and forget the effects of pain.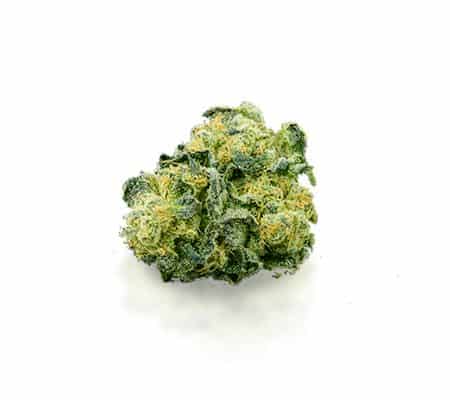 Flavors
Earthy
Herb
Piney
Sweet
Common usage
Anxiety
Chronic pain
Depression
Sleep
Stress
Effects
Body high/numbing
Calming
Euphoria
Happy
Relaxation
Sleep/Sedation
Uplifting
Growing info
Godfather OG performs well indoors or outdoors. Its flowering time indoors is approximately eight weeks. Outside, it is generally ready for harvest by the end of September or the middle of October. BUY SEEDS FOR THIS STRAIN AT OUR #1 RATED
ONLINE SEED STORE: HOMEGROWN
Fans of the first two Godfather movies often claim they are among the greatest movies ever. Similarly, fans of the Godfather OG strain suggest it is among the finest cannabis strains they have used. Nicknamed the 'Don' of OGs, this strain is extremely potent and is enjoyed by MMJ and recreational users alike.
Try Legal THCA Flower
Want to experience the qualities of THC-A flower? The amazing brand Premium Jane just launched their new line, including strains like OG Kush, Purple Cream, and Blue Dream Pie. Averaging 23% THC-A, there's so much to love with these flowers. Try them today to get 20% off using WayofLeaf's exclusive coupon code: THCAWOL
What is the Godfather OG Strain?
It is an extremely strong, slightly indica-dominant hybrid that's a cross of XXX OG and Alpha OG. There are variations, including a mix of GDP and OG Kush and a combination of GDP, Bubba Kush, and LA Confidential. However, it is the original that you want to get your hands on. Godfather OG won the Best Indica award at the 2013 High Times Cannabis Cup.
While you'll eventually get the pleasant body high, Godfather OG begins with an exceedingly potent cerebral rush associated with sativas. It doesn't take long to affect, and you'll feel as if the dark clouds have been removed from your mind. This is very much a feel-good strain, as the happiness that lingers inside you comes bursting out.
You'll soon feel euphoric, and it is then that the physical high manifests itself. Users report feeling completely relaxed and in no mood to go anywhere or do anything. It would help if you stuck to using Godfather OG in the evening due to its mighty sedative effects.
Aroma
If you have ever experienced the scent of grass early in the morning, you'll have some idea of what to expect from Godfather OG's aroma. The pine and earthy odors are pungent and let you know that you're holding top-shelf cannabis. You might also get hints of a grape scent too.
Flavor
If you haven't tried this strain before, you're in for a treat. It is a wonderfully smooth smoke with a grape flavor that remains on the palate. You should also get strong herbal and pine flavors from well-cured Godfather OG.
Appearance
This strain carries dense nugs with a thick crusting of trichomes and purple tinges on the pistils.
Godfather OG Grow Info
Most of the growing information on Godfather OG comes from assumptions made based on its genetics. The suggestion is that you can grow your Godfather OG seeds indoors or outdoors without much trouble. It is also believed that it's an easy to cultivate strain that doesn't require much maintenance. Occasional checks and regular water and feedings should be enough to keep your plants happy.
If you decide to grow Godfather OG outdoors, your plants will likely be ready for harvest by the end of September or early October. By all accounts, you can expect a yield of approximately 16 ounces per plant.
Godfather OG grows to a medium height indoors, so it isn't difficult to keep it under control. In general, it will flower in 8-9 weeks. You can expect reasonable yields of around 12-14 ounces per square meter planted indoors.
THC Content – Highest Test
The Godfather OG strain is one of the strongest you'll find on the market. On average, it has a THC content of around 25%. However, some tests have found versions with up to 28% THC. This is a level far beyond what a novice user should consider. Indeed, it is probably too potent for individuals with an average THC tolerance.
CBD Content – Highest Test
There is very little CBD in this strain to mitigate the high level of THC. You will generally find less than 0.7% CBD in Godfather OG.
Medical Benefits of the Godfather OG Strain
There is little doubt that recreational users adore this cannabis strain. However, MMJ patients have also found that Godfather OG is useful for many conditions. For instance, the feeling of pure joy it can provide could serve individuals with depression. As Godfather OG helps you feel calm and relaxed, you could also try it for stress or anxiety.
Its immense potency means you could see if it helps you manage the symptoms of chronic pain. Once the high is nearly over, you're likely to feel extremely sleepy. As such, consider using Godfather OG to help attain a healthy sleep cycle.
Possible Side Effects of the Godfather OG Strain
Common side effects include dry eyes and cottonmouth. However, the extremely high THC content of Godfather OG could also spell trouble. If you overuse it or have a low THC tolerance, you could experience dizziness, nausea, and headaches. If you're not used to extremely powerful strains, it is best to steer clear of this one.
Final Thoughts on the Godfather OG Strain
Overall, the Godfather OG is unquestionably a strain worth trying if you can tolerate THC relatively well. It is among the most potent cannabis strains you'll find at any dispensary.
Recreational users enjoy the spectacular high provided by this strain. Meanwhile, MMJ patients use it for stress, anxiety, depression, and also to help relieve chronic pain. Godfather OG is also considered an excellent sleep aid.
There is relatively little cultivation information on this strain. However, most evidence suggests that it grows well indoors or outdoors. Please note that there are different variants, and one might be trickier to grow than another.
Try Legal THCA Flower
Want to experience the qualities of THC-A flower? The amazing brand Premium Jane just launched their new line, including strains like OG Kush, Purple Cream, and Blue Dream Pie. Averaging 23% THC-A, there's so much to love with these flowers. Try them today to get 20% off using WayofLeaf's exclusive coupon code: THCAWOL