Blue Dream Strain Overview
Blue Dream is a sweet-tasting strain with a fresh blueberry scent. It is a popular strain with potential medical benefits, such as helping users manage the symptoms of pain and anxiety. Blue Dream may also help bring about feelings of happiness and well-being.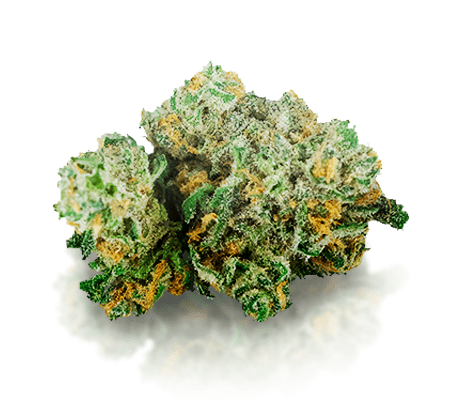 Flavors
Blueberry
Citrus
Earthy
Common usage
Anxiety
Chronic pain
Fatigue
Effects
Creativity
Energy
Relaxation
Growing info
BLUE DREAM'S FLOWERING PERIOD IS APPROXIMATELY 9-10 WEEKS, AND IT IS BEST GROWN INDOORS
Blue Dream has attained mainstream status in the world of marijuana. While it is popular amongst MMJ patients, this strain is also a favorite of recreational users due to its highly pleasant effects. It is well named with a fruity and sweet aroma reminiscent of biting into a batch of freshly-picked blueberries.
Are you keen to understand why there's so much hype surrounding this strain? Read on to find out.
What Is the Blue Dream Strain?
Blue Dream is a slightly sativa-dominant hybrid that crosses Blueberry with Haze. Most agree that the origins of this marijuana strain can be traced back to California, where the bud's blueberry sweetness is befitting of the sunny and golden state. It will leave you California Dreaming and wanting plenty more after those first few tokes.
Blue Dream is a versatile option for almost any type of marijuana user. The strain was once considered top-shelf weed, although these days, it is in danger of being left behind by newer, more potent hybrids.
Blue Dream weed often leaves its users with an uplifted, relaxed feeling, sometimes paired with an energizing euphoria that could also boost creativity.
The Blue Dream marijuana strain is suitable for daytime use. For instance, some people try it before work to prepare them for the day ahead. It only takes a relatively small amount to energize you, and some users even try it in the morning instead of a cup of coffee!
However, remember that your employer will probably terminate your contract if they suspect you of being high! Therefore, it is best to use Blue Dream on a day off.
It probably isn't a good option before bedtime either. However, if you're planning to go out for the evening to chill with friends or party, this could be your go-to strain.
Aroma
Blue Dream marijuana is mostly recognized for its splendid blueberry scent that is noticeable as soon as you remove the buds from the container. However, you might also get hints of mango, along with traces of sweet vanilla.
Flavor
Once you're exposed to Blue Dream's aroma, there are no surprises in its taste. The sweet taste of blueberries is quite apparent, although the spicy undertones are a welcome addition. Some users say they also get slightly sour notes, which only add to the delicious taste.
Appearance
Blue Dream consists of sage green buds, yellow and orange pistils, and frosty trichomes. Its water leaves range from orange to brown to dark green, depending on the phenotype and the conditions in which your crop is grown.
Blue Dream Grow Info
It is best to follow the tried and trusted basics when growing Blue Dream. This means ensuring your plants get ample nitrogen during the vegetative stage (reducing it during the flowering phase), along with potassium and phosphorus. Magnesium remains one of the most important secondary nutrients when cultivating this crop. It is also a thirsty strain that benefits from regular watering.
Blue Dream offers a nice yield, which you can increase over time once you become an experienced grower. It can provide approximately 21 ounces of bud per plant when cultivated outdoors and is ready for harvest in October.
If growing indoors, you could benefit from a yield of up to 21 ounces per square meter planted.
Once the Blue Dream strain reaches the flowering stage, the acceleration in its growth is a joy to witness. After a few successful grows, you can begin to examine things such as the quality of your soil to get the most out of your crop. It is also worth considering a hydroponics setup if you want an even greater yield and arguably more potent marijuana.
Please note that Blue Dream weed is susceptible to spider mites and powdery mildew. Make sure you check your crop regularly and if you see evidence of any virus or health deterioration, remove the unhealthy plants from the crop as quickly as possible.
THC Content – Highest Test
Blue Dream's THC content varies from 17% to 25%, although the average is usually 18-19%. While it doesn't compare to strains like Gorilla Glue #4 in terms of potency, it nonetheless provides powerful enough effects for most users.
CBD Content – Highest Test
Unlike many strains relatively high in THC, Blue Dream contains a reasonable level of CBD, reaching 2% according to some tests. Since many strains have less than 1%, this is fairly substantial for weed that isn't specifically bred to produce a high CBD content. This strain also has up to 1% CBN.
Medical Benefits of the Blue Dream Strain
Blue Dream weed is potentially suitable for assisting with several symptoms of medical ailments. Individuals with stress or living with depression may find this strain useful. It could also prove beneficial among MMJ patients with chronic pain, headaches, or fatigue.
Blue Dream is considered an uplifting marijuana strain, so it may prove useful for individuals who feel exhausted, worried, or upset.
Possible Side Effects of the Blue Dream Strain
Common side effects of Blue Dream marijuana include dry mouth and dry eyes. If you are experiencing these effects, stay hydrated and drink plenty of fluids.
There are also reports of some users experiencing anxiety or paranoia after consuming Blue Dream weed. In general, such individuals are already predisposed to such feelings. If you tend to become anxious after using marijuana, it is best to cease your consumption. CBD oil is a potential alternative since it doesn't cause intoxication and tends to have minor side effects.
Final Thoughts on the Blue Dream Strain
Blue Dream is one of the world's most famous strains. Although it probably doesn't justify the hype, it is genuinely a tasty strain that offers an energetic, uplifting effect. It has a reasonable degree of THC, albeit below many new hybrids, but the result is a pleasant high that doesn't threaten to overwhelm the user.
Maintenance is required when cultivating Blue Dream since it is susceptible to spider mite infestations. However, you'll be rewarded with a significant yield if you grow this strain diligently.