Black Cherry Soda Strain Overview
Black Cherry Soda may sound like a tasty beverage, but it's a delicious and potent variety of cannabis. It has uplifting effects and a smooth body high that leads to relaxation and a cool, mellow letdown. It's also a prime choice for those looking for a social strain.
Flavors
Black cherry
Citrus
Fruity
Sweet
Common usage
Anxiety
Chronic pain
Depression
Lack of appetite
Stress
Effects
Calming
Creativity
Euphoria
Social
Uplifting
Growing info
This strain grows indoors and outside. Indoor harvest can begin in as little as seven weeks. Outdoor harvest can begin the end of September or the beginning of October. BUY SEEDS FOR THIS STRAIN AT OUR #1 RATED
ONLINE SEED STORE: HOMEGROWN
Thanks to weed legalization, talented breeders can now experiment with the hundreds of strains at their disposal. They definitely create a lot of forgettable hybrids. However, they also produce memorable strains that make the process of smoking cannabis more enjoyable.
These days, it is relatively easy for breeders to create high THC or CBD strains. As a result, their focus is now on creating strains that smell and taste awesome. The Black Cherry Soda strain is one such masterpiece. Please keep reading to learn more about it, as well as quick tips on how to cultivate it at home.
Try Legal THCA Flower
Want to experience the qualities of THC-A flower? The amazing brand Premium Jane just launched their new line, including strains like OG Kush, Purple Cream, and Blue Dream Pie. Averaging 23% THC-A, there's so much to love with these flowers. Try them today to get 20% off using WayofLeaf's exclusive coupon code: THCAWOL
What Is the Black Cherry Soda Strain?
Black Cherry Soda weed is a sativa-dominant (80%) hybrid. It is a cross of several strains, including:
TGA Genetics probably created it. The strain gets its name from the gorgeous, dark buds that look like ripened cherries. Then there is the luscious scent and taste!
As this strain has a high THC content, it is potentially extremely potent. The effects hit you almost immediately in the form of a cerebral high. Users say it seems to begin from behind the ears.
After a few hits, the high will settle on your shoulders, and the upper body tingle is extremely pleasant. Soon enough, the effects make their way to the body and provide you with complete relaxation. Users often report feeling upbeat and elated.
If you use the right amount of Black Cherry Soda, you should find that it improves your creativity.
If you use the right amount of Black Cherry Soda, you should find that it improves your creativity. This is a strain to consider if you want to cheer yourself up. You can use it when on your own, or if you have a social occasion to attend. As the effects wear off, you shouldn't feel lazy or lethargic.
Aroma
As the name suggests, the Black Cherry Soda marijuana strain offers a lovely scent of berries. The fruity and sweet fragrance mixes well with a strong earthy undertone. Overall, this strain of weed is one of the most alluring you will likely be exposed to.
Flavor
Although it doesn't quite taste like Dr. Pepper, it does provide users with a taste sensation. The sweet fruity taste of cherries and berries takes hold quickly. Once you have had a toke or two, you will struggle to stop!
Appearance
Although you can see Black Cherry Soda pictures on the internet, even high-definition photos don't do it justice. It consists of extremely dense buds covered by trichomes with orange hairs creeping through as harvest time approaches. You may also see purple hues that mix splendidly with light green shades.
Black Cherry Soda Strain Grow Info
When you have Black Cherry Soda seeds, you can grow them indoors, outdoors, or in a greenhouse. If you elect to grow it inside, be wary of its height because these plants can reach six feet tall. It is one of the best marijuana strains to grow because of its amazing aesthetics and scent.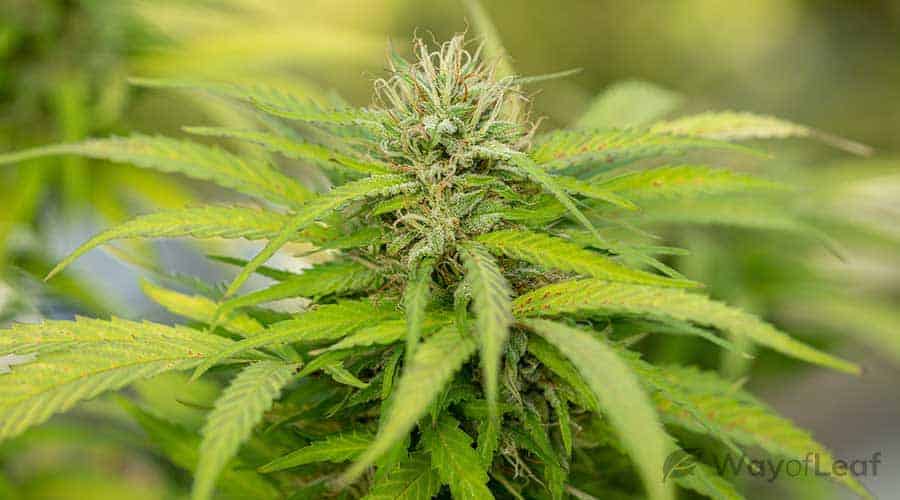 If you like the purple hue, intensify it by keeping the grow room's temperature a little lower during the flowering period. Make sure you do so slowly, or else you risk putting your plants in shock. Indoor growers should get up to 16 ounces per square meter planted. Your crop could be ready for harvest after just seven weeks of flowering.
Outdoor growers will be pleased to know that Black Cherry Soda is resistant to pests and disease. Your crop should be harvest-ready by the end of September or early October. The overall yield is likely to be around 20 ounces per plant.
THC Content – Highest Test
The average THC of Black Cherry Soda varies significantly from 18% to 25%. This strain also contains up to 2.4% THCV, also known as tetrahydrocannabivarin. It is a compound similar to THC in molecular structure. It has intoxicating properties but provides a variety of different effects.
For example, THCV could potentially reduce panic attacks, help with diabetes, suppress appetite, and stimulate bone growth.
CBD Content – Highest Test
This strain's CBD content also varies significantly, from 0.06% to 1.2%. Therefore, the THC to CBD ratio could be anywhere from 15:1 to 400:1. This ratio likely dictates the type of high you experience.
Medical Benefits of the Black Cherry Soda Strain
As it is a 'feel-good' strain, Black Cherry Soda is often the weed of choice for patients diagnosed with depression. Its potency means it is potentially a useful analgesic, which is why individuals with headaches and chronic pain use it. Since it enables you to relax completely, try it in the evening to alleviate stress after a long day.
Possible Side Effects of the Black Cherry Soda Strain
The main side effects associated with this strain include dry eyes and a dry mouth. If you are not used to powerful weed, Black Cherry Soda's effects could take you by surprise and induce a mild panic. If you consume too much of this cannabis, you may feel paranoid. Alternatively, the relaxation will envelop your body and lead to couch-lock.
Final Thoughts on the Black Cherry Soda Strain
Black Cherry Soda marijuana is one of the best looking, smelling, and tasting strains in the world. Growers are treated to a glorious sight when these flowers are in full bloom. The scent of this weed is alluring and captivating. Once you sample it, you will find it hard to stop at one joint or bowl.
Black Cherry Soda marijuana is one of the best looking, smelling, and tasting strains in the world.
It is a marijuana strain ideal for improving your mood, and it is also fairly easy to grow. It can reach six feet in height. Therefore, make sure you purchase the right-sized grow tent if you are cultivating it indoors.
Try Legal THCA Flower
Want to experience the qualities of THC-A flower? The amazing brand Premium Jane just launched their new line, including strains like OG Kush, Purple Cream, and Blue Dream Pie. Averaging 23% THC-A, there's so much to love with these flowers. Try them today to get 20% off using WayofLeaf's exclusive coupon code: THCAWOL