Banana Bread Strain Overview
The Banana Bread cannabis strain is an evenly-balanced hybrid (50% indica/50% sativa) created by Holy Smoke Seeds. It's a cross between the Purple Kush x Vietnamese Black strains named for its super delicious flavor.
Common usage
Anxiety
Chronic pain
Depression
Fatigue
Effects
Happy
Relaxation
Uplifting
Growing info
The Banana Bread strain thrives in both indoor and outdoor environments. It will take between 8 - 9 weeks to fully mature, just like many other hybrids. BUY SEEDS FOR THIS STRAIN AT OUR #1 RATED
ONLINE SEED STORE: HOMEGROWN
There's nothing quite like a delicious slice of freshly baked banana bread. If you're a fan, then you're probably going to love the evenly-balanced bud by the same name. Much like the edible (cannabis-free) version, the Banana Bread strain practically melts in the mouth and will leave you wanting more.
Smoking Banana Bread cannabis is pure pleasure. Happiness, euphoria, and relaxation are many of the effects described when users talk about this strain.
In this Banana Bread review, we will go into all the details of this delicious smelling and tasting strain; the potential medical benefits, possible side effects, how to grow it, and more. This is one of those cannabis strains that is always good to have kicking around.
Try Legal THCA Flower
Want to experience the qualities of THC-A flower? The amazing brand Premium Jane just launched their new line, including strains like OG Kush, Purple Cream, and Blue Dream Pie. Averaging 23% THC-A, there's so much to love with these flowers. Try them today to get 20% off using WayofLeaf's exclusive coupon code: THCAWOL
What Is the Banana Bread Strain?
The Banana Bread strain is an evenly balanced hybrid (50% indica/50% sativa) created by breeders at Holy Smoke Seeds. It's a cross between Purple Kush and Vietnamese Black and was named after its delicious flavor.
Unfortunately, when it comes to the potency of Banana Bread, Holy Smokes wants to keep users in the dark. However, it's widely believed to have a fairly high THC level of between 19 – 23%.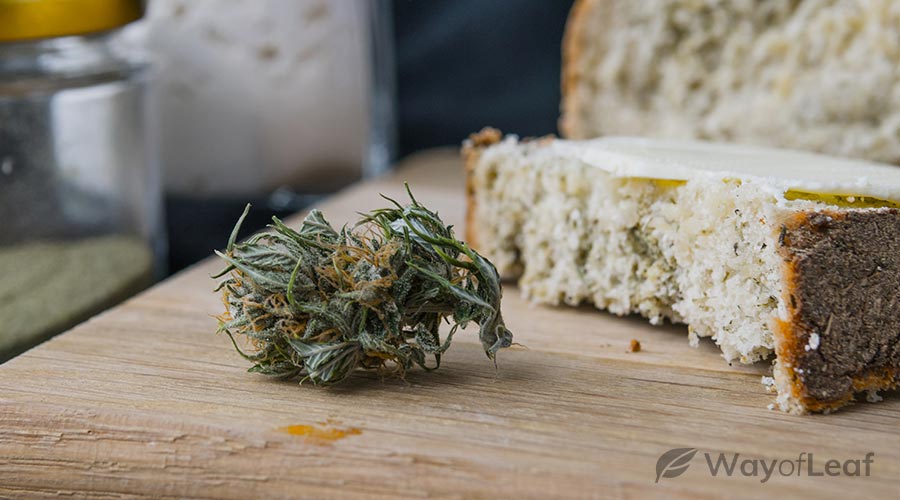 Banana Bread has some pretty intense initial sativa effects but also has an enjoyable, mellow comedown. Although you won't necessarily be infused with a ton of energy, feelings of euphoria and creativity will emerge quickly after a few puffs. This strain is perfect for smoking at parties or an evening at home with friends where you can socialize with groups of people.
Both the body and mind will be high from this strain. Be sure to enjoy the sativa effects of Banana Bread while they last because you will soon be wanting to kick back and relax when the indica side takes effect.
Aroma
The Banana Bread strain smells a lot like bananas, but there are also hints of berries. The banana and berry aromas pair nicely together to create an irresistible smell.
Flavor
The aroma and flavor of Banana Bread are very similar. Named for its delicious flavor, this strain brings on a taste that is much like its name – a fresh batch of nutty banana bread. But just like the aroma, you will also taste notes of berry.
Appearance
The buds of this strain are completely covered in trichomes, showing off little of the purple, bright green, and sometimes black coloration that is hidden underneath.
Banana Bread Strain Grow Info
Banana Bread seeds are available to purchase online from Holy Smoke Seeds. A strain that thrives in both indoor and outdoor environments, Banana Bread will take around 8 to 9 weeks to fully mature – just like many other hybrids.
Take note that there isn't much information available on the resiliency of the strain when growing it. You may want to talk to a professional cultivator to get more information on the ins and outs of growing Banana Bread effectively.
THC Content – Highest Test
Unfortunately, as we've already mentioned, the creators of Banana Bread (Holy Smoke Seeds) have not disclosed the THC content of the strain. But, many people agree that it's fairly high – reaching levels of 23%. However, keep in mind that this has not been confirmed.
CBD Content – Highest Test
Very much like the THC level, there is no indication of the CBD content of Banana Bread. However, it appears to only contain trace amounts of the compound.
Medical Benefits of the Banana Bread Strain
Banana Bread can be a very effective strain in the medical marijuana field. For those who deal with constant negative thoughts and often find themselves feeling down, this strain can lift your spirits in no time at all. After only a few tokes, users will start feeling a boost in their mood and thought patterns.
There is no place for depression or anxiety once the positivity linked to Banana Bread sets in, and in some cases, you may feel physical pain melt away. Depending on your tolerance, Banana Bread may also help you manage insomnia after the uplifting onset.
With long-lasting effects that are tingly and warming in nature, this strain is thought to be perfect for relieving physical aches and pains.
After just a few tokes, you will feel a lifted sense of the mind, filling you with euphoria. As the mind settles, a light tingle will begin to take over your physical form, putting you into an arousing state of pure bliss and calm.
In combination with its perceived high levels of THC, these effects make Banana Bread ideal for treating conditions like inflammation, chronic pain, depression, anxiety, stress, and chronic fatigue.
Possible Side Effects of the Banana Bread Strain
We couldn't find any side effects associated with the Banana Bread strain specifically. However, due to the high THC levels, it's important to keep in mind that adverse side effects are a possibility. Most commonly, you can expect to experience red or dry eyes and cottonmouth. So, be sure to stay hydrated and keep some water nearby.
Final Thoughts on the Banana Bread Strain
It's very unfortunate that Holy Smoke Seeds won't disclose the potency of Banana Bread. But by all accounts, it seems that the THC levels are relatively high. Before you smoke this strain, it's important to think about what you will be doing after because initially, you will feel like a million dollars, but the comedown will have you leaning towards the couch and maybe even going to sleep. Smoke Banana Bread during the evening hours, and it's sure to improve your night.
Depending on where you are located, the Banana Bread strain can be quite difficult to find. But if you're lucky enough to get your hands on this one, we are sure you're going to love it.
Try Legal THCA Flower
Want to experience the qualities of THC-A flower? The amazing brand Premium Jane just launched their new line, including strains like OG Kush, Purple Cream, and Blue Dream Pie. Averaging 23% THC-A, there's so much to love with these flowers. Try them today to get 20% off using WayofLeaf's exclusive coupon code: THCAWOL