Tropicana Cookies Strain Overview
The Tropicana Cookies strain is an uplifting sativa that's perfect for daytime use. It tastes as good as it looks, with a winning combination of sweet citrus and danker herbal notes.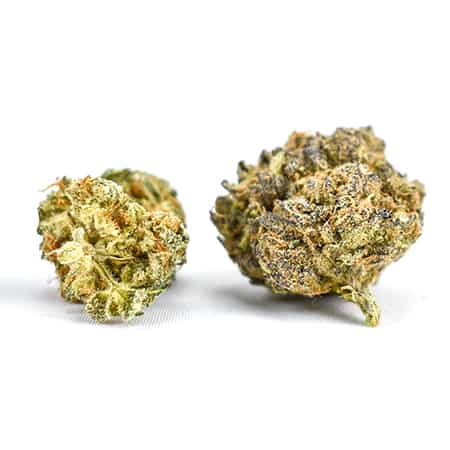 Flavors
Citrus
Flowery
Herb
Sweet
Tangy
Common usage
Depression
Fatigue
Focus
Effects
Energy
Focus
Happy
Laughing
Social
Growing info
TROPICANA COOKIES CAN BE CULTIVATED INDOORS OR OUTDOORS. IT IS RELATIVELY EASY TO GROW AND RESPONDS WELL TO TRAINING TECHNIQUES. ITS FLOWERING TIME IS 9-10 WEEKS INDOORS, AND IT IS READY FOR HARVEST OUTDOORS BY LATE SEPTEMBER. BUY SEEDS FOR THIS STRAIN AT OUR #1 RATED
ONLINE SEED STORE: HOMEGROWN
If you're looking for a great-tasting strain that will get you through the afternoon, Tropicana Cookies could be the one. With a delicious citrus flavor and focused, energizing effects, this sativa-dominant bud is quickly becoming a hit among medical and recreational users alike.
What Is Tropicana Cookies?
Tropicana Cookies is a 70% sativa-leaning hybrid known for its uplifting and stimulating effects. It was reportedly bred by Oni Seed Co., blending top-quality genetics from the perennial favorites Tangie and Girl Scout Cookies.
This strain boasts a focused and clear-headed high, making it perfect for afternoon use. Users say they feel energized, motivated, and creative after using Tropicana Cookies. Many have reported feeling a greater urge to socialize, with possible fits of giggles.
After the initial rush subsides, a wave of calm relaxation takes over. This may be accompanied by a significant increase in appetite, so be sure to have some munchies on hand.
Tropicana Cookies Aroma, Flavor, and Appearance
Aroma
Tropicana Cookies is known for its intense citrus scent, thanks to its famous parent, Tangie. However, those with keen noses will detect a dank, herbal undertone and possibly even some floral notes.
Flavor
On the inhale, Tropicana Cookies follows through on the citrus theme offering a distinct tangerine-y flavor that's almost bordering on sour. On the exhale, the strain's sweeter side makes an appearance thanks to its other parent, Girl Scout Cookies. This combination makes smoking this strain somewhat like eating a smooth, citrus candy.
Appearance
Tropicana Cookies plants grow large, producing heart-shaped, mint-green buds with subtle hints of purple. The buds are interwoven with dense orange pistils and dusted with a generous coating of trichomes.
Tropicana Cookies Grow Info
Tropicana Cookies is relatively easy to grow as it is adaptable and responds well to various training methods. The main challenge with this plant is its size, as it grows tall and may be unsuitable for small spaces. It is ideal for outdoor cultivation, providing you live in an area with a warm, Mediterranean climate.
Indoor growers can manage the plant's height by topping it early. This high-stress training technique also has the potential to increase yield by doubling the number of colas it will form.
Tropicana Cookies is also a good candidate for the screen of green (ScrOG) method. It will benefit from the removal of lower fan leaves as the canopy thickens to reduce the risk of powdery mildew and pests.
Indoors, Tropicana Cookies has a flowering time of 9–10 weeks. Expect this to increase slightly when using high-stress training techniques. It produces approximately 14–16oz of bud per square meter planted.
Outdoors, harvest time falls around late September, with each plant yielding around 18oz.
THC Content – Highest Test
Tropicana Cookies THC content can vary significantly, with lows of 21% and highs of 28%. The average is 23%, making this a reasonably potent strain.
CBD Content – Highest Test
This strain contains little CBD to speak of, less than 1% in most cases.
Tropicana Cookies Lineage
Tropicana Cookies is a cross of Tangie and Girl Scout Cookies. Going back further, Tangie is a cross between California Orange and Skunk #1. Meanwhile, GSC is a winning combination of OG Kush and Durban Poison. These predominantly sativa genetics account for the strain's energizing and uplifting effects.
Medical Benefits of Tropicana Cookies Strain
People use Tropicana Cookies for various reasons, although mood disorders are among the most common. Due to its positive effects on one's mental state, it is a popular choice for people living with chronic stress, depression, and PTSD. Its ability to enhance focus means it may also be helpful for ADHD.
The strain can induce hunger in the latter stages of the high, making it useful for individuals suffering from appetite loss. It could also help to relieve nausea.
Finally, Tropicana Cookies' relaxing effects mean it could help to ease muscle tension and soothe mild to moderate pain.
Possible Side Effects of Tropicana Cookies
Like all potent strains, Tropicana Cookies can cause dry mouth and dry eyes. It may also increase anxiety and paranoia in susceptible people, so it is essential to go low and slow when using this strain for the first time.
As it is primarily a daytime strain, it could cause issues such as restlessness or insomnia if consumed too late in the evening.
Final Thoughts on Tropicana Cookies
Tropicana Cookies is a delight for the senses, with a colorful appearance, a unique flavor, and joy-inducing, restorative effects. It is best used as a daytime pick-me-up, and night-time use is not recommended.
Medical patients use this strain to ease the symptoms of mood disorders, low appetite, and mild to moderate pain.
It is easy to grow indoors and out, producing a reasonable yield with minimal complications. If you have green thumbs and are wondering which strain to turn your hand to next, Tropicana Cookies is well worth a try.