Purple Punch Strain Overview
If you like sweet and fruity cannabis, you'll love the Purple Punch strain. With a flavor profile of grape-flavored Kool-Aid and blueberry muffins, Purple Punch provides a mouth-wateringly sweet hit.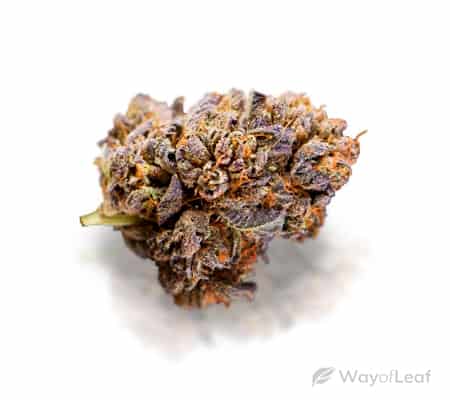 Flavors
Fruit punch
Grape
Skittles
Common usage
Anxiety
Sleep
Stress
Effects
Euphoria
Focus
Relaxation
Growing info
THIS STRAIN GROWS BEST OUTDOORS IN A SUNNY ENVIRONMENT. THE FLOWERING TIME IS BETWEEN 50-60 DAYS INDOORS AND MID TO LATE OCTOBER OUTDOORS. BUY SEEDS FOR THIS STRAIN AT OUR #1 RATED
ONLINE SEED STORE: HOMEGROWN
The Purple Punch strain combines two classic indicas with heavy-hitting effects. The result is an uplifting hybrid that instills deep relaxation, making it a good choice for recreational and medicinal cannabis consumers.
Read on to learn more about the purple strain that packs a potent punch.
What Is the Purple Punch Strain?
Originally brought to us by Supernova Gardens, Purple Punch is the indica-dominant hybrid boasting an 80:20 ratio of indica to sativa.
Having been bred from the one and only Granddaddy Purple and crossed with Larry OG, fans of either of these big-name buds will be over the moon with the by-product of intelligent breeding.
Purple Punch offers much of the body melting physical effects associated with Larry OG, with all of the flavors of GDP to make one hell of a bud!
In 2018, the world couldn't get enough of Purple Punch as it shot to fame, making itself a household name for many patients and cannabis enthusiasts alike.
Purple Punch's popularity is mainly due to its delicious flavor and deeply relaxing, sedating effects, which is why many cannaseurs consider this strain the perfect after-dinner treat.
Aroma
Purple Punch has a distinctive aroma that is pretty unmistakable, comprising rich notes of sweet grape. There is no denying that this fragrant flower is a descendent of Granddaddy Purple.
If you aren't a fan of sweet buds, this one will likely be too much for you. If you are, you'll love Purple Punch's mouth-watering aroma, a mixture of sweet and sugary notes likened to a fusion of grape-flavored Kool-Aid and freshly-baked blueberry muffins.
In terms of its terpene profile, Purple Punch is high in caryophyllene, so some may be able to detect hints of spice in its fragrance. Its other terpenes include limonene and pinene.
Flavor
This delicious dessert-like strain is a true purp, offering complex flavors with an overwhelmingly sweet theme.
Much like the aroma, Purple Punch tastes deliciously sweet, with those berry and grape notes being the first to hit on the inhale. Purple Punch's smooth blueberry flavor dominates on the exhale, and the sweetness builds and lingers to leave a pleasant aftertaste.
Appearance
Thanks to its fantastic array of anthocyanins, Purple Punch is a beautiful bud to behold. A mature Purple Punch plant has GDP-like purple hues, which are particularly evident in this plant's distinctive purple leaves.
The buds are fluffy and vibrant green with a generous coating of frosty trichomes. Come harvest time, bright orange pistils cover the nugs and add to the plant's colorful appearance.
Purple Punch Strain Grow Info
Cannabis cultivators rate Purple Punch's growth difficulty as medium, so it's best suited for those with some experience. The main concerns are preventing mold and keeping pests at bay; caterpillars, in particular, love munching on this plant.
Purple Punch thrives in a sunny, humid climate, and so those growing this bud indoors will be required to provide high-powered lights and a powerful heating system.
Growers opting for outdoor cultivation will need a Mediterranean climate to get the best out of this bud, with harvest time being around mid-late October. The good news is that Purple Punch offers a bountiful outdoor yield ranging between 35-70 ounces per plant.
Regular topping to prevent the larger leaves from blocking light and air is crucial for a healthy and robust yield.
She flowers in 50-60 days indoors, so growers won't have to wait for too long to reap the benefits of their labor! Indoor growers can expect a generous yield of 21 ounces per square meter.
Those looking to bring out the purple hues will need to expose the plant to cooler temperatures before the flowering stage. Growers will also have to find the right balance between stimulating the anthocyanin pigments using low-stress training techniques and keeping the plant healthy to maximize yield.
THC Content – Highest Test
Purple Punch's highest recorded THC level is believed to be 20%.
CBD Content – Highest Test
Purple Punch contains a maximum of 1% CBD.
Medical Benefits of the Purple Punch Strain
The list of conditions that Purple Punch users say this strain can help with is pretty extensive and includes anxiety, depression, and stress.
Purple Punch's tendency to instill a deep body melt sensation may also provide users with temporary pain relief. Furthermore, cannabis users with insomnia recommend this hybrid for its sleep-inducing effects.
Thanks to its mostly indica background, Purple Punch doesn't tend to cause mind-race and has been used to ease these types of thoughts, making it perfect for use after a busy and hard day at the office.
Possible Side Effects of the Purple Punch Strain
Like many potent indicas, Purple Punch can induce heavy drowsiness and even couch-lock if taken in too high a dose. Whether you are a novice smoker or a veteran, it is best to go low and slow to prevent unwanted effects.
Users may experience cottonmouth or dry eyes and, in some cases, dizziness.
Final Thoughts on the Purple Punch Strain
From the delightfully sweet taste to the potent effects, the Purple Punch strain has so much to offer. It is best suited to evening time use for relaxation purposes and to induce sleep. Novices should note that Purple Punch weed can cause couch-lock and can be heavily sedating.
Want to learn more about purple cannabis or even how to grow it? Check out this complete guide on how to grow purple cannabis for beginners.