If you live in one of the growing numbers of medical marijuana legal states, you can apply for an MMJ card. Besides having legal access to the plant, you have advantages over recreational cannabis users. These may include cheaper and more potent products, higher possession limits, lower age limits, and the ability to grow the plant at home.
However, there are also downsides to having a medical marijuana card. Apart from red tape irritations, you can't become a government employee, exercise your right to bear arms, or hold a CDL. Then there is the small matter of paying consultation, application, and renewal fees.
This article investigates the above pros and cons of possessing an MMJ card in detail to help you decide if you want to proceed.
What Benefits Do Medical Marijuana Cardholders Receive?
We want to say that ease of access is one of the main reasons to become an MMJ cardholder. Unfortunately, the application process varies from simple to convoluted, depending on your state.
On the plus side, the 2021 State of the States Report, published by Americans For Safe Access, revealed a recent improvement in the standard of medical marijuana programs in states that legalized medical marijuana. Primarily, states that received a "fail" grade were locations that had yet to legalize the substance for medical use.
Nonetheless, we advise you to analyze the medical marijuana application process in your state thoroughly. You can visit our state MMJ cards section to read everything you need to know about medical marijuana in your location.
Now, let's investigate the benefits of owning a medical marijuana card.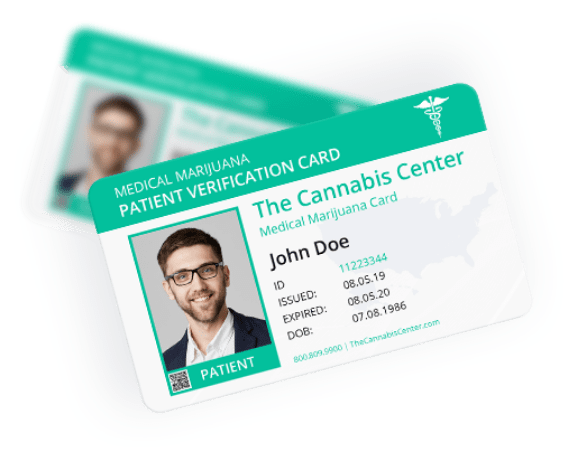 1 – Legal Protection
If you reside in one of the states where you are only allowed medical marijuana, an MMJ card can be the difference between a misdemeanor (or even a felony charge) and freedom!
For example, it is really important to get a medical marijuana card in Arkansas. The state legalized medical cannabis via a vote in November 2016, although licensed sales only began in May 2019. If you're a medical marijuana cardholder, you can buy up to 2.5 ounces from a dispensary every 14 days.
However, without a card, possession of fewer than four ounces is a Class A misdemeanor, which could result in a year in prison, along with a $2,500 fine. A third conviction for possession is a Class D felony, with maximum penalties of 6 years in prison and a $6,000 fine.
You even benefit from protection in states where recreational marijuana is legal. For example, adults aged 21+ can possess up to an ounce without penalty in California. However, only medical patients can possess a higher amount. If you don't have legal access to medical cannabis products and are caught with more than an ounce, you could spend up to six months in prison on a misdemeanor charge!
2 – Lower Costs
If you live in a state with recreational marijuana, getting an MMJ card can save you money. This is an extremely important benefit for individuals who genuinely need cannabis for medical use. For instance, if you visit the best marijuana dispensaries in Colorado, you can avoid retail and excise taxes as a cardholder. Other states, such as California, Maine, Massachusetts, and Oregon, offer tax breaks for cardholders. You can save hundreds of dollars, if not thousands, each year in some states!
If you live in a state with medical marijuana, you can still save money compared to prescription medication.
Imagine a situation where you need a drug not covered by your insurance. You could pay thousands of dollars each month. Medical marijuana cardholders, on the other hand, can go to a dispensary and get cannabis for medical purposes at a fraction of that cost.
3 –Higher Potency Products
As any medical marijuana patient will attest, the dosage is extremely important. It is often necessary to buy extremely potent cannabis to alleviate your symptoms. As such, medical dispensaries are usually allowed to sell stronger cannabis than recreational dispensaries, and you can purchase more.
Suppose you have a medical marijuana card in California. In that case, MMJ cardholders can purchase 2,000mg of non-edible products each time, compared to the 1,000mg limit imposed on their recreational counterparts.
4 – Higher Possession Limits & Fewer Age Restrictions
MMJ cardholders are generally permitted to carry more cannabis than recreational users. In California, medical marijuana users can carry up to 8 ounces on their person. In contrast, recreational users are legally allowed a maximum of one ounce and up to 8 grams of cannabis concentrate.
Most states with recreational programs have lower limits for adult-use weed use than medical marijuana. Indeed, only a handful of states with legal recreational marijuana allow more than an ounce.
In all states where marijuana use for recreational purposes is legal, customers must be at least 21. In certain medical states, you only need to be 18 years of age once you can present your MMJ card. This is a huge development for people aged 18-20 who need cannabis to treat a certain condition.
Also, states with medical marijuana programs allow minors to use cannabis with the assistance of a named legal guardian or caregiver.
5 – Higher Growing Limits
Not every program allows a medical marijuana patient to grow weed at home, but many do. Certain states only allow you to grow if you live a certain distance from the nearest medical marijuana dispensary (usually 25+ miles).
Please note that you face severe legal consequences in certain states for the illegal cultivation of marijuana. For instance, MMJ is legal in Louisiana, but growing the plant is not. NORML outlines the severe penalties faced if convicted of this crime. If you're caught cultivating marijuana in the Bayou state, you could face a 10-year sentence for growing a single plant since it is a felony!
Some states only allow you to grow cannabis if you have an MMJ card, while certain recreational states allow you to grow more with a card than if you are a recreational user.
In California, recreational users can grow up to six marijuana plants in their homes. However, at the time of writing, MMJ cardholders can still grow up to 99 plants if they apply for and receive a special growers license for medical marijuana. However, within the next few years, the growing limit will likely be reduced in states where it is currently possible to grow dozens of marijuana plants.
Looking for Medical Marijuana in Your State?
Depending on where you live, companies like Veriheal and Leafwell could help you get a doctor's appointment in minutes! The consultation lasts 10-15 minutes, and you may receive written certification on the same day. These providers also operate on a 'no approval, no fee' basis, so you get your money back if the physician doesn't provide certification. Getting a medical marijuana card has never been easier.
Become a Qualified Medical Patient Today
Issues Faced by Medical Marijuana Card Holders
Even though states with legalized medical marijuana offer many advantages over recreational cannabis, it isn't a perfect system. You might be legally protected in some ways, but you must give up certain rights that mean a lot to many people.
1 – You Can't Own a Firearm Legally
In the United States, the Second Amendment, which guarantees citizens the right to bear arms, is seen as sacred by millions of people. However, individuals holding medical marijuana cards are not allowed to buy firearms. This will come as a shock to a great number of people looking to engage in marijuana use for medical reasons. After all, Statista estimated that up to 45% of American households have at least one gun in their possession.
If you fall into this category and want to avail of the products in a medical marijuana dispensary, you must surrender your weapon(s). The Federal Gun Control Act of 1968 and the Federal Omnibus Consolidated Appropriations Act of 1997 make this rule very clear.
These laws prohibit individuals who unlawfully use narcotics or controlled substances or are addicted to them from shipping, transporting, receiving, or possessing firearms or ammunition. Remember, marijuana remains a controlled substance. Therefore, federal law means you can't have a medical cannabis card and own a firearm.
This is inconvenient for both cannabis users and law enforcement. In Honolulu, the local government embarked on a doomed quest to get people with medical marijuana cards in Hawaii to surrender their weapons and forbid future purchases.
In Pennsylvania, the Department of Health won't share the medical marijuana registry with the state's law enforcement base. Therefore, if you live in PA, you can bypass the restriction by acting responsibly with your firearm!
2 – You Risk Losing Your Commercial Driver's License
The Department of Transportation does not authorize the use of medical marijuana. In simple terms, you can't have a medical cannabis card with a CDL. Once again, this is down to the fact that medical marijuana remains a federally illegal substance.
A commercial driving license is mandatory when driving a Commercial Motor Vehicle (CMV). In certain states like New Jersey, you need a CDL to drive a van for hire, a bus, or a limousine. Therefore, if you work as a commercial driver and use medical marijuana, you're jeopardizing your career.
If you're a transportation employee and test positive for marijuana in a drug screening, producing an MMJ card won't be enough to save your job. Of course, you could argue that nothing will happen if you're never caught. However, you need to know how long weed stays in your system. The answer will surprise you.
If a drug test shows a positive result for THC, your employer must remove you from driving, and your license is immediately suspended. Moreover, you'll struggle to find another job in the field.
3 – Medical Marijuana Patients Must Pay Application, Consultation, and Annual Renewal Fees
You probably won't mind paying these fees if you want MMJ to help with a medical condition. Typically, you can expect to pay between $50 and $200 when applying. However, it is even cheaper in certain locations. For instance, there is no longer any state registration fee when applying for a medical marijuana card in New Mexico. If you want to continue using marijuana, you must renew your card before it expires, which also comes with a fee.
Furthermore, you must also pay a doctor's consultation fee, which can cost anywhere from $100 to $300. Finally, you must factor in the cost of medical marijuana itself. It is likely less expensive than many popular prescription drugs but is far from cheap in some locations.
Research by the Oxford Treatment Center suggests that the average cost per ounce of high-quality marijuana is $326. The overall price ranges from about $210 in Oregon to almost $600 in Washington, D.C.
Medium-quality cannabis, also known as mids, has an average price of $266 per ounce. It is less than $200 in Washington state and over $330 in Minnesota, with D.C. the most expensive location by far at $550!
Using an average of one ounce per month at $300 each time equates to $3,600 per annum. Add in the registration fee and doctor's consultation cost, and a year's worth of medical marijuana could cost around $4,000. Not everyone can afford to pay this much.
Certain states offer discounts for applicants with low incomes. For example, Arizona is one of the locations providing discounts for individuals eligible for SNAP.
4 – Federal Law Means You Can Forget About Holding a Government Job
If you work for the Federal Government, medical marijuana use can cost you the job, even in a state where it is completely legal. In 2017, the U.S. Department of Transportation clarified that even MMJ patients were not allowed to use cannabis, and a failed test could lead to termination of employment.
This is hardly a surprise because many non-government companies also have a strict zero-tolerance policy on cannabis use. Since weed remains illegal on a federal level, employees often don't have a leg to stand on. However, some MMJ cardholders have found success in the courts after either being fired or refused employment on the grounds of testing positive for marijuana.
The U.S. Government is the biggest employer in the nation, with several million employees. If you have a good job working for them, we fear cannabis is strictly off-limits.
Things are looking up, however. The Office of Personnel Management (OPM) proposes replacing a series of job application forms. Currently, the forms ask about marijuana usage in the last five or seven years, depending on the security level of the position the applicant is seeking.
However, the OPM wants to change it, so applicants are only asked about consumption within the past 90 days. The agency wisely requests the alteration due to "changing societal norms." If the proposals make it into law, it will be a huge boost to medical marijuana cardholders looking to work with the government.
State laws are also changing. At least 14 states plus D.C. have prohibited employers from discriminating against medical marijuana-using employees. In Nevada, for instance, it is now illegal to refuse to hire a candidate solely because THC metabolites appear on a drug test.
5 – Bureaucracy
The amount of red tape you must go through has diminished significantly these days. In certain states, it is now possible to get an MMJ card online in minutes! There are even services that enable you to order cannabis and have it delivered to your door like a pizza!
However, there are still states where it can take weeks to get your MMJ card as they continue to rely on snail mail. The main issue tends to be with new programs. It can take two years for a state to open its first medical dispensaries from the day the vote to legalize cannabis took place!
States such as Louisiana make it tough for people to get their MMJ card mainly due to severe restrictions on the number of qualifying medical conditions. Then there is the small matter of finding licensed physicians. Some states have fewer than 100, and if there is a limit on the number of medical marijuana patients a doctor can see, it can be very hard to get an MMJ card.
Final Thoughts on the Medical Marijuana Card
The ease with which you can gain medical marijuana access depends entirely on your state. Check out our piece on the hardest and easiest states to get an MMJ card to learn more.
For example, California residents can do it online and have a card ready within the hour. They can then stay at their computer, find a suitable strain, and have it delivered straight to their door. Residents in other states must hope to find a doctor that prescribes it and wait for the state health board to approve their application.
In summation, the advantages of an MMJ card far outweigh the downsides unless you like guns, have a CDL, or are employed by the government! With a medical card, you can purchase and grow more cannabis, buy more potent products, and save money on taxes.