A growing number of states permit the use of recreational marijuana, and a significant majority have MMJ programs. The 2018 Farm Bill was further good news for supporters of the Cannabis Sativa L. plant. It removed industrial hemp (containing a maximum of 0.3% THC) from the list of controlled substances.
While the legislation failed to legalize CBD itself, it did serve as a boost to the industry. However, although cannabidiol is widely available in almost every American state, some locations have obscure rules. Such laws confuse residents and cause them to wonder whether CBD is even legal. This is why we have created guides outlining CBD laws in various states.
This article focuses on Idaho's stance towards cannabidiol. First, however, let's investigate the state of play regarding marijuana in the Gem State.
Idaho Weed Laws
At present, legal marijuana doesn't exist in Idaho in any form despite the growing appetite for it. The state outlawed the substance in 1927 and has resisted any attempts at ending prohibition ever since. There is a drive to get a medical marijuana bill on the ballot, but residents will need to wait until at least 2024 to get the chance to vote on the issue. There haven't been any meaningful attempts to change Idaho state laws to legalize recreational cannabis.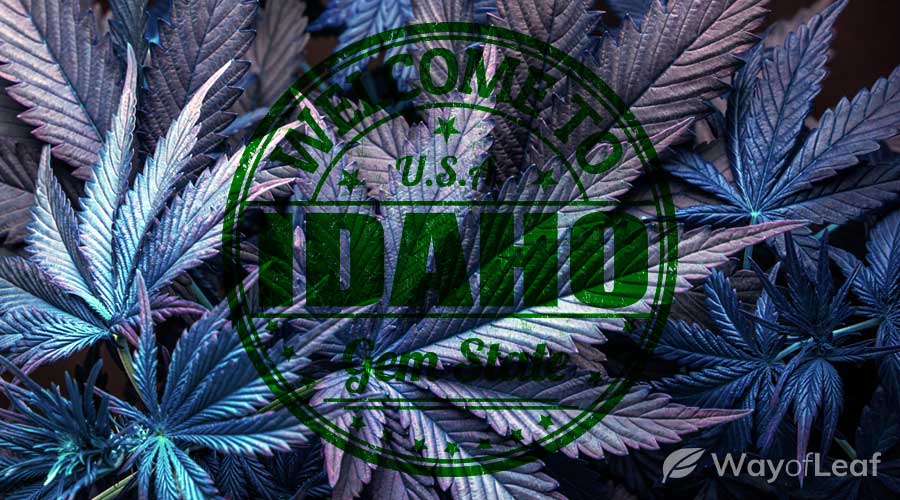 Fortunately, an attempt to approve a constitutional amendment banning any Schedule I drug legalization failed in the Idaho House of Representatives in April 2021.
There is also potentially good news on the medical marijuana front too.
Is Medical Marijuana Legal in Idaho?
Idaho continues to prevent the legalization of medical cannabis, although opponents of the substance could be fighting a losing battle. The state borders Oregon, Washington, and Nevada, all of which allow recreational marijuana. It is also neighbors with Utah and Oklahoma, which have MMJ programs. Furthermore, Idaho borders Canada to the north, which also permits adult-use marijuana!
Idaho lawmakers have fought against movements to legalize medical marijuana for years. In 2013, Senate Concurrent Resolution 112 passed. At that time, lawmakers said they would remain opposed to all forms of cannabis legalization.
The Resolution states that the "drug legalization laws in neighboring states have already adversely impacted Idaho through cultural acceptance of drug use." It also claims that allowing legal marijuana would increase drug use and reduce the perception of harm among kids.
Under the new proposal, qualifying patients could purchase and possess up to four ounces of marijuana.
Several legalization attempts have failed in the last decade. However, there is hope on the horizon. Kind Idaho, a pro-marijuana group, continues to fight for legal MMJ. Efforts to get a measure on the ballot have failed so far, but the group is targeting another attempt in 2024.
What Is the Penalty for Possession of Marijuana in Idaho?
At present, the possession of up to three ounces of marijuana is a misdemeanor. You could receive a prison sentence of a year and a $1,000 fine. If you have more than three ounces but less than a pound of the substance on your person for personal use, it is a felony. You could spend five years in prison and pay a $10,000 fine.
Possession of over a pound, or 25-49 plants with intent to sell, is a more severe felony. It carries a potential $50,000 fine and a year in jail. It is also considered drug trafficking.
The sale of over a pound of marijuana is a felony with a possible penalty of a year's imprisonment, plus a fine of up to $50,000.
Now that you know marijuana remains an illegal substance in Idaho, what about CBD derived from hemp?
Is CBD Legal in Idaho?
Yes, but only if it contains 0% THC.
The legal status of CBD oil in Idaho has been needlessly complex for some time. In 2015, Senate Bill 1146a passed the Idaho Legislature after overcoming serious opposition. It would have legalized CBD oil for individuals with severe epilepsy. However, Governor Butch Otter vetoed the bill in April 2015.
Instead, he issued an Executive Order called the Expanded Access Program (EAP). It allows children with intractable epilepsy to access pharmaceutical-grade CBD. In other words, they can use Epidiolex, as it is FDA-approved.
The state's Attorney General clarified that CBD with 0% THC was legal in the same year. It must come from one of the five identified parts (non-flower) of the plant.
According to the Idaho Office of Drug Policy, CBD products must be derived from one of the following forms of hemp to avoid classification as marijuana:
The plant's mature stalks.
Fiber produced by the stalks.
Cake or oil made from the plant's achene or seeds.
Any salt, derivative, compound, mixture, manufacture, or preparation of the mature stalks.
The sterilized seed of such a plant that is unable to germinate.
Industrial Hemp Is Now Legal in Idaho
In February 2021, Governor Little signed a bill removing Epidiolex from the state's Schedule V listing, limiting its THC content to 0.1%. This isn't an issue since the pharmaceutical drug contains no THC.
In April 2021, Little signed House Bill 126 into law. It was a huge moment for the hemp industry in Idaho. HB 126 legalized the production and transport of hemp. Crucially, it increased the THC limit to 0.3%. This legislation made Idaho the final state to legalize hemp after the Farm Bill lifted the federal prohibition.
However, this doesn't mean CBD products with up to 0.3% THC are permitted in Idaho. At present, the 0% THC rule remains in place.
Where Can I Buy CBD in Idaho?
Since THC remains banned in Idaho, some residents prefer to stick with broad-spectrum or CBD isolate products. Both 'should' contain zero THC, although checking third-party lab reports for further proof is wise.
Even though there are some concerns over CBD's legality in Idaho, you will find products in head shops, vape stores, and dedicated CBD stores. Here are five physical locations with excellent reputations.
| Name of Store | Address |
| --- | --- |
| BioSteam Vape | 1443 N Milwaukee St, Boise, ID 83704, United States |
| The Vapor Café | 4055 N Government Way #5, Coeur d'Alene, ID 83815, United States |
| Your CBD Store | 690 Blue Lakes Blvd N, Twin Falls, ID 83301, United States |
| Sturman's Smoke Shop | 218 N 10th St, Boise, ID 83702, USA |
| Big Smoke | 213 W Appleway Ave Ste 1 Ste 1, Coeur d'Alene, ID 83814, United States |
However, there is a growing trend towards shopping for CBD online. This process enables you to choose from a wide range of products at lower prices than in physical stores. You can also find out more about each brand and ensure their Certificates of Analysis (COAs) are up to date.
Joy Organics and Green Roads are two top-rated CBD brands that ship to Idaho residents.
Remember, if you want to play it safe, focus on a broad-spectrum or CBD isolate product. Both of the brands above offer updated third-party lab reports, so check them out before purchasing. You may also find their products in certain physical CBD stores.
Final Thoughts on CBD and Cannabis Laws in Idaho
At present, Idaho is one of a shrinking number of states with no recreational or MMJ laws. There is a possibility of an MMJ initiative appearing on the ballot in November 2024. However, at present, the possession and use of any amount of marijuana in Idaho is punishable with up to a year in prison. That is unless legislation decriminalizing the substance is pushed through.
There are a few reputable online brands that sell broad-spectrum products and CBD isolate and ship to Idaho.
As far as CBD laws go, it is now legal to grow and transport hemp with a maximum of 0.3% THC with the requisite license. You can even bring the hemp across state lines as it is no longer a federally illegal substance.
Yet, the existing CBD law says that only products with 0% THC are permitted in Idaho. Most CBD sellers with full-spectrum items are unwilling to take the risk and don't ship to the state.
Fortunately, there are a few reputable online brands that can sell you broad-spectrum products and CBD isolate. Make sure you seek the same if you elect to shop in a physical store. Hopefully, things will become clearer in Idaho, especially if MMJ gets passed into law.