Overview
Treat yourself to chocolate and strawberries with a twist - add a bit of cannabis to the mix. It's as easy as adding a little cannabutter to the chocolate sauce. Next, simply dip each strawberry in the molten chocolate. You will need to place the strawberries on a wire rack and chill in the fridge until hardened. They're now ready to serve with ice cream on the side
Best strains
"Strawberry Kush Dairy Queen"
How many times a day do you crave a chocolate fix? If you're anything like us, then you probably find yourself daydreaming about melted chocolate at least once every hour – we get it, no judgment here!
But, there's no denying that too much of anything is no good for us, and chocolate is certainly no exception! That's why we think you will be stoked about today's recipe, combining the best of both worlds with delectable chocolate and fresh, sweet strawberries for a tasty, balanced summer snack that will be sure to curb your cravings.
Yes, today we are sharing our chocolate and strawberries recipe – with a canna twist!
The Recipe
It's that time of year again. Strawberries are looking absolutely DELICIOUS, and as the days grow hotter, we're saying goodbye to the comfort food and hello to fresh produce! But, sometimes, we deserve something a little extra, right?
If you're looking to indulge in a delectable treat, perfect for the summer months, then you will adore this fresh and tasty take on edibles.
Now, we can't take all the credit – over the years there have been many delicious recipes incorporating weed into this summer favorite. But, we certainly felt inspired, so here's our version of Strawberries and Chocolate.
What Are the Benefits of Cannabis-infused Foods?
If you have never indulged in edibles before, then you may be wondering what all the fuss is about! It's certainly true that cannabis-infused food has shot up in popularity over recent years, and now you can even go to fine-dining restaurants and indulge in all things weed!
Yep, the humble pot brownie has taken a back seat as other, more exciting options have begun to surface, and we're here for it! But, what are the benefits of edibles, aside from the obvious?
A good cannabis edible will taste great, and it will get you high – but there's got to be more to it than that, right? True, actually – edibles are decidedly healthier for us than smoking weed!
Whether you have chest issues such as asthma or COPD, or you want to target a specific issue such as IBS, there are many reasons for why edibles can be the most beneficial method of consumption.
Here are some of the other benefits of consuming edibles:
Microdosing: When it comes to edibles, one of the most beneficial aspects is that you can quite easily measure your dosing accurately. This is perfect if you're not really looking to get high as a kite, especially if you are using it as a medicinal treatment.
Discrete: There's no denying that when someone is enjoying a joint, the whole world can tell! From the smell to the distinct look, smoking weed in the more traditional ways is pretty obvious. However, if you are using pot for medicinal purposes, you can benefit from total discretion when consuming with edibles.
Variety: One of the best parts about the world of edibles is by far the variety on offer! As we have said, gone are the days where your only option was a pretty gross pot cupcake. Now, you can enjoy everything from pot pizza to weed-infused cocktails!
What Will You Need?
For this recipe, you are going to need some of that amazing cannabis butter we've shown you how to make in previous recipes. Can't quite remember? Take a look here for a step-by-step explanation.
Let's Get Cooking! What you will need is:
16 ounces milk chocolate chips
2 tablespoons shortening
1 pound fresh strawberries with leaves
Optional (Ice-cream)
Optional (White chocolate)
Making Your Canna-Infused Strawberries and Chocolate: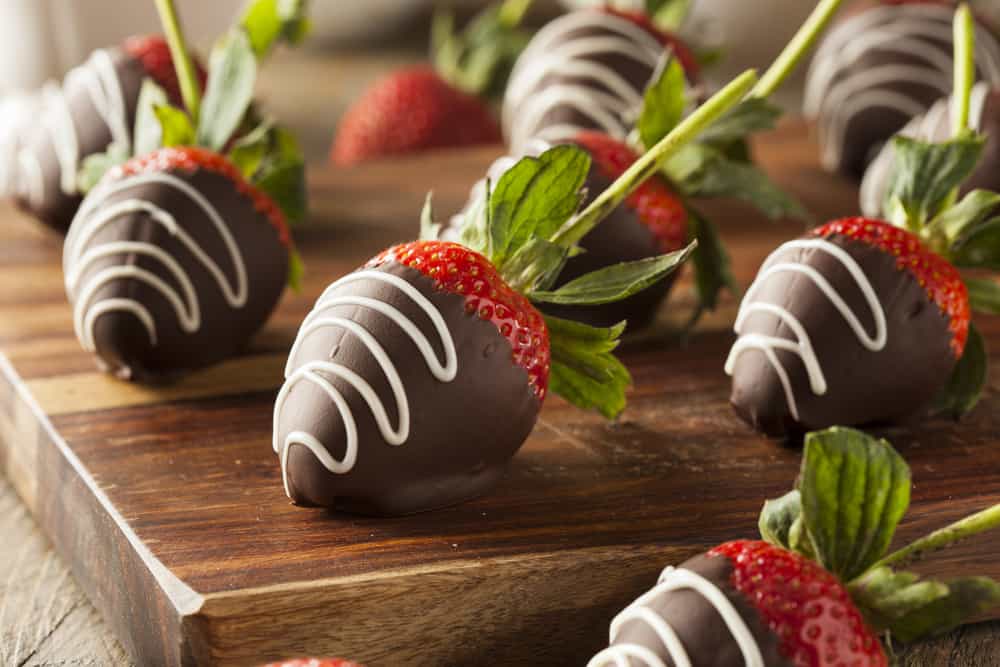 Step 1
In a double boiler (a bowl placed on top of a pan of simmering water), melt the chocolate, shortening and a teaspoon of cannabutter, stirring occasionally until smooth.
Note: If you have ever cooked chocolate before, you will know how easy it is to burn! There's nothing worse than ruining good chocolate, so make sure to keep an eye on the heat and to keep your mixture moving to avoid any getting stuck to the bottom of the pan.
Step 2
Holding the strawberries by the stem, dip each one in molten chocolate, about three-quarters of the way to the stem.
If you're looking to get creative, you could opt for a mixture of plain and white chocolate, to create a marble effect on your dipped strawberries.
Step 3
Place, stem side down, on a wire rack and chill in the refrigerator until hardened.
Note: Remember to be patient here, we know how hard it is to avoid chocolaty treats, but trust us – these are worth the wait!
Step 4
Once hardened serve with ice-cream on the side or drizzle on top melted white chocolate, using the same technique as in step 1.
Step 5
Now it's time for the bit you have been waiting for! The only thing left to do here is serve your chocolate coated canna-strawberries!
Warning: We can't be held responsible for how many batches of these you end up making. They are ten out of ten addictive, so you have been warned!
Recipe Round-Up: Strawberries and Chocolate with a Cannabis Twist
So, there you have it ladies and gents, our take on that firm summer favorite: Strawberries and chocolate. So, what did you think? Summer is well and truly here, and sometimes an ice-lolly just won't cut it, but we want to know if these would make the cut?
If sweet treats aren't your thing, or you're looking to create a canna-feast of food, you can check out our selection of recipes over on MarijuanaBeak.com.