Overview
This delicious cannabis banana bread recipe is the perfect dessert, and a healthy alternative to cannabis brownies! It's a simple recipe that doesn't take long to prepare.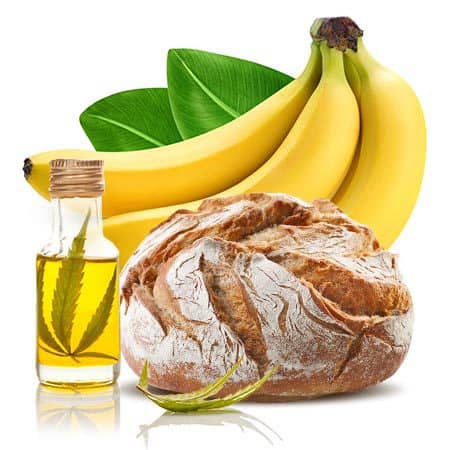 Best strains
Banana Kush, Bananas
Recently, in our article 5 Easy Recipes You Can Cook While in Quarantine, we included a delicious banana bread recipe infused with marijuana. It's a recipe that's garnered a lot of compliments!
Banana bread is a surprisingly versatile dessert and there's lots of things you can do to make it your own. So, this recipe is here to show you all the possibilities of cannabis-infused banana bread. You don't need to be a pro baker to rustle up this delightful dish; grab your favorite cannabis strain, a few baking essentials, and let's get started!
P.S. Skip to the end for a vegan alternative!
Banana Cannabis Strains
If you're 'bananas' about cannabis, you'll know that dispensaries these days offer up strains with all sorts of flavor profiles. Whether you're in for something sweet, savory, or downright dank, there is something for you.
The best marijuana strain to use in edibles will depend on your personal preferences. However, we would be missing a trick if we didn't point you in the direction of Banana Kush for this recipe. This strain offers up the fruity flavor profile of fresh bananas, lending a special something to this canna banana bread recipe.
Keep in mind that Banana Kush has an average THC content of 22%. As a result, you're best off eating just one slice of a Banana Kush loaf! Otherwise, the indica-leaning high will hit you like a train when you least expect it!
The good news is that Banana Kush also provides relaxing effects that are perfect for social situations. In other words, using Banana Kush in your recipe will ensure that this banana bread is perfect for social occasions and dinner parties. Just make sure that you have told your party guests what they're about to consume.
If you're not looking to get high using cannabis edibles, then high-CBD strains work just as well. However, there aren't any banana-flavored, CBD-focused strains that we know of. Instead, you can opt for ACDC or Harlequin, and it won't ruin the flavor of the banana bread.
This recipe focuses on raw cannabis, but you can also use concentrates. Leafs by Snoop, Snoop Dogg's company, offers the perfect cannabis concentrate in the form of Bananas. This one offers an energizing and cerebral high.
Now that you've selected the perfect strain, let's get on with the recipe.
First off, Let's Make Cannabutter
Seasoned cannabis cooks will know that canna-oil or cannabutter are an essential component of any edible recipe. For this canna banana bread recipe, the necessary ingredient is cannabutter. You can view a detailed breakdown of how to make cannabutter here.
Cannabutter takes some time to prepare, so set aside several hours. You can prepare the butter ahead of time, so perhaps make the cannabutter a day or two before you plan on making the banana bread, rather than trying to do everything at once.
First of all, you need to decarboxylate your cannabis. This means heating it to activate the cannabinoids, transforming THCa to THC, CBDa to CBD, and so on.
Let's imagine you have bought yourself some Banana Kush. You'll need 8-11g of herb, decarboxylated, of course. Grind it up into a coarse powder (not too fine), and you should have around 1 cup. You'll need 5 cups of salted butter and 1 cup of water to go with it.
All you need to do is gently heat a large pan or crockpot and melt the butter, together with the water. Add the cannabis when the butter is melted, and stir to combine. Cook the mixture on a low heat for three hours, stirring it occasionally to avoid burning and never allowing it to boil.
Next, strain the mixture through a cheesecloth to remove the plant matter. Pour it into a container, then refrigerate until hardened. The water will separate out, so you can just discard it. The cannabutter will keep for you to use whenever.
This method will make 1-1.5 cups of cannabis butter. The recipe doesn't need that much, but you can save it for later!
How to Make This Recipe Exciting
We've all had banana bread before. Obviously, the addition of cannabis makes it exciting all by itself, but there are also several ways you can mix it up. We recommend trying the recipe below first until you nail it, but you can make it exciting in the following ways:
Add Nuts: Walnuts and almonds make the perfect addition to banana bread. They add a little crunch and extra flavor.
Chocolate Chips: Those with nut allergies might want to choose chocolate chips instead. They add extra sweetness and something a bit naughtier to this recipe! Did someone say cheat day?
Cranberries: And if you're lactose intolerant, try cranberries! Again, they add just a little something extra to the recipe. With nuts, chocolate chips, and cranberries, simply fold them in as the last step before the banana bread goes in the oven.
Make Banana Muffins: Instead of a banana loaf, you can change this recipe into bite-sized banana muffins. Simply pour the batter into a muffin tin instead of a loaf tin. They're better for eating on the go and help to control your portion sizes – of both desserts and THC!
Got any more recommendations for banana bread? Let us know in the comments!
Cannabis Banana Bread Recipe
It's time to start baking. By the way, slightly brown bananas work best for any banana bread recipe, so if the bananas are starting to go off, it's the perfect time to make this recipe. Without further ado, let's get started.
Ingredients:
½ cup of cannabutter
2 eggs
2 bananas, mashed; plus extra, sliced, for decoration
6oz caster sugar
8oz self-raising flour
3 teaspoons cinnamon
1 teaspoon baking powder
2 tablespoons milk
17 x 9 x 9cm loaf tin
Instructions:
Preheat the oven to 350 degrees Fahrenheit (180 Celsius) and line the tin with parchment paper.
Grab a large mixing bowl, and combine all the ingredients. Beat until it is well-blended. For this step, you can use an electric whisk, stand-up mixer, or your hand and a wooden spoon.
If you're using nuts, chocolate chips, or cranberries, fold them in.
Spoon the batter into the lined baking tin and level the surface, then line with the extra slices of banana. Bake it for around 1 hour, until it has risen well and the outside is golden brown. You can check it with a cake skewer; if it comes out clean, the loaf is ready.
Allow the banana loaf to cool for a few minutes, then turn it out onto a cooling rack.
Cut into thick slices to serve!
Vegan Cannabis Banana Bread
We know that the community of vegans is ever-growing, and we don't want anyone to miss out on this tasty banana bread recipe! By now, many of you will know that cannabis edibles require some sort of fat – that's why the cannabutter is so vital.
However, there is a way around it. You can make canna-oil instead, and replace the butter with that. You can use less oil – about ¼ of a cup – and skip the milk and eggs. However, you will need to use an extra banana, so you will need three browned bananas.
The texture will be slightly different, but it's always good to know that delicious cannabis banana bread can be enjoyed no matter your dietary preferences.
Have you tried this cannabis banana bread recipe? Let us know how you got on in the comments below!