Overview
As one of the first states to ratify medical marijuana use, many Californians with chronic pain could rely on cannabis. However, there are still specific rules and requirements. To find out if you qualify, check out our guide to California's medical marijuana program.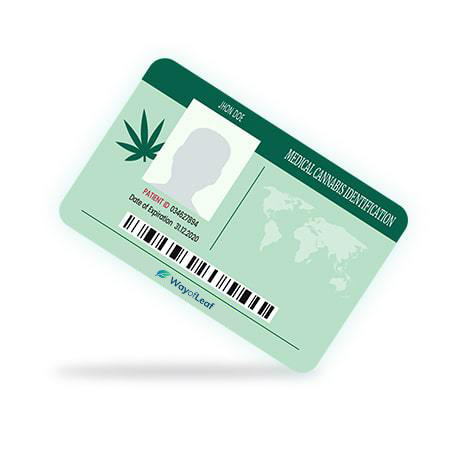 State Program
Approved on
November 5, 1996
Online Application
No, but using a third-party is possible.
The Golden State is the one that started it all with Proposition 215 in 1996. Also known as the Compassionate Use Act, it ensured that California became the first American state to legalize medicinal marijuana in the modern era. In 2003, Senate Bill 420 established an ID card system for MMJ cardholders.
For years, campaigners tried to get the herb completely legalized in California. However, they were dealt a blow in 2010 when Proposition 19 was defeated. However, things changed after states such as Oregon and Washington allowed recreational cannabis use. California followed suit in November 2016 when Proposition 64 passed with 57% of voters saying 'yes.'
On January 1, 2018, marijuana use officially became legal in California to all residents aged 21+. You might think that there is no point going through the MMJ card application process anymore, but there are numerous benefits.
Why Get an MMJ Card in California?
Do you need marijuana to treat a medical condition but are not yet 21 years of age? If so, you are not permitted to purchase it recreationally. California has laws allowing minors to access weed for medicinal purposes. They need the assistance of a caregiver who may be a parent or legal guardian.
Cannabis is also cheaper if you have an MMJ card because you are exposed to lower tax rates. Local and excise taxes may still apply. However, you are exempt from state sales tax if you have a state-issued medical marijuana ID card.
Best of all, MMJ cardholders have greater access to more potent weed and can grow more at home too.
In California, recreational dispensaries are limited to 1,000 mg of cannabinoids per package of a lotion or a tincture. In contrast, medical dispensaries can sell items with up to 2,000 mg of cannabinoids.
Recreational users can grow a maximum of six plants at home and carry up to one ounce of weed. Medical users can grow up to 12 immature plants. They can cultivate even more if they have a doctor's recommendation, which states that the patient needs to produce more to meet their reasonable medical needs.
The amount you can grow and possess as an MMJ cardholder varies according to where you live. In San Francisco, for example, you can possess up to eight ounces and produce a maximum of 24 plants.
How to Get a Medical Marijuana Card in California: The Complete Rundown
Now that you know the benefits let's find out how you can apply for a medical marijuana card in California.
1 – The Traditional Method
Technology has advanced in California to the point where you no longer need to go down this route. However, if you are old-fashioned, here is how you proceed. First of all, you must be aged 18+ or else you need the approval of a parent or guardian. You can schedule an appointment with a physician who will examine you and decide if you are eligible. Please go to the 'Qualifying Conditions' section to see if your ailment is on the list.
You must provide proof of ID; a government or state-issued ID card or a driver's license is acceptable. Only residents of the state of California can apply, and they must provide proof of residency. You can meet the criteria via a mortgage or rental agreement, utility bill, or DMV motor vehicle registration.
Once you have all of the above information, complete the application form. You also need your doctor's recommendation. Next, you have to apply in person at your County Program to receive your MMIC. The county can take up to 30 days to verify your application, and it can take up to 35 days to receive your MMIC. It is valid for up to a year.
2 – The Modern Method
As you can plainly see, the old way is a long and drawn-out affair. Fortunately, California residents no longer need to go through the Stone Age application method to get stoned. Thanks to services such as Heally, it is possible to get your MMIC in a matter of minutes. There are actually several similar services, but we will use Heally to give you an example of what to expect.
Register with the service: This involves entering a few personal details. Then you have to spend a few minutes in a virtual waiting room. Next, you are connected with a doctor who conducts an online evaluation. If you are eligible, you will receive a medical marijuana recommendation letter in your email inbox immediately. You should receive the hard copy in around three days.
After receiving the recommendation letter, you get a unique 7-character ID code that is registered to the state's medical-marijuana program. You can use the recommendation to purchase marijuana from a licensed dispensary. You need to provide basic medical information, proof of ID, and proof of residency. However, it is possible to register and receive a recommendation in 10 minutes!
It is also readily accessible online, and services open seven days a week. Heally, for example, has physicians available from 8 am to 10 pm every day.
What Are Medical Cannabis Card Costs in California?
Getting your recommendation online is also great for your bank balance. It costs just $50 to get your ID card (the price includes the consultation) on Heally, for example. In contrast, your county program can charge up to $100. Medi-Cal beneficiaries receive a 50% reduction, so the maximum application fee is $50.
If you do things the old-fashioned way, you also have to pay a physician's fee, which varies significantly.
What Are the Qualifying Conditions Required to get a Medical Marijuana Card in California?
According to the state's medical marijuana law, you are eligible for an MMJ card if you have one of the following medical conditions:
Cancer
HIV/AIDS
Multiple sclerosis
Side effects of radiation therapy
Glaucoma
Arthritis
Anxiety
Chronic pain
Migraine headaches
Multiple sclerosis
Any persistent or chronic medical symptom that causes serious harm to your mental or physical health if not treated
You are also possibly eligible if you have a condition that limits your ability to carry out a 'major life activity' such as moving or eating. The Americans with Disabilities Act of 1990 defines this stipulation.
You may also receive a recommendation if you have chronic fatigue syndrome or depression. California is one of the most open states when it comes to handing out medical marijuana cards. Therefore, you should have little difficulty receiving approval if you have one of the above conditions.
Other Important Information on the California Medical Marijuana License Process
If you get the standard recommendation letter online, you can enter medical marijuana dispensaries without much trouble. However, some dispensaries prefer it if consumers have the letter and the MMIC. You can pay $129+ for a Premium Card, which ensures you get the letter and MMIC. It also allows you to avail of a Grower's recommendation card.
What Is a Grower's Recommendation Card?
It is the golden marijuana ticket in California as it allows the holder to grow up to 99 plants for personal use! However, be wary when doing this because the law could change at any time.
It is also essential to check your local area for more details on what you are allowed to grow. Finally, please note that the grower's recommendation does NOT equate to a 'get out of jail' free card. It merely gives you defense for growing as much as you need. You also can't sell it without a specific license!
When in doubt, grow out of plain sight, preferably indoors. It is also not a great idea to tell people about the dozens of marijuana plants you have growing in your basement. However, we strongly advise you to determine your county's rules and remain within the law.
Why Get an MMJ Card in California When Recreational Cannabis Is Legal?
Although marijuana is now legal for recreational use in California, it is still worth your while to get an MMJ card. You are allowed to possess far more than one ounce and can grow more than six plants. You also have access to more potent weed and save money by not paying sales tax. It is also a fact that medical marijuana dispensaries often have sales to entice MMJ cardholders into the store.
Does the California MMJ Program Allow Reciprocity?
California does not accept recommendations from other states. Therefore, if you are a Colorado resident, for example, and have an MMJ card, you can't purchase weed from a Golden State medical dispensary. However, on the plus side, non-residents are allowed to apply for a medical marijuana recommendation. As we already showed, it is as smooth a process as you could hope. Also, you can avail of the recreational legalization of cannabis in California.
What Is the Possession & Growing Limits?
MMJ cardholders can possess and transport up to eight ounces of dried marijuana (check your county). They can also grow a maximum of 12 immature plants, six of which can be mature.
What Are the Caregiver Rules?
You can hire a caregiver to help you buy or use MMJ as long as they meet the following criteria:
At least 18 years of age. An exception is if they are an emancipated minor or the parent of a minor who is a qualified patient.
Caregivers with more than one patient must reside in the same county as you.
They can have up to eight ounces and are subject to the same growing rules.
Primary caregivers must apply in person with the patient and provide proof of ID.
Where Can I Use Cannabis in California?
You can only use your marijuana in a private space as public smoking remains prohibited. However, cities such as San Francisco have onsite consumption licenses. Smoking or vaping in a non-smoking area results in an immediate $100 fine.
You are also not allowed to smoke marijuana within 1,000 feet of a youth center when kids are present, a daycare center, or a school. It remains illegal to use MMJ in a motor vehicle, even if you are only a passenger. If you use weed or else you have an open container with cannabis while on a plane or boat, you receive a $250 fine. It is even against the law to cycle while under the influence of marijuana in California!
If you found this article informative, help prospective MMJ patients in California by SHARING it!
Published on:
8 Apr, 2019