Overview
There is no medical marijuana program in place in Wisconsin at present. However, SB 1034 has been debated by state lawmakers, who will discuss the matter further in 2023. It is hoped that progress will be made and the Badger State will ultimately allow MMJ.
State Program
Approved on
N/A
Currently, there is no way to get a WI medical card because medical marijuana remains illegal in Wisconsin. The Badger State is becoming increasingly isolated as the number of locations without an MMJ program dwindles yearly.
Indeed, Midwest states such as Michigan and Illinois now permit recreational weed. Meanwhile, Wisconsin residents face prison for possessing a tiny amount of a substance that's freely available to buy in neighboring states.
While an MMJ bill is on the agenda, the earliest it will pass is 2023, and even that seems unlikely.
Nonetheless, this guide outlines what a medical marijuana program in Wisconsin might look like if it ever came to pass. First, however, let's check out the penalties for possessing and using cannabis in WI.
Wisconsin Medical Marijuana Laws
Although a few jurisdictions within Wisconsin have decriminalized weed, there is no such law in place statewide. Therefore, possessing any amount is considered a misdemeanor, and you could spend up to six months in prison. A second offense is a felony with a potential jail term of up to 3.5 years.
You receive the same sentence for selling any amount of the substance or growing even one marijuana plant. Certainly, it is clear that Wisconsin residents in need of MMJ badly need a program to be implemented.
When Did Medical Marijuana in Wisconsin Become Legal?
MMJ remains illegal in WI, but there is hope in the form of SB 1034. In April 2022, the Republican lawmakers in control of the Wisconsin Legislature allowed a capitol debate on medical marijuana for the first time.
A public hearing on the legislation in question, SB 1034, was held in the Senate Committee on Insurance, Licensing, and Forestry. It heard several hours of testimony, most of which requested the end of marijuana prohibition in the state. There is growing political support for MMJ legalization in Wisconsin to go with the high level of public support. A poll of registered voters in August 2022 found that almost 70% of state residents favored medical marijuana legalization.
Alas, the Legislature was adjourned until 2023, with the hearing only the first step in what promises to be a long, drawn-out process.
How to Get a Medical Marijuana Card in Wisconsin
SB 1034 outlines what an MMJ program in WI might look like. It involves establishing a Medical Marijuana Regulatory Commission (MMRC) to which patients and caregivers would apply. The Commission would analyze applications and decide whether patients are eligible for MMJ cards.
Below, we look into the likely process of applying for an MMJ card in Wisconsin and highlight some of the most pertinent aspects of the bill. However, it is important to note that SB 1034 is technically "dead," so a future medical marijuana program might look a little different.
Step 1 – Get in Touch with a WI Healthcare Provider
According to SB 1034, physicians, physician assistants, and advanced practice nurses would be permitted to recommend marijuana as long as they are registered to practice in Wisconsin. There would also need to be a bona fide patient-doctor relationship before a physician could recommend MMJ.
Step 2 – Schedule a Consultation
Once a patient schedules a consultation, they would discuss the possibility of using MMJ with the doctor, who would perform a medical examination. They would then decide whether the patient has a qualifying condition and whether they would benefit from medical marijuana.
If they approve the patient, the doctor would provide a written recommendation.
Step 3 – Sign Up for a WI State Government Account
Patients would need to apply to the MMRC less than 30 days after receiving certification from a doctor. Further details are not forthcoming, although it seems likely that prospective MMJ patients would have to apply online.
Step 4 – Visit a Dispensary
Once the MRCC approves your application, they send a medical marijuana card to your physical address. You could legally visit a dispensary and make a purchase at this stage.
Who Can Apply for a Medical Marijuana Card in WI?
You would need to be 18+ and a state resident for at least 10 consecutive days to apply for a medical marijuana card in WI.
Cost of MMJ Card in WI
There is no concrete information on the medical marijuana card cost in WI. Based on other MMJ programs, the application fee would likely be $50 – $100, with a doctor's consultation cost between $150 and $300.
WI MMJ Card Qualifying Conditions
The list of WI medical marijuana card qualifying conditions outlined in SB 1034 is limited to the following: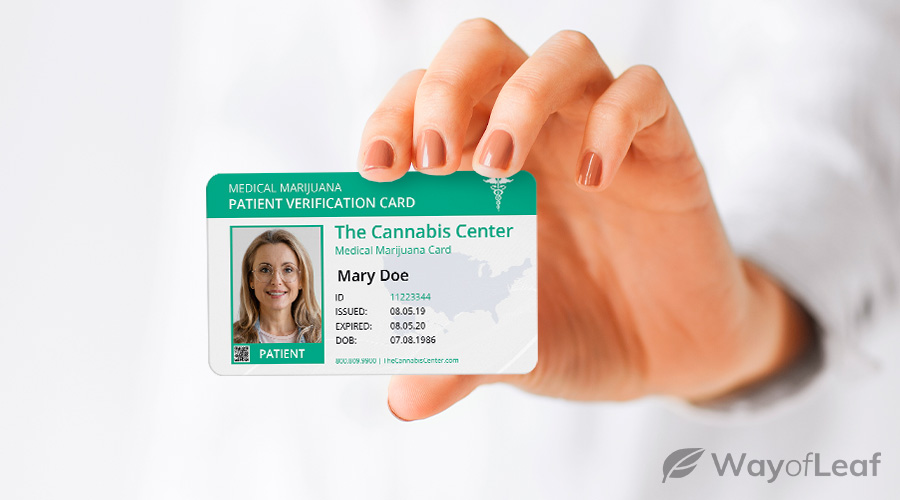 HIV/AIDS
Crohn's disease
Cancer
Glaucoma
Multiple sclerosis
Amyotrophic lateral sclerosis
PTSD
Seizure disorders
How Long Does It Take to Get a Medical Marijuana Card in WI?
SB 1034 does not outline how long the MRCC would take to complete applications and issue cards.
How to Renew My Wisconsin Medical Card?
An MMJ card would last for 12 months. Patients would likely have to go through the process of getting a doctor's written recommendation again. They would also have to complete a renewal application online.
Other Information on the WI Medical Marijuana License Process
Here are a few other snippets of information based on what we found in SB 1034.
What Types of Cannabis Can I Purchase in WI?
Any MMJ bill that makes it into law in Wisconsin would almost certainly ban smokable marijuana products, such as flower, at first. Instead, cannabis would only be available in oil, liquid, tincture, pill, or topical form.
How to Get a Medical Marijuana Card in WI Online
MMJ patients would likely have to apply via the MRCC online. However, doctor's consultations can only be done in person, meaning no online appointments.
Can I Register My Child for Medical Marijuana in WI?
The MRCC would have to promulgate rules on how a minor may apply for a medical marijuana card. Minors would need the permission of a parent or legal guardian, who would also serve as their caregiver. The bill states that a minor can designate both parents as caregivers if they wish.
Where Can I Purchase MMJ in Wisconsin?
The state would decide how many licenses to provide once any MMJ bill makes it into law. SB 1034 mandates that the Controlled Substances Board would establish a Prescription Drug Monitoring Program (PDMP) to ensure pharmacies and healthcare providers generate records outlining how monitored prescription drugs are dispensed.
How Much Cannabis Can I Buy & Possess?
SB 1034 states that patients would be permitted to possess a maximum of a 30-day supply of usable marijuana. The bill does not provide insight into how much THC patients could buy. During the last seven days of the 30 days, patients can obtain and possess a fresh 30-day supply for the subsequent spell of 30 days.
Can You Grow Marijuana in Wisconsin with a Medical Marijuana Card?
No. Only individuals with specific growing licenses that meet many other criteria could cultivate marijuana in Wisconsin, per SB 1034.
Where Can I Use My MMJ?
One can be confident that should medical marijuana ever become legal in Wisconsin, patients will only be permitted to use it in a private residence.
Is There a Reciprocity Program in Place?
There is no information on whether out-of-state MMJ cards would be accepted in Wisconsin.
What Are the Caregiver Rules?
According to SB 1034, caregivers would need to be 21+ and not have a drug-related conviction. Patients could only select one primary caregiver.
What if I Lose My Medical Card in Wisconsin?
You would probably have to contact the MRCC to report your lost card and perhaps pay a fee for a replacement.
How to Get a Medical Marijuana Card in Milwaukee and Madison
In November 2002, the Madison Common Council approved legislation permitting adults aged 18+ to possess up to 28 grams of marijuana and consume it in private and public.
Meanwhile, in March 2021, the Milwaukee County Board of Supervisors voted to decrease the penalty for possessing up to 25 grams of marijuana to a fine of $1 plus court costs.
However, residents of Madison, Milwaukee, and other locations in Wisconsin need a dedicated medical marijuana program to avoid black market products.
MMJ Card for Veterans in WI
Military veterans in other states with MMJ programs tend to benefit from discounts on consultations. It remains to be seen whether clinics in Wisconsin would be as generous. The list of qualifying conditions includes PTSD, which may prove relevant to some veterans.
Final Thoughts on Getting a Wisconsin Medical Marijuana Card
Although the fact there is a debate surrounding SB 1034, a medical marijuana bill, is a positive development, Wisconsin is likely years away from approving MMJ. While several jurisdictions have decriminalized the substance, with Madison allowing adults to use it publicly, the state still punishes marijuana users with prison time.
Therefore, countless people within the state must wait and see what WI lawmakers do next.