Overview
There is no medical marijuana program in place in Kentucky at present. An MMJ legalization bill, HB 136, passed the House but did not make it through the Senate. Governor Andy Beshear has discussed the possibility of executive action to enact an MMJ bill. Nonetheless, there will be no further movement on this issue until 2023 at the earliest.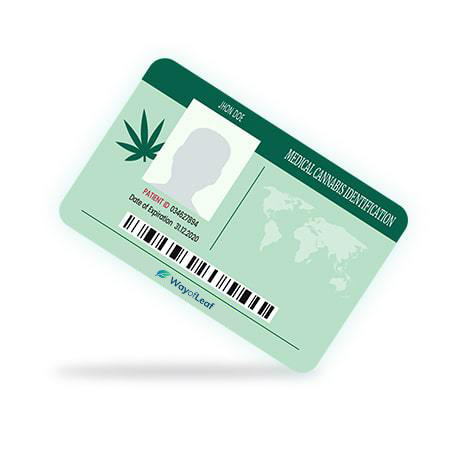 State Program
Approved on
N/A
If you were to guess a state likely to legalize marijuana soon, Kentucky would probably not be top of the list. However, there is a growing movement towards allowing MMJ in the Bluegrass State. A 2020 poll found that 90% of Kentucky's residents support legal medical marijuana. Moreover, almost 60% favor recreational legalization.
In February 2022, Jason Nemes brought a Republican-led MMJ legalization bill to the Kentucky state legislature. If passed, HB 136 will establish a fairly conservative program. It still faces stiff opposition, but suddenly, Kentucky residents looking to use marijuana as medicine can see the light at the end of the tunnel.
While you can't yet get a KY medical card, we outline what a medical marijuana program might look like in the state.
Kentucky Medical Marijuana Laws
At present, possession of any amount of cannabis is a misdemeanor offense. You could receive a $250 fine and up to 45 days in prison. The possession of more than eight ounces is a felony, and you could receive a five-year jail term.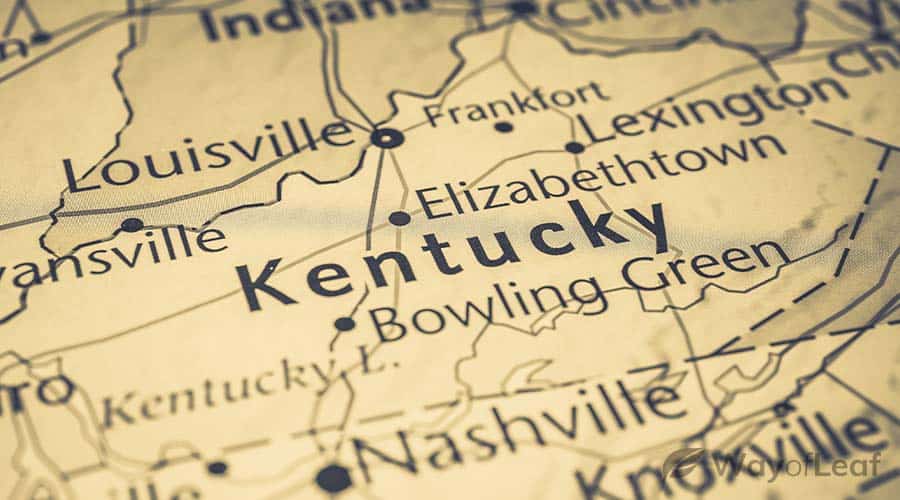 The sale of fewer than eight ounces is a misdemeanor and carries a possible $500 fine and up to a year in jail. It is a felony to sell over eight ounces with a potential jail term of five years as the punishment.
Growing a single plant in Kentucky is also a misdemeanor, and you could spend up to a year in jail if convicted. If you grow 5+ plants or commit a second marijuana cultivation offense, you face a felony charge and up to five years in prison.
How to Get a Medical Marijuana Card in Kentucky
At present, there is no way to get a medical marijuana card in Kentucky, though things may change soon.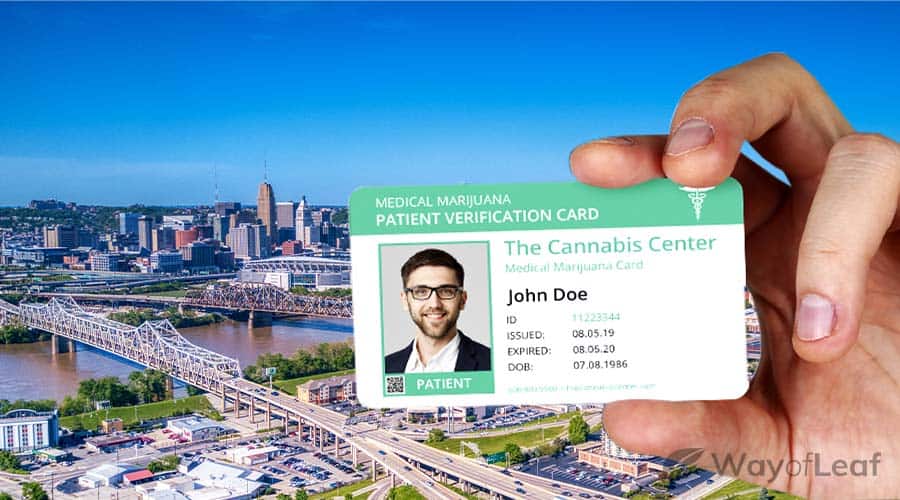 House Bill 136 is an MMJ bill designed to establish a framework for marijuana in Kentucky. It will require the Department for Alcoholic Beverage and Cannabis Control to implement and regulate the rules. This includes determining qualifying patients and designated caregivers. The Department would also establish certain protections for anyone with an MMJ card in Kentucky.
Step 1 – Get in Touch with a KY Healthcare Provider
There isn't much information regarding whether patients can apply online. However, HB 136 says you can only use a doctor with whom you have a bonafide practitioner-patient relationship. This means that, in theory, you can't walk in off the street and gain a physician's approval.
Step 2 – Schedule a Consultation
As is standard in other states, Kentucky MMJ applicants must schedule a consultation with a doctor. According to HB 136, medical professionals such as dentists, optometrists, and podiatrists cannot prescribe or recommend medical marijuana to patients.
The doctor must consult with the patient regarding the potential therapeutic aid of cannabis. They also need to advise the patient about the possible interactions between marijuana and other drugs.
Step 3 – Sign Up for a Kentucky State Government Account
Details on whether patients must apply using a paper form or online are not precise. It seems likely that Kentucky may take an "old school" approach at first.
Step 4 – Visit a Dispensary
Once an MMJ patient receives their card, they will be permitted to visit a licensed dispensary within Kentucky.
Who Can Apply for a Medical Marijuana Card in KY?
It seems probable that Kentucky would follow the lead of other state programs. This means that to apply for a medical marijuana card in KY, you would need to be a Kentucky resident aged 18+ with a qualifying medical condition.
Cost of MMJ Card in KY
There is currently no information about the medical marijuana card cost in KY if a program were launched. Patients must also take into account the cost of a physician's recommendation. In other states, this ranges from $150 to $300. It seems likely that the card will last for a year. At that point, you would have to reapply and see a doctor for another certification. Again, none of this is confirmed.
KY MMJ Card Qualifying Conditions
Possible KY medical marijuana card qualifying conditions could include:
However, a full list won't become known unless HB 136 is passed into law.
How Long Does It Take to Get a Medical Marijuana Card in KY?
There is currently no concrete information on how long it would take for the Department to issue cards. The expectation is that the time it takes to apply for an MMJ card will be broadly in line with other states when the program settles. Initially, however, applicants should expect long delays.
How to Renew My Kentucky Medical Card?
A Kentucky MMJ card would likely be valid for 12 months. A patient would probably have to schedule a new consultation and get recertified 30+ days in advance.
Other Information on the KY Medical Marijuana License Process
All information relating to a medical marijuana program in Kentucky is open to interpretation. Existing details are NOT set in stone. Nonetheless, we tried to glean additional information from what we currently know.
What Types of Cannabis Can I Purchase in KY?
The current version of HB 136 does not permit the smoking of medical marijuana. It also bans vaping products for MMJ patients aged 20 and under. Patients can likely buy oils, tinctures, edibles, and topicals. However, the legislation doesn't prohibit cannabis flower in itself. Patients could buy it from a dispensary, vape it, or convert it into other digestible forms apart from smoking.
How to Get a Medical Marijuana Card in KY Online
It seems unlikely that MMJ patients will be allowed to schedule online consultations with physicians if HB 136 or any other marijuana legalization program is passed into law.
Can I Register My Child for Medical Marijuana in KY?
There is no specific information on whether minors can apply for an MMJ card via HB 136. However, most other states allow minors to apply with the permission of a parent or legal guardian who also acts as the patient's caregiver.
Where Can I Purchase MMJ in Kentucky?
The bill makes provisions for a significant number of medical marijuana dispensaries. It has no caps on license numbers or rules on vertical integration.
How Much Cannabis Can I Buy & Possess?
According to HB 136, MMJ patients in Kentucky can buy a 10-day supply and possess up to 30 days' worth of marijuana. However, the bill has not yet specified any quantities. This issue, and others, will become known during an implementation period if the bill passes.
Can You Grow Marijuana in Kentucky with a Medical Marijuana Card?
No. House Bill 136 specifically prohibits the process of cultivating marijuana at home.
Where Can I Use My MMJ?
Patients can only use their cannabis in a private residence.
Would Kentucky Accept Out-of-State MMJ Cards?
It seems extremely unlikely that MMJ patients from other states will be able to use cannabis in Kentucky.
What Are the Caregiver Rules?
There is little information on whether MMJ patients would be allowed caregivers under HB 136.
What If I Lose My Medical Card in Kentucky?
HB 136 does not outline what an MMJ patient would do if they lost their card.
When Did Medical Marijuana in Kentucky Become Legal?
Although HB 136 passed a House vote, Senate leadership refused to assign the bill to a committee in September 2022, ending any chance of it passing into law in 2022. Governor Andy Beshear has said he may take executive action on MMJ, although he probably lacks the legal authority to implement a program.
A panel established by Governor Beshear received significant support from state residents. According to the advisory panel, almost 99% of the 3,500+ public comments it received on MMJ legalization in Kentucky were supportive of it.
Democrat-led legislation (HB 521 in the House and SB 186 in the Senate) was introduced in February 2022 and sought to legalize marijuana fully. It also aims to establish a medical marijuana program and expunge previous convictions relating to the substance. However, that bill is far less likely to succeed than HB 136.
How to Get a Medical Marijuana Card in Louisville
Unfortunately, unlike many other major cities, Louisville has not opted to decriminalize marijuana possession. Therefore, until an MMJ program is implemented, residents of Kentucky's most populous city face prison time if caught in possession of any amount of weed.
MMJ Card for Veterans in KY
The advisory panel set up by Governor Beshear found that military veterans find relief from PTSD symptoms when using medical marijuana. Hopefully, PTSD will be one of the qualifying conditions should HB 136 or any other piece of legislation legalizing MMJ pass into law.
Final Thoughts on Getting a Kentucky Medical Marijuana Card
The state of Kentucky has made terrific progress in the cannabis debate. Even bringing a bill this far is well beyond what most people thought possible just a few years ago. However, residents of the state will have to wait before MMJ becomes a reality.
There is serious discussion around HB 136, which has been altered enough to give it a realistic shot of making it into law. Nonetheless, despite Governor Beshear's support of medical marijuana, nothing will happen until 2023 at the earliest. Also, any attempt to fully legalize marijuana is very unlikely to succeed.
Ultimately, even if Kentucky eventually approves MMJ, the program will be among the strictest in the nation. Yet, for those in dire need, it is better than nothing, which is what they have right now.