MD EVALUATION REQUIRED
CARD VALIDITY
CONSULTATION FEE RANGE
LIKELY BETWEEN $150 AND $300
MMJ PURCHASING LIMITS
A 10-DAY SUPPLY; HOWEVER, NO PRECISE LIMITS HAVE BEEN DEFINED
HOME CULTIVATION?
MINIMUM AGE LIMIT
LIST OF QUALIFYING CONDITIONS FOR A MEDICAL MARIJUANA CARD IN KENTUCKY
Chronic pain
Multiple sclerosis
Nausea
Vomiting
Cancer
A full list will be determined if HB 136 passes into law
If you were to guess a state likely to legalize marijuana soon, Kentucky would probably not be top of the list. However, there is a growing movement towards allowing MMJ in the Bluegrass State. A 2020 poll found that 90% of Kentucky's residents support legal medical marijuana. Moreover, almost 60% favor recreational legalization.
In February 2022, Jason Nemes brought a Republican-led MMJ legalization bill to the Kentucky state legislature. If passed, HB 136 will establish a fairly conservative program with a decent chance of being approved. If it succeeds, a medical marijuana program will launch in 2023.
It still faces stiff opposition, but suddenly, Kentucky residents looking to use marijuana as medicine can see the light at the end of the tunnel.
Democrat-led legislation (HB 521 in the house and SB 186 in the Senate) was introduced in February 2022 and seeks to legalize marijuana fully. It also aims to establish a medical marijuana program and expunge previous convictions relating to the substance. However, that bill is far less likely to succeed than HB 136.
While you can't yet get an MMJ card in Kentucky, we outline what could happen to cannabis in the state in this guide.
How to Get a Medical Marijuana Card in Kentucky
At present, there is no way to get a medical marijuana card in Kentucky, though things may change soon.
House Bill 136 is an MMJ bill designed to establish a framework for marijuana in Kentucky.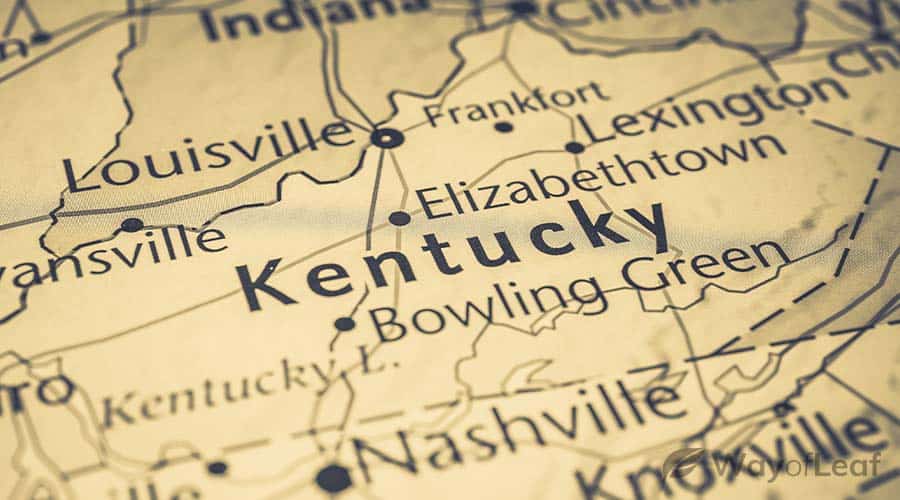 It will require the Department for Alcoholic Beverage and Cannabis Control to implement and regulate the rules. This includes determining qualifying patients and designated caregivers. The Department would also establish certain protections for anyone with an MMJ card in Kentucky.
What Does House Bill 136 Say About Applying For MMJ?
There isn't much information regarding whether patients could apply online. However, HB 136 does say that you can only use a doctor with whom you have a 'bonafide practitioner-patient relationship.' This means that, in theory, you can't walk in off the street and gain a physician's approval.
As is standard in other states, Kentucky MMJ applicants must schedule a consultation with a doctor. According to HB 136, medical professionals such as dentists, optometrists, and podiatrists cannot prescribe or recommend medical marijuana to patients.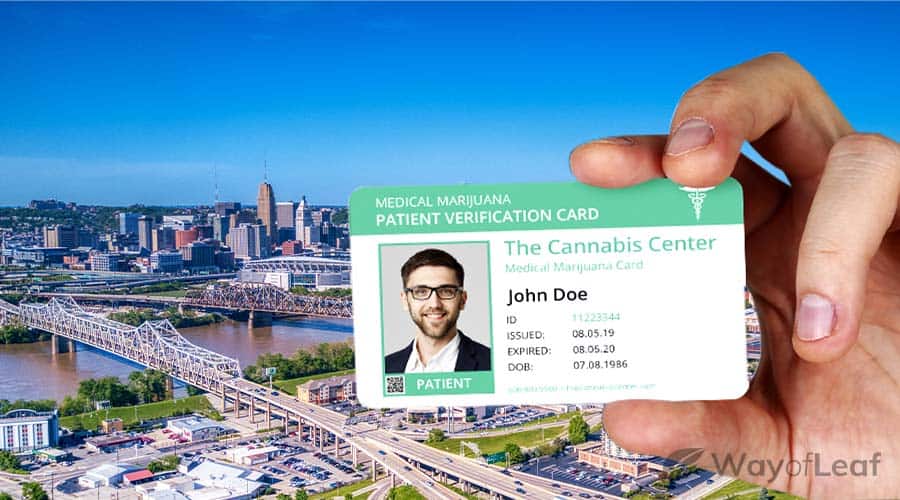 The doctor must consult with the patient regarding the potential therapeutic aid of cannabis. They also need to advise the patient relating to the possible interactions between marijuana and other drugs.
Details on whether patients must apply using a paper form or online are not precise. It seems likely that Kentucky may take an 'old school' approach at first. The expectation is that the time it takes to apply for an MMJ card will be broadly in line with other states when the program settles. Initially, however, applicants should expect long delays.
What Are the Kentucky Medical Marijuana Costs?
There is no information at present as to how much it will cost to apply for an MMJ card. Patients must also take into account the cost of a physician's recommendation. In other states, this ranges from $150 to $300. It seems likely that the card will last for a year. At that point, you would have to reapply and see a doctor for another certification. Again, none of this is confirmed.
Other Information on the Kentucky Medical Marijuana License Process
All information relating to a medical marijuana program in Kentucky is open to interpretation. Existing details are NOT set in stone. Nonetheless, we tried to glean additional information from what we currently know.
What Kind of Cannabis Can I Purchase?
The current version of HB 136 does not permit the smoking of medical marijuana. It also bans vaping products for MMJ patients aged 20 and under. Patients can likely buy oils, tinctures, edibles, and topicals. However, the legislation doesn't prohibit cannabis flower in itself. Patients could buy it from a dispensary, vape it, or convert it into other digestible forms apart from smoking.
How Much Marijuana Can I Buy & Possess?
According to HB 136, MMJ patients in Kentucky can buy a 10-day supply and possess up to 30 days worth of marijuana. However, the bill has not yet specified any quantities. This issue, and others, will become known during an 'implementation period' if the bill passes.
Where Can I Purchase MMJ in Kentucky?
The bill makes provision for a significant number of medical marijuana dispensaries. It has no caps on license numbers or rules on vertical integration.
What Are the Penalties for Illegal Marijuana Use in Kentucky?
At present, possession of any amount of cannabis is a misdemeanor offense. You could receive a $250 fine and up to 45 days in prison. The possession of more than eight ounces is a felony, and you could receive a five-year jail term.
The sale of fewer than eight ounces is a misdemeanor and carries a possible $500 fine and up to a year in jail. It is a felony offense to sell over eight ounces with a potential jail term of five years as the punishment.
Where Can I Use My MMJ?
Patients can only use their cannabis in a private residence.
Will Kentucky Have Reciprocity with Other States?
It seems extremely unlikely that MMJ patients from other states will have the ability to use cannabis in Kentucky.
Can I Grow Marijuana at Home with an MMJ Card?
No. House Bill 136 specifically prohibits the process of cultivating marijuana at home.
Final Thoughts on How to Get Medical Marijuana in Kentucky
The state of Kentucky has made terrific progress in the cannabis debate. Even bringing a bill this far is well beyond what most people thought possible just a few years ago. However, residents of the state will have to wait a little longer before MMJ becomes a reality.
There is serious discussion around HB 136, which has been altered enough to give it a realistic shot of making it into law. However, the Democrat's attempt to fully legalize marijuana is very unlikely to succeed.
Therefore, even if Kentucky approves MMJ, the program will be among the strictest in the nation. Yet, for those in dire need, it is better than nothing, which is what they have right now.