Overview
Pure Craft is Jason Navarrete's brand. This is an American company that places huge emphasis on pure, authentic, organic products. Most products use nano-technology, which may help to increase bioavailability of the CBD.
Ingredients
Organically grown nano optimized premium broad-spectrum CBD oil, MCT oil, natural flavors
Recommended use
Shake the bottle well, then fill the dropper and place a few drops of oil beneath the tongue for 30 seconds before swallowing.
Extraction process
CO2 extraction
Medical benefits
●Reduce or relieve inflammation/pain
●Reduce vomiting and nausea
●Prevent nervous system degeneration
*All the data provided is for oil products only
Pure Craft: Quick Summary
PROS
Nano-CBD emulsion increases the bioavailability of the products.
Very reasonable pricing for the quality of cannabinoids you get.
Offers a range of CBD and Delta 8 THC products.
Great website that's straightforward and easy to navigate.
Lab reports are published on the site.
CONS
Some of the products come in limited options.
Most online reviews are on the official website, not from third parties.
Pure Craft Review
Jason Navarrete started Pure Craft CBD because he believes strongly in the power of cannabinoids – as well as the extensive therapeutic benefits they can offer. Navarrete has worked in the cannabis industry for 18 years, but only started Pure Craft at the beginning of 2021.
The WayofLeaf team were keen to investigate the Pure Craft brand for a number of reasons. First of all, the promise of a brand backed by such extensive experience was too big to pass up. Secondly, we have heard great things about this brand and its unique nano-CBD (and Delta 8) products.
The site features a clean, subtle design, handy navigation panels, and even houses publicly available lab reports.
First things first, the website is very professional, well laid out, and easy to navigate. There is lots of information there including details about the brand, Jason himself, and even some educational/CBD 101 resources. The site features a clean, subtle design, handy navigation panels, and even houses publicly available lab reports for each product.
This review covers all of Pure Craft's products and prices, though our review team only tried the Delta 8 Vegan Nano-Infused Gummies. Read on to learn what we thought of this company, and what types of effects you can expect to feel with the delta 8 gummies.
Nanotechnology Sets the Pure Craft CBD Brand Apart From Competitors
Pure Craft utilizes a team of researchers that work tirelessly on nano-CBD emulsion, attempting to create the highest bioavailability products on the market. The website claims that Pure Craft tinctures provide 90% absorption, compared to just 18% from other brands. While these figures may very well be accurate, it's difficult to say without extensive fact-checking and data analysis.
That being said, Pure Craft is a transparent brand. It manufactures products in a cGMP, FDA-registered facility, and all products are lab tested by an independent third party. The Certificates of Analysis are available to view online, which is great news for customers who want to check the cannabinoid contents of what they're consuming.
Based strictly on the ingredients used and the quality of the USA-grown, organic hemp, it was evident right off the bat that Pure Craft is an exceptional brand in terms of quality. We found all the relevant information about the brand and its products on the website, without having to consult the customer helpline or use the online chatbox.
Pure Craft Products
Despite the use of nanotechnology, Pure Craft has managed to keep prices low. They're about the same – perhaps a little more expensive – than what you would pay for other leading brands.
As far as product range, Pure Craft offers a fairly extensive collection. We tested the delta 8 gummies, but there are loads of other products available in the online store as well. Here is the complete list.
Pure Craft CBD Tinctures
Pure Craft sells a range of broad-spectrum CBD oils. Each one possesses a range of cannabinoids but is free of THC. There are three strengths: 1000mg, 2000mg, and 3000mg. These are decent potencies that should cover a range of CBD users. There are also different flavors, although they are not all available across the different strengths.
One thing we really love about Pure Craft tinctures is that they come in a UV-protective bottle that prevents the cannabinoids from degrading prematurely. This sets the brand apart from others that just use glass bottles.
Alongside the regular tinctures, Pure Craft also sells water-soluble options and drops that include added melatonin. They're all relatively similar, though the water-soluble tinctures come in just two strengths (600mg and 1000mg).
The melatonin option is ideal for those who have trouble sleeping. It contains 1000mg of CBD alongside 5mg of melatonin per serving.
Cost: $49 – $139
Pure Craft CBD Gummies
One great thing about Pure Craft's gummies is that they're all vegan-friendly. Everyone can enjoy them because they're made with citrus pectin (as opposed to gelatin, which is animal-based). The gummies come in 30-count tubs with 25mg of nano-CBD each.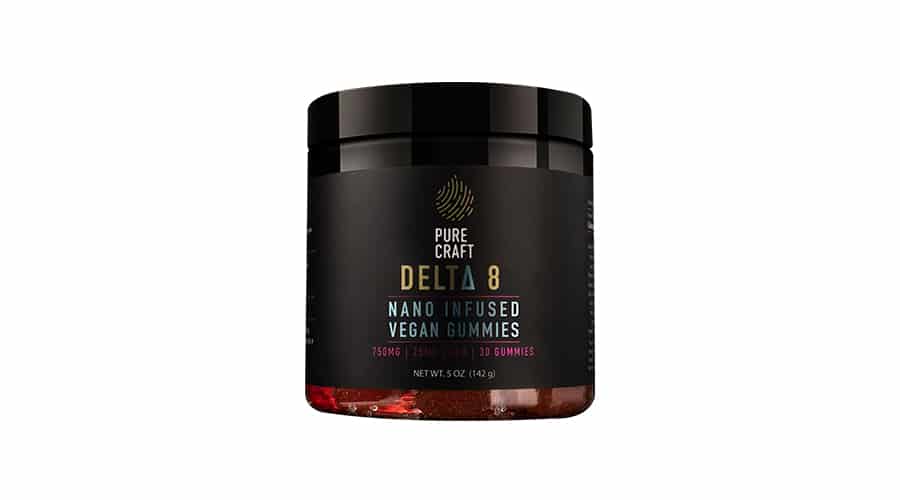 There are two fruity flavors to try, including the original assorted option and elderberry immune boost. On-site reviews say that the gummies are really efficient and usually take effect in under an hour.
Cost: $55
Pure Craft CBD Softgels
True to form, Pure Craft offers water-soluble nano-CBD soft gels. These offer 25mg of CBD each, and much like the gummies, contain 750mg total in each bottle.
The soft gels are made with bovine gelatin, however, so unlike the gummies, they're not vegan. Nevertheless, this is a great product that boasts lots of positive reviews on the website.
Cost: $59
Pure Craft CBD Topicals
In the topicals department, Pure Craft has only one product: Nano-Infused Muscle & Joint Cream. This has a base of moisturizing ingredients including argan oil, shea butter, and jojoba oil. The cream also contains essential oils like lavender, peppermint, and rosemary, giving it an herbal, minty scent.
Each bottle contains 1000mg of CBD, which is fairly potent for a topical. Pure Craft has also added menthol for a cooling effect that works to ease mild aches and pains. While we didn't test this product firsthand, the website boasts mainly 5-star reviews. In fact, many customers praise it for its fast-acting results and effectiveness for post-workout recovery.
Cost: $79
Pure Craft CBD for Pets
Pure Craft offers one CBD pet product on the website in the form of water-soluble drops. These are much less potent than the human drops, at just 250mg per bottle. While it's great to see this, it's slightly disappointing to see that the oil is unflavored. It's easier to get pets to take CBD products when they taste like bacon or some other treat, which is why many other brands add flavoring.
That said, it's great to see Pure Craft offering a CBD pet product at all, so we can't fault them for that.
Cost: $29
Pure Craft Delta 8 THC
This is the product that we actually tried, and be forewarned – these gummies may get you high. We made the mistake of eating two instead of one, and to be quite honest, we got high for 10+ hours. The effects were very noticeable, and we would definitely recommend eating half of a gummy instead of a full one your first time around.
That being said, the effects were immensely enjoyable. The high was tangible, but it was subtle and did not result in THC-induced anxiety that's consistent with traditional THC products (delta 8 THC is a structural analog compared to delta 9 THC).
If you're looking to chill out or are trying to improve your quality of sleep, these would be a fantastic option. Again, however, be forewarned that you will very likely experience a high.
Are Pure Craft Products Worth It?
All in all, Pure Craft is an excellent brand that we found very few faults with. It provides all the necessary information on the site, puts effort into manufacturing authentic, high-quality products, and sells items at a reasonable price.
One thing that is worth noting is Pure Craft offers a military discount, making its products even cheaper for those who have served our country. (Those not in the military can earn discounts as part of the Ambassador Program).
Not only are the products excellent, but you can rest assured you will get your order safe and sound.
With regard to shipping and returns, store policy indicates a 30-day return period. Upon receiving your item, you have thirty days to request a return (eligible if the item is unopened and unused). As for general shipping, Pure Craft ships throughout the USA, with free shipping on orders over $70.
All things considered, Pure Craft is definitely worth the cost. Not only are the products excellent, but you can rest assured you will get your order safe and sound.
Pure Craft CBD Review: Summary & Where to Buy
Pure Craft is an exceptional CBD brand that for sure will continue to grow and expand in the coming years. As far as buying options, right now the best place to buy Pure Craft CBD is online via the brand's official website.
If you have any additional questions or concerns, be sure to get in touch with us directly. Also, if you have personal experience with Pure Craft CBD or Delta 8 products, feel free to leave a comment below sharing your experience.
Final Verdict: 9/10