Overview
Founded in May 2018, Powered by Nature is a relatively new member in the world of CBD. They encourage self-care and health in the most natural way possible, and allow this via their all-natural CBD products. They offer CBD oils, vitamins, food supplements and skin care products - so they've got you covered in all your wellness-related needs.
Ingredients
Organic extra virgin oil and decarboxylated hemp oil
Recommended use
Place a few drops beneath the tongue, hold for 45 seconds and swallow.
Extraction process
decarboxylation
Medical benefits
We don't make any medical claims – Our products are food supplements, it's not intended to diagnose, treat, cure or prevent any disease.
*All the data provided is for oil products only
Site:
poweredbynature.com
The hemp plant appears to be one of the most versatile on the planet. Before its prohibition, hemp was used to create clothes, paper, and food, among other things. The U.S. Government even asked farmers to grow hemp during World War II when it was supposed to be illegal. The Farm Bill of 2018 finally ended the ban on industrial hemp cultivation; a move that should provide Americans with a slew of benefits.
Hemp seeds are exceedingly nutritious. They are high in Omega-3 and Omega-6 fatty acids, iron, vitamin E, zinc, magnesium, and protein. They could reduce your risk of heart disease, help fight skin disorders, and reduce symptoms of PMS. Companies are also able to extract cannabidiol (CBD) from hemp; a cannabinoid linked with a variety of positive medical benefits.
Powered By Nature is a company that specializes in CBD oil and in today's article, we check out this UK-based firm.
Who are Powered By Nature?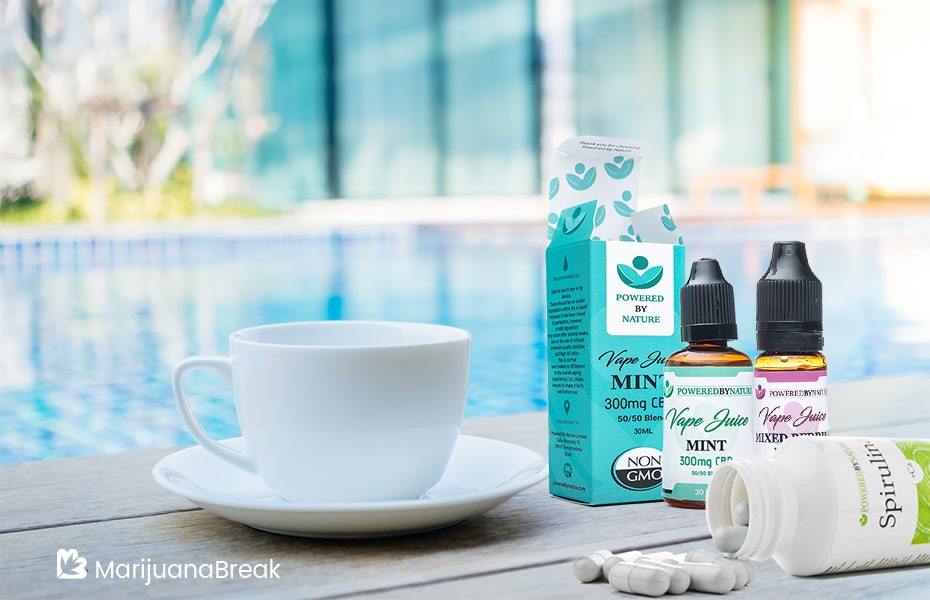 There is no information on who founded the company on the official website, nor could I find any additional details online. All I can tell you is that the brand's HQ is in Bedfordshire, UK. The company's philosophy is that prevention is better than cure which means people need a good diet.
Powered By Nature is dedicated to providing the best CBD oil in Europe. It tests all of its products for heavy metals, contaminants, and solvents. The site contains some information about CBD and promotes the health benefits of hemp. Although there are no lab reports on the site, each batch has a unique number which suggests that Powered By Nature tests every new order of products.
Review of Powered By Nature CBD Oil
The website is nicely laid out, which makes it easy to find what you are looking for. Powered By Nature offers three different CBD oil strengths:
5% CBD Oil (500mg): £26.99
10% CBD Oil (1000mg): £53.99
20% CBD Oil (2000mg): £101
All three strengths come in a bottle that contains 10 ml of liquid. The oil also contains CBG and CBN. Ingredients include decarboxylated hemp oil and organic extra virgin olive oil. There is less than 0.2% THC, and the oil is free from fungicides, herbicides, GMOs, growth hormones, and chemical fertilizers; all pretty standard stuff.
It is marketed as a 'food supplement,' and the oil itself has a refreshingly 'planty' taste. As is the norm with CBD oil, I placed a few drops beneath my tongue, held it for 45 seconds and swallowed. I wasn't expecting fireworks because I know how CBD acts on me at this stage. I felt slightly less anxious about an hour after consumption and had a little more energy.
The oil works, but it is a subtle effect rather than a significant one. One plus is that 2000mg of CBD for £100 is very good value.
Review of Powered By Nature Vitamins
If you are expecting a wide range of CBD products, you are going to be disappointed. Powered By Nature is effectively a health store that happens to sell cannabidiol, rather than being a CBD specialist. They sell a range of vitamins for different needs:
Vitamin D3
You get 300 softgels with 1000 IU of Vitamin D3 for £19.99. This vitamin can help alleviate fatigue, and aid you when trying to deal with the pain of sore muscles or weak bones. It can also help with depression, while also strengthening the immune system and promoting weight loss.
Spirulina
You get 60 capsules of this 'superfood' for £19.99. It is high in iron, copper, and vitamins B1, B2, and B3. With plant-based protein, it may also aid individuals in their muscle gaining quest.
Chlorella
Once again, you 60 get capsules for £19.99. Chlorella is an algae with a blue-green color and is a potent antioxidant. With a wide range of phytonutrients such as chlorophyll, amino acids, potassium, biotin, and beta-carotene, Chlorella is a 'must-have' if you are serious about maintaining good health. It gives your immune system a boost and helps with digestive issues.
Neem
Yet again, you get 60 capsules for £19.99. Neem has been used in South Asian medicine for over 2,000 years, and its leaves contain approximately 130 biologically active compounds. Its list of potential benefits includes better blood circulation, prevention of diabetes; and it is also used to treat gum disease and ulcers.
Review of Powered By Nature Vape Juices
The company does not sell vaporizers, but it does sell CBD vape juices. It offers four flavors:
Mint
Mixed Berries
Watermelon Strawberry
Each 10ml bottle contains 125mg of CBD for just £11.99. I've always been partial to mint, so I was happy to get the refreshing taste I enjoy when I vaporized the vape juice. It worked a lot better than the CBD oil as I felt relaxed and at ease within minutes. The draw is smooth, and the juice produced a decent amount of vapor; although that is down to the quality of your device.
Where Can I Buy Powered By Nature Products?
Take a trip to the official Powered By Nature Shop page on the website. The brand accepts Mastercard, PayPal, and Visa as methods of payment. It ships its orders within 48 hours of payment confirmation and also delivers overseas. You can also avail of a full refund by returning the item(s) within 14 days of the day you received the order. Contact the company and explain the reason why you want a refund.
Final Thoughts on Powered By Nature
Powered By Nature is not a major brand; this is obvious by the lack of information about the company online. A Google search for other customer reviews also revealed nothing, and it is extremely difficult to find any information about the founders. As such, it is something of a 'mystery' company.
That being said, its CBD oil is of reasonable quality and is a good option for those who want to try cannabidiol on a budget. The CBD vape oil is also decent value, and I enjoyed the mint flavor and the ensuing effects. However, it is clear that Powered By Nature is not a CBD specialist although it is a good place to get vitamins you can't find on the high street.
Rating: 7/10
Powered By Nature Pros
CBD oil and vape juice are good value for money.
The site is easy to navigate.
There are hard to find vitamins such as neem readily available.
The mint flavored vape juice has a refreshing taste.
Powered By Nature Cons
Clearly not a CBD specialist.
Exceedingly difficult to find information about the brand.
A relatively small range of products.