Overview
LeafSimply is an American company with a mission of providing the best CBD products on the market. They strive to be trusted leaders in the industry by leveraging customer satisfaction with transparency and quality. They are the makers of a variety of CBD infused items, including gummies, creams, capsules and coffee.
Ingredients
All products are made using proprietary full spectrum hemp oil blend with naturally occurring cannabinoids
Recommended use
Consumers should use as directed by label.
Extraction process
Not listed on site
Medical benefits
Full spectrum CBD contains a variety of essential vitamins, minerals, fatty acids, protein,terpenes and flavonoids that may positively impact overall health.
*All the data provided is for oil products only
In today's hectic world, things can often get a little stressful. Even in the world of CBD, there are now so many companies offering so many different options, it can be hard to cut through the noise and find what's right for you. LeafSimply is here to help prevent and relieve a little of this stress but do it naturally using CBD and hemp products.
In this article, we will look at who LeafSimply is and what this brand brings to the market that sets it apart.
Who Is LeafSimply?
LeafSimply is an American brand with a simple yet valuable mission. It aims to provide the best in CBD products from the most trusted sources available. It doesn't waste time with excessive marketing or writing big pieces about how it wants to change the world.
LeafSimply provides a variety of CBD products, all of which are available on the website. As well as all the standard fare you would expect, such as serums, gummies, oils, and capsules, there are a few more novel options too. These include CBD dog biscuits, and CBD infused coffee. It is a pleasingly wide range of products.
As much as possible, LeafSimply uses full-spectrum CBD. This means you are getting a quality CBD option.
We will take a closer look at some of these products a little later on.
How Good Is the CBD in LeafSimply Products?
The quality of the CBD is something LeafSimply takes real pride in. Most of the products are made with full-spectrum CBD.
This policy of using full-spectrum CBD sets LeafSimply apart from other manufacturers out there. Commonly, other CBD manufacturers provide CBD isolate products. CBD isolate means the items contain CBD and CBD only.
Full-spectrum CBD is different because it includes a varied range of cannabinoids naturally present in hemp and cannabis plants. As well as CBD, you also get a mix of other goodies too. These include essential vitamins, fatty acids, chlorophyll, flavonoids, minerals, protein, terpenes, and fiber.
In full-spectrum CBD, all of these combine and work together to produce an entourage effect on your body. All of the cannabinoids can provide a more significant beneficial impact than CBD alone.
Could a product containing full-spectrum CBD get you into trouble with the law, though? We cover this in our next section.
Are LeafSimply Products Legal?
All LeafSimply products are legal in all 50 states throughout the USA. They abide by all of the USA's State and Federal laws and guidelines.
Although LeafSimply products contain full-spectrum CBD, they contain less than 0.01% THC. Minimal THC means LeafSimply products are fully legal in every state, even those where marijuana is still illegal.
THC is the psychoactive ingredient in cannabis which makes users feel "high." As LeafSimply products do not contain THC, they will not get you high.
LeafSimply is only interested in promoting health and wellbeing.
Where Can I Buy LeafSimply Products?
LeafSimply does not currently have a physical retail store. The only place you can get the products at the moment is on the website.
It is easy to use the website. All you do is go on, make your selection, enter your details, and place your order. LeafSimply lives up to its name and keeps it very simple.
As stated previously, due to the products containing no THC, they are legal across every state. Therefore, LeafSimply offers shipping everywhere in the US. It also offers free shipping within the US for orders over $50.
Currently, LeafSimply mainly caters to its home US market. If you live outside of the US, it may not be able to deliver to you. The brand recommends you contact them to see if they can arrange to ship to your country.
The website also has the option to set up an automatically repeating order. This feature is fantastic because it means you will never have to worry about running out of CBD again. Set up a recurring order and then let LeafSimply do all of the hard work for you.
So that's how you buy LeafSimply's CBD offerings. Let's have a little look at a few of them now.
LeafSimply 750 mg CBD Capsules
LeafSimply has created these capsules for those who want their CBD easily and with no frills. These are gels capsules made with vegetable oil and CBD extracted from sterilized hemp plants.
They look like any other standard pill and are easy to swallow. There's no hemp taste and no gummy sugar rush – just simple CBD goodness.
The capsules are quick acting too. LeafSimply claims that you should begin to feel the effect as little as an hour after ingesting.
Each container comes with 30 capsules. The capsules have 25mg of Proprietary CBD HEMP blend in each, giving a total of 750mg of CBD in every bottle.
LeafSimply says to use these as a dietary supplement. The brand claims they will help with stress, inflammation, and anxiety. They could potentially be of benefit to a whole host of other problems, as CBD has a wide range of possible uses.
The containers retail currently at $49.99 each. LeafSimply recommends that one capsule equals one serving, and you take one serving a day. If you stick with these suggested serving sizes, each container will see you through a month, offering exceptional value.
LeafSimply "Splash" CBD infused coffee
Coffee is the morning essential for most people. I know I can't function right until I have had that first cup of Joe. LeafSimply's CBD-infused coffee lets you make that first sip on a morning even better. Not only are you getting your morning caffeine hit, but you are also getting your CBD intake too.
It's not rubbish coffee either. It originates from Latin America, so you know LeafSimply isn't playing you for a mug. LeafSimply also has decaf options available too.
Each bag is eight ounces and is infused with 300mg of full-spectrum CBD oil. The recommended serving size is 5.5g per cup giving a total of 40 servings per pack. With a retail price of $35.00, that is fantastic value.
A way to wake you up while making you feel more at ease and healthier? Sign me up!
LeafSimply "CBDoggy" Dog Biscuits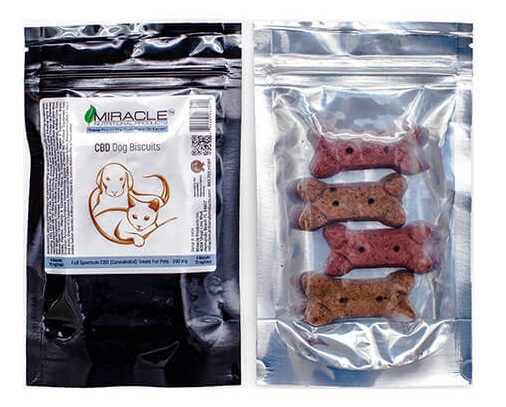 For anyone with a pet, you know they are part of the family. Therefore, you want them to share in the benefits of CBD, too. That's why LeafSimply has produced its CBDoggy Dog biscuits.
Each biscuit contains 75mg of full-spectrum CBD oil and comes in packs of four biscuits. LeafSimply recommends that you only serve your pet one biscuit at a time. Each packet costs $21.99.
Not only are these biscuits a tasty snack for your furry friend, but they should help reduce your pet's anxiety too. Maybe your dog gets separation anxiety or doesn't like visiting new places. If so, these biscuits could be just the trick in helping them calm down.
How Expensive Are LeafSimply Products?
LeafSimply has a good range of products at different price points. Its human-focused CBD offerings start from as low as $27.99 for a packet of CBD gummies.
Going up from there it has a variety of different options at different prices including PT Hemp Pain Cream, CBD Pressed Pills and CBD Capsules all priced at $49.99. There really is something for every budget.
What's more, if you follow the recommended serving sizes, a lot of packs will easily see you through a full month at least. LeafSimply offers great value for money.
Final Thoughts on LeafSimply
Overall, LeafSimply seems like a great brand. It doesn't waste money and energy on marketing. It would rather let its excellent products do the talking.
It has a brilliant range of high-quality CBD and hemp-based products for you to choose from. These come at several different prices meaning anyone can try CBD no matter what your budget.
We love the option of setting up an automatically recurring order. This is a great innovation and takes all of the worries out of getting your CBD. It really does let you live simpler.
The only major drawback we can find is that LeafSimply mainly caters to a US audience. It may not be possible to get these products worldwide. That is a shame because goods of this quality should be available for everyone.
LeafSimply keeps it simple. They want you to have the very best in CBD from a brand you can trust.
This article should help you understand LeafSimply a little better. Now go and check out the website for yourself!