Overview
GoGreen Hemp is a wellness brand offering a wide range of hemp-derived CBD products. The hemp is sourced from federally compliant Colorado farms, and the company is committed to using all-natural ingredients in its products. Their formulas are broad-spectrum and completely THC-free.
Ingredients
Broad-spectrum CBD, MCT oil
Recommended use
Place a few drops of the tincture oil under your tongue and wait 20 - 30 seconds before swallowing.
Extraction process
Supercritical CO2 extraction
*All the data provided is for oil products only
GoGreen Hemp CBD: Quick Summary
PROS
Full manufacturing process detailed on the website
Double extraction process; CO2 extraction and liquid chromatography
Nanoemulsion technology used for CBD oils and softgels
Helping hand program entities those in need to a 20% discount
Lab reports are published on the site and are up-to-date
CONS
Products are not certified organic
All products are broad-spectrum
The branding is a little dull and uninspired
GoGreen Hemp CBD Review
Founded in 2016, GoGreen Hemp is one of the early CBD brands and appears to have established a good reputation in the wellness community. Surprisingly, though, they have not reached the same level of notoriety as many other prominent brands. Currently, GoGreen only has about 2,000 followers on Instagram, which is not what we expect from top brands.
Perhaps this is because they focus all of their efforts on creating top-quality products. Rather than wasting resources on marketing, GoGreen lets its CBD creations speak for themselves. As the saying goes, "actions speak louder than words." On that note, we also find the branding to be a little dull and uninspired.
GoGreen ticks just about all the boxes when it comes to things you want to see from a CBD brand.
Marketing and aesthetics aside, GoGreen ticks just about all the boxes when it comes to things you want to see from a CBD brand. They excel in the area of transparency, giving customers tons of information pertaining to processes and products. You can find a very detailed overview of the entire manufacturing process on the company website.
From its processing and extraction techniques to what goes into its products, GoGreen Hemp CBD discloses everything. In the largely unregulated CBD market, this is a respectable stance to take.
Finally, GoGreen has been featured on numerous high-profile publications, including BuzzFeed and Healthline, and seems to have built a solid reputation for quality and transparency.
Hemp Source and Manufacturing Process
GoGreen says that all its products are made from organic Colorado-grown hemp. After harvest, the hemp is dried and stored in a warehouse until needed for production. When production starts, a batch of hemp is milled into a coarse powder and sent to the company's Colorado-based extraction and manufacturing facility.
A double extraction method is used, which involves CO2 extraction and a liquid chromatography process to remove THC and other unwanted substances. CO2 extraction is the gold standard in the CBD industry and is widely believed to result in the highest-quality end product.
GoGreen claims that its double extraction process ensures that all broad-spectrum properties are retained (phytocannabinoids and terpenes), while THC, wax, chlorophyll, and plant pigments are eliminated. Moreover, no harsh chemicals or solvents are used in the extraction process.
The brand's nano tinctures and softgels are put through an additional processing step. Nanoemulsion technology is used to break CBD molecules down, thereby making them more water-soluble. Nano-technology enhances the bioavailability of CBD, meaning that nano-CBD products hit faster and harder.
There are several other CBD brands that use nano-technology to enhance the effects of their products. However, GoGreen claims that it offers the most bioavailable broad-spectrum CBD in the market because its nano particles are smaller. Reportedly, the typical size is between 100 to 1000 nanometers, while GoGreen Hemp's particles are 25. Smaller particles result in enhanced absorption and improved bioavailability.
We're not sure how accurate GoGreen's findings are regarding particle size, but they seem to have gone to great lengths to ensure that their nano-CBD products are superior.
GoGreen Hemp CBD: What Products Are on Offer?
GoGreen Hemp has a large range of CBD products, including oils, gummies, softgels, topicals, and more. The company claims to use all-natural ingredients; however, some products contain artificial flavors, which some may find objectionable. You can find a full list of ingredients under each product description on the website.
GoGreen sends each product batch to an independent laboratory to verify purity and potency. The lab reports are available for customers to view on the site and are up-to-date, with the latest testing conducted over the last few months.
See a full overview of the products on offer below.
GoGreen Hemp Oil Tincture Drops
GoGreen's hemp oil tincture is available in three flavors: Natural, Peppermint, and Orange. Moreover, there are four potency options, 300mg, 510mg, 1,020mg ,and 2,040mg. The labeling is a little unusual since most brands would round this off to 500, 1,000, and 2,000mg. Even so, we find it kind of refreshing that GoGreen is so specific. This practice aligns with their commitment to transparency.
Alongside the regular tinctures, the company also sells CBD nano oil with a strength of 250mg. This one is available in an unflavored and caramel flavor. The taste is apparently potent, so the brand recommends pairing its nano oil with a drink of your choice, like coffee or juice.
GoGreen Hemp Topicals
The topical line is designed to provide superior targeted external relief. Here is an overview of each topical and its respective strength:
CBD Stick (1,000mg)
CBD Balm Salve Scented (500mg, 1,000mg, 2,000mg, and 4,000mg)
CBD-Infused Freeze Roll-On (150mg)
CBD-Infused Heat Roll-On (150mg)
Organic CBD Massage Oil (250mg, 1,000mg, and 4,000mg)
CBD Lip Balm (35mg)
CBD Balm Salve Unscented (250mg)
Transdermal CBD Pain Relief (50mg)
Based on customer reviews, the most popular product in this category seems to be the scented CBD Balm Salve. It comes in two scents and four strengths. There is a Eucalyptus & Lavender option, which comes in all four strengths. There is also a terpene blend (Calming Purple), but this one only comes in a 500mg and 1,000mg strength.
GoGreen Hemp Softgels
GoGreen claims that its capsules are absorbed into the body twice as fast and efficiently as leading competitors. However, they neglect to mention how and there is no evidence to back up this claim.
There are four softgel varieties. Regular capsules are available in a potency of 10mg and 25mg per softgel in a 30-count bottle. Additionally, the 25mg potency is also available in both a curcumin and melatonin blend. Curcumin is known for its anti-inflammatory and antioxidant properties, while melatonin helps with sleep.
It's worth mentioning that these capsules are made with bovine-derived gelatin, meaning they are not vegan-friendly. Even so, it's a great product boasting tons of positive reviews on the website.
GoGreen Hemp Gummies
CBD gummies are one of the customer favorites at GoGreen, and they are available in six varieties. There are two strength options: 200mg and 500mg.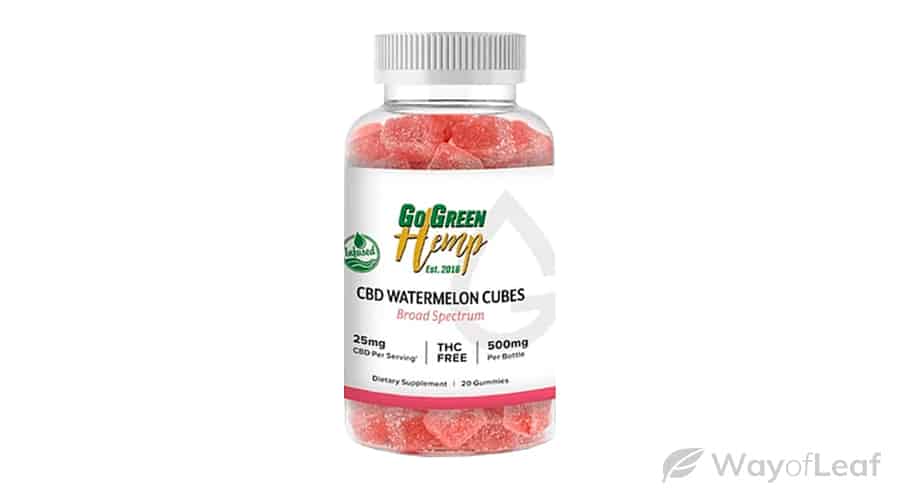 The 200mg gummies come in four varieties: Relief Bears, Sour Relief Bears, Fruity Chews, and Vegan Sour Drops. Each is sold in a 20-count quantity with 10mg of CBD per gummy. The 500mg gummies are available in two varieties; Peach Rings and Watermelon Cubes. They also come in a 20-count quantity with 25mg of CBD per gummy.
It's nice to see a wide range of gummies on offer since it gives customers a lot of choices regarding flavor and potency. Plus, there is a vegan-friendly option.
GoGreen Hemp: Other Products
In addition to the line of products mentioned above, GoGreen Hemp also offers a CBD skincare range and pet range.
The skincare range includes a CBD face mask (10mg), CBD Cream Replenishing Moisturizer (150mg), and CBD Bath Bomb (10mg).
The CBD pet line consists of dog treats, CBD oil for cats and dogs, and CBD horse pellets. Be sure to check out the website for a full look at what they have to offer for your beloved furry friend.
GoGreen Hemp CBD: Customer Reviews
There are tons of CBD companies, but not all CBD products are created equally. Therefore, it's important to check third-party review sites before purchasing to see feedback given by customers.
GoGreen Hemp is featured on TrustSpot and has an overall rating of 4.7 stars. TrustSpot is one of the top independent review sites and only allows customers who have made a real transaction to leave a review. Plus, negative reviews are never deleted. Therefore you know you can trust what you read on the platform.
Customer feedback is overwhelmingly positive, citing product efficacy, customer service, and fast shipping.
There are a total of 780 reviews for GoGreen on TrustSpot, and 9 out of 10 customers say they would recommend the company. Feedback is overwhelmingly positive, citing product efficacy, customer service, and fast shipping as reasons for rave reviews.
GoGreen Hemp CBD Review: Summary & Where to Buy
GoGreen Hemp CBD has been around for a few years now and has established a place in the market as a reputable brand committed to providing high-quality products. The company exceeds expectations when it comes to transparency and details everything there is to know about the production process and ingredients used.
Strangely, they don't have a huge presence on social media, and the last time they posted on Instagram was in March 2021. While this isn't a huge issue, it's always nice to see brands engaging with their customer base; this is definitely an area GoGreen could improve in.
You can purchase GoGreen's products via the company's online store. It's easy to navigate, and they offer free shipping on all U.S orders, which is a huge plus. If you experience any issues, there is a pop-up chat messenger option on the site, or you can submit an inquiry via the online contact form.
Final Verdict: 8/10