Overview
Galactic Hemp is an American based company located in West Virginia. They strive to make outstanding CBD with superior grade industrial hemp. Their array of CBD-infused products are processed with care and are third-party tested.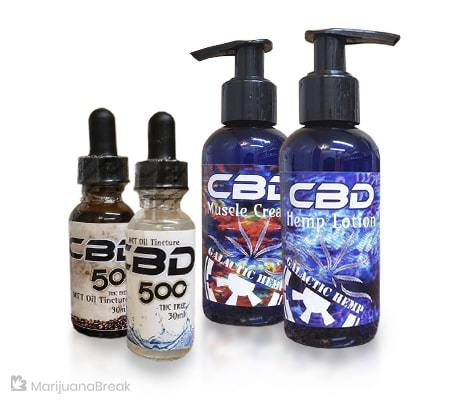 Ingredients
Organic MCT Coconut Oil, pure CBD isolate derived from hemp
Recommended use
Not listed on site
Extraction process
Not listed on site
Medical benefits
Due to FDA regulations we cannot make medical claims. We encourage you to discuss the benefits of hemp oil with your physician or healthcare practitioner.
*All the data provided is for oil products only
With industrial hemp legal to grow in the United States, the CBD market is set to continue its remarkable growth. Cannabidiol is the primary non-intoxicating cannabinoid in both hemp and marijuana. However, at present, it is only legal to grow the former as CBD taken from the latter remains illegal.
If you live in Idaho, make sure the CBD you look for online contains 0.0% THC. Otherwise, you are breaking the law. In Nebraska and South Dakota, you are currently unable to buy CBD legally. Even so, with 47 American states, the whole of Canada, and European nations like the United Kingdom to choose from, CBD sellers have a vast market.
The proliferation of CBD suppliers means prospective customers must keep their eyes open to avoid dodgy companies. The safest thing to do is to check out some top CBD company lists. You'll discover brands like Pure Kana, Premium Jane, Provocan, Green Roads, and Elixinol on most of these lists.
Therefore, it is tough for brands such as Galactic Hemp to make a dent. Let's see if this new CBD company has what it takes to mix it with the big boys.
Who is Galactic Hemp?
As is the case with so many CBD brands, there is little or no relevant information on the website. In fact, Galactic Hemp doesn't even have a dedicated About Us page! It says that the company was formed to provide affordable, legal, quality CBD products. Galactic Hemp claims that all of the product lines are naturally organic, and either manually processed industrial hemp or hemp extracts grown in the United States.
The brand says it meets the provisions of the 2018 Agricultural Act, and all products are sold legally under WV Code 19-12E-4. The products are free from GMOs, pesticides, and are subject to third-party testing. You will find details of the third-party lab reports at the bottom of the site's FAQ section. The Certificates of Analysis come from EVIO Labs, a company based in Washington state.
Galactic Hemp has a Facebook page with only 62 'likes' and 62 'followers' at the time of writing. This low interest rate is hardly a surprise since the last entry was on 25 April 2019! The entry previous to that was in May 2018. In an age where a social media presence is so important, it is surprising to see this brand fail to update its Facebook page.
The website doesn't spell out where the brand comes from, but the WV Code is a clue as it relates to the state of West Virginia. Galactic Hemp offers products to Wholesalers and also has a dealer program where the brand invites shop owners to sell their CBD products. In any case, let's see if Galactic Hemp is a rough diamond or an also-ran.
Review of Galactic Hemp's Beauty Products
What's bizarre is that the brand's CBD oil tincture 500 is in its 'beauty products' section! As the name suggests, there is 500mg of pure 99.5% CBD isolate in each 30ml bottle. It is rather expensive at $69.95 and comes in Naked and Coffee flavors. Organic MCT coconut oil is the 'carrier' oil.
Research seems to indicate that cannabinoids work better together rather than in isolation, as per the entourage effect, so it is debatable whether CBD isolate is the best option for treating conditions such as anxiety and chronic pain. It is also unusual that there are no customer reviews for this product at present; especially since the company's Facebook page indicates that it was founded in 2018 (although the bottom of the website says Copyright 2019).
The CBD-Infused Hemp Lotion contains 300mg of the 99.5% CBD isolate for $34.99 in a 3.4 oz pump-action bottle. It contains vitamins and essential fatty acids and is free from parabens and phthalates. The lotion is also suitable for vegans. It is a topical cream suitable for face and body. With ingredients such as organic coconut oil typically found in beauty products, it is essentially a beauty cream with added CBD.
The CBD-Infused Muscle Crème costs $39.99 for 300mg of CBD and is designed to help ease aching muscles. Apply it to tight muscles and allow the properties of CBD, eucalyptus, arnica, and chamomile to help you feel relaxed.
Review of Galactic Hemp's Smokable Products
While most CBD brands focus on oils and vape cartridges, Galactic Hemp will appeal to user's intent on enjoying the 'experience' of smoking a joint, even if it doesn't provide an intoxicating high. As such, this brand sells ground flower designed for smoking in a joint, bowl, blunt, or a vaporizer.
The Galactic Hemp Signature Series is the company's unique twist on the marijuana plant. The brand has taken a host of popular cannabis strains and 'flipped' the THC and CBD. The result is bud that contains less than 0.3% THC, and ample CBD. The Signature Series has five options:
Overall, each strain contains 0.27% THC and 16.97% CBD. You also have five product options no matter which one of the five flavors you opt for:
1 Gram: $16
1 Pre-Rolled Cone: $16
2 King-Sized Hemp Cigarettes CBD Trainwreck: $20
3.5 Grams: $36
7 Grams: $56
There is also a cannabis flower range available in three strain options:
Each one contains 0.3% THC and approximately 14.45% CBD. Galactic Hemp warns customers that this product might not be legal in all 50 states. As we've already ascertained, however, this is the case for all CBD products. There are four size options:
1 Gram: $16
5 Grams: $36
7 Grams: $56
Pre-Rolled: $16
Galactic Hemp claims that its Pre-Rolled Black Widow product contains the highest level of CBD in the world with 31.12% against less than 0.3% THC. Each cone contains 1.3 grams of flower, which means you get 400mg of CBD per cone for $28.99.
The final product on offer is dried flower which comes in the following strains:
Sour Diesel
Grape Ape
Blue Cheese
OG Kush
Cherry Bomb
Trainwreck
Blueberry
Wild Berry
Black Widow (3.5 grams only)
Aside from Black Widow, you have the option of buying 3.5 or 7 grams for $38 and $58 respectively. Black Widow costs $60 for 3.5 grams.
Where Can I Purchase Galactic Hemp Products?
There is no information about returns on the website, although shipping appears to be free. You can also avail of a 10% discount on your first purchase when you subscribe to the brand's newsletter. The company seems more concerned with aligning itself with wholesalers and e-commerce sites. Those who avail of the Dealer Program receive a commission for selling Galactic Hemp products.
Final Thoughts on Galactic Hemp
There is a dearth of information about the Galactic Hemp brand. It was probably founded in 2018 and may operate out of West Virginia. Aside from that, we were unable to find information on the founders. It claims to provide CBD products derived from organic hemp, and the third-party lab testing offers a degree of credibility.
Unlike many CBD brands which focus on oils and tinctures, Galactic Hemp is best if you want to smoke your CBD. Overall, while there are a few positive reviews from verified buyers online, it is hard to wholeheartedly recommend a brand shrouded in mystery when there are ample reputable CBD sellers to choose from.
Galactic Hemp Pros
Third-party lab reports easily accessible.
Offers high-CBD smokable products which set it apart from many brands.
Appears to offer free shipping.
The Black Widow option has over 30% CBD, apparently a world record.
Galactic Hemp Cons
Very little information about the company or its founders online.
Minimal social media presence.
Offers only one CBD oil option, which is expensive.