CBD oils have become very popular within the healthcare market. But little regulation means the quality of these products can vary, and many people still struggle to spot the warning signs of a low-quality CBD oil.
This article will highlight ten traps to avoid when buying CBD oil. First, though, here is a quick overview for those new to CBD.
What Is CBD?
Cannabidiol (CBD) is one of the most well-known cannabinoids in the cannabis plant. CBD primarily exerts its effects by interacting with the body's endocannabinoid system, but unlike THC, it does not cause a high.
CBD's potential benefits are still under investigation by researchers. However, we now understand that our bodies have receptors, i.e., CB1 and CB2 receptors, that interact with phytocannabinoids from the cannabis plant via the endocannabinoid system.
CB1 receptors are located all over the body, but the majority are found in the brain. CB1 receptors are involved in several functions that work to maintain homeostasis in the body. They affect our response to novel experiences, the movement of our gastrointestinal system, and our blood pressure, among other areas.
CB2 receptors are affiliated with the immune system. They primarily affect inflammation and pain. It was once thought that CBD acted directly on the CB2 receptors. However, we now know that it doesn't directly act on these receptors.
To benefit from CBD, you must buy quality CBD oil. But before we explain the ten traps to avoid when purchasing CBD oil, it's essential to understand the difference between CBD oil and hemp oil.
What About CBD Oil?
It's important to understand that CBD can be derived from either hemp or marijuana. CBD brands cannot sell marijuana-derived CBD oil in states where cannabis is illegal. It requires a recommendation from a medical marijuana doctor, and patients need to obtain a verified medical marijuana card before purchasing CBD oil unless they reside in a state that allows recreational cannabis.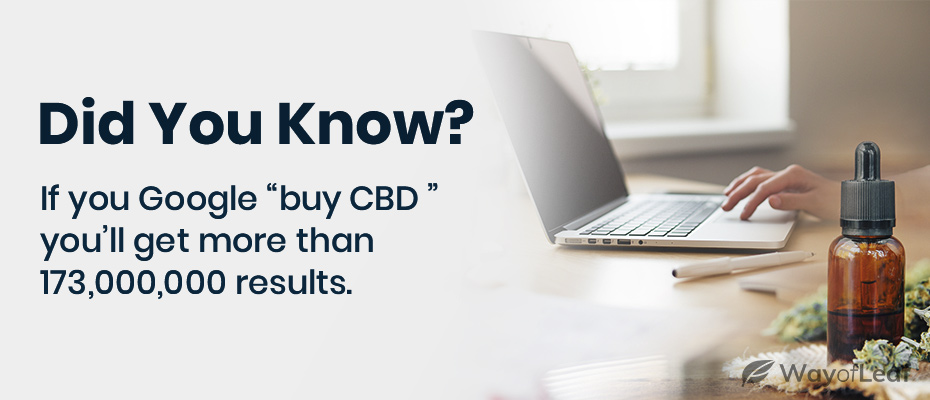 Marijuana-derived CBD oil tends to contain higher levels of CBD, which can range anywhere from 2% to 99.9%, depending on the product, purity, and source. If you cannot obtain marijuana-derived CBD oil and the medical recommendation that often is tied with it, there is another option: hemp-derived CBD.
Hemp-derived CBD oil by law contains less than 0.3% THC and is available throughout most states. There are some incredible hemp-derived CBD oil producers in the world, so you'll need to shop around for one that you feel would be an excellent fit.
What Is Hemp Oil?
It is important to note that hemp oil and hemp seed oil are two different things. Hemp seed oil, naturally, comes from the plant's seeds, and these oils are often confused with hemp-derived CBD oil.
Hemp seed oil is not the same as hemp-derived CBD oil, be wary of companies trying to mislead you.
Hemp oil contains several vitamins and minerals for better health and contains significant amounts of Omega-3 fatty acids, vitamins, and amino acids. It does not, however, contain CBD or any other cannabinoid.
For marketing purposes, some companies choose to label their CBD products as 'hemp oils' or 'hemp extract oils.' To confirm that these products are CBD oils and not hemp seed oils, make sure you ask to see a lab report that verifies its CBD content. For the record, often, other phytocannabinoids like cannabigerol (CBG), cannabichromene (CBC), cannabinol (CBN), and cannabidivarin (CBDV) will be present along with CBD.
Why Buy CBD Oil?
CBD Oil comes in all shapes and sizes. Furthermore, there are dozens of companies selling CBD oil in one form or another. These companies include:
These brands sell hemp-derived CBD oil and provide independent third-party lab reports that verify their safety and purity.
Without further ado, here are ten traps to look out for when purchasing CBD oil.
Traps to Avoid When Buying CBD Oil Online
Trap #1 – Watch Out for Low CBD Oil Prices
So many companies are now selling CBD oil that it's hard to know the good from the bad. Go online and search "buy CBD oil online," and you'll get millions of results.
Naturally, we tend to go for the lowest prices when purchasing anything. However, in this case, low-priced CBD oil will likely mean a low concentration of CBD, and you'll most likely be throwing your money away.
Trap #2 – There Are Different Types of CBD Oil on the Market
Bear in mind that there are different types of CBD oil on the market. As well as CBD, full-spectrum CBD oil contains a small amount of THC (0.3% or less). Furthermore, full-spectrum CBD oil contains all cannabinoids from the raw plant material, plus terpenes, fatty acids, and flavonoids.
Broad-Spectrum CBD oil contains various cannabis compounds, but manufacturers remove all of the THC from the oil.
Next, is CBD isolate, which comes in a powder or crystalline solid form. It contains upwards of 99% pure CBD, and the manufacturers remove all of the other compounds, including the THC.
Trap #3 – Poor Extraction Methods
The most important thing to consider when buying CBD oil is to understand what you are getting. It's essential to check that the hemp or cannabis used is organic and certified and that the extraction method delivers the best possible product.
Supercritical CO2 extraction is the industry gold standard and is widely regarded as the cleanest method to extract the CBD and terpenes from the hemp plant material.
Trap #4 – Lack of Lab Testing of CBD Oil
Once the manufacturing process is complete, reputable CBD companies send samples from each production batch to independent, unaffiliated, third-party labs for testing. The test results allow consumers to see exactly what the CBD oil does and, just as importantly, does not contain.
When deciding on which CBD oil to buy, always choose a brand that provides third-party lab reports. You will find links to the lab report on the company's website, usually on the product page itself.
Trap #5 – Lack of Transparency
Before you go and buy CBD oil with any online provider, it's always best to check the fine print on the seller's website. A reliable and trustworthy manufacturer will have no problems disclosing their products' exact ingredients and their lab tests. You don't have to be a pharmacist to understand them, but the fact that they are willing to show you the results means that they stand behind the quality of their products.
Trap #6 – Look Into Every Aspect of the Company Before Buying
Look for companies that are transparent about every aspect of their business. Important questions to ask yourself when evaluating a CBD company include:
Where do they source their hemp from? – Look for CBD companies that use organically-grown hemp, free from harmful pesticides.
What extraction method do they use? – Do they use solvents like butane to extract the CBD, where there is a risk that the oil might contain residual, trace amounts of the substance? Or, is the company using CO2 extraction, which is the industry gold-standard?
Do they provide third-party lab reports? – We've highlighted the importance of lab reports for demonstrating product safety and quality. Without a Certificate of Analysis from a third-party lab, you are solely reliant on the claims of the CBD company alone, which operates in an unregulated, and highly competitive market.
What do the customer reviews tell you about the quality of the products on offer? – Customer reviews allow you to read about other people's experiences using the product. The greater the number of positive customer reviews, the more confident you can be about the quality and safety of a particular CBD product.
Trap #7 – Not Everything Advertised May Be What It Seems
In an unregulated CBD market, some less than reputable brands are offering products that contain no CBD whatsoever or at least less than what they are advertising. Again, this is where the importance of third-party lab reports comes in as they provide independent data showing exactly how many milligrams of CBD each product contains.
Trap #8 – Not All CBD Companies Care About Dosage
The cost of a CBD product is typically based on the amount of CBD that it contains. However, when you shop around, you'll notice that some companies are charging top dollar for products that contain very little CBD.
When comparing different CBD products before purchasing, look at the amount of CBD per serving (which will be listed in milligrams per serving, per dose, etc.) and the product's total CBD content. You will be able to compare these figures to the other CBD products on your shortlist to determine which product has the highest CBD content and offers the best value for money.
Of course, always look for a third-party lab report verifying that what is advertised matches what the product actually contains.
Trap #9 – Look for Products Low in THC or THC-Free
Earlier, we highlighted the three different types of CBD oils available on the market. While a CBD isolate and a broad-spectrum CBD oil are THC-free, a full-spectrum oil contains a small amount of THC.
Under the 2018 Farm Bill, the maximum legal limit of THC that a full-spectrum CBD product can contain is 0.3%. Again, a third-party lab report is the best way to verify that the product contains no more than 0.3% THC.
With a full-spectrum CBD oil, consumers can potentially benefit from the synergistic combination of the hemp plants cannabinoids and terpenes – a phenomenon known as the entourage effect. However, if you are looking for a THC-free CBD oil, opt for a broad-spectrum or CBD isolate product instead.
Trap #10 – What Works for Some Might Not Be Best for You
Not everyone who consumes CBD oil will experience the exact same effects. Furthermore, some people will require a higher dose than others to achieve the desired result.
When it comes to CBD dosing, most brands advise beginning with a small amount before gradually increasing if necessary. If you are unsure about where to start, speak with your doctor or a pharmacist before consuming CBD oil.
Furthermore, it is important to note that CBD can interact with certain medications. If you are currently taking any prescription medications, consult with your physician to ensure that it is safe for you to consume CBD oil.
Where to Buy CBD Oil
If you are wondering about where to buy CBD oil, then the good news is you have lots of options. Avoiding the ten traps listed in this article will help you navigate through the many online and offline options.
Let's look at the online CBD marketplace first.
Buy CBD Oil Online
The sheer number of CBD companies operating online is enough to make your head spin. While it can seem like you are spoilt for choice, not all online CBD companies provide high-quality CBD oils or products.
Remember, when you go to buy CBD oil online, look out for CBD companies that:
Provide third-party lab results
Use organically-grown hemp
Use CO2 extraction
Have many positive customer reviews
Two market-leading online brands that meet all these criteria are Purekana and Premium Jane. They have an extensive range of high-quality CBD-based products available on their respective websites.
Buy CBD Oil Offline
It's true that you can also buy CBD oil offline. For example, you will find CBD oil and a limited amount of other CBD-based products in many different health food stores. However, when it comes to buying CBD oil offline versus online, you simply do not have the same level of choice offline. The reason for this is that brick-and-mortar stores have limited shelf space.
If you plan on buying CBD oil offline in a store, we strongly recommend that you research the brand beforehand. Following the advice in this article will help you determine whether it is worth parting with your hard-earned money.
Where to Buy CBD Oil Online
CBD oil is paving a path for a new era of human health and wellness, and hemp-derived CBD is widely available online and offline.
Remember, when you buy CBD online, always choose a brand that provides third-party lab results that verify the product's quality and safety.
Below we have provided a list of high-quality CBD oils from some of the best CBD brands in the industry.