Extracts of the cannabis plant are proving to be effective in managing numerous medical conditions and their symptoms. It's believed that these benefits are due to the cannabinoid known as CBD (cannabidiol).
Because of this, products like CBD oils have become very popular within the healthcare market. But little regulation means the quality of these products can vary, and many people still struggle to spot the warning signs of a poorly-made oil.
Keep reading to learn about 5 traps you can avoid when purchasing a CBD oil.
What Is the Cannabis Cannabinoid CBD?
CBD (cannabidiol) is one of the most well-known chemicals in the cannabis plant. Yet unlike its counterpart, THC, CBD will not get you stoned. Similar to all cannabinoids, CBD primarily exerts its effect through the endocannabinoid system.
CBD's effects on the body are still under investigation by researchers. However, we now understand that our bodies produce cannabinoids and have receptors for those cannabinoids: CB1 receptors and CB2 receptors.
CB1 receptors are located all over the body, but the majority of them are found in the brain. The CB1 receptors are in charge of several functions in maintaining homeostasis in the body. They affect our response to novel experiences, the movement of our gastrointestinal system, and our blood pressure, among other areas.
CB2 receptors are more related to the immune system. They primarily affect inflammation and pain. It was once thought that CBD acted directly on the CB2 receptors. However, we now know that it doesn't directly act on the receptors.
Now to get the benefits of CBD, it's imperative that you buy quality CBD oil. But before we explain the 5 traps to avoid when purchasing CBD oil, it's essential to understand the difference between CBD oil and hemp oil.
What About CBD Oil?
 It's first of all important to understand that CBD can be derived from either hemp or marijuana.  Marijuana-derived CBD oil cannot be sold in every state and in states where cannabis is illegal. It requires a recommendation from a medical marijuana doctor. This requires patients to obtain a verified medical marijuana card prior to purchasing CBD oil. That is unless you happen to reside in a state that allows recreational cannabis.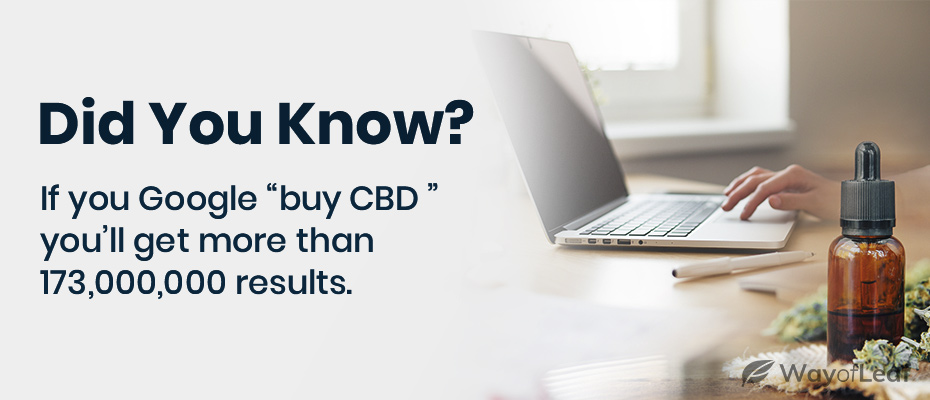 Marijuana-derived CBD oil tends to contain higher levels of CBD, which can range anywhere from 2% to 99.9% depending on the product, purity, and source. If you cannot receive marijuana-derived CBD oil, and the medical recommendation that often is tied with it, there is another option: hemp-derived CBD
Hemp-derived CBD oil by law contains less than 0.3% THC and is available throughout most states. There are quite a number of incredible hemp-derived CBD oil producers in the world, so you'll need to shop around for one that you feel would be an excellent fit.
What Is Hemp Oil?
Hemp oil and hemp seed oil are two different things. Hemp seed oil, naturally, comes from the seeds of the plant. These oils can often be confused with hemp-derived CBD oil, when in fact, the two are quite different from one another.
Hemp seed oil is not the same as hemp-derived CBD oil, be wary of companies trying to mislead you.
It also contains several vitamins and minerals for better health and contains robust amounts of Omega-3 fatty acids, vitamins, chlorophyll, and amino acids. It does not, however, contain cannabinoids.
For marketing purposes, some companies choose to label their CBD products as 'hemp oils' or 'hemp extract oils.' To confirm that these products are CBD oils and not hemp seed oils, make sure you ask to see a lab report that verifies CBD content. Often, other phytocannabinoids like cannabigerol (CBG), cannabichromene (CBC), cannabinol (CBN), and cannabidivarin (CBDV) will be present along with the CBD content.
Why Buy CBD Oil?
CBD Oil comes in all shapes and sizes. Furthermore, there are dozens of companies selling CBD oil in one form or another. These companies include:
PureKana
GreenWorldsRoads
Elixinol
Endoca
Charlotte's Web
All of these brands sell hemp-derived CBD oil, so you'll be able to purchase from them with minimal hassle. While all of these companies are trustworthy and reliable, it is still important to watch out for these 5 traps when purchasing CBD oil.
Traps to Avoid When Buying CBD Oil Online
Trap #1 – Watch Out for Low CBD Oil Prices
There are so many companies now selling CBD oil that it's hard to know the good from the bad. Go online and search "buy CBD oil online," and you'll get thousands of results. Naturally, we tend to go for the lowest prices when purchasing anything. However, in this case, low priced CBD oil will probably mean a low concentration of CBD, and you'll most likely be throwing your money away.
Trap #2 – There are Different Categories of CBD Oil on the Market
Bear in mind that there are different categories of CBD oil on the market. Full-Spectrum CBD oil contains more than just CBD. Manufacturers retain all cannabinoids from the raw plant material, as well as terpenes, fatty acids, flavonoids, and other plant material. Broad-Spectrum CBD oil contains a variety of cannabis compounds, but significantly, the manufacturers have removed all THC from the oil. Next, there is CBD isolate, which comes in a powder or crystalline solid form. It contains upwards of 99% pure CBD. Importantly, the manufacturers have removed all other compounds.
Trap #3 – Poor Extraction Methods
The most important thing to take into consideration when buying CBD oil is to understand what you are getting. It's essential to make sure that the manufacturer of the CBD oil is a highly skilled formulator. It's important to check that the hemp or cannabis used is organic and certified and that the extraction method delivers the best possible product.
The technique of CO2 extraction allows the manufacturer to capture CO2 in a liquid state and efficiently draw the CBD and terpenes from the plant.
Trap #4 – Lack of Lab Testing of CBD Oil
Once the extraction is complete, it is vital that the company uses a third-party lab to test raw compounds. This guarantees that you are getting an unbiased opinion of the quality and purity of the CBD oil from a third-party lab.
Trap #5 – Lack of Transparency
Before you go and buy CBD oil with any online provider, it's always best to check the fine print on the seller's website. A reliable and trustworthy manufacturer will have no problems disclosing the exact ingredients of their products and also their lab tests. You don't have to be a pharmacist to understand them, but the fact that they are willing to show you the results means that they stand behind the quality of their products.
Where to Buy CBD Oil Online
CBD oil is paving a path for a new era of human health and wellness. Furthermore, since it does not contain THC, hemp-derived CBD is widely available.
Check that the manufacturer of the oil has provided the lab testing results and labeled the bottle clearly with dosing information so you can know precisely what you're taking and how much CBD you're ingesting. Then find a manufacturer that makes CBD oil in a flavor (or unflavored) that suits you and give it a try!
If you want to know where to begin, why not browse some of the best products on the market? Below you can find a list of trustworthy, affordable, and completely safe CBD oils.