Orange Velvet Strain Overview
Also called 'Melvin,' Orange Velvet offers a smoking experience as smooth as the name suggests. However, it is a cannabis strain with mysterious genetics as no one is entirely sure of its parentage. This is a popular strain amongst individuals with conditions such as stress and chronic pain.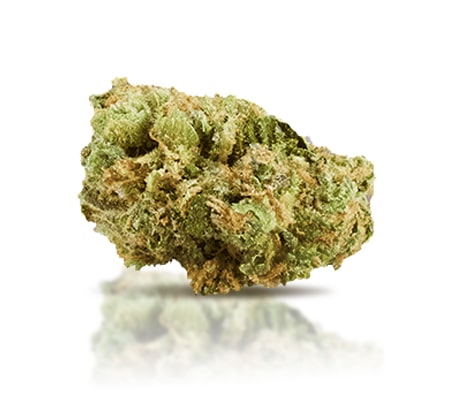 Flavors
Citrus
Clementine
Earthy
Sour
Sweet
Vanilla
Common usage
Anxiety
Chronic pain
Lack of appetite
Migraines
Sleep
Stress
Effects
Appetite
Euphoria
Focus
Happy
Sleep/Sedation
Growing info
Orange Velvet grows well both indoors and outdoors. You can harvest it after 8-10 weeks of flowering. BUY SEEDS FOR THIS STRAIN AT OUR #1 RATED
ONLINE SEED STORE: HOMEGROWN
There is undoubtedly a growing trend toward the use of citrus strains. In particular, cannabis that offers a hint of orange is becoming extremely popular. If you are looking for a refreshing, fruity strain, Orange Velvet is potentially right up your alley.
Try Legal THCA Flower
Want to experience the qualities of THC-A flower? The amazing brand Premium Jane just launched their new line, including strains like OG Kush, Purple Cream, and Blue Dream Pie. Averaging 23% THC-A, there's so much to love with these flowers. Try them today to get 20% off using WayofLeaf's exclusive coupon code: THCAWOL
The Orange Velvet Cannabis Strain: What Is It?
No one seems to know the precise genetic makeup of Orange Velvet. The extent of our knowledge is that it's a balanced hybrid that's a cross of Orange Skunk and something else. Breeders in the Pacific Northwest are the most likely creators. However, we're unable to identify who made Orange Velvet, along with the remainder of its parentage.
Also called Melvin, Orange Velvet is a reasonable option for new users, despite its relatively high THC content. You will likely feel a pleasant cerebral high at first. Some users say they feel energetic, creative, and happy after a few tokes. However, unless you overindulge, the intoxicating high is unlikely to go out of control.
Depending on the user, Orange Velvet may make you feel sedated and sleepy at the end of the high. For more experienced users, the high lasts around three hours, and they never feel tired. Therefore, individuals with a low THC tolerance should probably use this strain in the evening. Experienced cannabis smokers may find that it is usable in the afternoon.
It is also advisable to have snacks ready because Orange Velvet could cause a spike in your appetite.
Aroma: Orange Velvet
Unlike its parentage, the Orange Velvet strain holds no surprises in the aroma department. Some users claim it smells like an orange creamsicle. Apart from the obvious orange scent, you might also get hints of vanilla, earth, and honey.
Flavor: Orange Velvet
The Orange Velvet strain tastes precisely as you would imagine and hope after smelling it. Once again, the orange flavor takes over, but you can get hints of sourness, especially on the exhale. This strain also provides a thoroughly delightful sweet aftertaste.
Appearance: Orange Velvet
Orange Velvet's buds are dense, and the orange pistils stand out in this vibrant plant.
Orange Velvet Strain Grow Info
It is not just information on Orange Velvet's genetics that is hard to come by. Locating Orange Velvet seeds is a challenge that most prospective growers are unable to complete. You are better off trying to find a healthy mature plant and take a cutting. However, there is a belief that the strain has been discontinued.
In the unlikely event that you get your hands on this strain, you'll find that cultivating it isn't too tricky. It is relatively durable and can handle temperature changes and adverse growing conditions. Therefore, you can grow Orange Velvet indoors or outdoors, although the former is more realistic for most people.
Estimates vary, but its flowering time is likely between 8 and 10 weeks. It provides a generous yield whether you grow it indoors or outdoors.
THC Content – Highest Test
In general, Orange Velvet's THC content is between 18% and 22%, with 20% the average.
CBD Content – Highest Test
There is minimal CBD in this strain. You will probably find less than 0.1% in most cases.
Medical Benefits of the Orange Velvet Strain
As much as recreational users enjoy the Orange Velvet strain, MMJ patients have also grown to like it. Its THC content is sufficient to warrant its usage if you suffer from mild to moderate pain. It can provide you with a sense of euphoria that could take your mind off the pain.
Orange Velvet is also an uplifting strain that could reduce stress and depression. Consider using it in the evening after a stressful day to unwind and relax.
Some users claim that it gives them an energy boost in small amounts. This strain could also help you become more creative and productive. In larger doses, Orange Velvet could help improve the sleep cycle and increase appetite. However, using significant amounts of any strain increases the risk of side effects.
Possible Side Effects of the Orange Velvet Strain
If you use too much Orange Velvet, you could become sedated and sleepy. You may also experience dizziness, nausea, and headaches. In general, however, the side effects associated with this strain are mild. They include a dry mouth and red eyes.
Final Thoughts on the Orange Velvet Strain
The Orange Velvet strain tastes delicious and provides a pleasant sweet scent. MMJ patients sometimes try it for depression, anxiety, moderate pain, and a loss of appetite. It is difficult to find seeds for this strain, so your best bet is to look for a clipping from a mature plant. On the plus side, Orange Velvet is a relatively easy strain to cultivate.
Try Legal THCA Flower
Want to experience the qualities of THC-A flower? The amazing brand Premium Jane just launched their new line, including strains like OG Kush, Purple Cream, and Blue Dream Pie. Averaging 23% THC-A, there's so much to love with these flowers. Try them today to get 20% off using WayofLeaf's exclusive coupon code: THCAWOL