Blueberry Pie Strain Overview
The Blueberry Pie strain is a dessert-like strain that is a cross between the 'Girl Scout Cookies' strain and the 'Blue Dream' strain. The result is a strain that resembles a freshly baked berry pie. It is great for decreasing anxiety, depression, and minor aches and pains, and can also help with increasing cognition and attention.
Flavors
Blueberry
Nutty
Vanilla
Common usage
Anxiety
Depression
Focus
Effects
Euphoria
Laughing
Social
Growing info
Flowering period is approximately 9-10 weeks, can be grown indoors and outdoors BUY SEEDS FOR THIS STRAIN AT OUR #1 RATED
ONLINE SEED STORE: HOMEGROWN
Blueberry Pie is an indica-dominant strain that's almost as sweet as it sounds. This hybrid has a tantalizingly decadent parentage. It is the combination of Girl Scout Cookies and Blue Dream, which come together to create a cool, nearly dessert-like cannabis strain with a taste that users rave over. It is also amazingly potent, and users have agreed that it can be an exhilarating rush with a smooth, relaxing let-down.
Try Legal THCA Flower
Want to experience the qualities of THC-A flower? The amazing brand Premium Jane just launched their new line, including strains like OG Kush, Purple Cream, and Blue Dream Pie. Averaging 23% THC-A, there's so much to love with these flowers. Try them today to get 20% off using WayofLeaf's exclusive coupon code: THCAWOL
What is the Blueberry Pie Strain?
Blueberry Pie weed is an indica-dominant cross between the strains Girl Scout Cookies and Blue Dream. It has a potent amount of THC and is fairly popular among users.
Aroma
The Blueberry Pie marijuana strain has a strong, sweet blueberry aroma with undertones of earth and a slightly skunky hit.
Flavor
Blueberry Pie has a syrupy, sweet, fruity flavor along with some nuttiness and vanilla notes on the inhale. Some users have described it as tasting like a dessert cake. It also features some deep, spicy, earthy, and herbal undertones on the exhale.
Appearance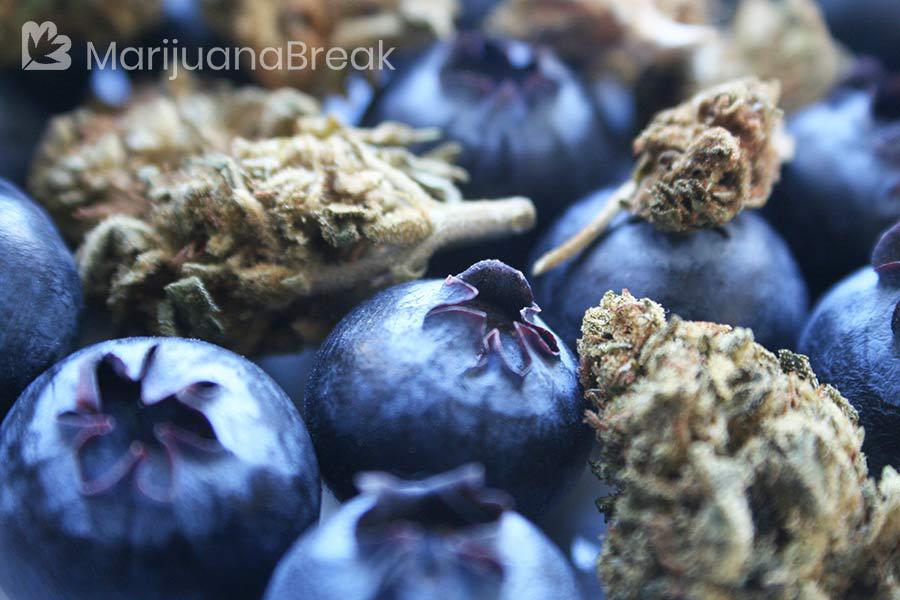 Blueberry Pie Strain weed has dense, tightly coiled buds typical of most indica strains. It has moderately sized nugs and typically displays a dark, green color. However, when "shocked" by cooler temperatures during the growth phase, the flowers can boast vibrant purple hues.
Blueberry Pie Strain Growth Info
Blueberry Pie, though popular, is a bit of a rare find. Those who cultivate this strain must rely on clippings from other mature Blueberry Pie plants. This strain is versatile and flourishes both inside and outdoors. It is recommended that growers keep the strain in a constantly warm, semi-humid environment. Temperatures should not skew any lower than 70 degrees.
However, during its growth phase, Blueberry Pie can display its vivid array of colors by being exposed to cooler temperatures in the evenings, just before the plant begins to flower. Blueberry Pie has a high yield and can mature in about 9 to 10 weeks.
THC Content – Highest Test
Blueberry Pie cannabis has THC levels that can be anywhere between 15-19%.
CBD Content – Highest Test
The Blueberry Pie strain contains about 1% CBD.
Medical Benefits of the Blueberry Pie Strain
Blueberry Pie may be beneficial for users in several ways. It has been indicated by users as helping to manage day-to-day stresses, depression, anxiety, and PTSD. It also may increase the clarity of focus and cognition.
Users have also reported feeling relief from bodily aches and pains as well as arthritic discomfort. Due to its sedative effects, it may also function as an option for those suffering from insomnia or irregular sleep patterns. It has also been reported to positively affect mood and induce feelings of euphoria and happiness.
Possible Side Effects of the Blueberry Pie Strain
Blueberry Pie has been said to intensify feelings of euphoria and can increase the desire to be more talkative, socially inclined and giggly. Some users have stated that, upon initially consuming this strain, they feel a rush to the head and a sense of energy before a feeling of sleepiness and relaxation.
There have also been suggestions of a feeling of heavy limbs as the session goes on, followed by tingling sensations that some users may find unpleasant. It has been indicated as a good option for creative types as it may provide an increase in mental acuity.
Others may find it useful for a nice evening indoors with friends as it may influence feelings of calm and serenity. Blueberry Pie users have also taken this strain to manage their daily chronic pain. However, side effects can include dry mouth and eyes, and for some other users paranoia, dizziness and anxiousness can result.
Final Thoughts on the Blueberry Pie Strain
Blueberry Pie is a great option for users seeking to have a relaxing evening with friends or to possibly feel a decrease in depression or anxiety. It is a potent strain that has been cited as decreasing bodily aches and pain as well as increasing focus and cognition.
It has a distinctive sweet flavor marked by blueberry and dessert-like notes, along with an earthy taste. However, it does have a bit of skunky hit on the exhale. This may still be a good choice for anyone who enjoys a good tasting strain.
It grows fairly well outdoors and indoors, but growers must be careful to maintain a homeostatic environment that is semi-humid and no less than 70 degrees. This strain is capable of displaying more vibrant colors if the growers can expose it to cooler temperatures during its growth phase.
It has a good yield and usually matures in about 9 to 10 weeks, though growers have to use clippings from mature Blueberry Pie plants to grow this strain. It has been reported as being a rare find.
Try Legal THCA Flower
Want to experience the qualities of THC-A flower? The amazing brand Premium Jane just launched their new line, including strains like OG Kush, Purple Cream, and Blue Dream Pie. Averaging 23% THC-A, there's so much to love with these flowers. Try them today to get 20% off using WayofLeaf's exclusive coupon code: THCAWOL