White Nightmare Weed Strain Overview
Contrary to the ominous-sounding name, White Nightmare offers a blissful and dreamy high. The fresh pine overtone mixes well with the other sweet and earthy scents. It has a relatively high THC content, and many users try it to help cope with the symptoms of depression.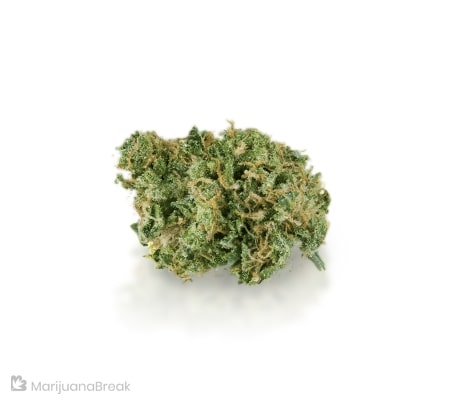 Common usage
Chronic pain
Depression
Stress
Effects
Energy
Euphoria
Focus
Growing info
White Nightmare's flowering period is approximately 8-9 weeks. It performs best outdoors, but that isn't a realistic scenario for most growers. BUY SEEDS FOR THIS STRAIN AT OUR #1 RATED
ONLINE SEED STORE: HOMEGROWN
In general, cannabis breeders tend to give their strains names for a very good reason. Whether it is to describe the effects or pay homage to Star Wars, there is a story behind the name. White Nightmare is no different. However, it seems as if the creators wanted to play a joke on users. The name comes from its origins, but White Nightmare makes you feel warm and fuzzy despite the negative connotations.
What Is the White Nightmare Strain?
This strain comes from Blue Dream and White Moonshine genetics. It is relatively potent and enjoyed by MMJ and recreational users alike. Once you try this sativa-dominant hybrid, you may experience a feeling of euphoria. Users often report feeling energized and creative for hours.
The exhilarating high could leave you in a state of bliss as you relax and allow your worries to ease away.
Once the euphoria wears off a little, you might feel the high make its way to the body. However, it never threatens to engulf you or cause you to become sedated and couch-locked. Many users say that White Nightmare marijuana's effects depend on their feelings when using it and their surroundings.
Aroma
White Nightmare isn't the best option if your goal is to enjoy a clandestine grow! It has an extremely fragrant aroma that consists of hash, fruits, and berries. You may also get hints of sweetness in what is an aromatic scent. The dusting of glistening trichomes makes this a tough strain to break up with your hands.
Flavor
Those who use White Nightmare describe it as an extremely smooth smoke. Its taste is every bit as complex as its aroma, with a combination of blueberries and several other fruits coming to the fore. On the exhale, you get a mixture of sweetness and spiciness.
Appearance
In general, this strain's buds are relatively small and dark green. You may also get red tints that stand out against the white trichomes.
White Nightmare Strain Grow Info
When you purchase White Nightmare seeds, you'll be relieved to discover that no special expertise is required to grow it. Ideally, you will grow it outdoors in a dry and warm outdoor climate. It stands up well against common pests and diseases. When cultivated outside, its yield is an impressive 15 ounces per plant. You can expect it to be harvest-ready by mid-October.
There is only one problem: Most marijuana growers don't have the luxury of cultivating plants outside! For one thing, they require private land on which to grow. They have to ensure that the crop is out of public sight, even in states where cannabis cultivation is legal.
Therefore, it is more realistic to grow White Nightmare indoors. In general, you can expect it to grow tall, which means you may need to perform maintenance. Adding staked supports will ensure that the heavy and tall calyxes don't collapse. When cultivated indoors, White Nightmare takes 8-9 weeks to flower. Its average yield is approximately 13 ounces per square meter.
THC Content – Highest Test
White Nightmare is a fairly potent strain of cannabis, even by the standards of the modern era. Its average THC content clocks in at 20%.
CBD Content – Highest Test
This strain has a modest CBD content of under 1%.
Medical Benefits of the White Nightmare Strain
One of the most obvious uses for White Nightmare is for depression. It is an extremely uplifting strain that boosts your mood. You can also use it if you feel stressed and fatigued.
In general, it provides you with an infusion of energy and the motivation to get things done. White Nightmare doesn't usually cause couch-lock, so you can use it in the afternoon to give yourself a little boost. Some people even use it as a wake and bake strain.
White Nightmare is potent enough to warrant consideration if you need to combat chronic pain. Once again, some MMJ users try it in the morning to ward off the pain from backaches and migraines.
Possible Side Effects of the White Nightmare Strain
You can expect the same potential adverse effects from White Nightmare as you would with any potent strain.
Users sometimes report that their mouth feels extremely dry. There is also a chance that you have a coughing fit while smoking it.
More common side effects include dry and itchy eyes. As it is a potent hybrid, individuals with anxiety or paranoia should steer clear. Also, White Nightmare isn't the ideal choice for novices.
Final Thoughts on the White Nightmare Strain
Despite the name, White Nightmare generally acts like a typical sativa-leaning hybrid. It is potent enough to help ease chronic pain. The elevation in mood it causes means that people with depression often give it a try. This strain could also provide an energy boost, which makes it worthy of morning or daytime use.
Although it isn't the best option for new users, it is a solid option for first-time growers. White Nightmare doesn't require much expertise and is resistant to most diseases and pests.
This strain is also an extremely popular recreational option. It is often the weed of choice for individuals who simply want to chill out and relax at home by themselves. However, it boosts your mood and makes you feel more energetic. Therefore, you might find that White Nightmare helps you to become more sociable.