Overview
A fine purveyor of oils, pods, sweets, and even concentrates, Flav (formerly known as FlavRX) is the one-stop shop for all your CBD needs. They offer exciting and fun flavors like root beer, watermelon, bubblegum, and mango! In total, they have over 1,600 products - so they've got you covered from head to toe. Quite literally.
Ingredients
Lab-tested Broad-spectrum CBD Oil
Recommended use
There are several different types of CBD-infused products that are made to be consumed in different ways for different results.
Extraction process
CO2 Extraction
Medical benefits
Products are not evaluated by the FDA and are not intended to treat, cure, or prevent any medical condition.
*All the data provided is for oil products only
Flav Quick Summary
Pros
An enormous array of products.
Its disposable joints and sticks are potent.
If you live near a retailer and are legally allowed to buy weed, it is easy to get your hands on Flav products.
Cons
Some of its oil isn't as potent as one might expect.
Not able to purchase products directly from the website; although you can use the Locator page to find stores close to your address.
Read on for our complete Flav review or check out some of our favorite CBD brands here:
Flav Complete Review
As fast the CBD industry is growing, we have to acknowledge that there is a LOT of rubbish out there. Remember, this is an unregulated billion-dollar sector, so there are plenty of charlatans trying to make a quick buck. At WayofLeaf, we take pride in 'outing' bad brands in a bid to ensure our readers remain CBD savvy.
However, we also like it when a company comes along and takes a 'no-nonsense' attitude. On the face of it, this is what Flav is all about; but does the quality of the products live up to their promise? Let's find out.
Who Are Flav?
Judging by the photo on the About Us page, Flav is a serious brand, yet is also all about chilling out when the time is right. It describes itself as a "perpetual think tank." We did a little digging and found out that Flav was in a spot of bother back in August 2017. At that time, the company was known as FlavRX.
Michael Murphy of Clean Cannabis Initiative LLC claimed that FlavRX was in violation of Proposition 65, which is the Safe Drinking Water and Toxic Environment Act of 1986. According to Murphy, FlavRX was guilty of exposing consumers in California to several harmful chemicals without "providing clear and reasonable warning of this exposure." FlavRX was allegedly in breach of the 1986 Act because it employed 10 or more people.
While we're not sure what happened in the end, it seems as if FlavRX is called Flav these days. In March 2018, it announced plans to expand its products to California, Oregon, Nevada, Washington, and Michigan. At the time of writing, its marijuana products are available in even more states.
Review of Flav THC Vapes
Flav sells a variety of THC oils. We decided to try its Black Label oil which the brand claims has up to 90% THC depending on the option you choose. We opted for the cartridge and battery combination which has undergone an upgrade. It is a brand-new design with a gorgeous metal finish. The round mouthpiece is the ideal design, and there is also an adjustable airflow valve which enables you to customize your clouds.
When it was heating up too quickly, we allowed more air to flow through and were rewarded with a much smoother experience. If you want even more vapor, close up the valve and allow your clouds to build up. There is 500mg of THC, but if that isn't enough, you can always try Double Black Label which contains 1,000 mg of THC.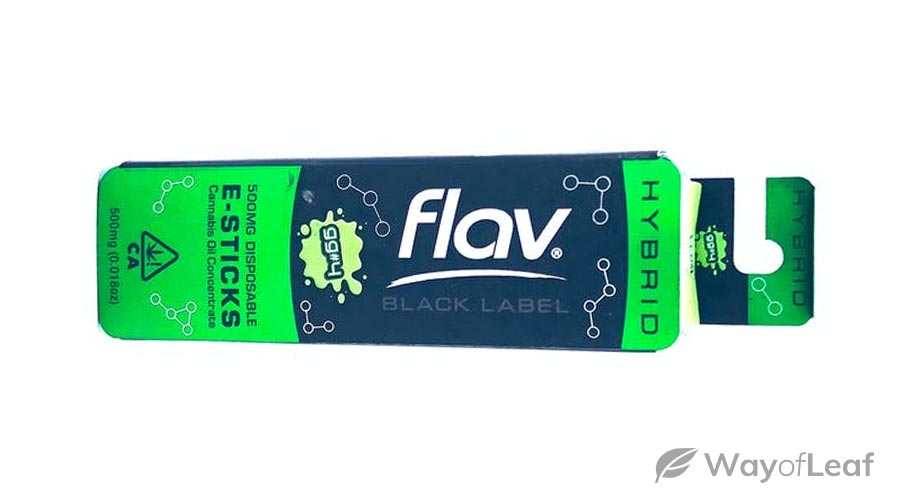 Flav even went to the trouble of creating a custom-made battery designed to heat its oils optimally. Choose between three temperature settings. Incidentally, the heating element is ceramic. If you have Double Black Label and want a clandestine smoke, consider purchasing the Flip Key Battery which has three settings: 2.7V, 3.1V and 3.6V.
As you're probably aware, the highest setting is best for clouds while the lowest setting is perfect for flavor.
You can purchase a Black Label 500mg cartridge for $60 online. However, don't assume the Double Black Label cartridge will get you more stoned than the other version. The Black Label cartridge we purchased had 71% THC, while there was a Double Black Label cartridge available from the same site for $50, but it contained 44% THC.
Flav also sells premium oils that are infused with terpenes. If you hate rolling joints, or else you suck at doing it, try Flav's range of sticks and joints. These are extremely convenient options with an all-in-one design. They are pre-charged and filled with premium grade THC oil. Simply buy one and start vaping today. You can get joints with 300mg of THC and sticks with 500mg of THC.
Have you ever dropped a cartridge, picked it up, and fallen into a state of despair because it was broken with precious oils seeping out? If you are the clumsy type who drops stuff when stoned, try a Flav refillable, retractable pocket companion vaporizer. The glass part of the cartridge retracts into the device's metal shell to ensure it doesn't get broken in falls or when subjected to pressure.
Flav seems to have thought of everything. Its POD range is made with all-in-one technology and is filled with ultra-refined cannabis oil. You can also buy POD refills to ensure you are never caught dry. Finally, in its vape range, Flav has collaborated with Rebulution, a reggae rock band in California, to release special vape cartridges in Cali-O and Sour Tsunami strains.
What About Flav's Other Products?
Flav sells concentrates in the form of budder, premium dab distillate oil, and THCa Diamond Sauce. These concentrates are free from solvents, and some strains have up to 95% THC, so use carefully!
The brand also takes the edibles market seriously. Its range of gummies comes in 13 flavors while its THC chocolate is a delicious way to get high. Flav also sells Sweet Creations, Snack Pouches, and powdered drinks packets.
Flav sells premium flower which apparently comes from weed with maximum genetic potential. The top-shelf buds are carefully collected, hand-trimmed, dried, and cured. There are several strain choices including Asian OG and Platinum OG. Finally, you can choose between Flav's enormous range of CBD products which include salves, roll-on gel, sun, and CBD gummies.
One of the most interesting CBD products is the Sun Guard 50, a CBD-rich All-Natural Sunblock. You can choose between 30 & 50 SPF protection, and there is 50mg of CBD in each 2-oz tub. All of the ingredients are naturally derived, and the cream is made from a special formula that nourishes your skin and offers anti-inflammatory benefits according to Flav. It is ideal for anyone trying to microdose CBD.
Where Can I Purchase Flav's Products?
Irritatingly, you can't purchase Flav's products directly from its official website. Instead, you need to browse online to try and find reputable third-party sites. We found cartridges on sites such as Gardenofweeden and Weed Maps. Alternatively, you can go to Flav's Locator page, input your ZIP Code and see if there is a retailer close by that stocks Flav products.
Final Thoughts on Flav
Flav has become a huge brand and sells practically every THC and CBD product you can think of. As far as its Black Label oil goes, it didn't feel as strong as other THC oil we have tried with a similar level of the psychoactive cannabinoid. The disposable joint was enjoyable, however, and extremely potent.
Perhaps the biggest annoyance is an inability to purchase products directly from the website. You either have to go to a third-party site or find a retailer nearby. If you can get past these hassles, Flav is a trustworthy brand that probably has precisely what you need.
Final Verdict – 7/10