Overview
Cannabis Trades Association member VSAVI is the go-to brand for CBD newbies and connoisseurs alike. They offer high-quality CBD vape oils, drops, and e-liquids which are 100% organic and CO2 extracted. All products are made and tested in state-of-the-art labs in the UK for guaranteed quality and purity.
Ingredients
100% Organic CBD, Organic High-Grade Olive Oil, a wide range of essential minerals and vitamins, other cannabinoids, and natural nutrients
Recommended use
Hold CBD drops under your tongue for 60-90 seconds before swallowing. Best taken at regular intervals throughout the day.
Extraction process
CO2 Extraction
Medical benefits
These products are a food supplement and are not intended to treat, prevent, or cure any disease. Food supplements are not a substitute for a healthy lifestyle.
*All the data provided is for oil products only
VSAVI Quick Summary
Pros
Massive range of CBD vape oils, vaporizers, and accessories.
Free delivery for orders over £49.
Huge number of vape juice flavours.
CBD products made from organically grown hemp.
Suitable for vegans, gluten-free, and also free from GMOs.
The ideal brand if you are keen to vaporize CBD for the first time.
Cons
Not much information about the company online.
It would be great if it also sold balms and edibles.
VSAVI Full Review
The CBD market has been growing steadily, although no one could have foreseen just how quickly it has hit the mainstream. Back in 2016, the UK's Medicines and Healthcare products Regulatory Authority (MHRA) said that it was the 'year of CBD.' Frankly, every year since has been the year of CBD, and it seems as if it will be the case well into the coming decade.
The CBD market has taken off in the UK over the last few years.
In 2016, the UK government actually conceded that cannabis has a medicinal effect; a far cry from the American FDA which still clings to the illusion that the marijuana plant has no medical benefits. As a consequence, the CBD market has taken off in the UK over the last few years, and brands like VSAVI are doing their best to make the most of an incredible opportunity.
Who Are VSAVI?
Unfortunately, we were unable to find out any information about the founders of the company whatsoever, and the brand's website doesn't provide much detail. It says that all VSAVI oils and e-liquids are produced in 'Clean Room' labs and that all its e-liquids are TPD compliant.
It has a Facebook page that has just below 200 likes at the time of writing. The page says that VSAVI's HQ is in Peterborough, UK, and also shows it is an e-cigarette shop. As concerning as the lack of information is, the company has received enough positive mentions online to suggest it is a legitimate enterprise. This notion is strengthened by the fact that VSAVI is a member of the Cannabis Trades Association in the UK.
Review of VSAVI CBD Oil
All of the brand's CBD oil products contain no artificial flavouring and are tested in a fully equipped lab with strict control measures in place. Crucially, the oil contains zero THC and is made from organic hemp. There are five options, and all bottles contain 10ml of liquid.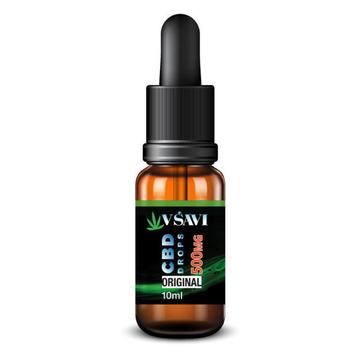 One surprising aspect of VSAVI's hemp extract options is that you don't save very much by buying the largest option compared to the smaller options. The base of the product is olive oil, which explains the greasy taste.
We needed a glass of water after consuming the oil, but at least it tastes like the real deal. After a few days, our testers felt noticeably more relaxed and one even found that his knee pain was less bothersome than usual.
Review of VSAVI CBD Vape Oil
The brand is probably best known for its vape oil. Once you purchase the vape oil, you can check out VSAVI's vape pen kit range. There are four vape oil options:
Full-spectrum CBD Vape Oil
CBD Vape Oil
Flavoured CBD E-Liquid
CBD E-Liquid with Terpenes
We tried the flavoured CBD vape oil, which offers the choice of 12 flavours including lemon, mango, strawberry, apple, and orange. Remember, you need a vaporizer to enjoy this liquid.
We opted for the apple flavour, and we have to admit, it tasted pretty awesome. One tester was eager to see if it could alleviate the pain in his knee and the effects were noticeable within a few seconds. That is to say; he felt more relaxed and less anxious. It took longer for the pain to subside but it did, and the effects lasted for 4-5 hours.
VSAVI also has an alternative range of VG E-Liquids. You can smoke these for pleasure or add them to a few drops of the CBD vape oil for a truly unique vaping experience. There are dozens of flavours including coffee cream, apple, classic Virginia, toffee caramel, and cappuccino.
VSAVI CBD Vape Pens & Accessories
It is clear that VSAVI is more than a seller of CBD products. The brand wants its customers to have the best possible vaping experience, which is why it sells a huge array of CBD vape pens and accessories. If you are new to vaporizers, try the CBD Vape Kit which costs just £26.95 and includes:
A USB Smart Charger
Refillable Ex-black vape pen mini tank (cartridge)
2-volt battery for the vape pen
A bottle of 10ml CBD vape oil
The 4.2 volts 380 mAh device is stronger than the usual 3.7 volts option in the beginner range. According to VSAVI, the cartridge will last 7-14 days. All you have to do is fill the cartridge with the liquid, vape, and enjoy! Best of all, you can refill the tank up to 20 times. When the battery is fully charged, it should provide you with a full day of use.
There is also a full-spectrum kit, a Vapour2 PRO 3 CBD pen, along with Vapour2's Series 3 and Series 7 vaporizers. In the accessories section, you can purchase a 3-pack of Ex-blank cartridges for £14.99, a Vapour2 standard battery for £16.25, and a whole lot more. VSAVI sells cleaning kits, grinders, atomizers, replacement pods, charging cables, and clearomizers.
Where Can I Purchase VSAVI's Products?
Make your way to the official VSAVI website, and you can see the list of product categories on the top of the page. You get free shipping on all orders worth £49+ if you live in the UK. Orders are typically sent using Royal Mail's 48-hour tracked delivery service. Otherwise, standard delivery is £3.50 and takes 2-3 working days. If you need your order quickly, pay £3.75 for next day delivery. You can also get a special guaranteed delivery on the following day before 1 pm if you pay £7.95.
If you want to return your order, you have 14 days to do so.
If you want to return your order, you have 14 days to do so, as VSAVI complies with the EU Consumers Contracts Regulations. You need to complete a special returns form and get your refund within 14 days of submission. Make sure all items are unused and undamaged in resealable condition in their original packaging.
Final Thoughts on VSAVI
VSAVI doesn't have much of an online presence, and its lack of social media impression is a surprise since it seems to be rather popular. It sells high-quality CBD oil, but it really excels when it comes to CBD vaping. As well as offering CBD vape juice in multiple flavours, VSAVI stocks all manner of vape pen accessories, not to mention vaporizers themselves.
The website also has a useful blog that seems to add a handful of new articles each month. Overall, VSAVI is a reputable brand. While there are better CBD oil sellers, there are few UK companies that can compete with VSAVI in the vape stakes.
Rating: 8/10