Overview
Verma Farms is a CBD brand based in Hawaii, using the theories behind nature's purity to create high-quality products. It sells a collection of oils, topicals, gummies, and more.
Ingredients
Broad-spectrum CBD oil, hemp seed oil, Kosher-grade vegetable glycerin, natural flavorings
Recommended use
Shake the bottle well before use, then use the dropper to apply 1ml under the tongue. Hold the tincture there for 60-90 seconds before swallowing.
Extraction process
Distillation
Medical benefits
Stress reduction
Reduces muscle pain
*All the data provided is for oil products only
Verma Farms: Quick Summary
Pros
Free shipping on all US orders and affordable prices
Huge variety of products; including CBD dog oil and dried fruit
All of the hemp is organic, USA-grown, and non-GMO
Cons
Limited lab reports available
CBD oil comes in one, relatively low, strength
Want to skip the full review and head straight to the Verma Farms website to start browsing? Hit the button below to get started:

10% coupon code: LEAF10
Verma Farms Review
The home page of the Verma Farms website proudly declares, "CBD as natural as the earth it comes from." This is a tried and trusted CBD brand that has featured in publications like Forbes.
The purity and balance of nature is something that the company wishes to preserve.
The Verma Farms experience begins with an attractive website design. Using cool graphics, organized information, and smart infographics makes the brand automatically feel like a reputable company. Scrolling the home page reveals various reviews from the likes of The Observer, which rated Verma Farms, "Overall: 10 out of 10." The customer reviews are also all-praising.
Verma Farms is based in Hawaii. Apparently, it was inspired by Maui when the founders took a trip there and fell in love with the place. The purity and balance of nature are something that the company wishes to preserve, so the hemp is all organic, pesticide-free, and non-GMO.
The brand offers something for everyone in its range. Below, we cover the list of available products.
What Products Did We Review?
Verma Farms stocks a variety of products. The range includes tinctures, edibles, topicals, and even dog-friendly CBD products. Since the Verma Farms products are so highly regarded, we reviewed as many as we could and scoured the website for crumbs of information.
Since Verma Farms tends to have several products within one category, we chose one of each to review in more detail.
Verma Farms CBD Products: What Are They Like?
Reviewing the Verma Farms products based on the website is somewhat tricky. The brand lacks a lot of detail in the product descriptions, opting to be somewhat vague instead. There is some information about CBD on the website, but it would be useful for new customers to have it all in one place.
From what they do tell us, Verma Farms sources organic, pesticide-free, and non-GMO cannabis plants. Additionally, the company only produces broad-spectrum products; this means that they contain 0% THC.
Let's see what the products are like.
Verma Farms CBD Tinctures
We were a little disappointed to see that Verma Farms offers a single tincture strength. The 500mg potency may be sufficient for new CBD users, but many prefer something a little more substantial. It would be great if Verma Farms offered a greater level of strengths.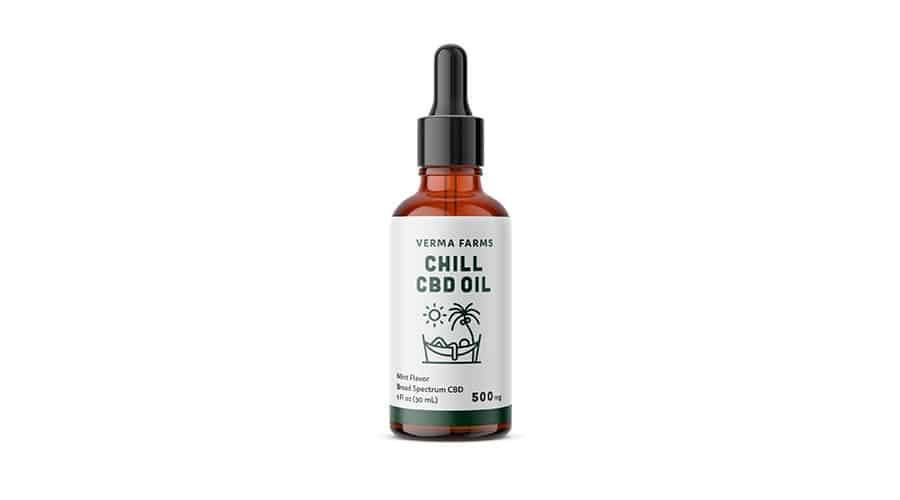 What Verma Farms does have is a great range of flavors. The list includes Mint, Natural, Strawberry, Watermelon, and more.  Each option costs $59.99, which is a reasonable price. You can also get a Fruit Pack of all five fruity flavors for $199.99, or the CBD Oil Kit containing Mint, Lemon Lime, and Natural for $149.99. The company has received much acclaim from reviews, most notably Forbes, who placed Verma Farms CBD oils as #1 on their "20 Best CBD Oils of 2020" list.
Although there is room for improvement, the Verma Farms tinctures are, all in all, useful for users who don't need a lot of CBD.
Verma Farms CBD Gummies
The CBD gummies are some of Verma Farms' most popular products. This brand has one of the most extensive flavor ranges we have ever seen, all of which contain broad-spectrum CBD and zero THC. The website also features nutritional information, which is something we haven't seen other brands doing. Artificial flavors and corn syrup are used in their ingredients, which may not match the brand's all-natural ethos, but it makes them taste delicious!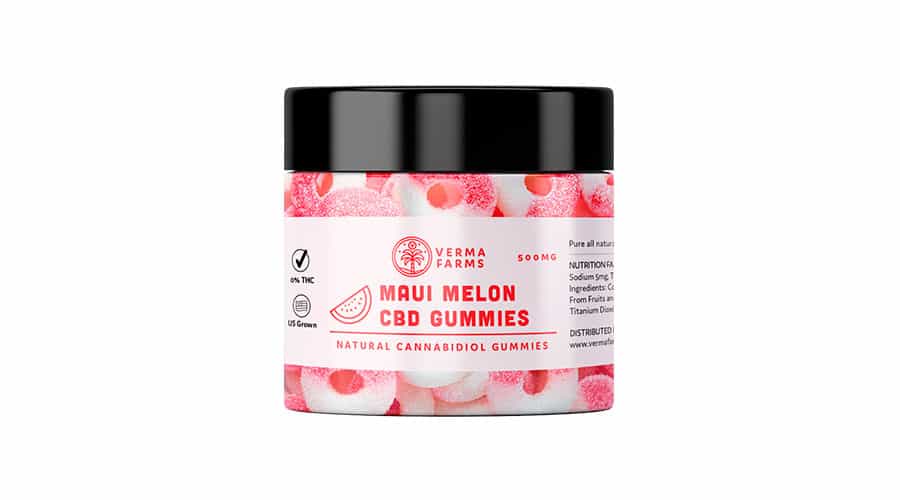 Verma Farms gummy flavors include Peachy Pau Hana, Maui Melon, Blueberry Wave, and any more. Additionally, the brand sells purpose-based gummies, such as Sleep, Energy, and Recovery. What's great about this collection of gummies is that they are vegan and gluten-free.
Each one comes in either a 250mg/12.5mg per gummy ($44.99), 500mg/ 25mg per gummy ($59.99), or 900mg/ 30mg per gummy ($99.99) tub. The tasty gummies are sugar-coated for a little crunch, although you can purchase a sugar-free variety.
The brand also offers an assorted gummies bundle, which can help you save a little money while trying a variety of flavors.
Verma Farms CBD Dried Fruit
Those looking for a healthier alternative to CBD gummies will be pleased to see the Verma Farms CBD dried fruit. It's a somewhat unique product, but it's encouraging to see a healthy snack. Each fruit piece contains 12mg of CBD, which acts as a nice top-up dose at any point during the day.
Flavor offerings include Rainbow Papaya, Maui Mango, Pineapple Party, along with a starter kit of all three. The 250mg tubs cost $44.99, while the kit costs $119.99.
Verma Farms CBD Topicals
There are two topicals available from Verma Farms. The choices include a Tropical CBD Lotion and Mahalo Muscle Relief. The former seems like a pretty standard product; it's a creamy lotion with a base of coconut oil, aloe, rose water, and other ingredients. The 'tropical' in its name is misleading, however, because it is a fragrance-free lotion. It does not smell like the island breeze. The 100mg pump dispenser costs $49.99.
The Mahalo Muscle Relief roll-on is a fan favorite. Alongside 200mg of CBD, it also contains 3.9% menthol, working to relieve sore muscles with cooling action. It also contains camphor for a pleasant scent. All in all, the muscle roll-on is an effective product; it soothes muscles after a hard day working out at the gym. The roll-on applicator is also incredibly convenient. This product costs $49.99.
Verma Farms CBD Capsules
Verma Farms offers a singular capsule product. The bottle, with a child-friendly lock, is ideal for travel. The brand makes the pills using bovine gelatin, vegetable glycerin, and water; they are not suitable for vegans, but the beef is Kosher. The CBD contained within is also nano-emulsified, leading to effective absorption. Despite the nanotechnology, Verma Farms has kept the price surprisingly low.
Each pill contains 25mg of broad-spectrum CBD, which is about the market average for capsules. There are 30 capsules in total, equating to 750mg in the bottle. A single bottle retails for $89.99, though you can buy a 3-pack for $199.
Verma Farms CBD for Dogs
Finally, Verma Farms offers CBD for dogs. The CBD pet market has become enormously popular, and Verma Farms has cashed in on the trend with a couple of available products. The first is the CBD Steak Bites. Forbes called this product the "crème de la crème" of CBD dog treats.
The beef-flavored treats are shaped like a T-bone steak and contain 5.5mg of CBD each. Dogs will enjoy chowing down on them, though you may need to be careful with smaller breeds. Verma Farms recommends administering one chew every 12 hours. The 100mg tub of treats costs $59.99, but a 3-pack costs $149.99.
There are also two strengths of salmon-flavored CBD oil. The carrier is a blend of wild salmon oil and MCT oil, making this a healthy option for any pooch. The salmon taste also means that they're unlikely to dislike the taste. The two options are very low-strength, which is appropriate for dogs of any size; you should not give a dog a human-strength CBD oil.
Both the 150mg and 300mg options were sold out at the time of writing. They are clearly popular options among pet owners, and the customer reviews really speak for themselves.
What Else Should I Know About Verma Farms?
One surprising note about Verma Farms is the fact that it features no information on eco-friendly initiatives. The website writes about caring for the planet, but the only process Verma Farms seems to engage in is organic hemp. It would be excellent if the brand made a push to reduce plastic waste and put some money back into environmentally-friendly practices and organizations. A lack of this makes their eco-friendly branding look a bit shallow.
Verma Farms offers unique products like CBD-infused dry fruit and vegan gummies.
That aside, Verma Farms is a great brand. Scroll to the bottom of any page on the website to find the 'Lab Reports' tab, which contains an exemplary certificate of analysis for two products. However, they don't offer the full transparency we've come to expect from other CBD brands. Hopefully, they will publish all of the lab results in the future, giving visitors a chance to view them before purchasing a product.
Verma Farms CBD Review: Summary & Where to Buy
Verma Farms is a respected CBD brand that offers plenty of products. The range includes unique offerings like CBD-infused dry fruit alongside favorites like soft gel capsules. It's clearly a reputable and high-quality brand that people love.
If you are interested in Verma Farms, then you can order their products from the official online store. The company offers free shipping on all US orders, which is a massive bonus on top of the already reasonable prices.
Final Verdict 7/10
Don't forget to use the WayofLeaf coupon code when checking out to make even more great savings.