Overview
Trokie CBD takes a more medicinal approach to its CBD products. They were formulated by the founder himself, Dr. Crowley, who is a pharmacist with more than 30 year of experience under his belt. Trokie offers lozenges, pain patches and microdose capsules - so you can get your life back. Plain and simple.
Ingredients
Olive Oil, Camellia Oil, Marula Oil, Kukui Oil, Coconut Oil, Aloe Vera, Rosemary, Comfrey Leaf And Root, Calendula, Devil's Claw, CBD Isolate, Camphor, Menthol, Wintergreen, Proprietary Blend Of Essential Oils.
Recommended use
Get straight to the pain with effective, fast-acting topical spray - allow to penetrate and feel the relief immediately.
Extraction process
CO2 Extraction
Medical benefits
Each of our sprays are a multi-use way to treat pain and other skin conditions without the use of harsh chemicals. They are meticulously formulated to relieve local pain while nourishing the skin.
*All the data provided is for oil products only
Trokie CBD: Quick Summary
Pros
The brand was founded by a qualified pharmacist
Products made in a GMP facility, from USDA certified hemp
Products designed to be fast-acting and offer higher absorption rates
Cons
Some of the lab reports are outdated
Limited range of products
Read on for the full review or head over to the Tokie website to view their entire product range. Use the exclusive WayofLeaf coupon code below to save 10% on all purchases.
Trokie CBD Review
Trokie CBD describes itself as a "premier manufacturer and global distributor of certified, pharmaceutical grade CBD products." Since the company was founded by a qualified physician, they certainly have the knowledge and expertise to substantiate this claim.
Dr. Kent Crowley is a trained executive with over 30 years of experience in the pharmaceutical industry and clinical medicine. He launched the brand in 2014 with the introduction of Trokie Fast Melt Tabs, which were designed to help young cancer patients combat chemo-associated nausea. After years of extensive research, the brand has expanded its CBD line to include several other CBD products.
Unfortunately, the Trokie website does not give much information on the company itself. It's not clear where the brand is based, and there is very little background information provided.
However, they claim to be committed to setting the Gold Standard for CBD products to ensure potency, purity, and safety. All products are reportedly patented and backed by proprietary science and manufactured according to FDA and ISO certifications.
Trokie CBD Product Line
Trokie CBD does not sell your typical CBD products. Unlike most other brands, you won't find any CBD tinctures or gummies here. Instead, the brand specializes in lozenges (fast melt tabs), capsules, patches, and salves. The lozenges are the only products available in several varieties; each of the other items only comes in one option.
The benefit of Trokie's limited selection is that all research and expertise is focused on these few items.
Although many customers prefer to have a wide range of products to choose from, the benefit of Trokie's limited selection is that all research and expertise is focused on these few items. This means that if you're in the market for any of these types of CBD products, Trokie is an excellent choice – since you're almost guaranteed well-thought-out, high-quality products.
The company uses the CO2 method to extract CBD and other beneficial compounds from the hemp plant. Products are manufactured in a GMP facility using USDA-certified hemp and are sent to a third-party laboratory at numerous stages of production. Certificates of Analysis (CoAs) are available to view on the website and verify cannabinoid content, purity, and safety.
Trokie CBD: The Full Product Range
Below, we look at Trokie's full CBD product range, as well as what you can expect from each product offering. All products are reportedly made from 100% pure hemp and contain no THC. Trokie describes its products as being medical grade and pharmaceutical quality. Continue reading our Trokie CBD review for everything there is to know.
Trokie CBD Lozenges
Trokie's lozenges are labeled as Fast Melt Tabs, and they are available in two varieties: regular and with melatonin. Each variety comes in 100mg (10 servings) or 500mg (50 servings); a serving is 10mg CBD in both the 100mg and the 500mg options.
They are designed to be fast-acting and long-lasting, therefore, delivering the desired effects rapidly. A patented upper gum delivery system is used to ensure rapid delivery. They're similar to subliingual tinctures, but placement under the upper lip (buccal) reduces saliva contact, therefore more compounds absorb directly into the bloodstream and avoid the digestive tract. Trokie claims that its lozenges deliver a precise dose of cannabidiol quicker than any other CBD lozenge on the market based on the route of administration (buccal) and research.
The melatonin variety contains 1.5mg of the sleep hormone to help users with sleep. The combination of CBD and melatonin are said to work wonders for alleviating pain and anxiety while preparing the body for rest. Both 100mg varieties (regular and with melatonin) retail for $16, while the 500mg varieties cost $64.
Trokie CBD Capsules
Trokie sells Nanocapsules, which are said to offer 6X faster relief from symptoms. They have a total potency of 750mg, and there are 30 capsules per bottle. This equates to 25mg of CBD per capsule.
According to Trokie, these nanocapsules are six times more absorbable, which means you get more value for money compared to traditional capsules. One bottle of 30 capsules will cost you $70.
Trokie CBD Transdermal Patch
Trokie's Triple Strength Transdermal Patch reportedly offers fast pain relief for muscle soreness, arthritis, joint pain, and more. With 4% lidocaine, this patch provides the highest OTC lidocaine dose available. It's combined with CBD and 4% Menthol for "triple action pain-relief."
There are two patches per packet, and they retail for $18.99. To experience an instant soothing sensation, simply apply a patch to the affected area.
Trokie CBD Salve
Trokie's CBD salve contains 150mg of CBD, along with aloe and tea tree oil. They describe it as a proprietary blend of luxury skin ingredients. Other all-natural ingredients include rosemary and olive oil.
The company only uses natural ingredients, and therefore, the product is free of formaldehyde, artificial fragrances, parabens, and other harmful chemicals. One jar retails for $35.
Where to Purchase Trokie CBD Products?
Until recently, Trokie's products were only available to purchase at physical stores situated in various locations across the US. However, the company now has a fully operational website with an online store, which means you can now purchase products directly from the site.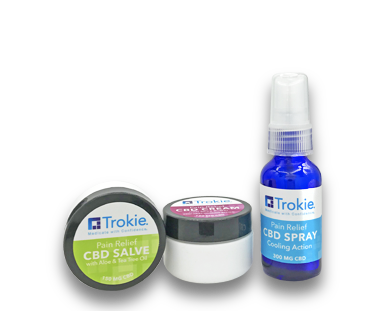 It's not clear to where exactly Trokie ships its products, but it appears as though they operate throughout the United States. They offer free shipping on orders over $100. Plus, if you sign up for the newsletter, you will receive 10% off your first order.
Final Thoughts on Trokie
Trokie is a leading brand in the CBD industry when it comes to lozenges, patches, and nanocapsules. Products are developed by an expert team of medical doctors, biochemists, and a doctor of pharmacy. Trokie is committed to setting the gold standard for CBD products in the industry.
Unfortunately, the website lacks some important information, and the product range is rather limited. Nevertheless, there is no denying that this brand has brought a line of premium-quality CBD products to the market. Be sure to check out the website to find out more about these unique and highly effective products.
Final Verdict – 7/10