It happens to everyone if you smoke enough.
You're preparing your bud, getting ready to grind it down, and you lift it up a bit to admire its color and… what's that? A little speck, either green or brown, sitting right in your bud! Are my buds bad?
Well, worry not, those are just marijuana seeds. It seems pretty obvious if you think about it – marijuana is a plant, and plants have seeds. Simple, right?
However, every smoker has had the thought cross their mind on this seed discovery: Could I grow my own weed?
Well, before you can consider whether or not you can plant those assorted seeds, you need to know what to look for, and how to do it.

Why Are There Seeds in My Marijuana Buds?
First of all, you need to understand why there are seeds in your bud to begin with.
Contrary to what most people think, what you're smoking isn't actually the rolled up or dried leaves of the Cannabis Sativa plant. You're actually smoking small flower buds.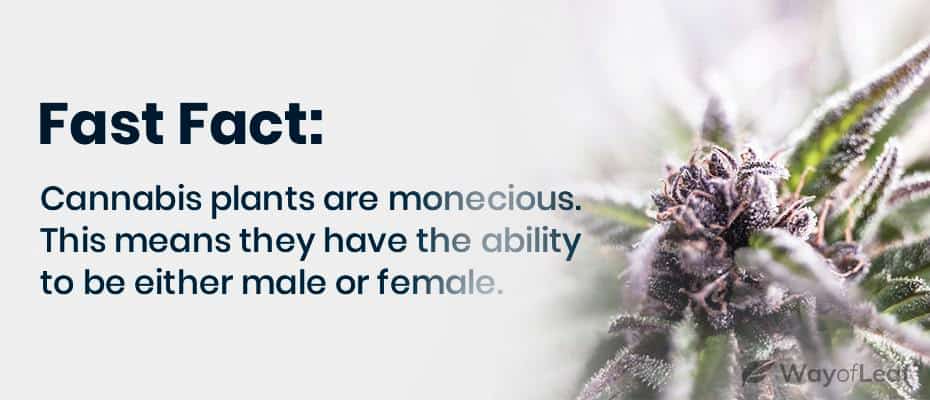 It does seem rather odd, considering the prolific nature of the marijuana leaf in stoner culture – we even have images stretching back thousands of years, documented in ancient texts, of the marijuana leaf.
However, the leaf isn't actually very interesting. It just absorbs sunlight and feeds the plant. According to the United Nations report* on cannabinoid levels between both male and female plants, the large leaves of some specimens only contain about 0.3% THC and 0.7% CBD, meaning you'd be hard-pressed to get any kind of high from the leaves.
No, it's actually the flowering buds of the marijuana plant that get you high. When the plant is preparing to flower, thus allowing itself to germinate and spread its seeds so as to propagate itself, it creates these small bunches of buds – known as a cola – that are the beginnings of the flower buds.
These little buds are where all the THC and CBD are concentrated, divided between a variety of different parts of the bud. When the plant is harvested, that cola is all mixed together and dried, giving you your whole piece of bud.
However, sometimes a marijuana plant is harvested just a bit too late. Perhaps it got the chance to develop a bit longer than it would normally, or maybe the grower was just trying something new.
Regardless, the small seed of the marijuana plant is born, and it managed to make its way into your bud.
Now that we know what they are, how do we choose and use them?

What Do the Seeds Look Like?
You might be tempted to jump right in and start growing your new seeds. Not so fast though, you've got to pick the right seeds.
Take a look at your seed and make sure it's the right color. It should be brown and entirely whole, not split apart or otherwise damaged.
If it's green or yellowish, that means the seed had only just begun to grow before it was harvested, making it little more useful than the rest of the bud for growing plants.
If it's brown and whole however, you've got yourself a healthy marijuana seed.
Now what? Do you just plant it and watch it grow?
WAYOFLEAF'S CHOICE – Homegrown CannabisCo
Homegrown CannabisCo are the masters when it comes to seeds. Offering a massive variety of cannabis seeds that are well categorized, not only does this company create a resource for superb quality options including feminized seeds, it also provides extensive growing information for those looking for some support along their journey.
Next Steps: Germinating Your Marijuana Seeds
Before you can do any kind of planting of your seed, you first need to germinate it.
Germination is the initial process in a seed's life, when it starts to transform for a hard, brown little shell into a living plant.
To germinate a marijuana seed, it takes a little more love and care than with some other plant seeds.
Firstly, take a plate or some other surface with a divot in it and lay a wet paper towel across the plate's surface.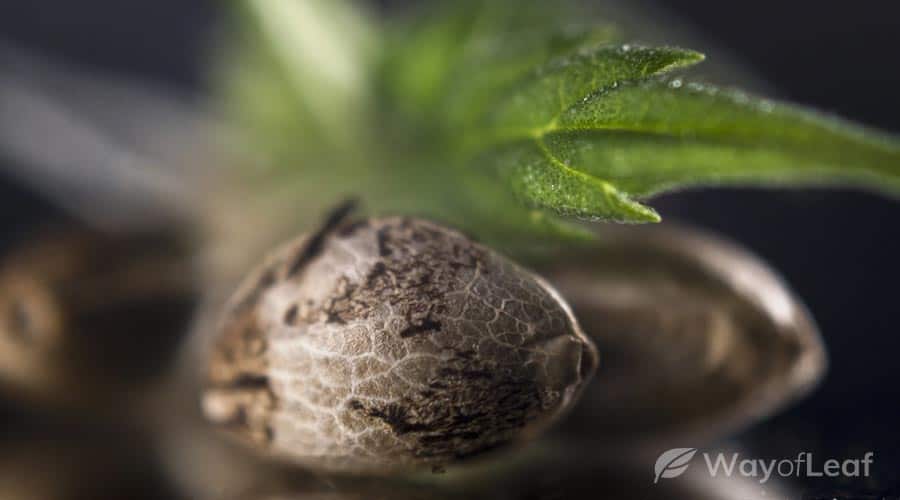 Lay your lovely brown seeds on the paper towel, making sure to give them as much room as possible.
Cover it with another piece of wet paper towel and cover the whole thing with another plate of equal size. This should make a handy little clam-shaped house for your germinating seeds.
What happens to the seeds is that they are tricked into thinking they have been successfully buried into soil.
Water activates the growing enzymes within the seeds, encouraging it to strip off its protective outer layer and start creating roots to lay into the ground.
The reason we don't just put the seed into the soil is that marijuana seeds can be a bit particular – they require conditions to be just right, otherwise, they'll fail to germinate and simply sit there. By putting them in a little protective case made of paper towels and plates, the seeds get the perfect environment to germinate.
Even using the towel and plate method, it's possible that around a quarter of your seeds still won't germinate.
The germination process can take up to around 10 days, but most will begin the process after 2-3 days. Any that don't show signs of opening up and spreading roots can be safely thrown away.
Now that you've got yourself some germinated seeds, what's next? How do you turn a plate full of damp seeds into a full-blown marijuana plant?
Planting the Seeds
Once your seeds are germinated, you can plant your miniature weed plants into a small soil pot, being careful not to overcrowd them. A small quantity of high quality of soil – marijuana needs a crazy amount of nitrogen, potassium and other nutrients to flourish – in a small pot is sufficient.
Keep the soil moist and allow the seeds to begin to sprout.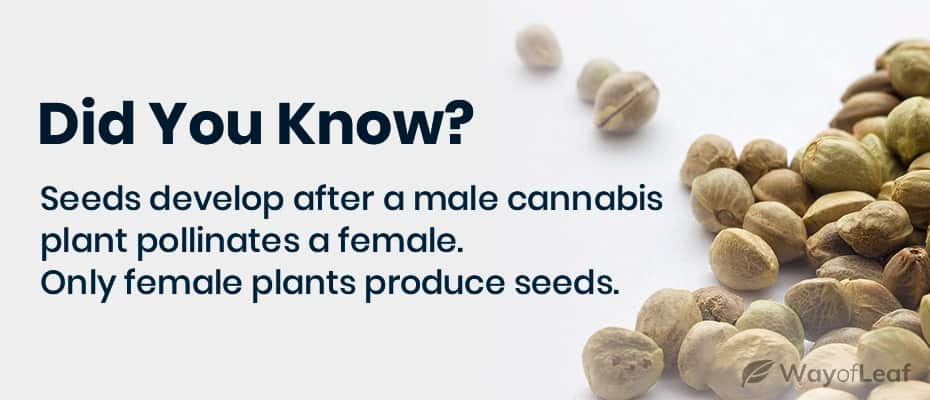 After a few days to roughly a week, the seed will begin to spread out its roots and start to shoot up towards the sun. You'll likely even see the very beginnings of tiny marijuana leaves!
Once you've got those handy leaves, it's time to transfer them into a bigger growing vessel.
Get a common plant pot – something in the 5-gallon range is pretty standard – and fill the very bottom of it with gravel.
This gravel helps provide a good base for the soil, as well as providing drainage.
The rest can be filled with high-quality soil and, once given adequate fertilizers, the marijuana seeds will start to grow!
What Next?
Now, just treat your marijuana plant as you would any other plant. Keep it watered, keep it fed with a high nutrient liquid fertilizer and make sure it gets enough sunlight.
If you're planning to grow cannabis indoors, away from prying eyes, and then make sure you have an adequate UV light setup to make sure it gets enough sunlight. Don't forget to make sure the room where it's kept is hot and humid enough!
There's a reason that marijuana is usually grown outdoors in humid, jungle-like climates!
Some Notes of Warning
Only a few things can go wrong when you're growing your own marijuana plants from the seeds in your bud. They're not the worst things to ever happen, but they should definitely be considered.
#1 Knowing What You're Getting
It's not a frequent problem if you're buying from a trusted marijuana supplier, but it's possible that the seed in your bud isn't exactly the same weed strain you think it might be.
Some unscrupulous sellers sometimes mix in small amounts of other buds to help bring up the bulk of their strains, whether through lack of availability or because they think it might improve the quality.
Though it is rare, it's possible you might go to all this effort of growing a marijuana plant from your bud, only to find out that it's not the right strain at all.
This is part of the reason why people generally prefer to buy their seeds from a reputable seed seller, due to the fact that you are more likely to know what you're getting.
The other reason is…
#2 Seed Survivability – It Might Be Too Dry!
As part of the process of preparing marijuana buds for consumption, the bud is sun-dried over a period of days – or using a dehydrator – so as to concentrate the flavors and cannabinoids, as well as make it a lot easier to smoke.
During this process, it's possible that the seeds might suffer damage and not be entirely usable. It's possible that, after putting that time and use of your valuable plates into trying to germinate your seeds, none of them will bloom.
That's okay though, you can just try again!

So Can You Plant the Seeds from Your Marijuana Buds?
If you've followed all these steps, you'll have managed to turn a lone seed – depressingly isolated, hiding in your bud – into a fully grown marijuana plant!
Enjoy harvesting your new marijuana and keep an eye out for new seeds in your freshly harvested buds.
Given some time, you might find yourselves planting the great-granddaughter of your first seed!
A final note: Make sure you check the laws of your local area – certain municipal governments have different laws about growing marijuana when compared to just imbibing it. Make sure you're not breaking any laws with your hand-grown marijuana – you wouldn't want it taken away from you after all your hard work!