Overview
As a family-owned business, Palm Organix has attracted attention. This a CBD company firmly dedicated to creating clean products with high-quality hemp extract.
Ingredients
Broad-spectrum PCR rich CBD hemp oil, MCT oil, stevia, flavoring

Recommended use
Place a few drops beneath the tongue for about 60 seconds before swallowing.
Extraction process
Supercritical CO2 extraction
Medical benefits
Promoting tranquillity, supporting a good night's sleep, supporting internal balance

*All the data provided is for oil products only
Palm Organix CBD: Quick Summary
PROS
The products all come from American-grown hemp and are GMO-free.
Broad-spectrum formula means no THC.
All products are rigorously tested in third-party labs.
Most of the items are vegan-friendly and gluten-free.
There is an excellent range of products.
CONS
Limited flavor selection for the tinctures.
The products are somewhat expensive.
Palm Organix CBD: The Complete Review
Palm Organix is a clear-cut, refreshing brand from the get-go. With a turquoise and white color scheme, the website is immediately pleasant and professional. The founders started the brand back in 2018, and it remains a family-owned business to this day.
The brand isn't too old, but it has already made a name for itself through excellent branding and high-quality products. While Palm Organix isn't completely explicit about where it sources hemp (it vaguely mentions the USA), it's very clear about extraction and testing. This brand uses supercritical CO2 extraction, which is considered one of the best on the market.
Palm Organix carries out extensive in-house and third-party lab testing to ensure that all of its products are free of chemicals and THC. The lab reports are available to view freely on the website. It's obvious that this brand has very high standards, and this comes across in the entire product range.
Want to skip the full review and get shopping with Palm Organix? Hit the button below to get started.
Palm Organix Has a Huge Range of Products
This brand has an excellent range of CBD products. No matter what you're seeking, it's likely that you'll find something to your liking.
Palm Organix stocks everything from gummies and tinctures to energy drinks and something for your pets. You could spend quite some time browsing the website, so the WayofLeaf team decided to sample everything on offer to help you reach a decision.
Alongside the products reviewed below, Palm Organix also stocks Bundled CBD Specials and wholesale CBD.
Palm Organix CBD: The Full Product Range
Below, we cover all the products on offer from Palm Organix, including everything you need to know about them. To see all the products in more detail, make sure you check out the brand's official website; the product descriptions are pretty detailed.
Palm Organix CBD Gummies
Starting with the gummies, Palm Organix offers one variety, with four different pricing options. The brand provides dome-shaped gummy candies each infused with 10mg of broad-spectrum CBD. This low amount makes it easy to microdose and find your perfect measurement by eating the required number of gummies.
Each jar contains twenty gummies in an assortment of fruity flavors. Palm Organix uses only natural flavors in its gummies, and all of the ingredients are gluten- and GMO-free.
The options available allow you to save money by purchasing multiple jars in one go, which also means you don't need to worry about running out so often.
Cost: $27.95 – $181.97
Palm Organix CBD Topicals
Those who love topicals will adore Palm Organix. In particular, this brand caters to CBD skincare fans with a variety of nourishing products.
The CBD Cooling Gel Roll-On is also ideal for people who often hit the gym and find themselves with sore muscles. It contains added cooling ingredients to improve mobility, and the fact that it's a roll-on means no strange sensations in your hands. It contains 150mg CBD.
Other products include CBD Skincare Lotion, CBD Lotion with Camphor, CBD Salve, and a CBD Face Mask. Each one is infused with various natural botanicals alongside broad-spectrum CBD. The face mask, in particular, is an interesting product. It's a sheet mask infused with 10mg of CBD.
By the way, the full Palm Organix topical range is THC-free and cruelty-free.
Cost: $29.85 – $84.50
Palm Organix CBD Softgels
The Palm Organix CBD softgels are the only product on the site that isn't suitable for vegans. This is because the outer casing contains gelatin. The Palm Organix softgels are incredibly high-quality because they contain water-soluble CBD, making them more effective than other products on the market.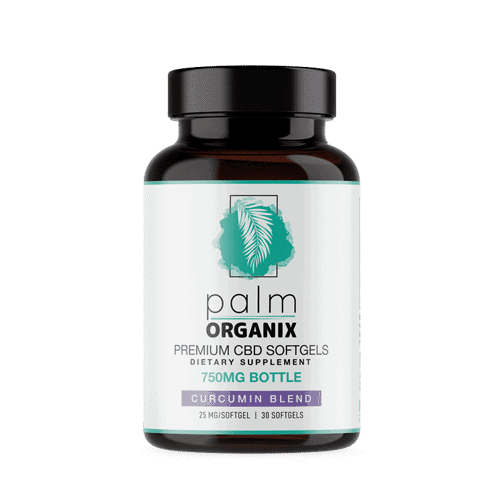 There are four options available, with the regular capsules containing 25mg each – that's 750mg in total. Other varieties include 25mg pills with curcumin, 10mg immunity capsules, and 25mg tablets with melatonin. The Immunity Boost Softgels (which are vegan) contain dried yeast fermentate and vitamin D3 alongside the CBD.
Each tub contains thirty capsules.
Cost: $44.95 – $87.95
Palm Organix CBD Tinctures
Palm Organix specializes in flavored tinctures. Subsequently, there is no option for a natural variety, which may disappoint users who don't want a tincture packed with flavorings. There is also a limited range of options available, with this brand only selling Mint and Orange.
Each flavor comes in three strengths: 500mg, 1000mg, and 1500mg. These are standard offerings and provide something for all users. The Palm Organix tinctures have an MCT oil base, providing a smooth consistency and pleasant flavor, with the flavorings themselves consisting of natural extracts and stevia. It's great news for those avoiding artificial sugar, but bad news for people who steer clear of sweeteners in general.
You can also purchase a three-pack of the tinctures in each flavor.
Cost: $52.95 – $99.95
Palm Organix CBD for Pets
CBD oil for pets is becoming increasingly common. Palm Organix has gone beyond that by also offering CBD pet treats, designed for dogs to benefit from cannabidiol.
The pet tincture contains 250mg of CBD – half that of the weakest human CBD oil. The veterinarian-formulated oil contains nothing but pure MCT oil and broad-spectrum CBD. In some ways, this is a shame because some brands offer pet-flavored oils that can tempt your four-legged friend into enjoying their daily dose. On the other hand, it's a more natural option.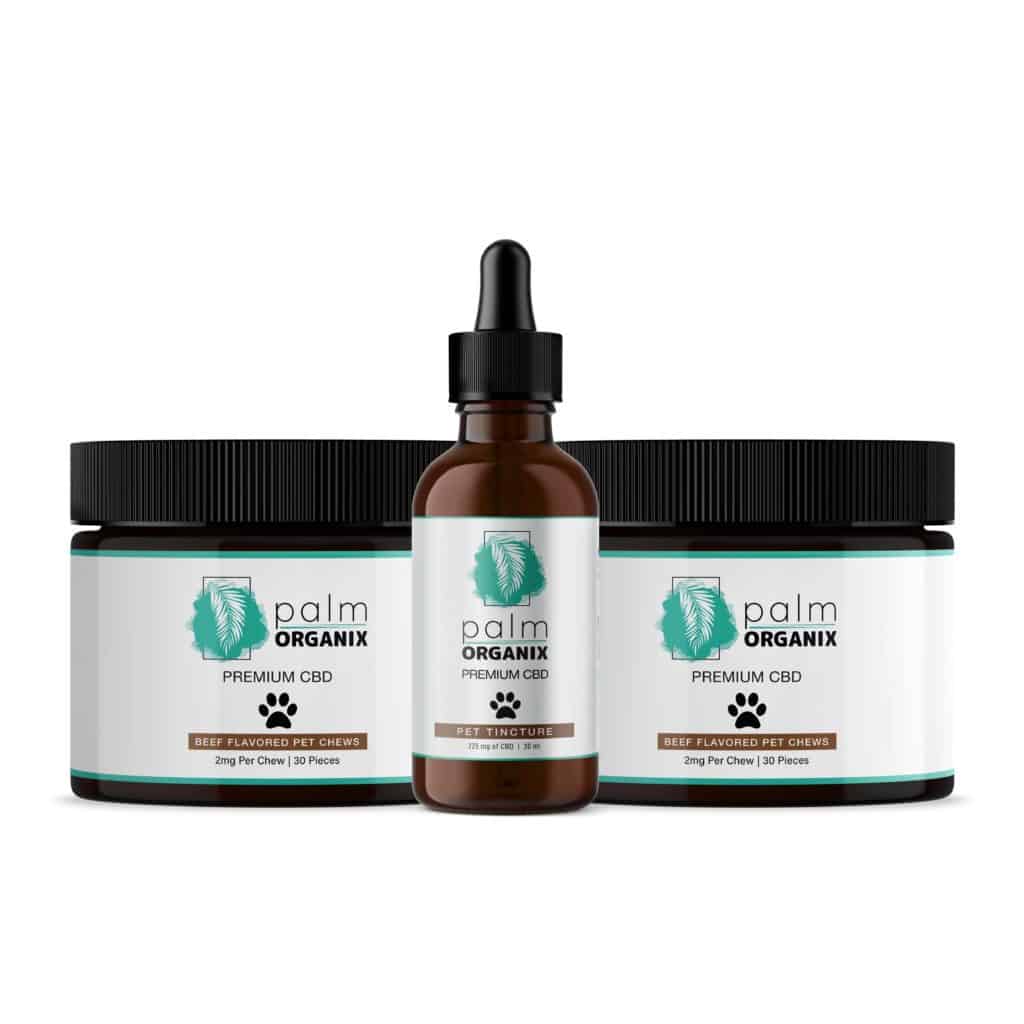 As for the CBD pet treats, Palm Organix has crafted beef-flavored chews containing 2mg each. This low amount allows you to calculate how much your pet needs and give them the right number of treats. They're tasty, veterinarian-formulated, and reasonably priced.
There's also a pet bundle on offer.
Cost: $29.95 – $76.25
Palm Organix CBD Energy Drinks
Finally, Palm Organix provides CBD energy drinks. Contrary to the products you would normally find in a cold can, Palm Organix's energy drinks come in little sachets. One box contains five sachets, with one pouch equating to one serving.
Each drink contains 12.5mg of water-soluble CBD powder. Simply dissolve the berry-flavored powder in water to enjoy an energizing boost on-the-go. We quite like this product, as it's something a little different. Plus, the drinks are zero-calorie and taste great. By the way, the energy stems from the 75mg of caffeine added to each packet.
Palm Organix provides the option to save money by ordering the energy drink boxes in bulk.
Cost: $18.95 – $151.60
Where to Buy Palm Organix + Shipping & Returns
You can buy Palm Organix CBD products directly from the website. There, you can benefit from the bulk discounts that the brand offers. Plus, if you sign up to the newsletter, you can win 20% off your first order alongside free shipping throughout the USA.
Those in the military can also benefit from discounts at Palm Organix. All you need to do is email sales@palmorganix.com to receive your discount.
This brand provides a standard 30-day money-back guarantee. If you are not satisfied with the product in any way, contact the brand and they can help you with whatever you need.
Palm Organix Review: Summary
The Palm Organix brand has loads to offer. This company sells a fantastic range of CBD products to suit all tastes. Palm Organix clearly puts a lot of effort into its website and packaging, but the quality also shines through in its products. With third-party lab tests, CO2 extraction, and vegan-friendly products, Palm Organix is a shining light in this industry.
Its products blend well into any lifestyle, although some of the items are on the pricey side. If you have a little extra to spend on CBD products that actually work, then Palm Organix could be the brand for you.
20% Coupon Code: CBD20LIFE