Overview
The long-standing mission at Onyx & Rose CBD is to provide a "positive, lasting, life-changing impact" for their customers. Onyx & Rose products are extracted from American-grown industrial hemp, and are backed by a 90-day satisfaction guarantee.
Ingredients
MCT Oil, Peppermint Oil, Phytocannabinoid-Rich Hemp Oil
Recommended use
Once or twice daily as needed.
10 drops = 0.5mL = 8.5mg
Extraction process
Proprietary technology. Cannabinoid, terpene, and lipid content is preserved during extraction.
Medical benefits
Exercise recovery, inflammation reduction, stress and mood improvement, health and well-being promotion.
*All the data provided is for oil products only
CBD and CBD products have reached an unprecedented peak of popularity in recent years. As stigma is undone, more and more people are beginning to see the truth behind the hemp plant and all the amazing uses for it.
Not only that: With all the attention in the mainstream news and social media, people are now being educated as to the actual components of the hemp plant and are coming to realize the difference between THC, the thing that makes you feel 'high,' and CBD.
With all the new understandings and acceptance of this once extremely controversial plant, people have never been more curious to see just what it has in store for them. But as these interests have grown, so have the number of CBD companies. In this review, we'll help narrow that selection down by giving some insight on a CBD company we thought was worth taking the time to review. Today, we will be reviewing Onyx and Rose, a relatively new and unique CBD company with a lot to offer.
Who is Onyx and Rose?
Although there is an 'Our Story' section on their website, the origins and founders of Onyx and Rose are not listed. Not much is known about the people behind the company or its history. What is listed, however, are the reasons why the company was founded. According to the website, Onyx and Rose wanted to help others by bringing a CBD product to the world because of its natural nature and ability to help so many people, but then at the same time realized how the majority of CBD products on the market were not up to par. With so many synthetic and contaminated products on the market, the company knew it had to do things differently and strove to be one of the best in the industry by making sure it was of the utmost purity and effectiveness.
To ensure such results, Onyx and Rose has carefully chosen all its partners and scientists, chemists, and so on, to make sure that all its products are superior in quality to many of the countless CBD brands that have popped up across the nation. If the founders were going to make a CBD brand, they wanted to do it the right way, being nothing less than the best.
All of the hemp is grown by carefully-selected American farmers who only grow using organic methods of cultivation. In addition, the company's extraction and purification methods are designed to keep all of the components of the hemp plant intact. It does not sell CBD isolates, because this brand believes that CBD works best when it's metabolized with all the other contents of the hemp plant.
Onyx and Rose has about 60k followers on Instagram, so it seems to be pretty well circulated and known. It is also quite active with its social media, posting and replying to comments when they can.
Review of Onyx and Rose Oils
Onyx and Rose currently only offers 2 types of oils on its website:
Full Spectrum CBD Oil: $109.00 for 1000 mg
Broad Spectrum CBD Oil: $99.00 for 1000 mg
The prices are undoubtedly expensive but also are in higher concentrations than normal. There are only 2 options as well, so for those of you who are just looking to test CBD out with a lower potency and smaller price, you'll have to look elsewhere.
Both bottles contain 2 oz. of CBD oil, with 17 mg per every 1 mL. So you'll get around 60 1 mL doses containing 17 mg of CBD from each bottle.
Onyx and Rose doesn't have a very good selection of oils, just 2 currently on display on their site, but if you're looking for products that are potent, with no frills, and of high quality and purity, then it should be no problem. The brand offers a full-spectrum oil, and also a broad-spectrum oil. The broad spectrum oil is 100% THC free, however, due to the special purification process that preserves all the other terpenes and phytocannabinoids. The team at Onyx and Rose believes that CBD oils work best when working in harmony with all the other aspects of the hemp plant, so that is why it only offers full and broad spectrum variations of CBD oil, and no isolates.
So if you're looking for a drug-test safe CBD oil, the broad spectrum oil from Onyx and Rose is a great choice because it is 100% THC free; nevertheless, it still has all those beneficial terpenes and phytochemicals. But if you choose the full spectrum option, the THC level is still below 0.3%, so there's no need to worry about any psychoactive effects; just note that it could possibly show up on a drug test.
Review of Onyx and Rose Capsules
Next up is the Onyx and Rose CBD Capsules. The capsules offered by Onyx and Rose are a convenient and easy way to get your daily dose of CBD. They are offered in two strengths:
Broad Spectrum, Zero-THC CBD Capsules 10 mg: $44.00
Broad Spectrum, Zero-THC CBD Capsules 25 mg: $74.00
Each container contains 30 CBD capsules. There are no options with more capsules per bottle, so you'll have to keep that in mind when planning your supply with your purchase. The capsules run at 2 strengths, either 10 or 25 mg. They are not too badly priced, taking into account the ease and convenience of the oil being in a single capsule, as well as the purity and high-quality nature of the CBD from Onyx and Rose.
All the capsules are zero-THC without being a CBD isolate, so you don't have to worry about any drug tests or the loss of the other aspects of the hemp plant either. The Onyx & Rose CBD Hemp Oil Capsules additionally boast an absorption rate that is up to 4 times better than most other CBD oil capsules due to the microemulsion technique they implement in the processing of their oils, which allows it to be utilized by the body more easily and more efficiently.
Overall, the capsules are just a pretty great way to get everything you need in one easy to swallow softgel. They are all 100% THC-free, potent, effective, and made with organic hemp.
Review of Onyx and Rose Dog Treats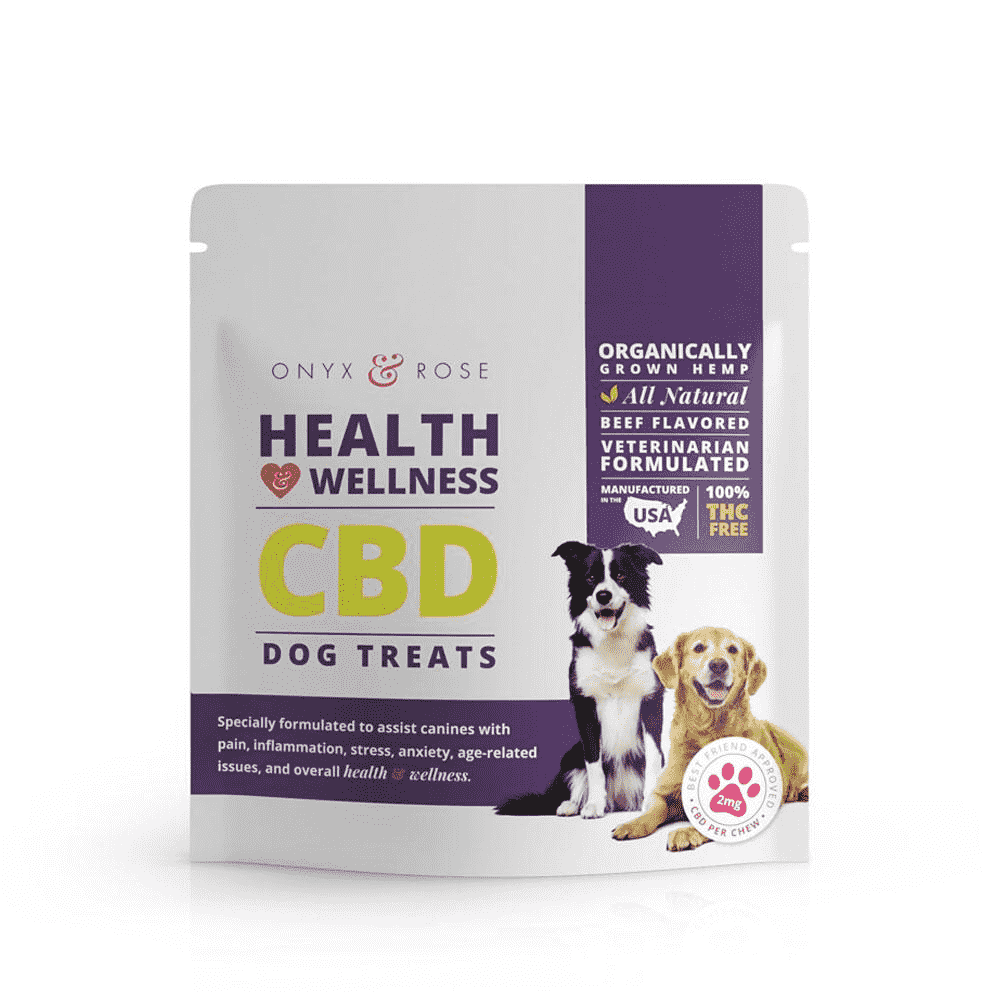 Another one of Onyx and Rose's top products is the doggie treats. The dog treats only come in one strength and size, 2 mg per treat, but the website completely lacks any information as to how many are actually in the bag, or how many ounces of chews that the bag contains!
Despite this little discrepancy, those who have purchased the dog treats all seem to say how well the treats worked at calming down their furry friends during storms and separation anxiety or easing some of their pains associated with old age or arthritis.
The site even has a dosing chart for the number of treats your pet can have based on its weight. In addition, all of the treats are made from the same quality 100% organic hemp that is used in the products aimed for human consumption, and zero THC as well. The ingredients and dosing have been veterinarian-formulated as well, so you can rest assured that the amount of CBD in the treats is appropriate and that the taste is sure to be just adored by your pet. The chews even contain fiber, protein, and amino acids, so they're super healthy for your pet, too!
What About Onyx and Rose's Other Products?
In addition to the oils, capsules, and dog treats, Onyx and Rose offers a few other goods for sale on its site:
CBD Spa Gift Box: $59.00
CBD Balm: $54 for 500 mg
CBD Bath Bombs: $14 each
CBD Pet Oil: $44.00 for 250 mg
The Onyx and Rose CBD Spa Gift Box contains 2 bath bombs, with 35 mg of CBD each, and also a vial of bath soaking salts containing 1 cup of salt with a total of 100 mg of CBD. It's a great gift for anyone who truly appreciates a touch of luxury to their bathing experience. The pink color of the bath bombs and salts is added through the use of natural mica, and they are paraben and preservative free, as well as vegan and cruelty-free.
The CBD Balm is made from beeswax, eucalyptus, and lavender oils, and is broad spectrum, so is also zero THC. One 2 oz. container contains 500 mg of CBD, so it's perfect for rubbing on those sore spots.
If you don't want to purchase the whole CBD Spa set, Onyx and Rose also sells individual bath bombs. There are 3 varieties: Calm, Cool, and Classic. Although the website doesn't specify the exact difference between the 3, you kind of get the picture based on the titles themselves. Each ball contains 35 mg of CBD, so you'll really be able to relax and unwind in your next bath.
And at last, the CBD Pet Oil. The Pet Oil from Onyx and Rose can be used with both dogs and cats, so the versatility of the product makes if perfect for those who have both dogs and cats and wish to use it on both of them. The oil is bacon flavored, so it does seem to be a little bit more geared towards dogs (have you ever heard of a bacon-hungry cat?), but both will love the meaty and delicious flavor. All that aside, though, the oil is formulated to help your pets with anxiety, chronic pain, and inflammation due to old age. You can easily adjust the dosing to your pet's weight and severity of their condition.
Where Can I Purchase Onyx and Rose Products?
Onyx and Rose offers a 90-day guarantee, and if for any reason you are not satisfied with the products within this timeframe, the company will refund you your money! Each customer is allowed one refund, however, but still, this is way better than the return policy of most companies in the CBD market which offer only a 30-day return policy, if any at all.
Currently, Onyx and Rose does not ship internationally, only domestically within the U.S. Your order will ship within about 2-3 business days, and from there, the time it takes to reach you will depend on which method and speed of delivery you choose. Currently, it offers USPS priority and first class, which both take about 3-5 business days; it also offers UPS 2nd Day Air, which delivers within 2 days of completing your order.
Final Thoughts on Onyx and Rose
Onyx and Rose seems like a great company that you can trust to bring you quality and purity in their products. All the products are lab-tested, with the results being right on the website. The brand also stands by its products 100% and will issue you a refund if you're not completely satisfied with the product for any reason.
Their stuff is a bit pricey, but I guess that's what comes with the high potency and quality that Onyx and Rose has sought to incorporate into their products. Also, there is not a very big selection of products available on the website, but it's not a huge deal considering that the brand gets the job done and is high in purity and quality. We didn't like how the dog treats item was missing information that should definitely have been there, but hopefully, that is corrected soon.
Overall, I'd say give Onyx and Rose a shot if you are looking for a solid CBD company you can trust. The oils from Onyx and Rose are all either full spectrum or broad spectrum zero THC, so you never have to worry about significant amounts of THC, and can even get them 100% THC free if you so desire. All Onyx and Rose products are potent, pure, and are refundable if you're not 100% satisfied.